Restaurant Week
Every August, eateries from Mobile and Dothan to Huntsville and the Shoals participate in Alabama Restaurant Week, a chance for residents and visitors to savor the local cuisine of the Yellowhammer state. During this 10-day event, participating restaurants offer specialized menu items at fixed prices for lunch and/or dinner, which are designed to showcase their best and encourage hungry folks to patronize locally-owned and operated restaurants.
Announcing our 2016 Huntsville Restaurant Week Participants:
Official Huntsville Restaurant Week Events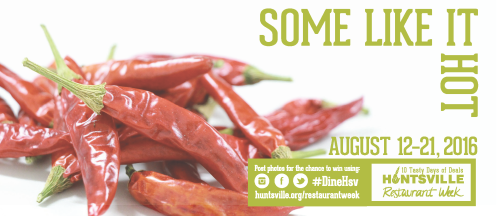 August 6, 13, and 20: Downtown Dish Food Tour
August 6: Cove Market at The Marketplace Cafe
August 8: Rocket Chef Kick Off!
August 10: Homegrown Huntsville's Dine & Dash
August 11 and 18: U.S. Space & Rocket Center's Biergarten
August 12-21: Huntsville Restaurant Week Social Media Contest
August 13: Cyn Shea's & Church Street Wine Shoppe's Dinner with Your Dog
August 15: Cyn Shea's Southern Summer Suppers
August 16: Brickhouse Sports Cafe Four-Course Tequila Dinner through Jalisco
August 17: ARHA Bar Stars Competition at the Westin Huntsville
August 19: Downtown Huntsville, Inc. Street Food Gathering
August 19: Cyn Shea's Dinner & Movie
August 20: Cyn Shea's & Church Street Wine Shoppe's Alfresco Dinner on the Patio
August 21: Nick's Ristorante's Whiskey, Wine and Cigar Lunch

BONUS FOR RESTAURANTS: This year, the Huntsville/Madison County Hospitality Association is offering a unique twist to Restaurant Week for our participating restaurants! The Mystery Diner program will offer awards and distinction for the best Restaurant Week venue in Huntsville. "Mystery Diners," or judges, will order specific menu items according to your submission. Participants will be judged on meal presentation, taste, service, social media presence regarding Restaurant Week, and staff knowledge of Restaurant Week. For more information, e-mail info@huntsvillehospitality.org.