GLOBAL FORCE
SYMPOSIUM & EXPOSITION
Welcome to the Rocket City!
AUSA Guide To Huntsville, Alabama
Welcome, AUSA Global Force Symposium and Exposition, to Huntsville, Alabama. We're so glad to have you here. (You could say we're... over the moon you're here.)  The region is home to 909 defense contractors who collectively provide $5.6 billion in defense contracts for the U.S. government.
We're betting your time in Huntsville will reveal things about our city that you maybe weren't expecting - like our sublime mixture of art and science, our incredible local craft beer offerings, eclectic shopping, and so much more. But before you arrive, here are some key points of interest you might want to check out: 
Join 800 of your closest friends under the Saturn V at the U.S. Space & Rocket Center's Davidson Center for the 2018 Rocket City Bash on March 27th from 5:30 - 9 p.m. The Bash will feature a combo Tex-Mex and Italian buffet. 
Contact: Scott B Thompson - 256-929-8990 
Hotel Shuttles: Shuttle service between the participating hotels (except the Embassy Suites) and the Von Braun Center will be provided on event days only. Shuttle maps and schedules will be provided at a later date.
What to do, when to do it, and maps to get you there.
Discounts & Special Offerings
Special discounts for AUSA Global Force attendees are available at select locations. To claim these discounts, you must present your AUSA badge.
2018 discounts include: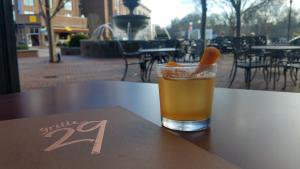 "Legend has it the Sidecar was created when a WWI Army Captain couldn't beat a cold. At his favorite bar in Paris, the bartender made this libation and named it after the motorcycle sidecar in which the anonymous Army Captain was usually chauffeured. Cheers to the decorated history of our Armed Forces!"
Cognac, Cointreau, and Lemon Juice shaken and strained into a sugar rimmed glass. 
Army Strong Martini at Nick's Ristorante - $8.50. AUSA members also enjoy 15% off dinner.

The Grille Restaurant at Four Points by Sheraton - The Four Points by Sheraton would like to welcome AUSA back for another great year! To help celebrate, The Grille will be offering $3 local craft beers and a featured cocktail, the AUSA Mint Lemonade ($9), a modern twist on the Arnold Palmer with a kick of Ketel One Vodka. Start the day off with a featured breakfast of Southern classics as well as healthy options. For the late riser, grab & go options are available.
Hello from the Rocket City!
The high-tech city of Huntsville which sprawls at the foot of a mountain in North Alabama is equally at home in the 19th century or the 21st. Huntsville's tourist attractions reflect the heritage of Alabama's first English-speaking city, the strife of the American Civil War and the accomplishments of America's rocket scientists.  
The city is nicknamed "The Rocket City" for its close history with U.S. space missions. Huntsville has been important in developing space technology since the 1950s.
#AUSAglobal