Throughout my years of planning events and conferences, from both sides of the equation, first as a facility sales representative, later as a corporate meeting planner and now at the Huntsville/Madison County Convention & Visitors Bureau, I have often heard that more business deals are done at the dining table than at the boardroom table.
When planning any event there can seem to be an overwhelming number of details to consider: Who are we looking to attract? Who will our presenters be? All the way down to "Who is in control of the thermostat in my meeting room?" Inevitably those with "the vision" of what your event will look like decide that what you need is a really fun, interesting and (let's not forget) reasonably-priced place to host an off-site meal or reception. A place where your attendees can feel relaxed and maybe do a little of that "dining table" business.
In order to assist those planning meetings in Huntsville and narrow the search a bit, I have compiled the following list which highlights just a few of the truly one-of-a-kind off-site dining experiences in Huntsville / Madison County. Whether you're looking to accommodate 5 or 500, these locations are out of this world. (Wink, Wink)
5. Main Street Café
Located in Madison, Alabama (just 20 minutes from downtown Huntsville), Main Street Café occupies a quaint, white brick building constructed in 1955, which once housed the Madison City Jail.  They serve up Southern fare like Coca Cola Cake and Fried Green Tomatoes, so dangerously-delicious it should be a crime. Conveniently, they have two jail cells in which to dine for you and your partners in crime. With seating up to 8 guests, it is definitely an experience to remember. They are open Monday – Saturday, 11:00a.m. until 2:00p.m. For more information, click here or call (256) 461-8096.
4. North Alabama Railroad Museum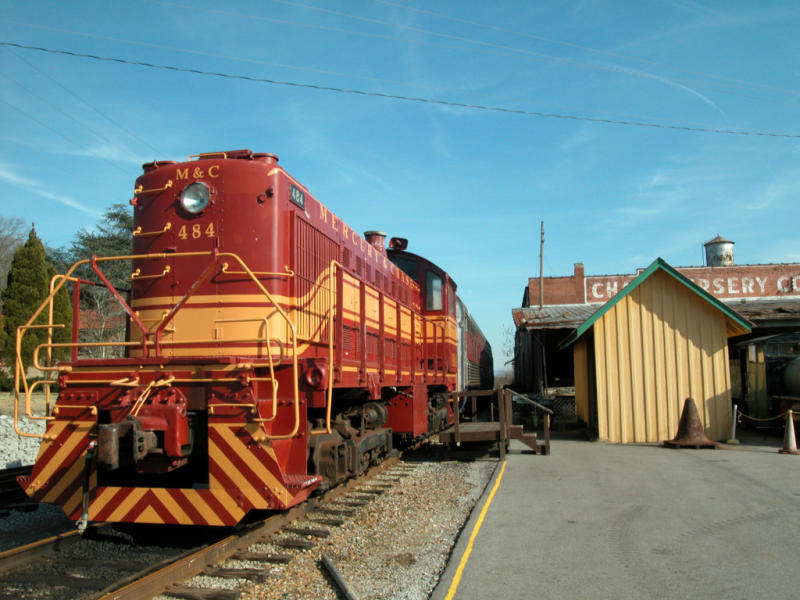 Providing the perfect way to keep your event on track (I know, I know), the North Alabama Railroad Museum offers excursion train rides where you and your group can enjoy your catered lunch in an honest-to-goodness dining car. Available 9:00 a.m. – 5:00 p.m. Saturdays and between 1:00 p.m.-5:00 p.m. on Sundays when they are not operating an open-to-the-public event, the experience is sure to take you back to a different time and place. The Dining Car seats up to 40 people and if you're worried about the jostling of your sweet tea, the car can be reserved to remain stationary. For more information, e-mail events@northalabamarailroadmuseum.com.
3. Alabama Constitution Hall Park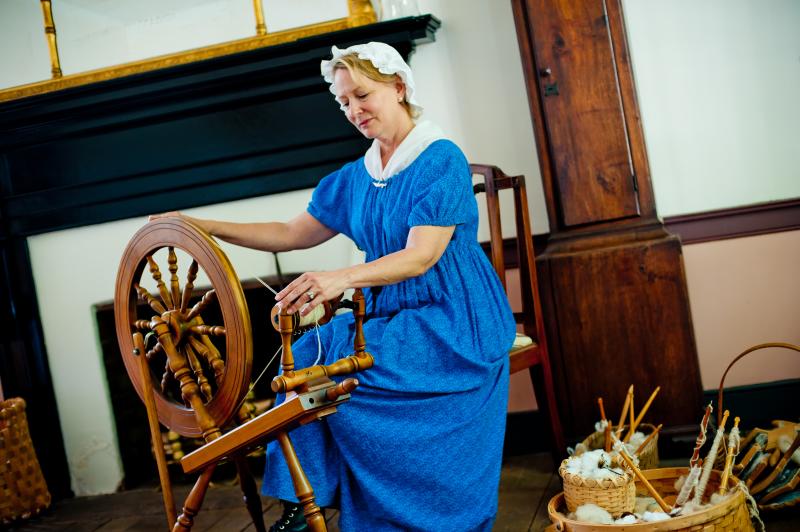 Travel back in time and just off the courthouse square in downtown Huntsville to a replica of the workshop where Alabama's Constitution was signed in 1819. Alabama Constitution Village provides a rich historic backdrop for your event. What better location for inspiring clients to "sign on the dotted line?" Lantern tours of the other museum buildings and grounds can be arranged for an additional fee. Constitution Hall can accommodate 125 for a standing reception or 60 for a seated meal. For more information, click here or call (256)564-8111.
 2. A.M. Booth's Lumberyard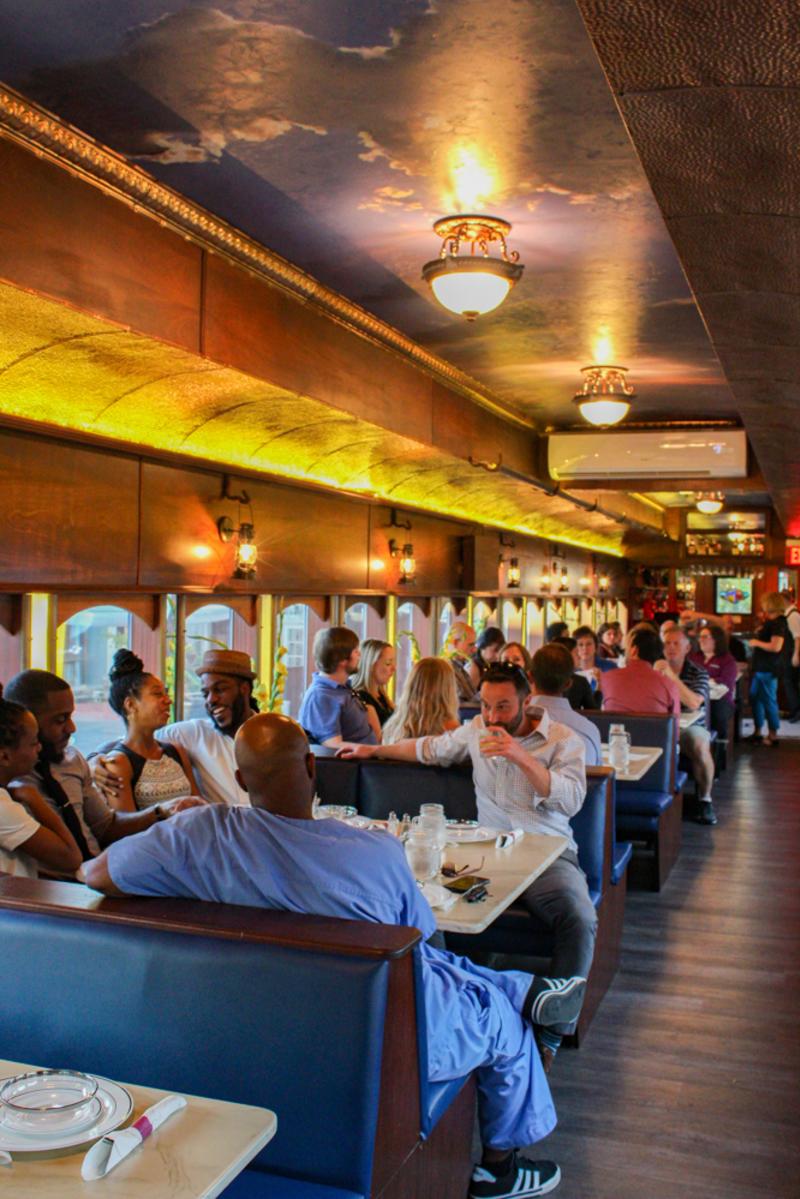 A.M. Booth's Lumberyard began in 1895, and it remained in operation until the 1950's when it became an auto parts store, until it closed its doors in 2005. In 2007, the Smith family acquired the property and set to gathering the beautiful pieces and parts of Huntsville history which today make up one of the most eclectic and unique event venues anywhere. This place is the definition of modern cool! You will find something new and unimagined around every corner. With the expansion of the bar area, the Lumberyard increased event capacities up to 250 for indoor seating or 700 when utilizing their indoor and outdoor spaces. For more information, click here or call (256) 651-3417.
1. U.S. Space & Rocket Center (USSRC) Saturn V Hall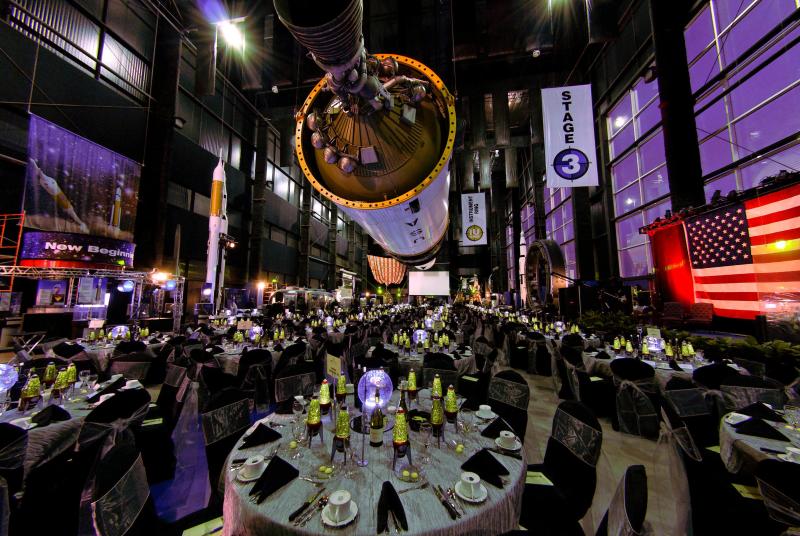 In the USSRC Saturn V Hall of the Davidson Center for Space Exploration, experience the mesmerizing opportunity to dine under an authentic Saturn V moon rocket – a National Historic Landmark! Surrounded by historic artifacts and interactive exhibits from space exploration, your guests enjoy the breathtaking ambiance as they dine beneath one of mankind's greatest scientific achievements. The only place to have a galactically good time, an out of this world event AND launch your universally great meeting (I could do this all day)! This stellar space can accommodate up to 800 for a seated meal and 1000 for a standing reception. For more information, click here or call (256) 721-7183.
These dramatic and engaging facilities are really only the "nose cone of the rocket" in Huntsville, Alabama. The variety of stunning meeting venues in Huntsville / Madison County could potentially be a bit overwhelming but the good news is, we are here to help! If you need assistance navigating the vastness of Space spaces or strolling through the monumental rooms of historic halls please contact  our Convention Sales team members at the Huntsville/Madison County Convention & Visitors Bureau or call (256)551-2230 or (800) SPACE-4-U.