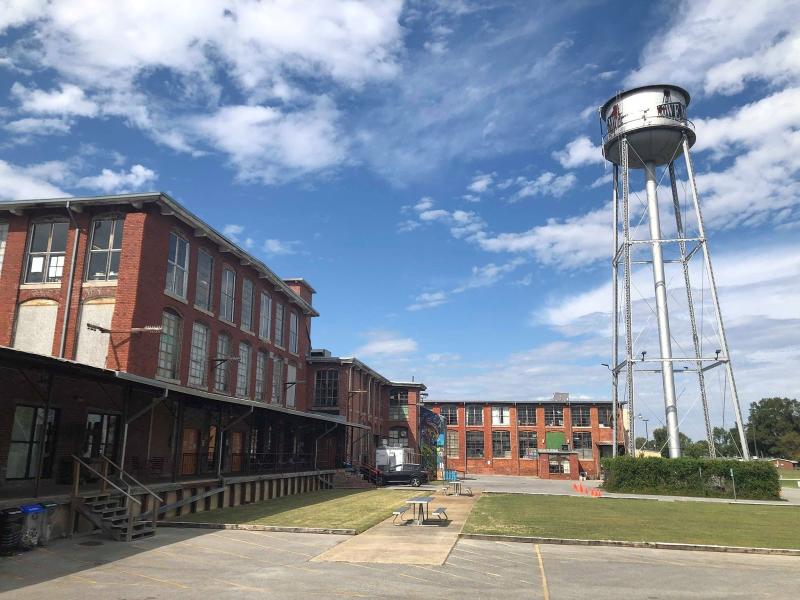 If I had to name one place that feels like the embodiment of the Rocket City, Lowe Mill ARTS & Entertainment would be it. One of my favorite places to peruse in my leisure time, the 171,000 sq. ft. Lowe Mill has been part of  West Huntsville's DNA since 1901, when it opened as a cotton mill. After World War II, the General Shoe Company (later Genesco, Inc.) from Nashville took over, and during the Vietnam War, many U.S. soldiers fought in boots made at Lowe Mill.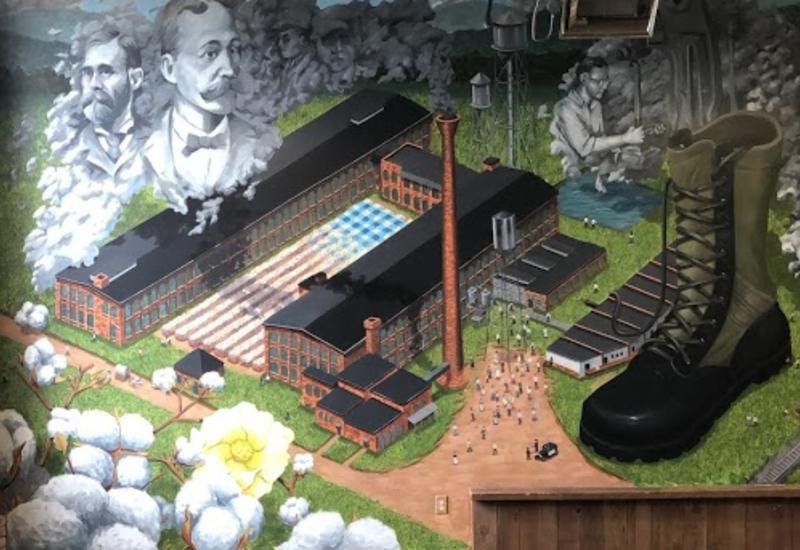 In 2001, Jim Hudson, founder of HudsonAlpha Institute for Biotechnology, purchased Lowe Mill, repurposing it into over 150 artist studios and shops. The former textile mill and boot factory is now the largest privately-owned arts facility in the United States.
Lowe Mill A&E Hours, Parking and Doors
Lowe Mill is open to the public Wednesday through Saturday. It's closed on Sunday through Tuesday.
Wednesday: 12 - 6PM
Thursday: 12 - 6PM
Friday: 12 - 8PM
Saturday: 10AM - 6PM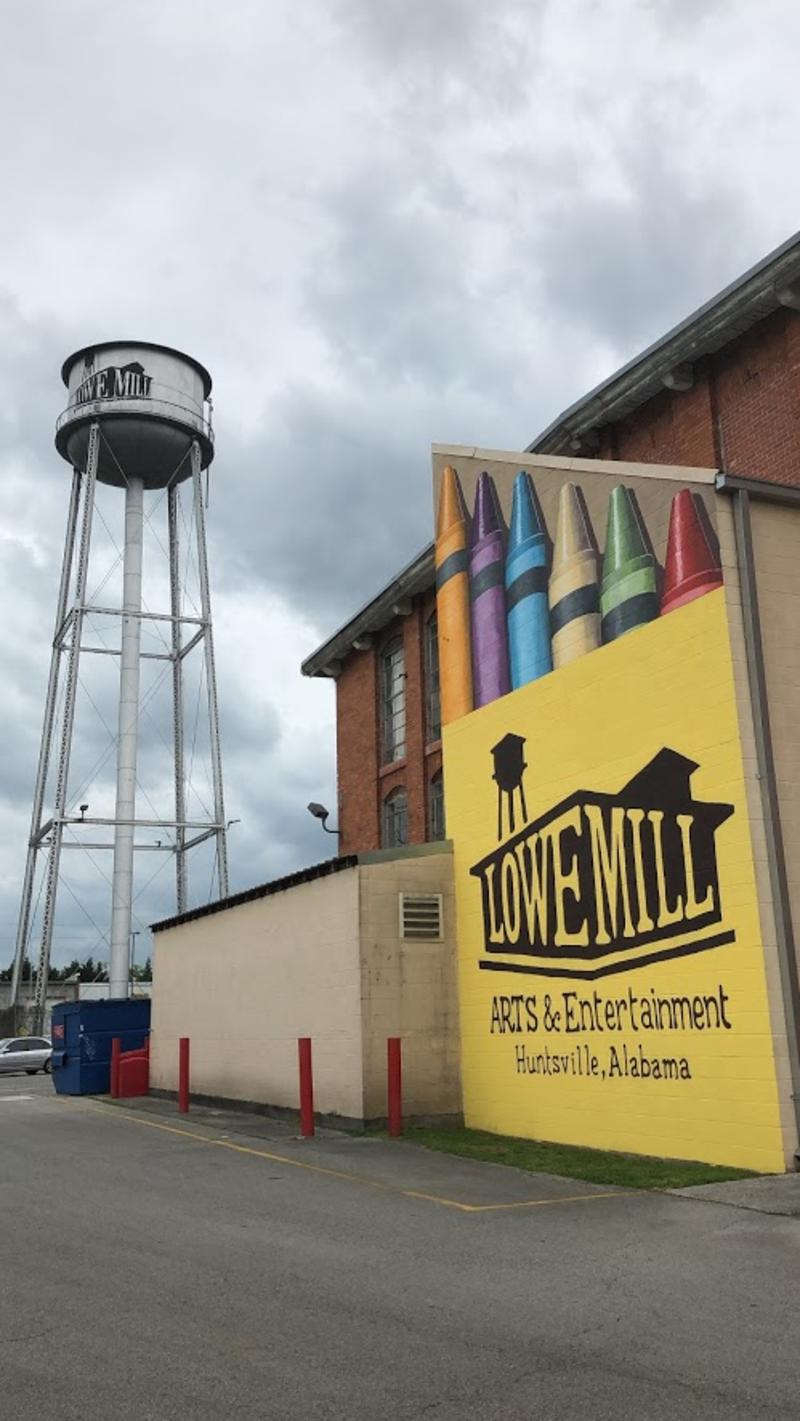 The key to enjoying Lowe Mill if you are unable to climb steps is learning which of the external doors (all numbered and painted orange) are the ones that provide level entrances. Doors numbered 4, 13, 15, 17, and 21 are each prominently marked with a blue wheelchair emblem, and are well-suited for anyone who needs barrier-free access. Learning where your favorite studios are inside the mill and which entrance is the best to get you there, will help you determine where to park.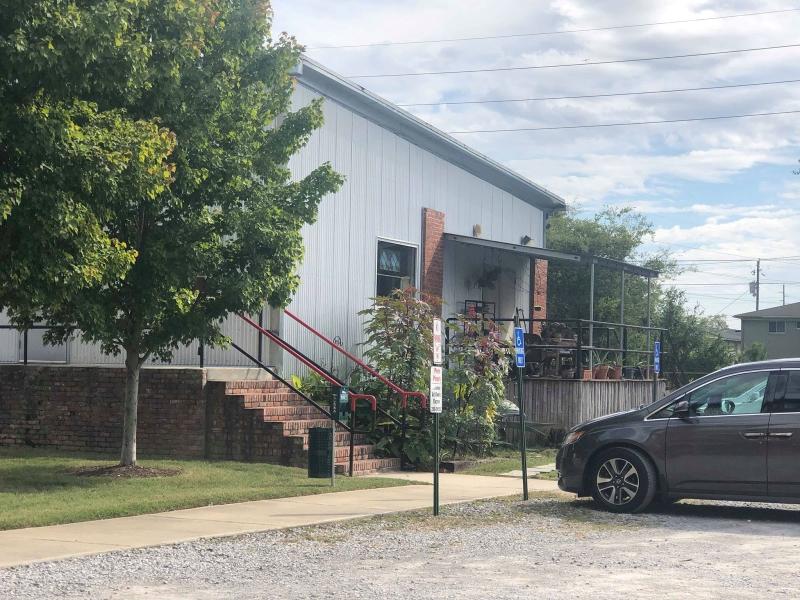 Handicapped parking is available in two different locations at Lowe Mill: a paved lot exists near the water tower, and there is the other place I sometimes park is in a gravel lot on the southwest side of the complex, adjacent to the row of outbuildings known as "Railroad Rooms" off of an old rail line. A long, steel ramp takes you from the parking lot to the Railroad Rooms.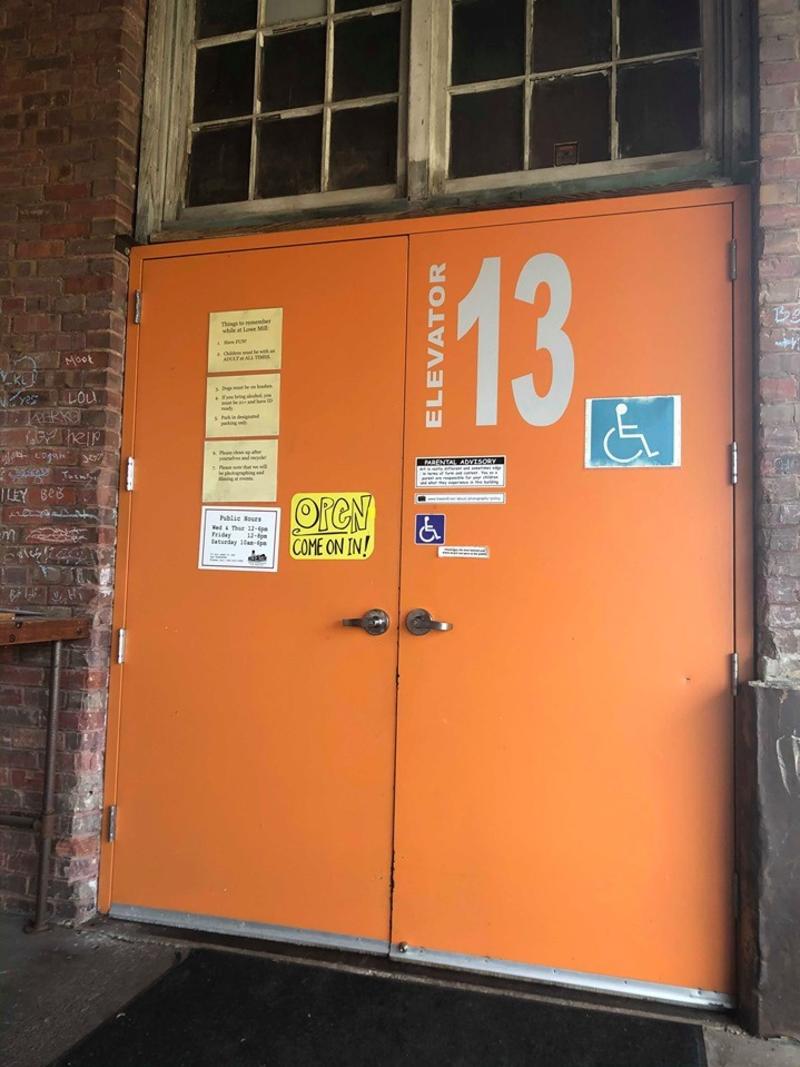 Door 13 is adjacent to a freight elevator that is now used to carry visitors to different floors of the mill. Just ring the doorbell, and the elevator attendant will come get you!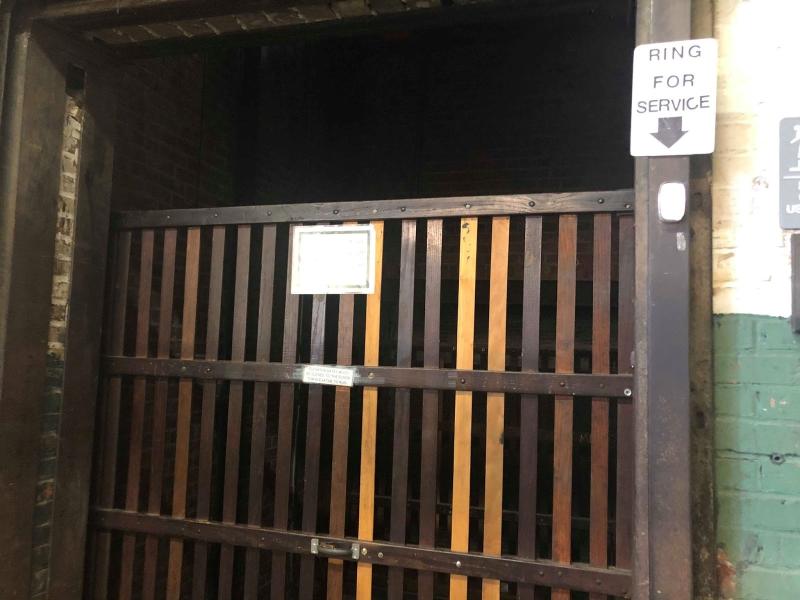 Need an accessible restroom? I rely on the one inside the mill near Door #23, as well as the restrooms located at the Railroad Rooms!
Food at Lowe Mill 
I frequently go to Lowe Mill to start my weekend, get my grub on, and burn a little bit of my paycheck. Poftà Bunà is an Eastern European cafe that I have been excited to try out, and so I did. 
Poftà Bunà

Open since March 2018, Poftà Bunà is Romanian for "Enjoy Your Meal."
I opted for the "Transylvania" crepe, a savory wrap with two cheeses, lettuce, tomato, bacon, and a house-made garlic sauce. Yum. This order-at-the-counter joint was easy for me to get to from orange door #13, which is one of the doors most adjacent to the iconic Lowe Mill water tower.
Piper & Leaf Tea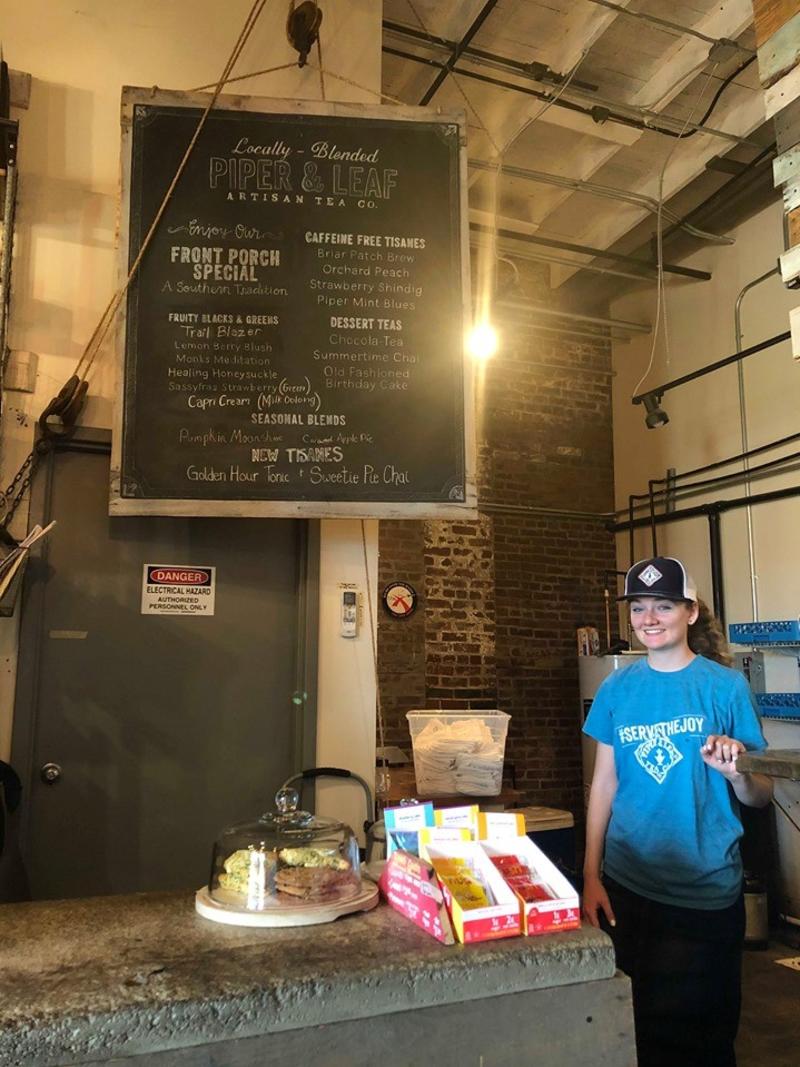 Near door #15, you find yourself on the old loading dock, which now plays host to a family-friendly concert series every spring and fall called Concerts on the Dock. A local loose-leaf tea brand, Piper & Leaf, is headquartered in a space right here. There's an incline to descend into the shop, where you buy your own mason jar filled with their artisanal sweet tea blends.The employees are eager to help, however, and are more than willing to meet you at the top of the ramp to help you with your order.
Pizzelle's Confections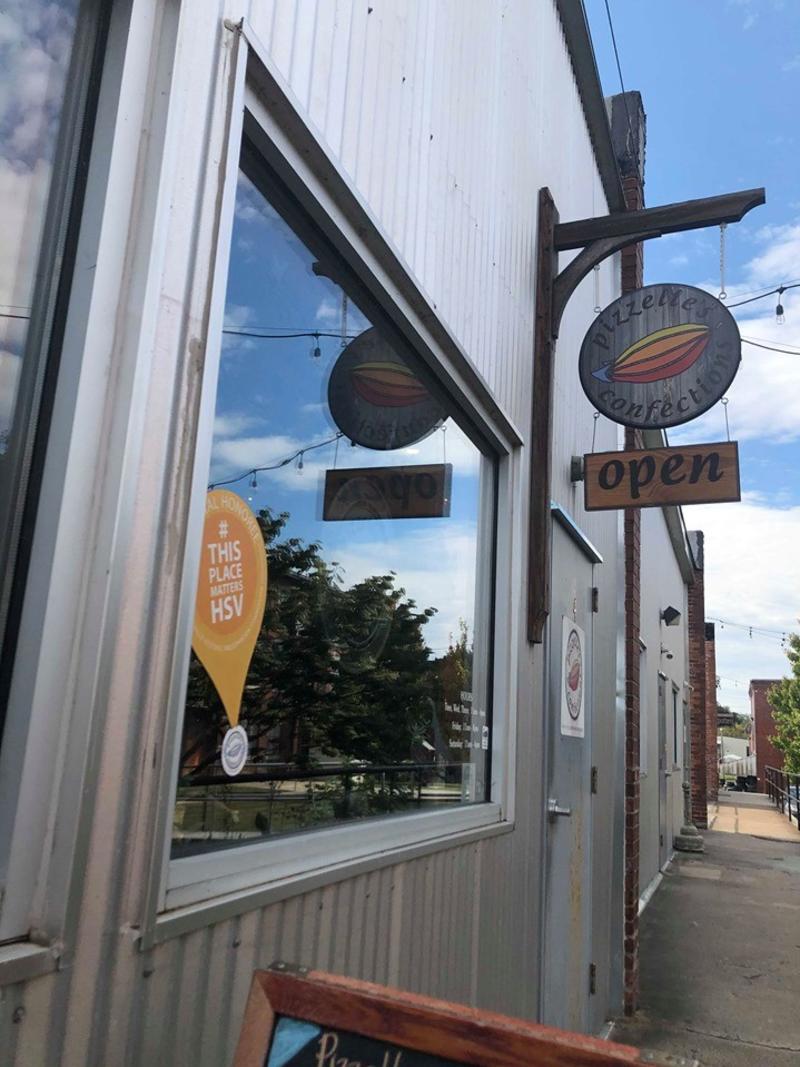 I recently visited one of my favorite Railroad Rooms, Pizzelle's Confections (just to check to see if they needed any taste testing for this assignment). They brought me a plate of three truffles and one of their homemade candy bars to try. My wife Dana and I have long been acquainted with their truffles, which we like to buy as gifts for houseguests, but that visit was my first foray into their candy bar offerings. "The Duke" had bourbon caramel, corn nuts, and peanuts dipped in dark chocolate and was topped with sea salt.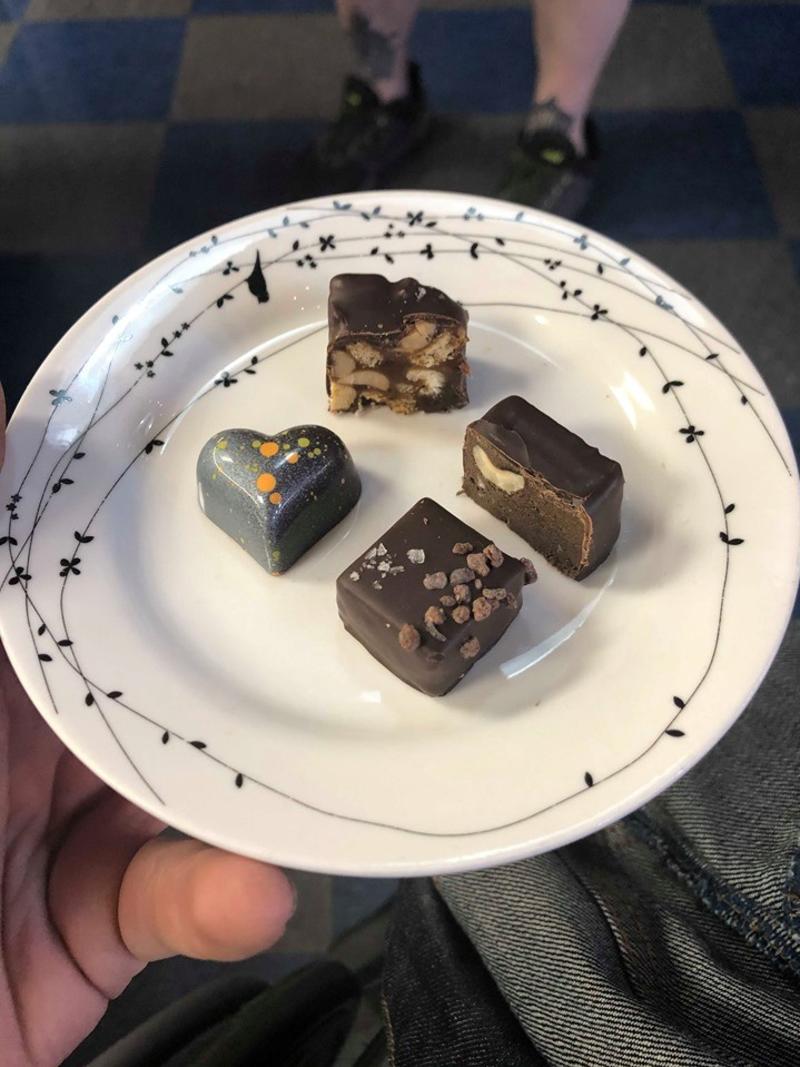 Vertical House Records
One of the largest Railroad Rooms is Vertical House Records. I have been visiting records stores for 5 or 6 years now, and from Austin to Nashville, Birmingham to Pittsburgh, this hometown store of ours is easily my favorite of them all. I love Vertical House because I can find a pristine first pressing of Neil Young's "On The Beach" or some obscure Flo and Eddie release, but it's also truly the only record store I've ever been to where I could properly navigate the whole room in my chair. That's a huge deal - record stores are notoriously crowded and narrow.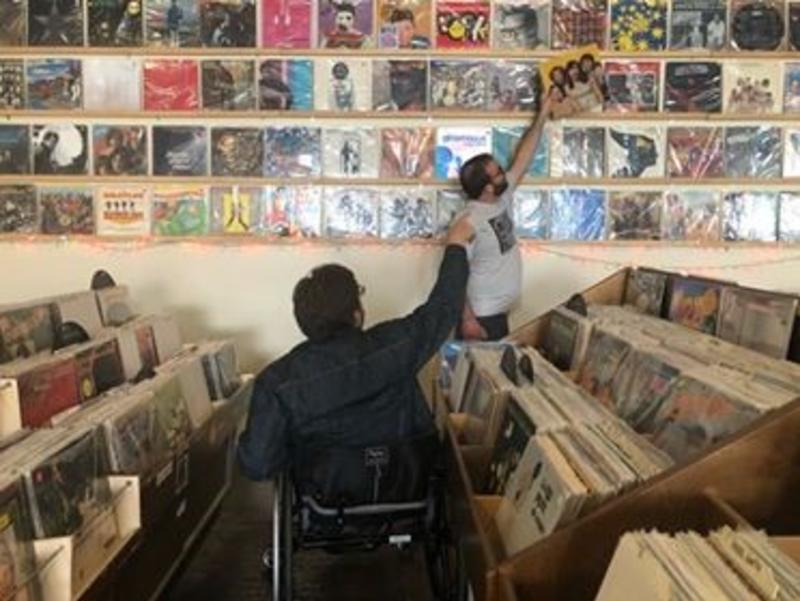 Andy and Ashley Vaughn work to maintain their store in a way that invites you to wander the aisles for a while. Ashley, who also owns and operates her White Rabbit photography studio in the same space, explains, "we got the big collection of new shelves around November, 2018, and knew it would be tight. We tried to lay it out the best we could while maintaining space between the aisles. When we moved into our new location, we mapped it out so we knew there would be enough space between the rows to be ADA compliant. Lowe Mill also created a space in the parking lot to allow for access to the ramp to the sidewalk leading up to the store." 
I am usually a bit of a bargain hunter when I'm at Vertical House, but if the mood strikes me, I will go directly to the back wall, lined with rare albums and special pressings, and Andy and Ashley are always eager to help reach that Zappa or Gram Parsons album that I've been sorta mulling over for weeks.
Hey, look whose band made it onto the locker! 
Gold Sprint Coffee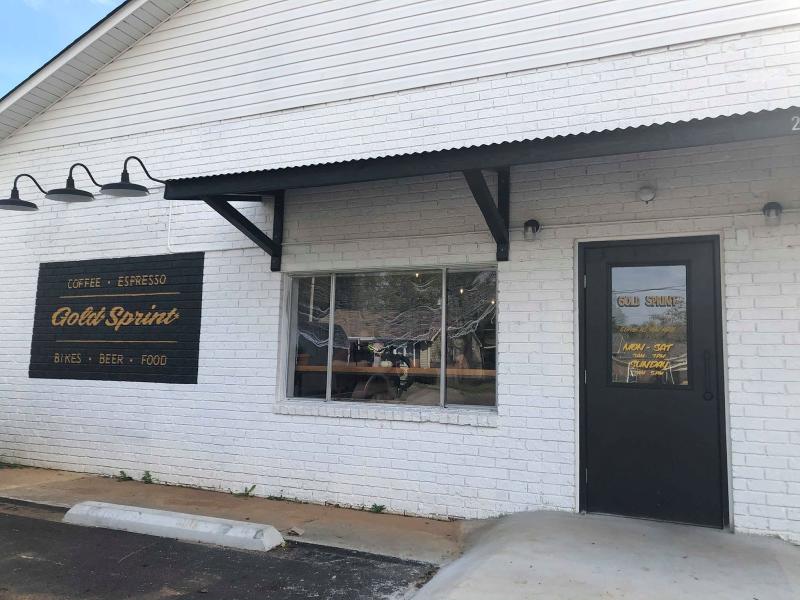 Turn left out of the gate at Lowe Mill onto Seminole Avenue, continue around the bend, where Seminole becomes 9th Avenue, and you'll find Gold Sprint, a coffee shop-but also-bike repair joint opened in August 2019 by Victor Burlingame and Grant Mellen.  With industrial-chic flair, Persian rugs really, uh, "tie the room together" (Lebowski, anyone?) in this sunny room accented by old bicycles, bike tools, succulents, a critter skull or two, and a couple dozen karate trophies.These gleaming displays of martial arts prowess belonged to the son of the building's previous owner, and were kept to become a focal point behind the handmade bar top, alongside a rather glorious painting of OutKast's Andre 3000.
Owners Burlingame and Mellen did much of the grunt work themselves, with help from friends and family.  I recall one obscenely hot evening this summer when I got to be the first to try out the newly-poured wheelchair ramp into the front door. I probably teased Vic a little bit for the ramp being as voluptuous as it is.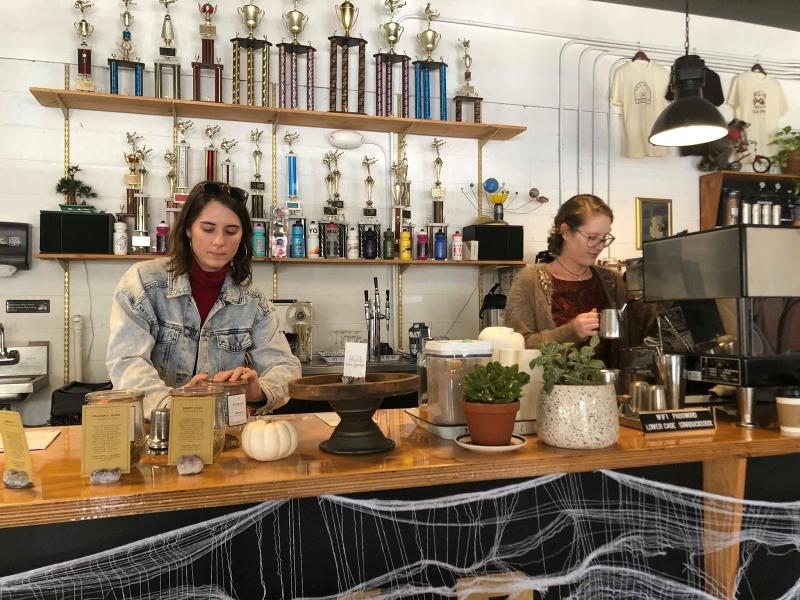 Gold Sprint was designed with care to be accommodating to everyone. "All of the doors are 36 inches (wide), and the pathways between the bar and everything were intentionally left wide, and instead of making just one bathroom ADA, we said 'let's just make everything accessible'. 
The concrete floors at Gold Sprint Coffee are easy, the rugs are thin and unobtrusive, and the paths between the tables are quite wide. Open seven days a week, it is not difficult to follow the instructions painted on the front door to "Come As You Are", a nod to the classic Nirvana track of the same name. Stay Gold, indeed, Grant and Vic. 
Trailhead Bicycles
Finally, on a whim, I recently ventured into Trailhead Bicycles, which is in a detached building at Lowe Mill, adjacent to the gate at the bend where Seminole Drive becomes 9th Avenue. This building on the west side of Lowe Mill is the original guard shack, and retains lots of character. 
There were several customers ahead of me, so I began to think that coming into a bike shop to talk about wheelchair access was sort-of silly, but I waited my turn, and James Harris, a bearded guy with a grease-drenched work apron greeted me with a smile. The customers had left, and I introduced myself as an accessibility blogger, at which point he led me back to the workroom, with his trusty shop dog, Sipsey so we could talk.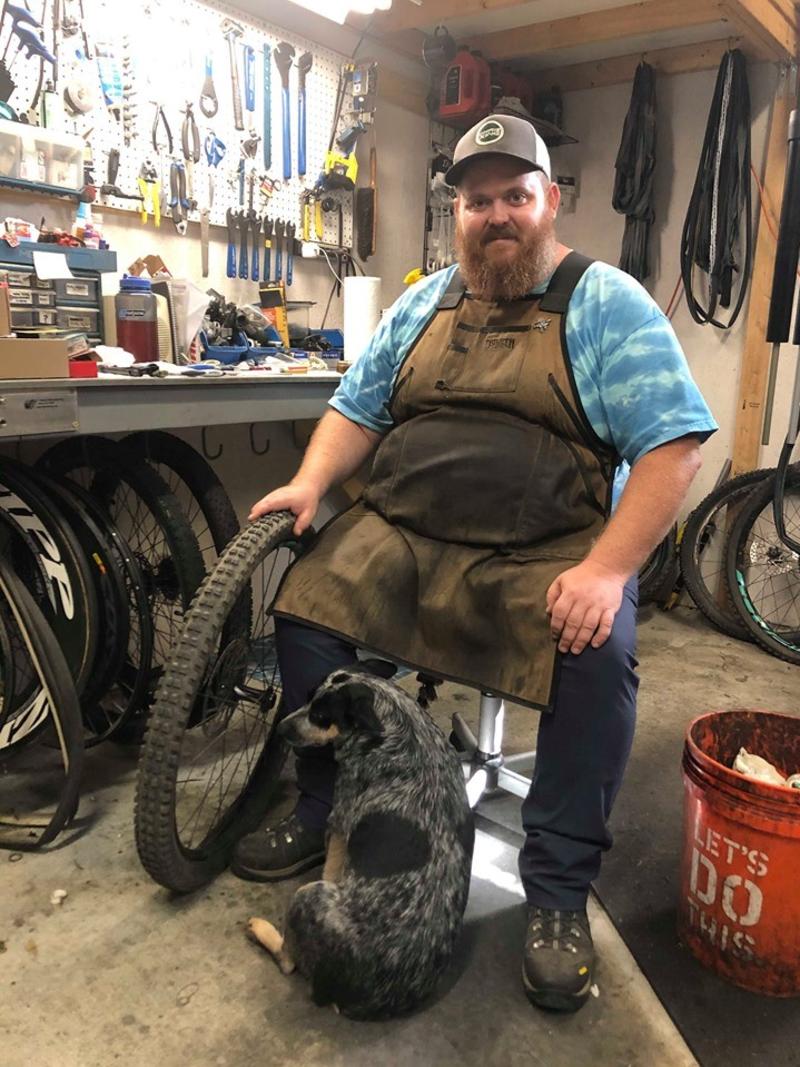 My hunch that this beloved local bike shop also caters to local wheelchair users turned out to be indeed the case. Trailhead routinely changes out tires, tubes, and spokes on wheelchairs. Harris was quick to point out that a wheel in need of repair on a wheelchair is usually a more serious matter than the same issue on a bicycle, and that they encourage you to call ahead prior to your visit so that they can quickly order what you need, and execute the repair as you wait. Wheelchair users, take note: Trailhead is here to help, if it can!
Go make a day of it at Lowe Mill, one of the most important arts centers in this country, right here on our doorstep!