Celebrating 50th anniversary of Apollo 11 launch and moon landing 
2019 celebrations around the Apollo 11 50th anniversary are "blasting off" in the Rocket City, and the Huntsville/Madison County Convention & Visitors Bureau (CVB) has joined in the festivities by offering a special Apollo display at the Huntsville/Madison County Visitor Center®️ in downtown Huntsville. The display, which is comprised entirely of items on loan from retired NASA engineer Mr. Kenny Mitchell, includes various photographs signed by Apollo crew members, commemorative pins, and other memorabilia.
The CVB anticipates the special activities taking place around the anniversary to be a significant draw for tourism to the area throughout the year.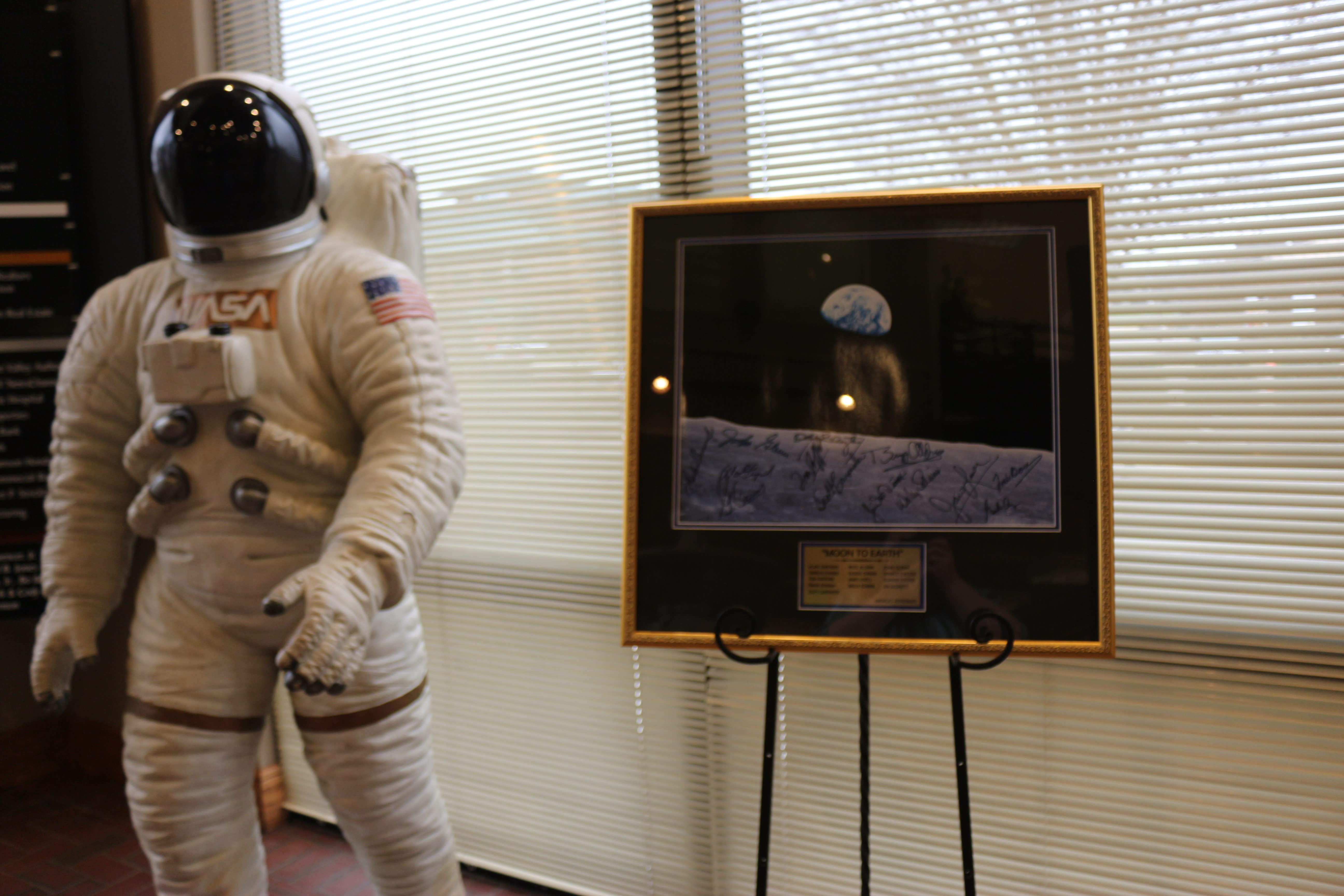 Huntsville's Connection to the US Space Program
Judy Ryals, President/CEO of the CVB gave the following statement. "In 2019, we expect to see visitors from across the globe coming to celebrate this historic year with us. Only in Huntsville can visitors stand under the magnificence of the Saturn V rocket at the U.S. Space & Rocket Center, be surrounded by the history behind one of humankind's greatest achievements, attend Space Camp®️, and also see where deep space exploration is headed in the future – the journey to Mars. That is truly an experience you can't have anywhere else in the world. We look forward to welcoming our guests who seek this unique adventure."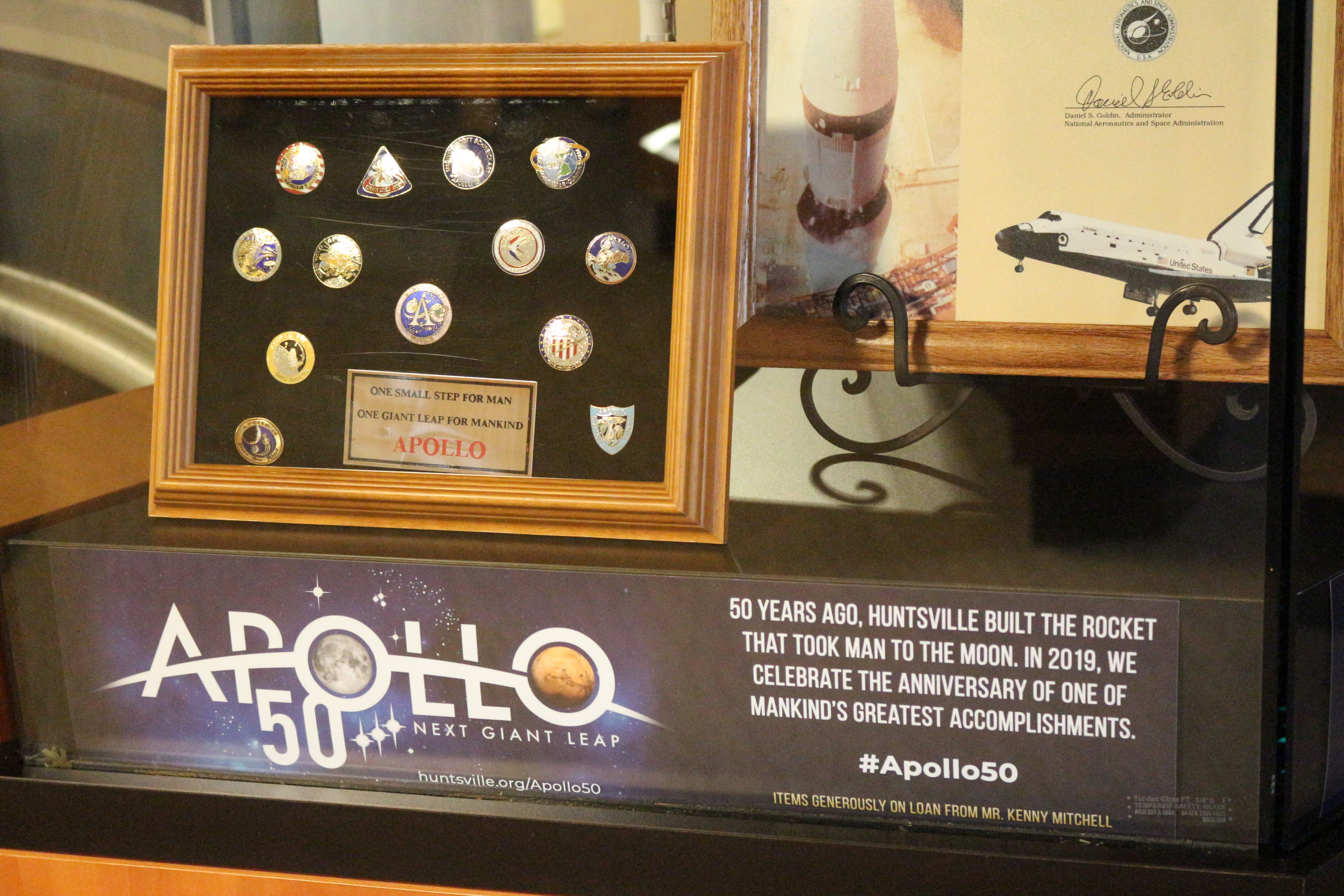 Items on Display
Items on display at the Visitor Center include: a signed Blue Marble photograph, Clan MacBean Arrives on the Moon, signed, Illustration of Astronaut, framed Apollo 11 25th anniversary flag commemoration, Apollo 17 Commander Gene Cernan in Rover Vehicle photograph, signed, Tranquility Base signed photograph, Blue Marble framed image, commemorative Apollo pins, Apollo 12 Crew autographed photo, The Cradle of American Space Exploration book by author Kenny Mitchell, and The Rocket Man foam board sign.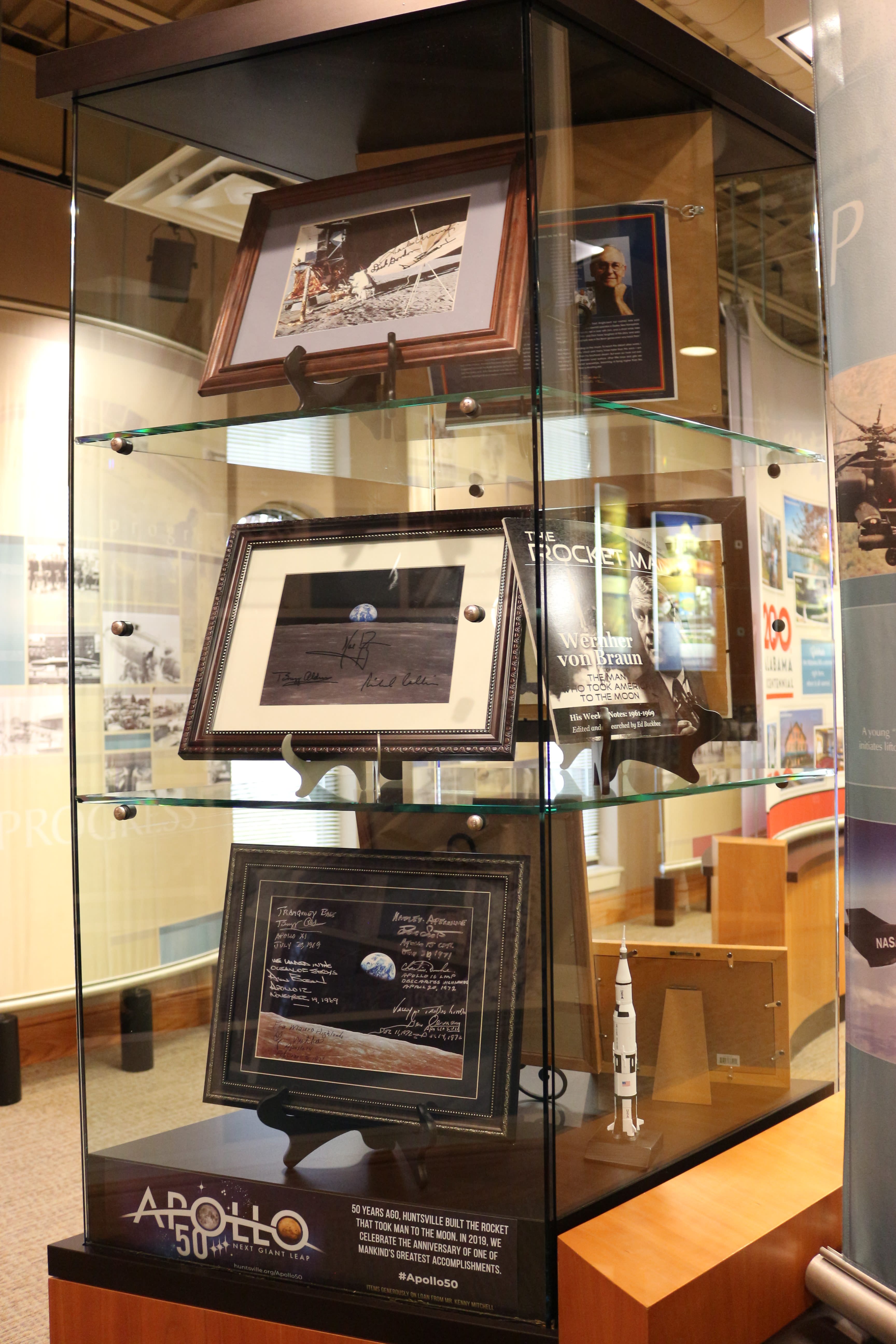 More to See and Do
In addition to the Apollo display, visitors can also take a #RocketCitySelfie on the Visitor Center's selfie photo machine. Explore downtown by picking up clue cards for the Lucky Duck Scavenger Hunt. The Visitor Center offers discounts to Huntsville/Madison County attractions along with free maps and brochures.
The Huntsville/Madison County Visitor Center is located at 500 Church Street NW Huntsville, Alabama. It is open to the public Monday through Saturday, 9 a.m. to 5 p.m., and Sunday, noon to 5 p.m.