The annual Best of Huntsville contest has become a serious competition over the years. Winners are chosen by the community through voting. Here is a list of the vegan friendly winners. This list is where you'll find the voters favorite food and drink experiences in Huntsville. Congratulations to everyone who participated.
Best Coffee

Gold Sprint winner of Best Coffee is locally owned and operated. This coffee shop feels spacious with natural light and comfortable seating, in addition to an inviting outdoor patio area. They offer a couple of vegan breakfast options: avocado toast and house-made white bean & garlic hummus with warm naan. Gold Sprint has several vegan coffee drinks such as iced matcha with oat milk latte made from organic, ceremonial grade, Japanese matcha with 100% vegan non-GMO, gluten-free oat milk. They are located next to Lowe Mill ARTS & Entertainment directly on a major cycling route on the corner of 9th Avenue and 1st Street.
Best Brunch

Another Broken Egg stands by their philosophy "Nothing Short of Right is Right". Their menu includes a gluten-free section that has one vegan option: the Fruit and Quinoa Power Bowl with no honey-roasted granola-filled blueberry-infused quinoa topped with fresh seasonal berries, toasted coconut-crusted bananas, and a coconut milk drizzle. Of course, don't forget the mimosas made with Wycliff California Champagne and Simply Beverages by the glass or pitcher: cranberry cocktail, apple pie, and orange.
Best Greek / Mediterranean Food

This bustling counter-serve eatery just won Best Greek / Mediterranean Restaurant. Big Papa Gyro serves up gyros, falafel, hummus & other Mediterranean staples. The Vegetarian Menu has classics like the Veggie Gyro with grilled pita, fresh lettuce, tomato, bell peppers, onions, hummus, and seasoned grilled veggie patties. (Leave off tzatziki sauce and feta cheese to substitute sauteed green bell peppers and onions at no extra charge.)  Don't leave without trying one of their smoothies.
Best Italian

Huntsville has plenty of great Italian restaurants, but Mangia is in a league of its own. This warm, family-friendly eatery offers vegan Italian dishes directly on the menu. Tables can't go wrong with the pastas, especially the popular Pasta Soffocato, Garlic Mushroom Rosso, or Marinara Primavera. Everyone enjoys the robot server that brings these wonderful dishes to your table.
Best Meal Under $10

When it comes to delicious affordable food, Bandito Burrito has been a Huntsville staple since 1990. They have a Vegetarian A La Carte section on their menu. They can veganize almost everything in that section. If you're all taco'd out (blasphemy!) you can't go wrong with their signature Green Bean Burrito; green sauce, sub whole beans (no cheese). Another classic go-to is Bandito's No Carne Burrito, made with whole beans, rice, lettuce and salsa (no cheese) add guacamole. 
Best Brewery

Straight to Ale brewing facility is at Campus No. 805, here you can order from Ale's Kitchen. Their Chargrill Portobello Sandwich is a balsamic marinated portobello mushroom, chargrilled then topped with grilled onion, lettuce, tomato with smooth avocado sauce. You can add jalapenos for a little extra kick. Pairs perfect with any of their award-winning beers.
Best Vegan / Vegetarian Restaurant

Classic comfort food gets the vegan treatment at Vujee Vegan, a drive-through tucked away near Alabama A&M University's buzzing campus. Popular dishes include chili with homemade cornbread, bac'n burger, and ribs. If you haven't stuffed yourself silly, try the apple dumplings.
Best Caterer, Best Family Restaurant, and Best Outdoor Dining / Patio

Who doesn't love tacos, burritos, and nachos? With three locations to choose from, Taco Mama offers several vegan options. Build your own tacos, burrito, burrito bowl or Jorge's nachos. Order straight from the menu the burrito bowl called the Tree Hugger with cilantro-lime rice, black beans, grilled onions, lettuce, tomato, and mild salsa. The guacamole does contain dairy, so ask for fresh avocado instead. They recently added marinated tofu.
Best Frozen Dessert Place

Suzy's Pops was founded in 2011 with a simple goal: to make delicious ice pops with sophisticated flavors, while at the same time featuring the freshest produce from local farmers. They offer five fruity favors to choose from: Avocado, Peach Basil, Raspberry Hibiscus, Straight Up Strawberry, and Cucumber Lime. Wednesday through Saturdays, Suzy's Pops can be found at Lowe Mill ARTS & Entertainment on the second floor of the North Building.
Best Bar, Best Cocktails, Best Event / Wedding DJ, and Best Music Venue

Talk about swanky, Stella's Elixir Lounge is where chic meets electric.  With not one but two patios to choose from, the overall atmosphere is perfect if you're looking for a charming date night outdoors, surrounded by the romantic lights of downtown Huntsville and a warm glow of the patio fire pit. If you want to keep the passion indoors, the interior is dimly lit elegance which creates the perfect backdrop for an intimate evening. Highlight your perfect date night with these remarkable pre- and post-dinner drinks. Choose expertly mixed cocktails from their stellar drink menu with everything from an Old Fashioned to a French 75 made with gin, sparkling wine, lemon juice, and simple syrup.
Best Bartender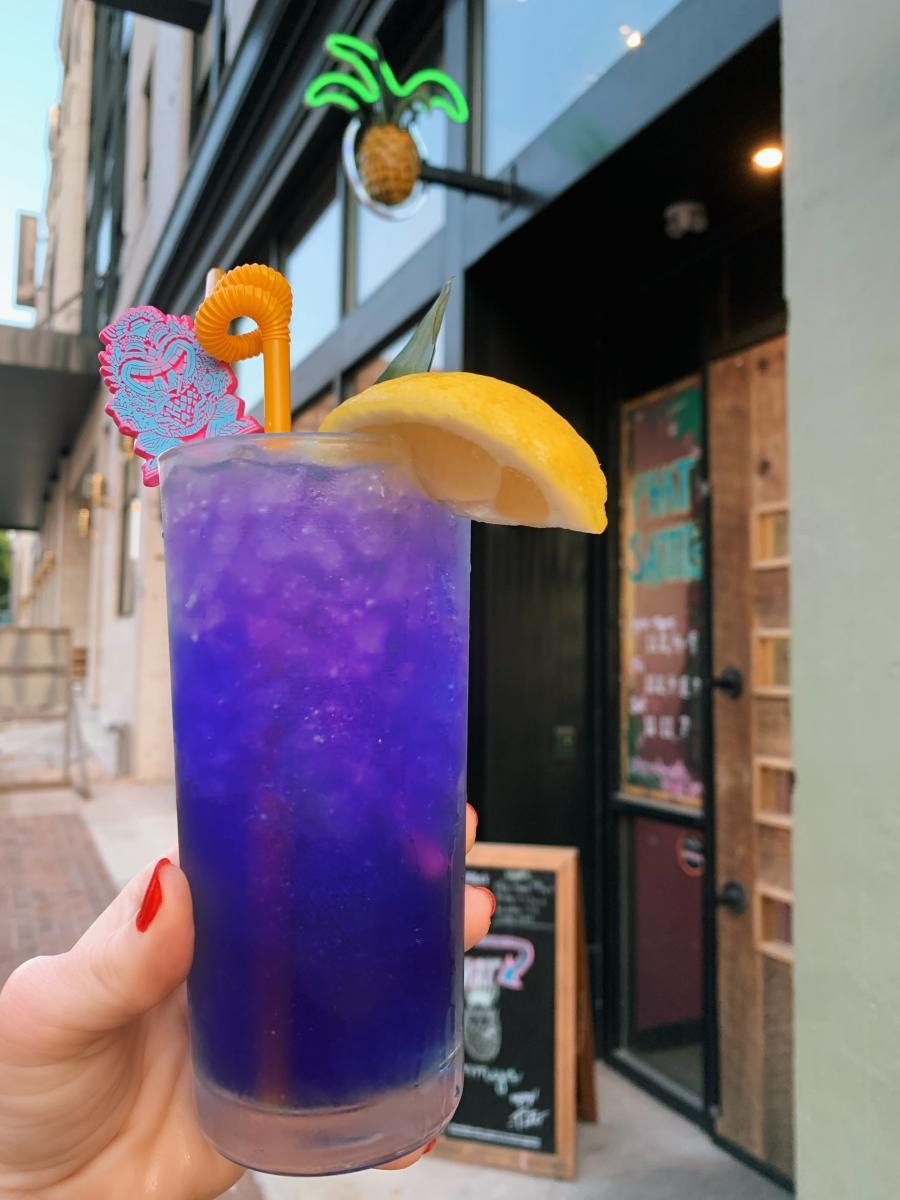 Conveniently located in the heart of Downtown, Phat Sammy's is Huntsville's only Tiki restaurant. Charles Rogers is the lead bartender at Phat Sammy's. He provides outstanding service and creates unique drinks, using his experience, knowledge and skill. Typical Tiki drinks include either light or dark rum, flavored syrup, fruit juices, and other mixers. Try their Pina Colada Cocktail with their house-made coconut cream. Their regular vegan options are the Buddha's Delight Sandwich with vegan mayo and Spam Fried Rice (substitute tofu and ask for no egg). Phat Sammy's provides an updated menu on their Facebook and Instagram pages.
Best Wine Shop

The Wine Cellar is a popular neighborhood wine shop with unfailingly helpful staff located in the Hospital District. Their $5 glass specials make it happy hour all day. They have plenty of seating inside and two quaint patios outside. The shop is well-stocked and homey, inventory is versatile. They do offer vegan friendly wines. Helpful tip if the front or back label says the wine is unfined, it's vegan friendly.