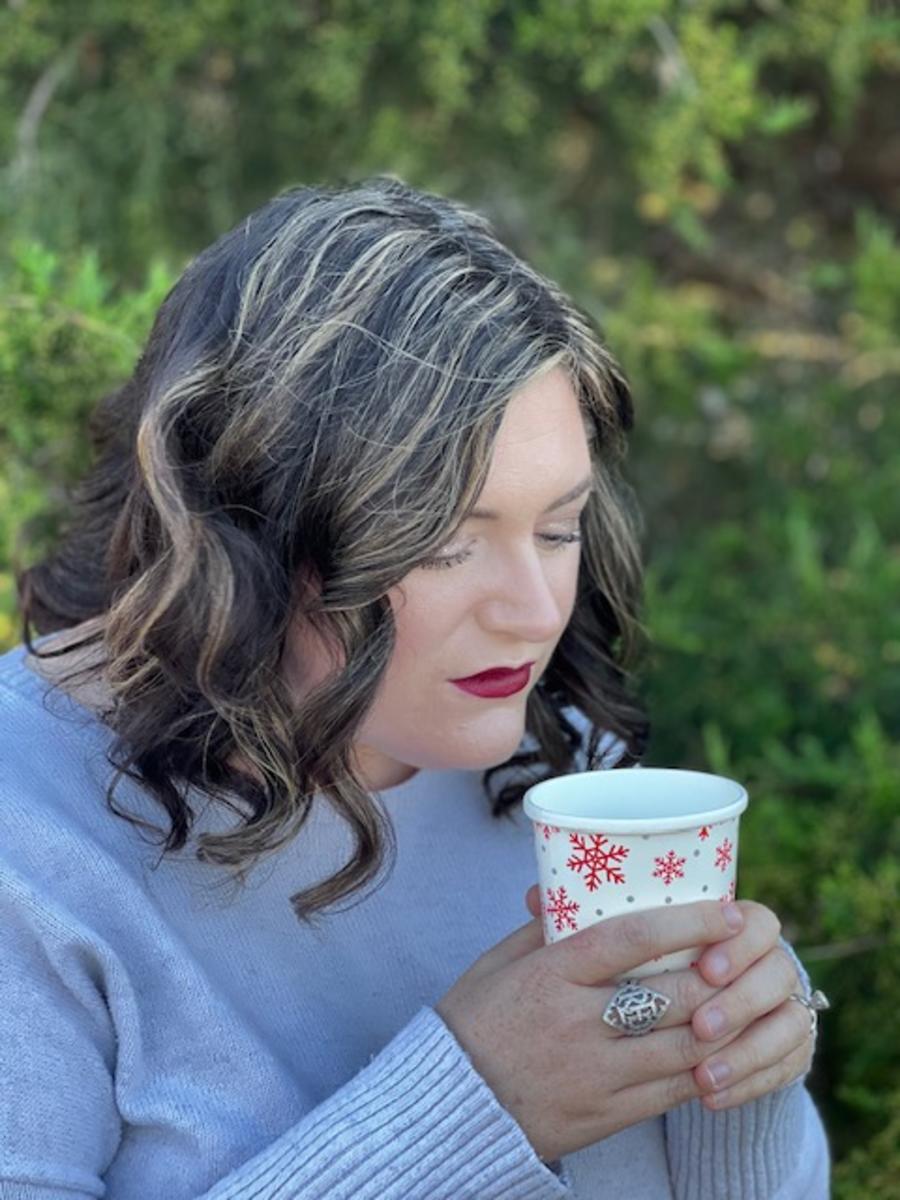 Nothing gets us into the holiday spirit more than a beverage—either naughty or nice! The second a cool breeze touches my cheek and the first autumn leaf falls, I'm ready to throw on a sweater and boots, sip a spirit or warm coffee, and welcome the holiday season. I've tracked down the best of Huntsville's winter cocktails, coffees, and more so you can too.
You've come to the right place for a list of libations to enjoy after you experience the best of Huntsville-area holiday traditions. From warm, boozy beverages to classy spiced cocktails, read on for the best winter drinks in Huntsville that you simply must try.
Coffee
My favorite winter activity is browsing the Tinsel Trail at Huntsville's Big Spring Park with a coffee in hand, warming the soul. While all of the locations on the Downtown Huntsville Craft Coffee Trail are great, read on for some of my new favorites this winter season.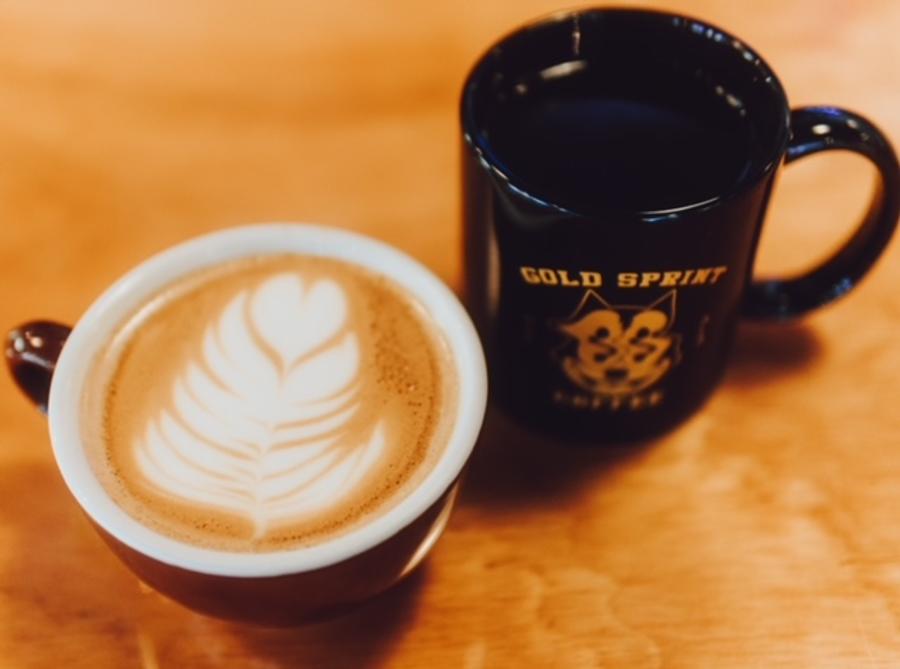 Photo by Shannon Watson and Gold Sprint Coffee
It's beginning to look a latte like Christmas! At Gold Sprint Coffee, they're serving drinks and vibes, and this winter's lineup of specialty beverages is proof they're leveling up.
Try The Vermont, a latte crafted with smoked maple bourbon syrup made from scratch, for the perfect blend of smoky and sweet smoothness. Tip: the flavor profile is even more fun with oat milk!
And you heard it here: Gold Sprint also has new alcohol options! Soon, the owners tell me they'll be introducing a cocktail menu to go along with their classic coffees and beer, wine, and mimosas. The perfect complement to their great offerings we know and love!
Honest Coffee Roasters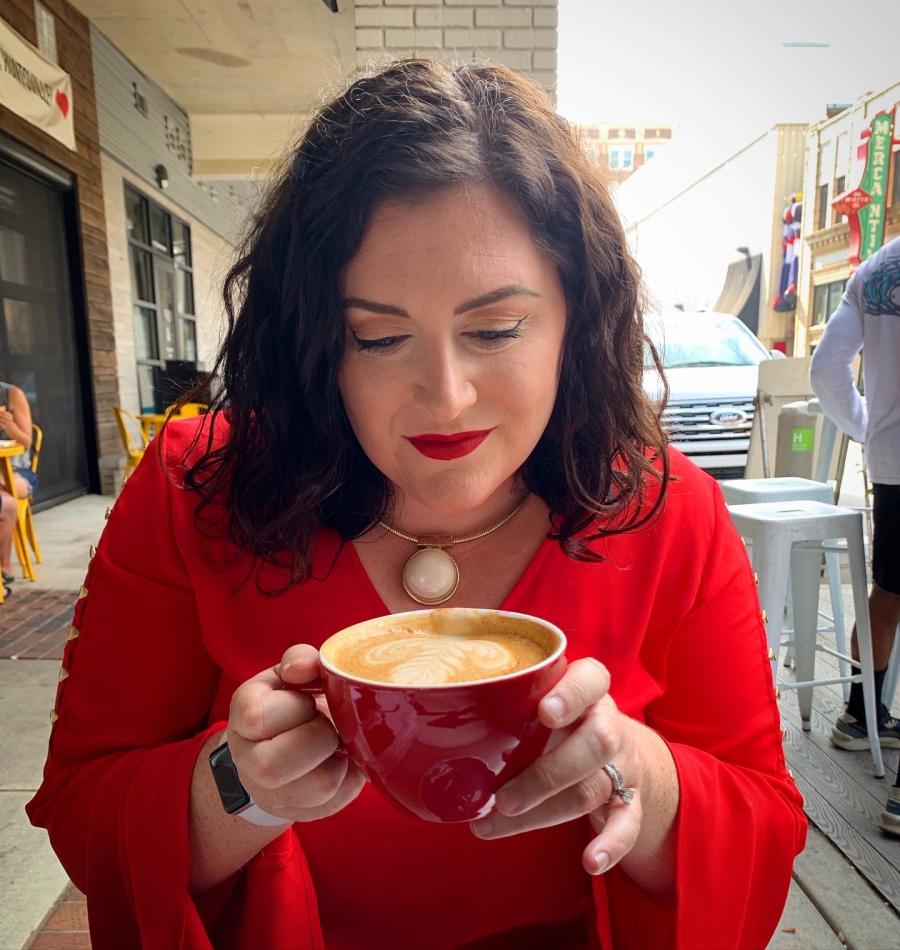 This Clinton Avenue favorite, Honest Coffee Roasters, is serving up irresistible holiday treats starting on Black Friday and going through New Year's Eve.
Their Gingerbread Latte, crafted with molasses, brown sugar, and ginger, is sure to be a staple this season. Or, you could try the EggNot Nitro, which its manager says is a vegan eggnog nitro made with coconut cream. And back again is their Nutcracker latte, deliciously created with peppermint and sweetened condensed milk.
I can't wait to try them all!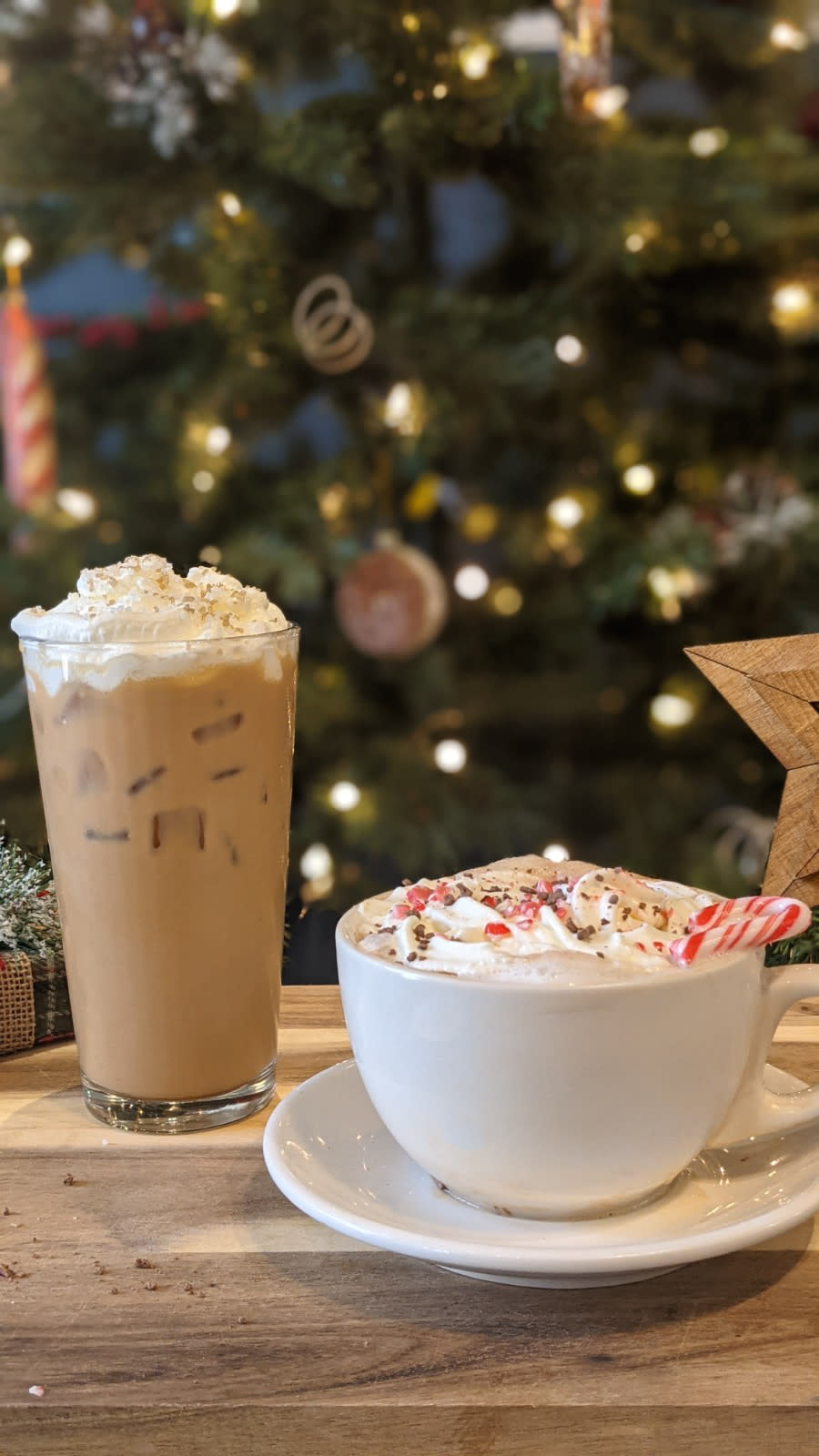 Starting in December, Huntsville's favorite slinger of carbs, Canadian Bakin, is rolling out their Mounty Mint Chip Latte (think peppermint mocha latte, but with homemade marshmallows.) Fa-la-la indeed.
And, to soothe the soul as well as the stomach, their new Cindy Lou Latte will make your Grinch heart grow three sizes 
Cocktails
The bartenders at local bars are getting festive this season, too. It's time to grab a date, or a friend who's in town for the holidays, and order these delicious winter cocktails—on the double.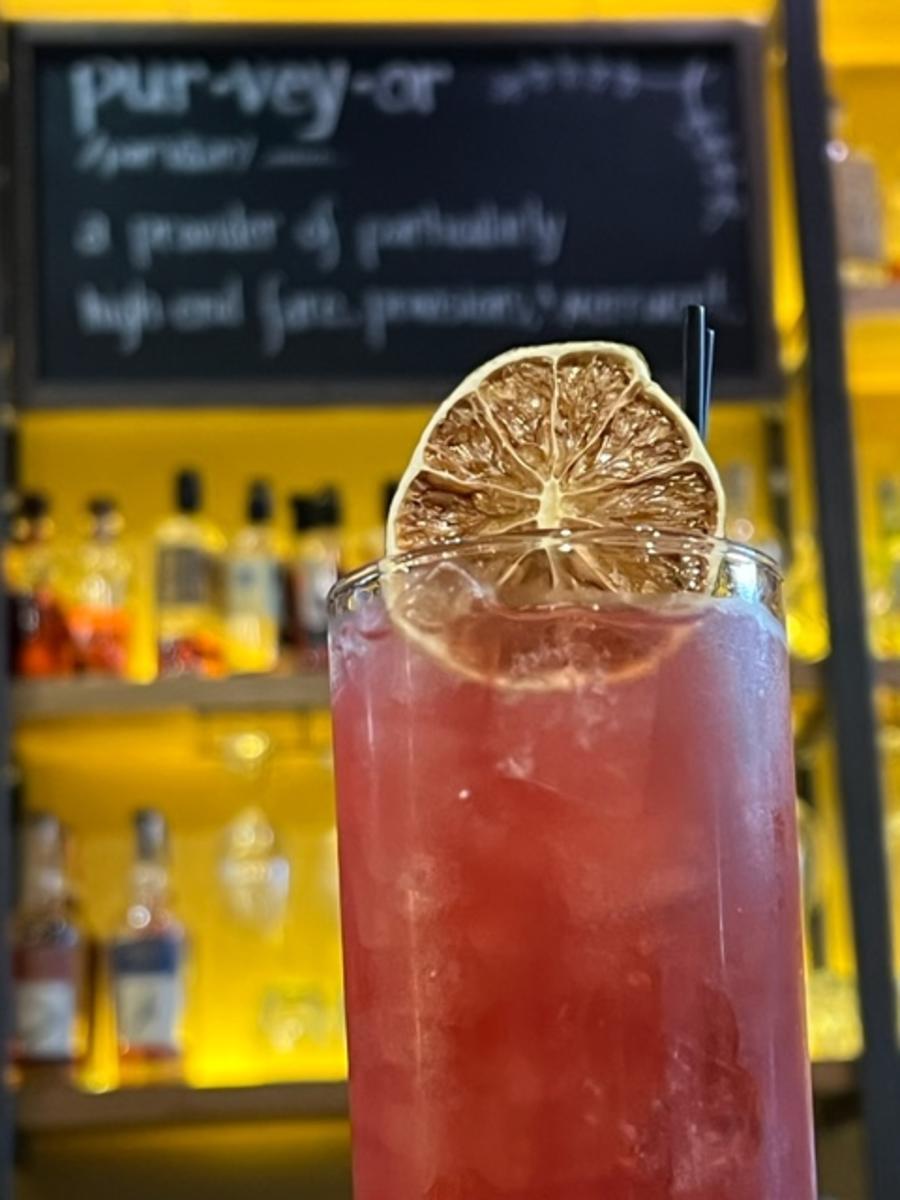 I have not been able to stop thinking about Purveyor's fall-winter cocktail menu. Choose from a list of seasonal, hand-crafted favorites.
A beverage doesn't have to be hot to get you in the holiday spirit!  I ordered the Lord Byron (pictured above) a spiced cocktail that warmed me up and kept me coming back for more of the complex flavor. Served with John Emerald Spiced Rum, pomegranate liqueur, hibiscus, Ancho Reyes, and lime juice, this cocktail combines the tartness of the fruit flavor with sweetness and spice to create a medley of cheer. Its festive color is also a nice bonus.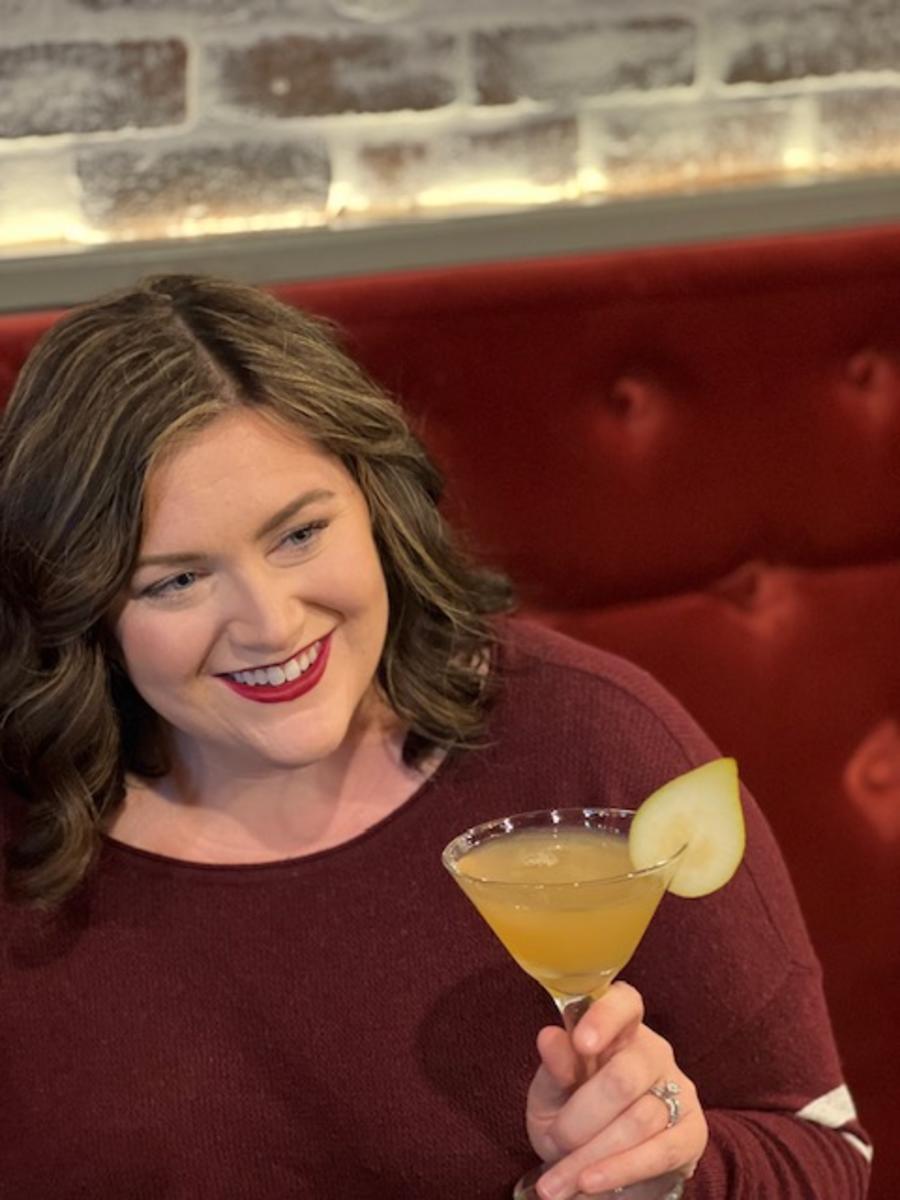 I also tasted the Mariel Hemingway, which the bartender (ask for Heather!) told me is the most popular choice. It's the one I'm sipping above. She blended spiced pear liqueur with pear juice, cinnamon simple syrup, lemon juice, and Ford's Gin to create this hit holiday drink. It's one not to mistletoe.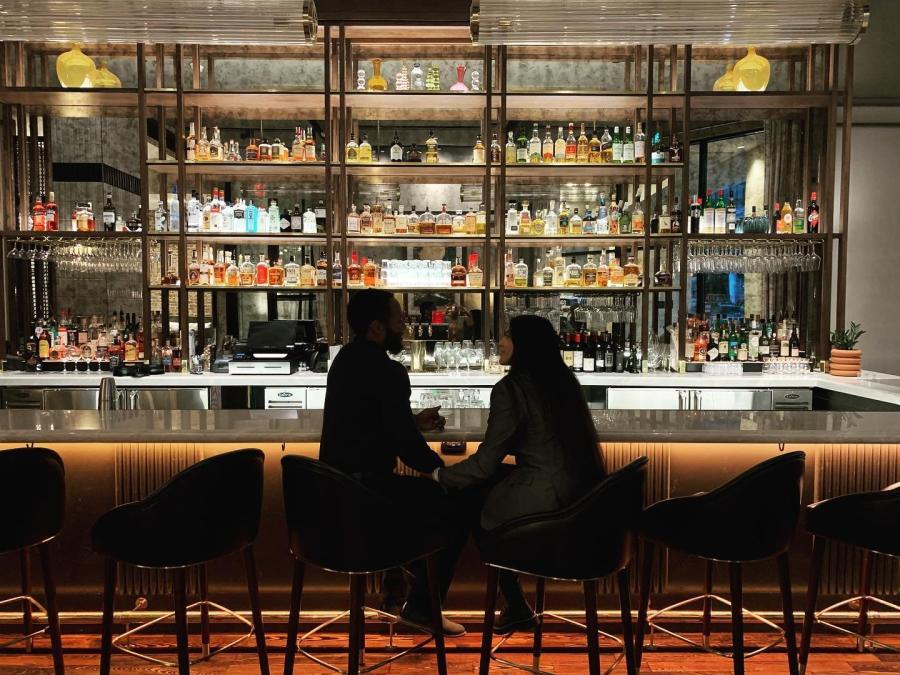 Photo Credit: Revivalist
Revivalist, the bar inside the 106 Jefferson hotel downtown, is a great new (and gorgeous!) option serving up the coziest winter cocktails this season.
Try their Irish Coffee, brewed with black coffee, whiskey, and a teaspoon of sugar. Or, a fresh Hot Toddy with Irish whiskey, honey, hot water, and lemon peel to warm your spirits and your hands with every sip!
And, their Bullseye signature cocktail, served starting this fall, combines house-made pecan orgeat syrup, nutmeg, and Bulleit bourbon. Yum!
If you're looking for a change of scenery a few cocktails in, head upstairs to the rooftop: the other on-site bar, Baker & Able, is also serving Irish Coffees this season—I'm told that order is very popular up there during the winter, too.
Craft Beer
Nothing is better than a seasonal drink: you know it's only available for a limited time, so you just have to get your hands on it before it's gone until next year! Read on to learn how Huntsville's breweries are the places to be this winter.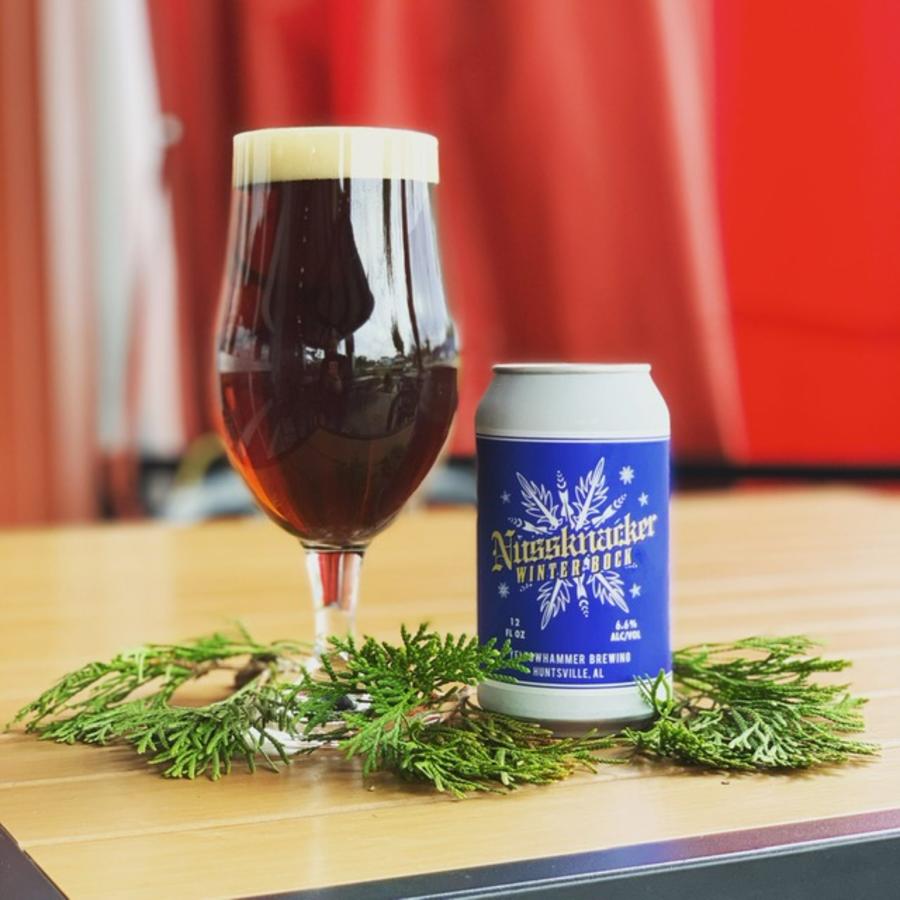 Photo provided by Yellowhammer Brewing, Inc.
If all you want for Christmas is brews, never fear! Yellowhammer's Nussknacker Winter Bock is back! (Nussknacker is German for the English "nutcracker", and it's a Huntsville favorite for the winter season.)
The brewing company describes this as a "slightly darker version of a traditional German Bock beer, brewed with imported Munich malt and a touch of Belgian chocolate malt to complement the long winter nights." Find it on shelves or at their Campus No. 805 location.
At 6.6% ABV, this brew will make you feel warm and cozy—perfect for a winter day of fun.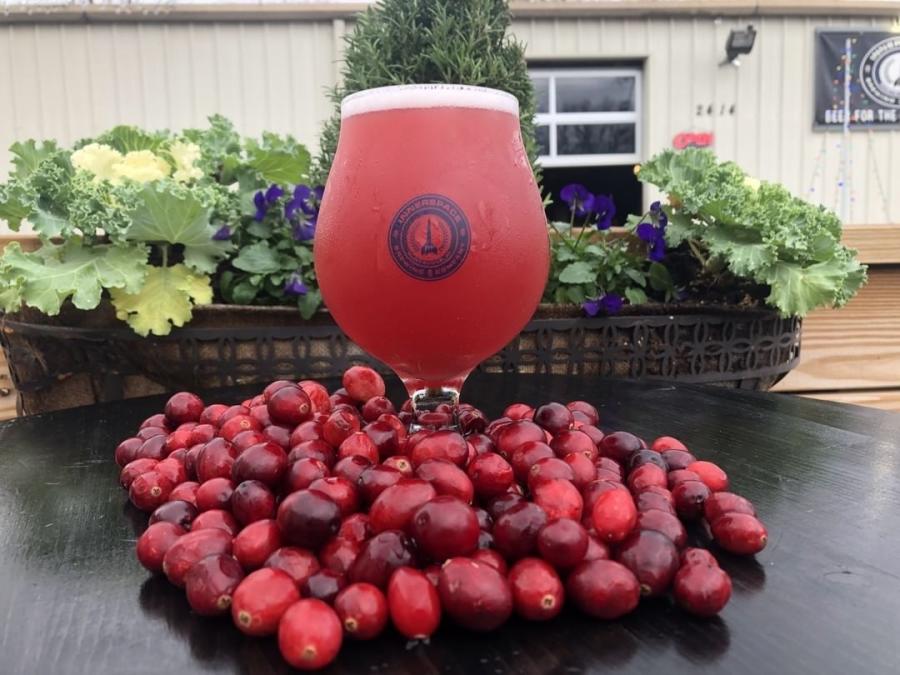 Photo provided by InnerSpace Brewing Co.
Hoppy holidays! The team at InnerSpace Brewing is releasing a new beer in early December 2021: Bier de Noel, and we hear it's divine. They tell me it's a French Farmhouse Christmas Ale, "dark and malty with notes of orange peel and holiday spice." Sleigh, what? Sign me up.
And, back again this season is InnerSpace's hit holiday brew, Cranberry Saison. It's the one pictured above.
Desserts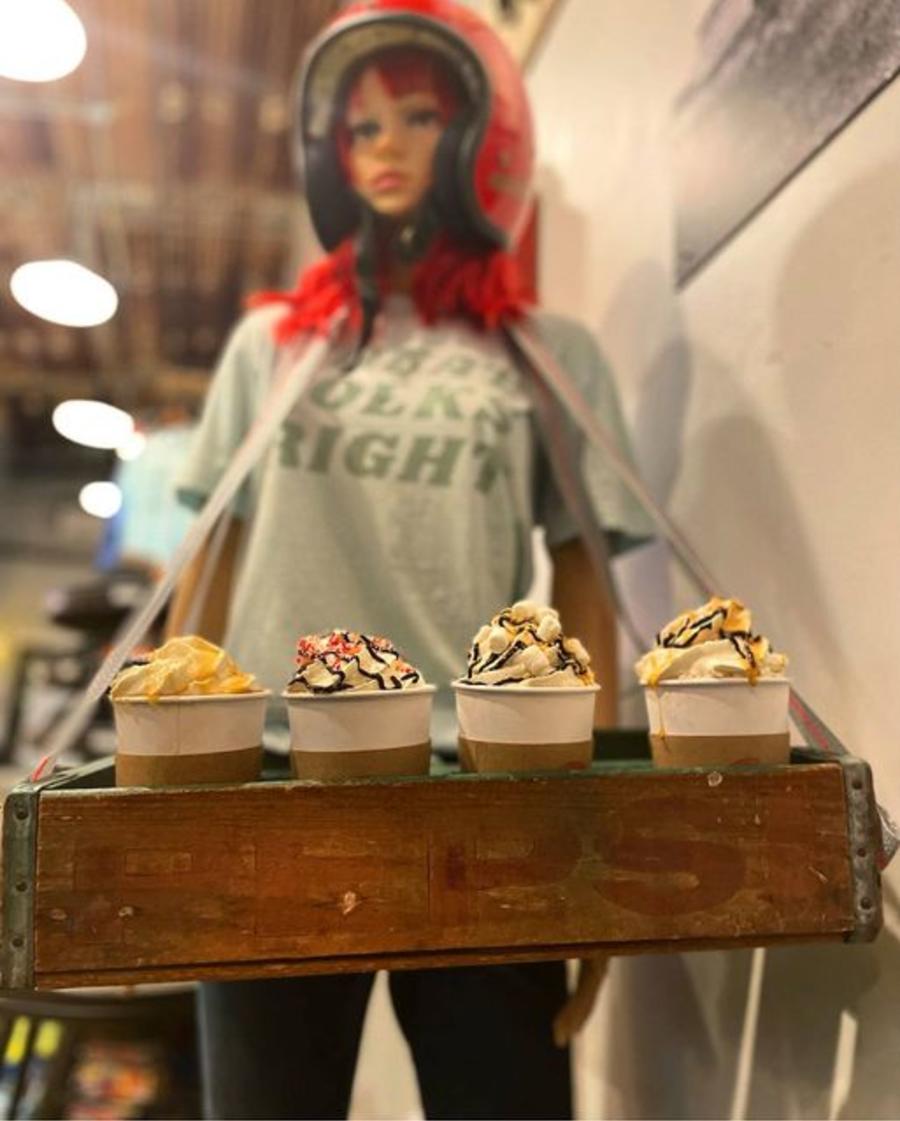 Photo: Oscar Moon's
You thought I'd forget about hot chocolate, didn't you! Don't fret: Oscar Moon's over at Stovehouse has you covered with a whole hot chocolate menu available now, for you to enjoy as the sleigh bells ring!
Try the s'mores hot chocolate with whipped cream, bringing the campfire to you with mini marshmallows, graham cracker crumbs, and chocolate drizzle. Or, the bourbon hot chocolate might call your name: this non-alcoholic hot chocolate option features brown sugar, whipped cream, and a chocolate and caramel drizzle.
Their gingerbread and peppermint options are also perfect additions to your holiday revelry at Stovehouse.
Drink Up!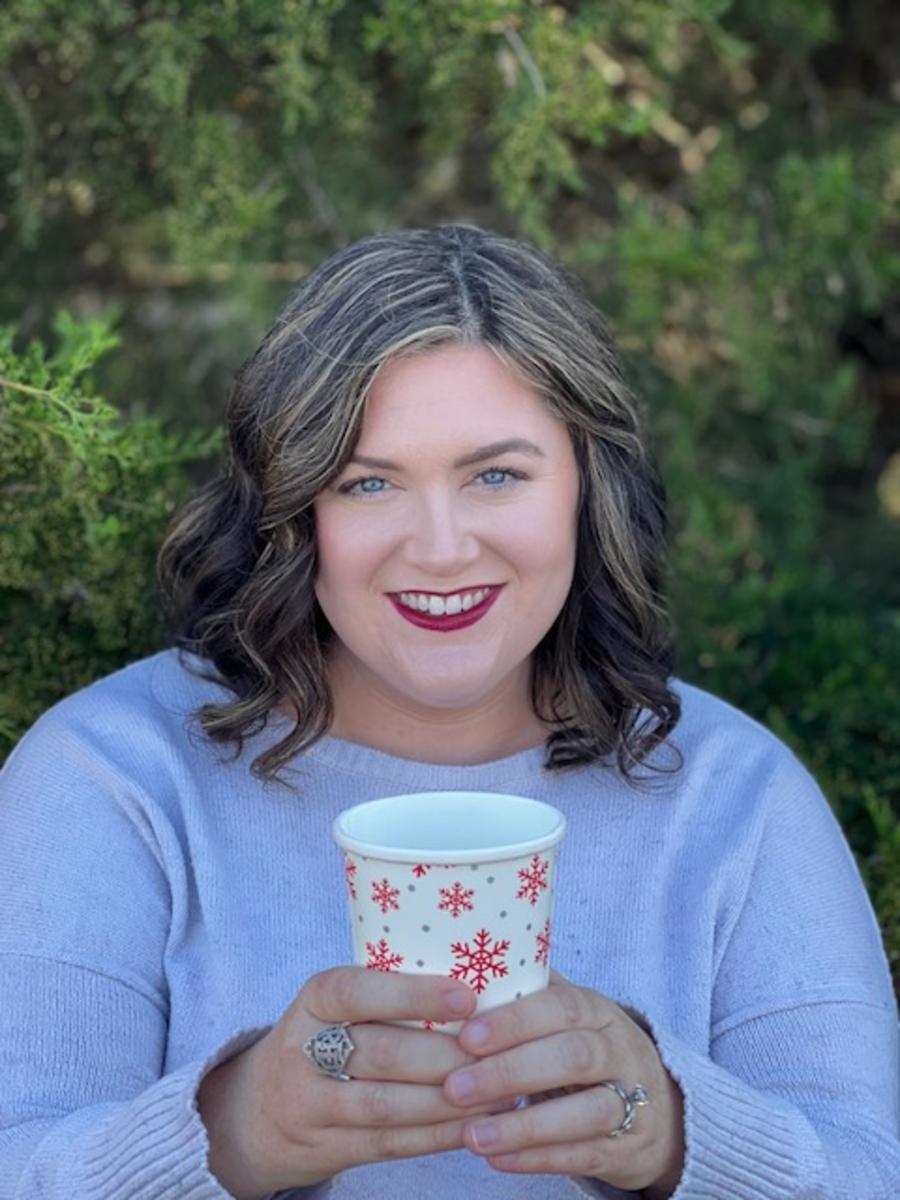 There are so many fantastic drink options in the Huntsville area this winter, you must try them all. See you at the bar or in line at a local coffee spot!