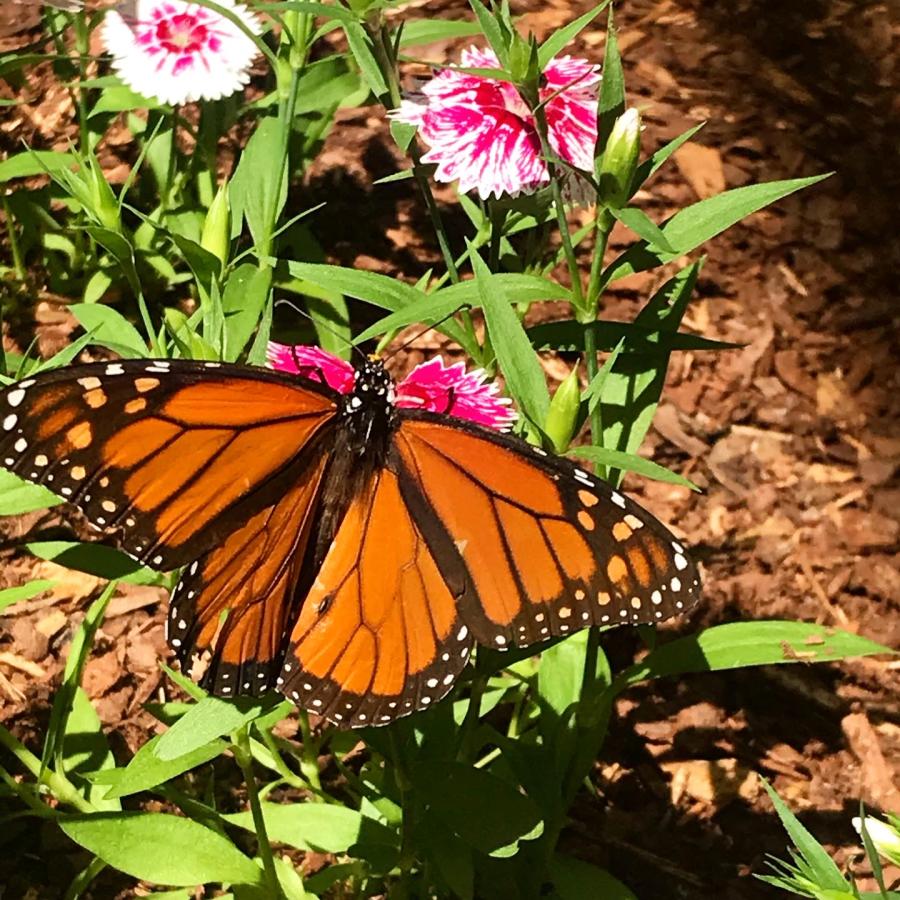 A visit to the Huntsville Botanical Garden's open-air Purdy Butterfly House may be just what the doctor ordered! Read more to find out why.
Watching Butterflies is Good For You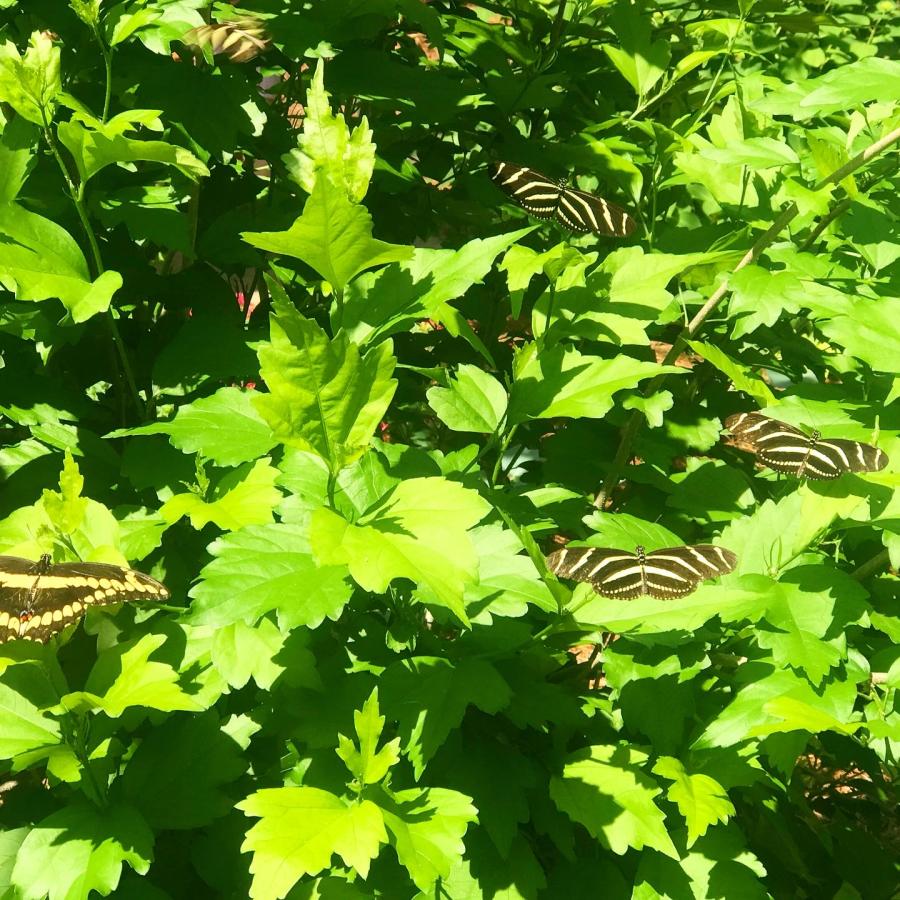 Research suggests that time spent immersed in nature positively increases emotional well-being and mental health. Our family visited the Butterfly House on opening day, and as soon as we stepped inside the netted structure, the stress of the day melted away. Once the doors close behind you, you're immersed in a tranquil space with butterflies aflutter among lush vegetation and the sounds of flowing water. My eight-year-old son described every butterfly he passed, determined that each one held color combinations he'd never seen. My two-year-old daughter was elated to see these delicate insects encircle her, repeatedly exclaiming, "BUBBLEFLY!"  Slowly strolling past the small waterfalls, ponds, streams, and beautiful flowers, we enjoyed not only the butterflies but also the turtles and frogs.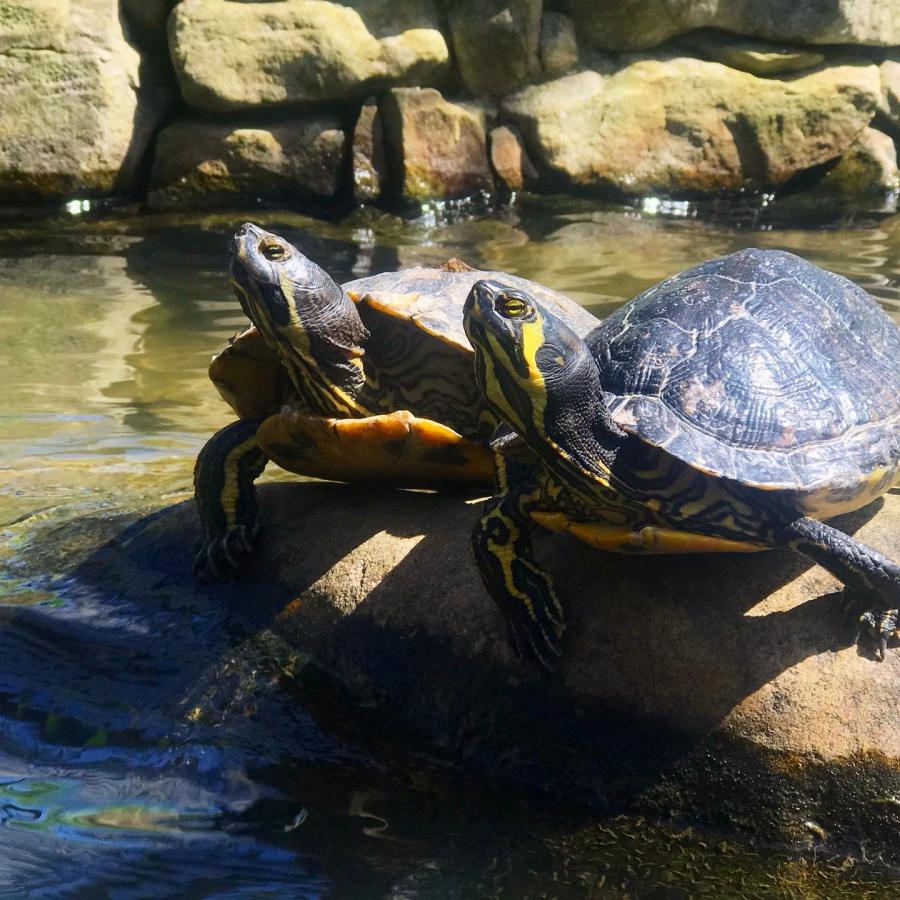 Butterflies are a Symbol of Hope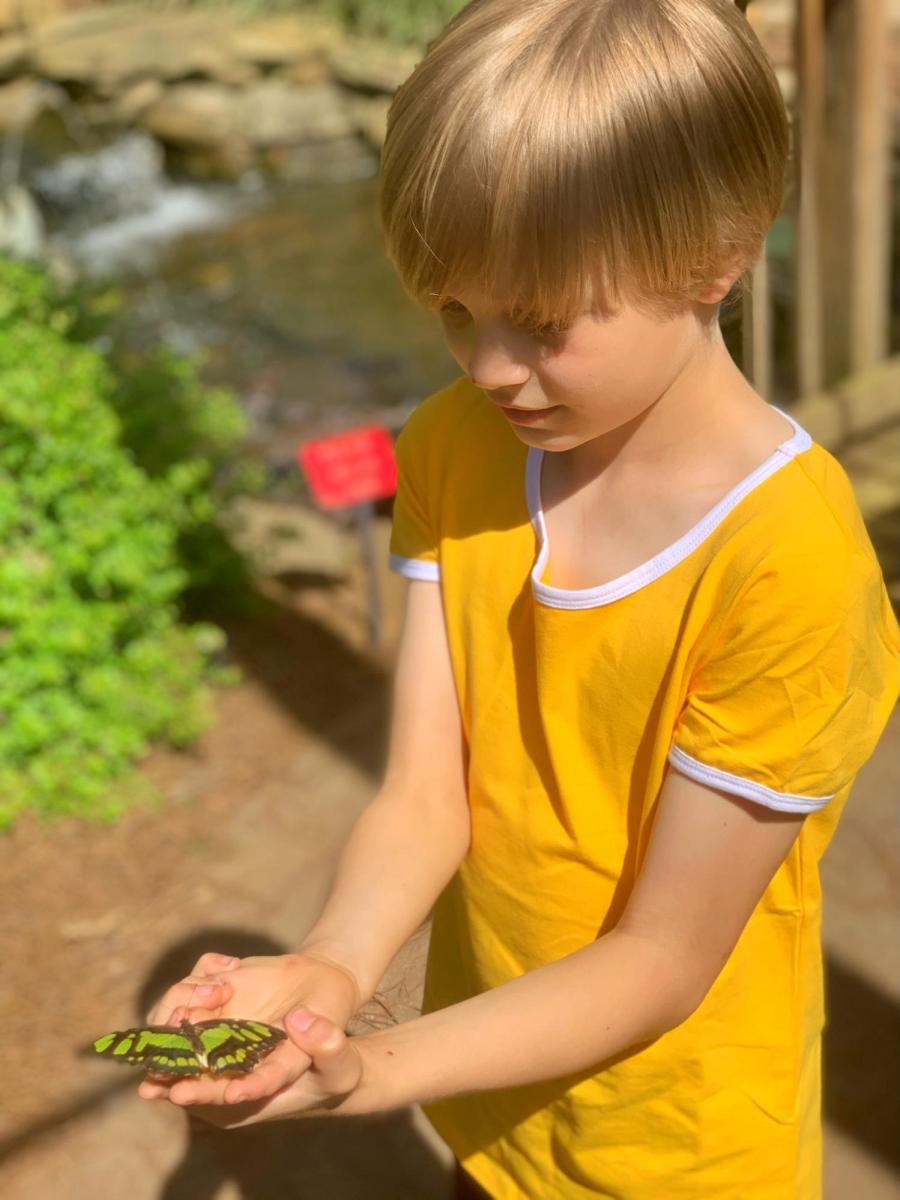 In many cultures, butterflies have long been symbols of change, courage, and the endurance it takes to embrace transformation. For our family, last year's lockdown was a chance to slow down and notice the butterflies. The butterfly life cycle from an egg to a caterpillar, then into a chrysalis mirrors life-altering changes and challenges. At the same time, the progression from a chrysalis into a colorful winged butterfly represents hope for the future. After 2020, our family is grateful for opportunities like this to escape into nature and gain a fresh, new perspective on life.
Ways To Enjoy The Purdy Butterfly House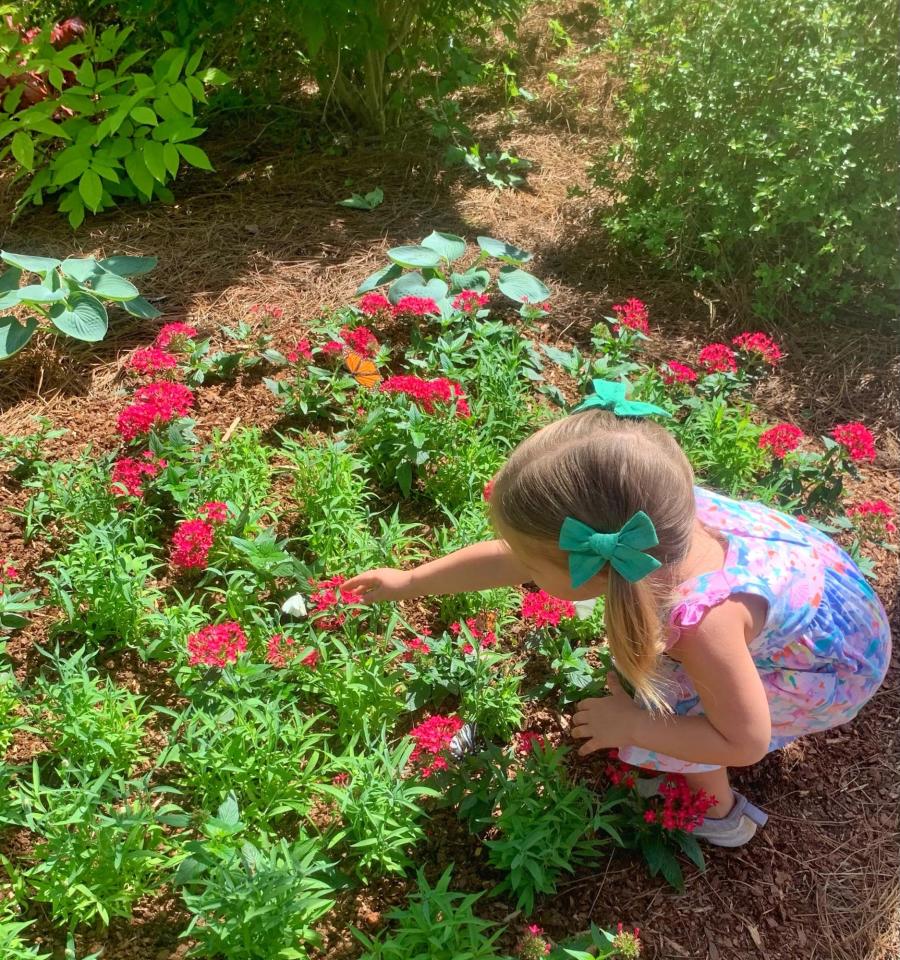 The Purdy Butterfly House is the largest of its kind in the United States. More than 1,000 unique butterflies native to the Southeast flutter about perfectly at home in the 9,000 square foot sanctuary. Situated within the breathtaking Huntsville Botanical Garden, a visit to the Purdy Butterfly House will likely prove to be a therapeutic experience for all. Don't forget your camera!
Register for a Butterfly Release (May - September)
Butterfly releases are thirty-minute programs that take place throughout the Summer months into early Fall. Registration is required, and tickets include admission to the full gardens. The program begins with a presentation covering the life cycle and habitat of the butterfly, where the program director highlights the four main stages of a butterfly's life and unpacks how the Butterfly House is uniquely maintained to support each phase. Guests of all ages delight in releasing a butterfly from its carton into the Butterfly House, watching as they spread their wings for the first time. By attending the event, you're taking part in restoring our butterfly population. If you want to experience a butterfly release, be sure to grab a ticket early because registration fills up fast.
Visit During Regular Hours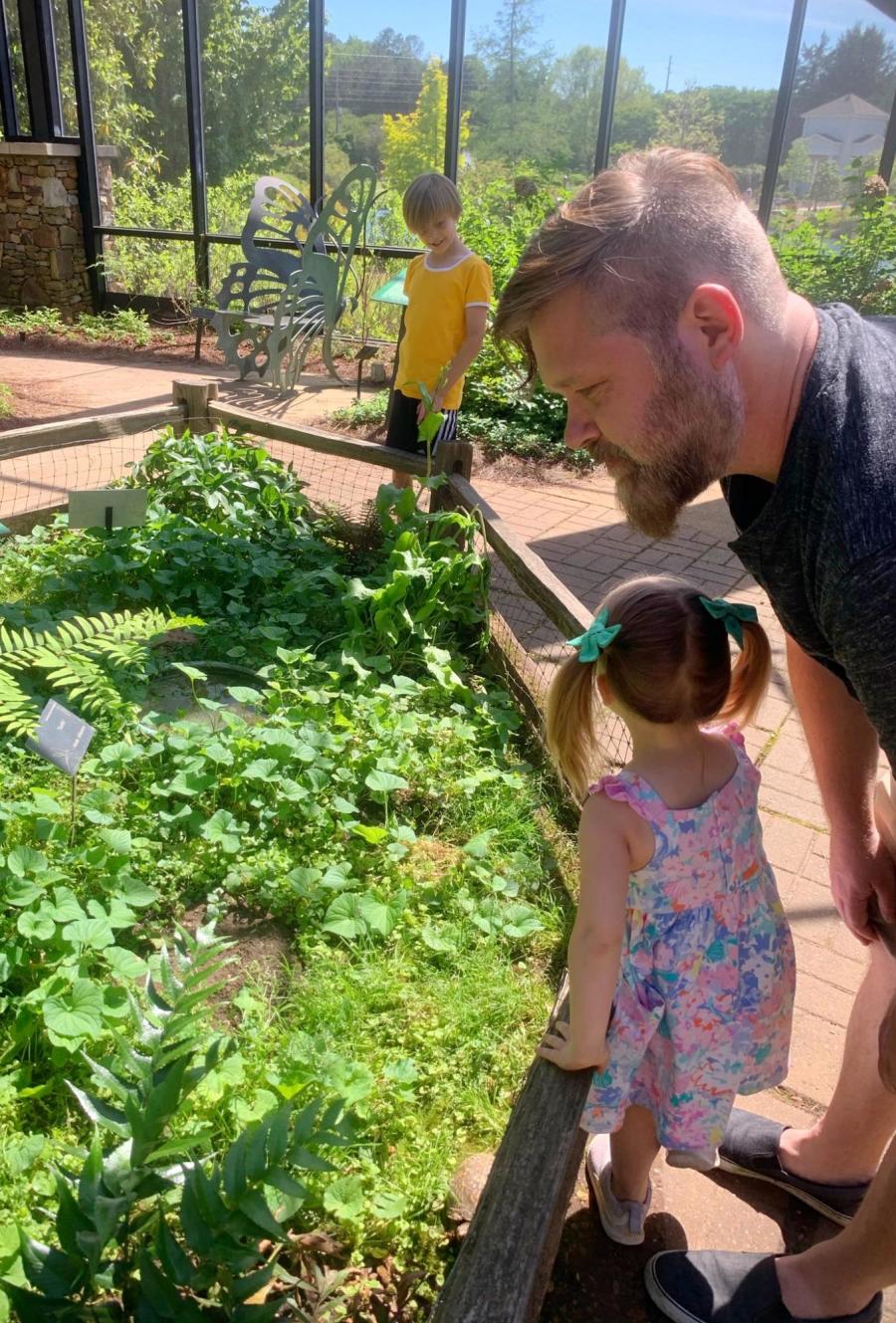 If you're unable to make it to a butterfly release like our family, no worries! Visiting during regular hours is still an unforgettable family outing! It's a magical experience to watch children of all ages laugh and wonder as the butterflies circle around them. My husband said, "It was mesmerizing how a single species of butterfly gathers together on one plant, slowly moving their wings as if they were in sync. I stood in one place for six minutes watching them do a slow-motion wing dance! It was so peaceful." My eight-year-old said, "I loved when a butterfly would hop on me! I found one unique butterfly, not like the others - its wings were purplish white and were shaped like triangles with swirling colors!"
How to Get a Butterfly to Land on You

If you take a child with you or are a child at heart, this question will be top of mind when you step inside the butterfly world. My kids couldn't wait to have a butterfly land on them! Here's what we discovered - butterflies congregate around the flowering plants where they find nectar. These are called feeding stations, and they are the best place to see a butterfly up close to watch for their next flight. Stand very still on the path nearest those plants, and one might land on your shoulder or on your outstretched hand!
Please Note:
The Purdy Butterfly House is open during regular garden hours and has a limited capacity. Social distancing and face coverings are encouraged at this time.
Purchase Huntsville Botanical Garden tickets here