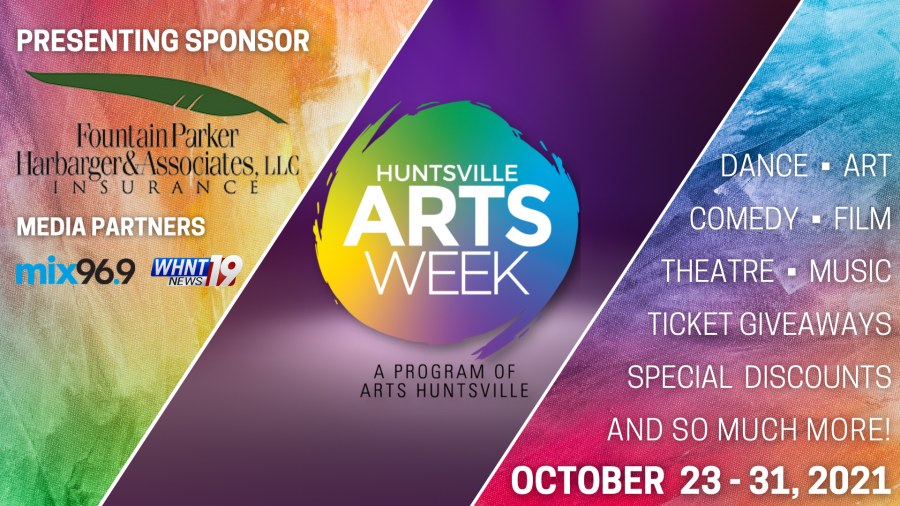 Arts Huntsville's 3rd Annual Huntsville Arts Week, presented by Fountain, Parker, Harbarger & Associates, is upon us and there's no shortage of entertaining things to do or see throughout the ten-day celebration of Huntsville's ever-growing arts community. From theatre and film, to live music and dance, to art and festivals, we've provided details below so all you have to do is pick where to start!
You get a ticket, you get a ticket, EVERYBODY GETS A TICKET!
Just kidding. But wouldn't that be nice?
Throughout Huntsville Arts Week, Arts Huntsville and Mix 96.9 Huntsville will be giving away tickets to a variety of upcoming performances and shows presented by Theatre Huntsville, Tennessee Valley Jazz Society – Huntsville, Huntsville Symphony Orchestra, Broadway Theatre League and Huntsville Chamber Music Guild. When and where will these giveaways take place, you ask? Well, you'll just have to stay tuned in to Mix 96.9 and keep an eye on Arts Huntsville's social media for the answer.
Sit Back, Relax & Enjoy the Show
In need of a date night, girls night, guys night, solo night or even a family night? Huntsville Arts Week has you covered. Whether you're looking for laughs, ballet or music, there's a show or performance that's perfect for you and/or your crew.
Shows and performances happening this week include Monday Movies on the Lawn at Stovehouse, Monster Movies at the Mill at Lowe Mill Arts & Entertainment, The Rocky Horror Film Show showing at Theatre Huntsville, Spooktacular Organ Concert by First Baptist Church Huntsville, Jazz Fall for the Arts by Tennessee Valley Jazz Society – Huntsville, various live music performances at Stovehouse, Burritt on the Mountain and The Camp, and comedy shows at Shenanigans. For tickets and more information on events, visit the Arts Week page.
Grab Your Coat & Head Outdoors
There's something about art and nature that just goes hand in hand, and Huntsville Arts Week provides plenty of opportunities to experience this magical duo for yourself!
Throughout the week, be sure to check out final days of Huntsville Botanical Garden's continuation of Festifall and Uncaged: Birds, Nature & You. And to kick your Halloween weekend off right, take a ride through Lowe Mill ARTS & Entertainment's Trick or Treat Parade or head over to Bridge Street Town Centre and join in on LMP's 2nd Annual Costume Cabaret Saturday, October 30.
There are so many events taking place during the 3rd Annual Huntsville Arts Week, the above list doesn't even cover them all. Be sure to check out Arts Huntsville's full list of events on their Arts Week page and start planning your ten-day immersion into Huntsville's fun, unique arts and entertainment scene. Oh, and don't forget to share your experiences on social using #HuntsvilleArtsWeek and #iHeartHSV!