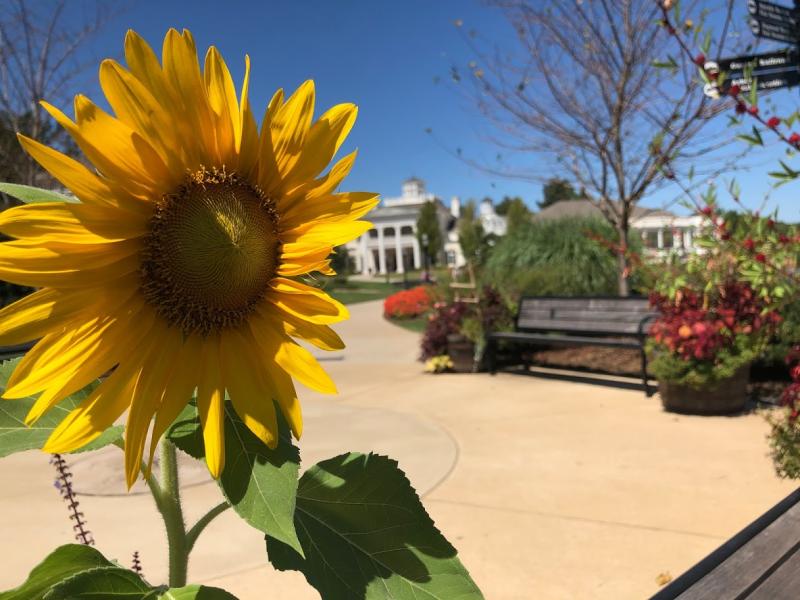 Everyone knows the Huntsville Botanical Garden as a place they can visit to relax, amble through nature, and relish a moment of serenity. But did you know that it's also a place you can go to indulge in delicious food?
Located in the Guest Center building—a stunning facility—you'll find the Dogwood Café that serves up light and fresh fare like chef salads, gourmet sandwiches, decadent desserts, select adult beverages, and ice-cold glasses of tea.
Best of all, the meal comes with views that can't be beat. On breezy, sunny days, you'll be able to take your Chicken Salad Croissant or Caesar Salad outdoors where you can sit back and take a much-needed breather.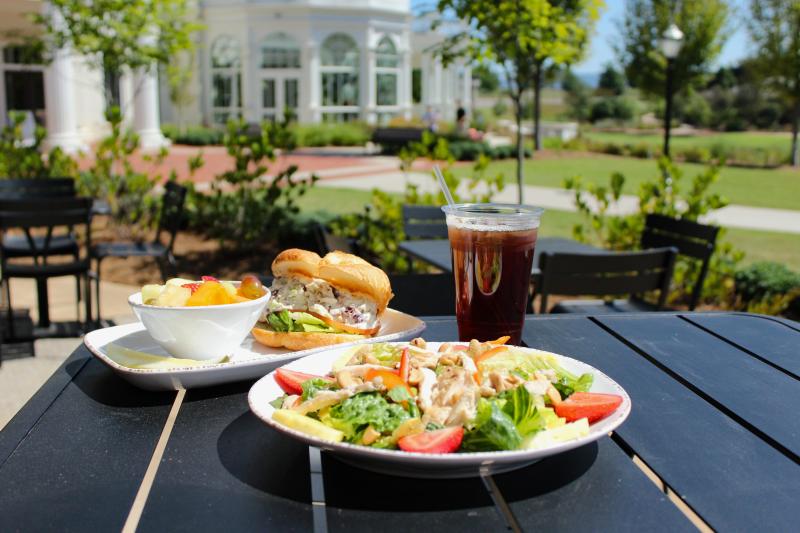 What is Dogwood Café?
For years, Grille29 in the Village of Providence neighborhood of Huntsville has operated as an award-winning facility with constant traffic and praise.
After much thought, backed by a desire to expand the brand, the same restaurant group officially opened the Dogwood Café to bring some of the chef's creations to a new audience at the Huntsville Botanical Garden. Now in its seventh month of operation, this sister restaurant has proven to be a must-visit eatery.
Regina Burnett, Director of Catering at Grille 29 and Dogwood Café, said that while the restaurant is a great amenity to the garden, it also functions as a stand-alone restaurant. This means you can bring your family and friends for a quick lunch without having to take a tour of the garden itself, although it's highly encouraged!
Dogwood Café is also available for catering opportunities at the Garden, which means there's more than one way to utilize the menu. Because everything is made on-site, you can rest assured your catering will be delivered in the freshest way possible.
To provide the best product possible, all items are made in-house at the café and were developed by the same creative minds and culinary talent behind Grille 29.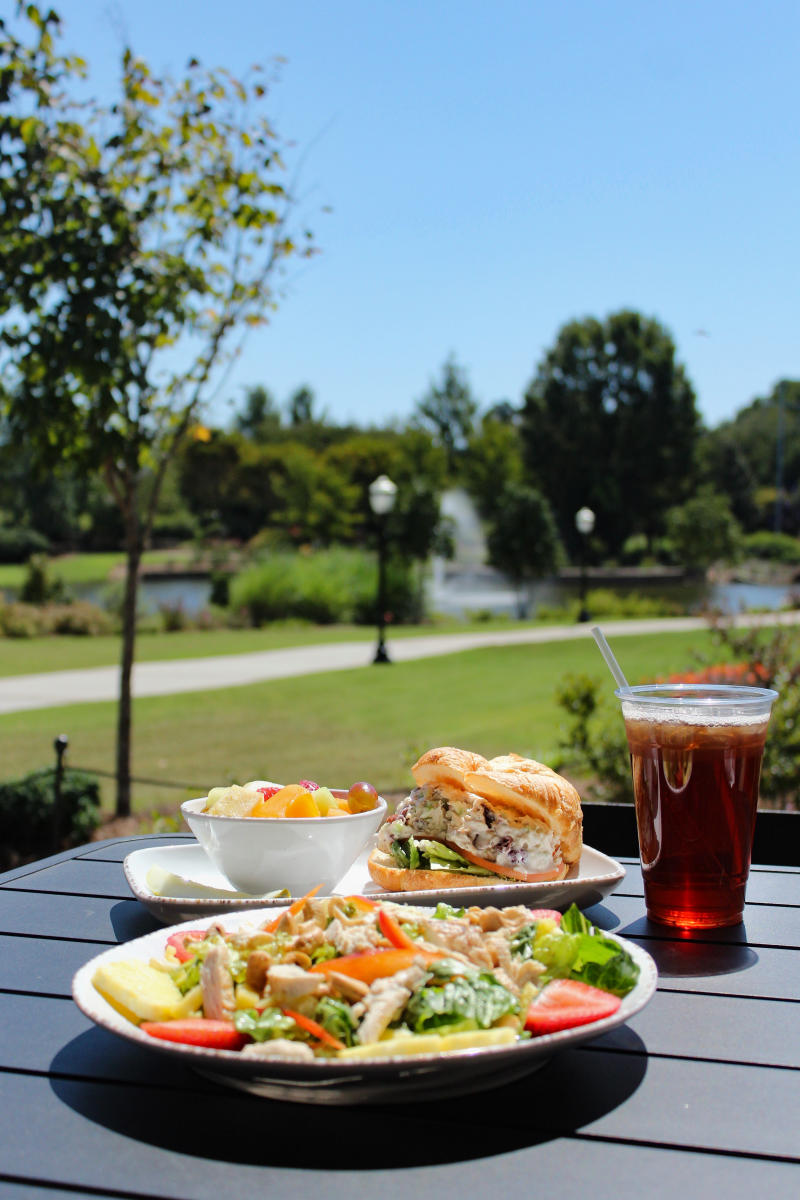 Dogwood Café  Menu
During our visit, we took full advantage of the setting and enjoyed the Dogwood Luau Salad, Chicken Salad Croissant, Chicken Caprese, and iced tea on the restaurant's outdoor patio. The rustling leaves, singing birds, and ripping water from the nearby pond left us feeling like we'd traveled far away from our workloads and desks, even though they were just a few miles away.
First up was the Luau Salad. This Hawaiian-inspired dish features chicken, fresh pineapples, strawberries, red peppers, cashews, crisp greens, and a sesame mango dressing. The combination of sweet from the fruit and spice from the peppers was well balanced and quite juicy. The topping of warm chicken and creamy dressing made it a filling lunch option that didn't leave us overstuffed.
Perhaps one of the most popular items on the menu is the Chicken Salad Croissant—a Southern staple. It was very beautifully executed with a combination of toasted almonds, dried cranberries, and just enough mayo to not overpower the chicken. The croissant was also warm and fluffy and we chose fresh fruit as the side. But there's also pasta salad or chips.
We then moved on to the Chicken Caprese Sandwich, which turned out to be our favorite (although everything is delicious and upholds Grille 29's strict standards of taste). It had a generous helping of chicken breast on a warm brioche bun along with ripe tomatoes, mozzarella, spinach, and a very flavorful basil aioli that tied it together.
For dessert, the Dogwood Café has a choice of fresh-baked cookies or cheesecake. And there's something for the kids as well. They can choose from a menu of cheeseburger sliders, grilled cheese, or peanut butter and jelly sandwiches.
If you're not in the mood for a full meal, you can also drop by the café to pick up snacks for your trek through the gardens like chips, pretzels, and crackers.
Finally, adults can order the perfect beverage to complement their meal, such as house wine, local beers, or hard cider.
In addition to the standard menu, you can follow Dogwood Café on Facebook to see what special menu items are featured for the day. Recently, the café shared a hearty Luau Burger, Blackened Chicken Sandwich with red pepper coleslaw, and homemade Bananas Foster. Yum!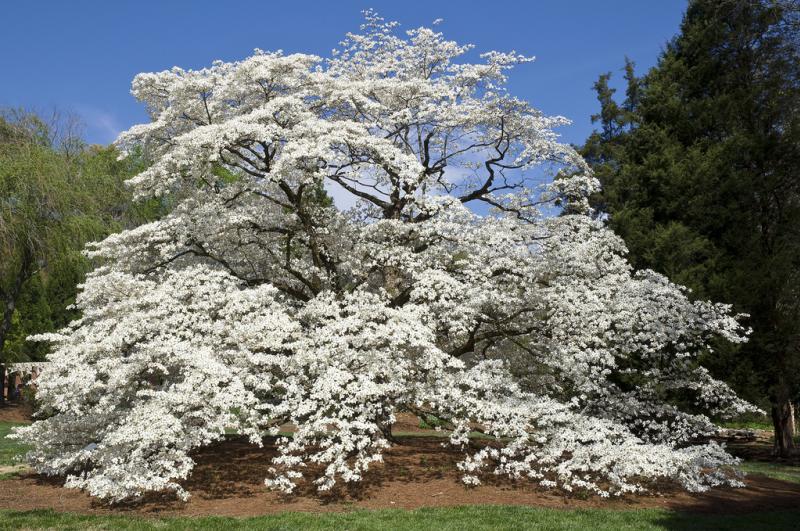 Photo credit: Michael Hartley
Where did the name come from?
Regina was more than happy to share the story behind the name of the café. Its origin comes from an iconic piece of the Huntsville Botanical Garden's history that for many years was well known to the community.
"In 2010, a 120-year-old dogwood tree was reaching the end of its life when garden officials decided to cut it down and preserve as much of it as possible for memorabilia," she explained. "It was originally moved to the garden in 1995 because of a road-widening project. So, it was able to survive a few more years comfortably on the garden's grounds. We named the café in memory of the beautiful tree and to call attention to Huntsville's past. As a community, we value where we have been as much as where we are going, and we wanted to capture that with the Dogwood Café."
Hours of Operation:
Open Monday through Saturday from 10-3 and Sunday 11-3
Remember, you do NOT need to purchase a ticket to tour the garden to enjoy the Dogwood Café! So grab your friends or coworkers and head on over for a memorable, relaxing lunch.