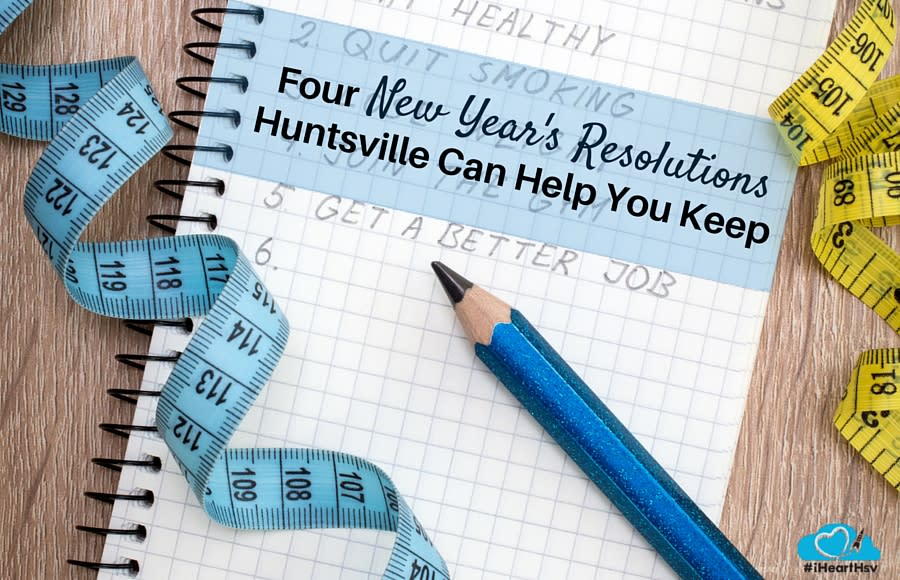 A new year is upon us, and with that comes New Year's resolutions. If you're like a lot of people, you may already be struggling to follow through with yours. Or, if you're like me, you never made them in the first place. Either way, Huntsville can help! Here are four New Year's Resolutions Huntsville can help you keep (And if, by chance, you're one of those people who made resolutions and is doing just peachy in meeting them, keep it to yourself and read this article anyway, show off!)
Four New Year's Resolutions Huntsville Can Help You Keep:
Get More Exercise
Huntsville's a great place to do some hiking, and we have plenty of tips for enjoying the local trails which are incredibly convenient and great for a casual outing. (Intrepid folks can wake up reasonably early, get a hike in, and still make it to a morning meeting.) 
Eat Better
OK, there are two ways you can go about doing this. You can do what you probably intend to and just eat healthier. For example, you can check out our list of Vegan eats in Huntsville. If this doesn't interest you, you can do what it actually says, forget the healthy part, and just eat good stuff (that is, in no way, healthy), and call it a win. Either way, here are some tips to get you started.
Learn A New Skill
At Lowe Mill ARTS & Entertainment, classes are offered in anything from comic book illustrating to hula-hooping. Now if actually learning a new skill sounds like too much work, fake it. For the artistically interested, visiting Spirited Art might not change you into a Monet, but your friends won't know that when you hang your own painting on your walls.
Find Yourself
Step One: Go to the Huntsville/Madison County Convention & Visitors Bureau. Step Two: Congratulations, you've found yourself! You're at the Huntsville/Madison County Convention & Visitors Bureau - the organization that promotes Huntsville/Madison County as a visitor and meeting destination and just so happens to run the Visitor Center! Step Three: Now go find something more challenging and rewarding with the CVB's Lucky Duck Scavenger Hunt or the Trains on Main Scavenger Hunt in downtown Madison. Find a series of 14 ducks hidden in downtown Huntsville or 8 trains in Madison, and win a prize. Step Four: Go find that Waldo guy. You're finally ready!
So, there you have it - four New Year's Resolutions Huntsville can help you keep. #iHeartHsv