Summer is here, and the beautiful sunny days just mean one thing to me: food truck season! Since my days of living in Mexico, I have vivid memories of spending my summers out in the streets with my family or lunchtime searching for the best food trucks in our town. Some of the best food I've tasted comes from food trucks with one mission in mind: customer satisfaction with top-of-the-line taste with made-to-order dishes.
In a growing city like Huntsville, once the weather warms up, people are willing to wait in line to get a little taste of all the diverse food trucks we have available. Here is part II of some of the latest food truck finds I discovered in the last several months. From Nicaraguan flavors in American fan-favorite dishes to a food truck whose customers have titled them as serving "the best birria in town... There's something for every palette.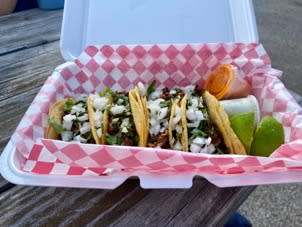 Located on Highway 72 in Madison is Valentina's Kitchen. Owned and operated by Valetina, a 24-year-old college student and young business owner who just wanted to find a way to pay for college. The idea of owning a business came to Valentina during her junior year in high school while working as a hostess. During our interview, she shared: "I wanted to pay for college, but didn't know how. I had several ideas in my head and finally decided on a food truck."
Raised by a single mom, Valentina had always been around food and cooking. She shared how all her aunts always took care of each other's children. With little money, and many mouths to feed, Valentina's mom, who loved to cook, and her aunts, would cook home-style dishes at low cost to make. Valentina learned all she knows from all these female figures in her life.
All the dishes you see on her food truck menu come from her family. This is a way she honors them, especially her mother. Valentina's Kitchen menu includes tacos, and tortas. Some of the meat choices include: steak, fajita, chicken, barbacoa, lengua (tender braised beef.) Veggie options are also available. Asides from food, Valentina's also offers authentic Mexican fresh waters like horchata for Friday and Saturday. Mexican cokes, Jarritos, and water are also available. Valentina's customers have become so loyal that many have branched out to try the most authentic Mexican meats like barbacoa and lengua. Valentine's favorite customers? Children that come and place their own orders and want to try those same meats as their parents!
Open from Monday-Saturday
11:00-2:30 pm & 5:00-8:00 pm
Payment Options: cash, Cash app, and card
Catering available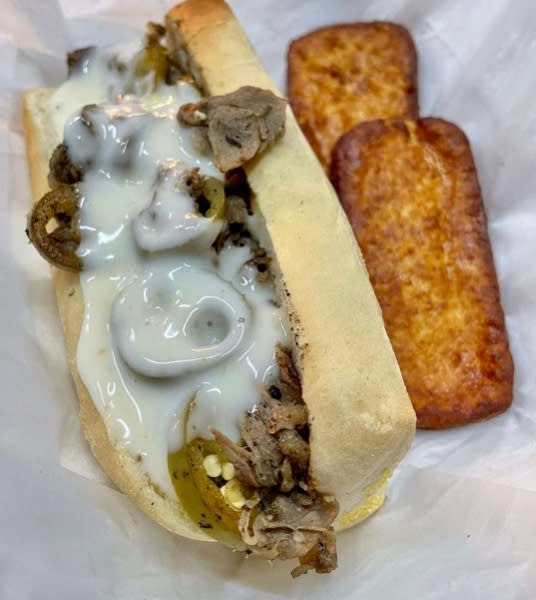 I first caught a glimpse of Nica's Grill in the social media world last year. I found their mixture of cultures quite unique. Nica's Grill is not like your other food trucks you're accustomed to visiting. They are a family owned and operated business. The idea of owning a food truck came to Tim, Arelys, Oscar & Mabel  after moving to the Madison area from Key West, Florida.. The Families  attended a food truck rally in 2021 and noticed there weren't many Hispanic food trucks there. Tim, Arelys, Oscar & Mabel wanted to change this. With their desire to see more Hispanic food trucks and with all four of their culinary backgrounds, Nica's Grill was born.
A combination of American dishes with Nicaraguan flavors, and Nicaraguan dishes with American flavors  to Combine and represent both worlds and you get a fusion of both countries. The business has become so successful that in March of 2023, Tim and Oscar walked away from their corporate jobs to solely focus on Nica's Grill. Now let me share with you what makes Nica's Grill so popular! I got to try their philly cheese steak and was sold right away! The latin seasonings combined on an all american dish like the cheesesteak truly elevates the flavors to an entire new level! Overall bestseller cheesesteak includes: thinly sliced angus beef steak topped with melted Queso Blanco cheese, sautéed mushrooms, peppers and onions on a hoagie roll.
Second best seller is their signature dish Valenciana Rice : a savory cooked rice graced with carrots, sweet peas, and boatload of meaty goodness from shredded chicken and sweet italian pork sausage. Served with two dinner rolls. Followed by their quesadilla, which includes grilled chicken, shredded cheese, sauteed peppers and onions. Quesadilla comes with a side of pico de gallo (diced tomatoes, onions,  peppers, and cilantro) and sour cream. Nicaraguan inspired dishes are also included on their menu like: Pollo asado, mojo pork plate,  Queso frito and sweet fried plantains. Location changes for Nica's Grill & Cafe, so make sure to follow them on Instagram and  check out their website at www.nicasgrillcafe.com for their weekly location schedule.
Schedule gets posted online every Monday morning. Main vendor place to find them is the Orion Amphitheater. Nica's Grill has become the very first Latino food truck to be in all their events, including concerts. You can also find them at Trash Pandas Lunaticos, NASA Corral and Research Park Offices. Catering options available. Details can be found on their website. 
Payment options: Cash, Apple Pay, and cards
Payment options: Cash or card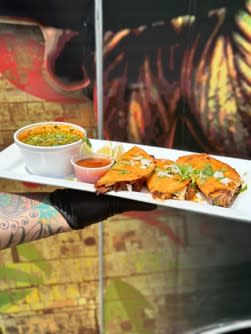 Arena's Tacos is a food truck I first discovered at Trash Pandas Lunatico's inauguration event. I knew their food had to be delightful because the line my husband stood in lasted over one hour! But once he received his order of tacos and refreshing agua fresca, I understood their popularity! Owner and founder Eduardo Arena decided to open his own food truck after spending over 15 years in the restaurant industry.
Having a dad that has always worked in restaurants, I know first-hand the demand working in the kitchen brings. Eduardo wanted more time and freedom, especially to spend quality time with his son, who was diagnosed with autism. Eduardo knew his son was going to require both of his parents present at home and expensive therapies and treatments. This is what inspired Eduardo to take a leap of faith along with his brother Eric Arenas to create Arena's Tacos.
Let's start with my favorite thing about Arena's, everything is made to order, including their homemade corn tortillas! From tacos to quesadillas, tortas, gorditas, and their best seller, birria, Arena's brings you great quality food with mouth-watering flavors. Arena's Tacos also offers a daily special: guisado. Guisado is a Mexican version of what Americans know as beef stew but with different meats, spices, and vegetables. You'll also see tamales that are made three times a week! Additionally, Arena's Tacos also offers fajitas and their popular birria in tacos, quesadillas, and Ramen noodles.
You can locate Arena's Tacos at:
2018 Jordan Ln Ne
Monday-Saturday
11-9 p.m.
Payment options: Cash, Cash app, and card
Meet El Palomino, a family-owned business that was founded by Salvador Palomino. Whether you want to have a sit-down dinner or take it to go, El Palomino has both options for you in Huntsville and Decatur. El Palomino has been serving the Decatur community for 15 years. What started as just a drive-thru restaurant has now evolved into a second location in Huntsville and a food truck that travels between Decatur and Huntsville.
Owner Salvador Palomino first began the business in 2007, as a way to support his family and teach his children the road of business and responsibility. The now-established business is operated by the oldest son Miguel, Salvador Jr., and their mom, Adriana Moreno. The Palomino family strongly believes their family-owned business brings a unique touch to their restaurants and food truck. Everyone in the family helps keep the business running like a well-oiled machine.
From younger brothers, sister-in-laws, grandchildren, and uncles, everyone helps. The most popular item is their tacos which you can order with meat toppings like barbacoa, steak, lengua (tender beef) chorizo, or carnitas. Aguas Frescas are also available: Horchata, (rice water) tamarindo (tamarind), and fresa (strawberry.) Mouth already watering? You can find Los Palominos at the following locations:
Decatur Restaurant:
14010 6th Ave
Huntsville Restaurant:
518 Jordan Ln
Food Truck Location:
Parks outside the Huntsville location every Monday from 9:30-9:00 p.m.
Payment options: Cash, Apple pay, and card