When you have an anniversary as big as putting man on the moon, you can't forget the food and beverages to go along with the celebration. Major brands and local shops in Huntsville are all taking part in the excitement of the 50th anniversary of the Apollo 11 Moon launch and landing. 
Apollo 11 50th Anniversary #DowntownExclusives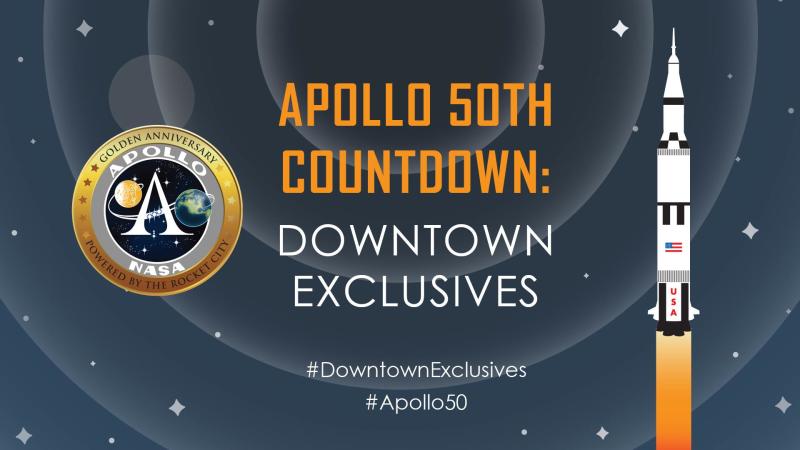 Downtown Huntsville Inc is working with 20 local restaurants and breweries to bring exclusive items each week to celebrate. They started in May and will end by with Dancing in the Streets celebration on July 19th.  The week of July 14th - 20th, you can find most of the exclusives back on the menu! 
Below are the establishments that have participated: The Martin bar & bistro, Honest Coffee Roasters - Huntsville, Purveyor Huntsville, Church Street Wine Shoppe, Earth and Stone Wood Fired Pizza, InnerSpace Brewing Compan, Domaine South, Green Bus Brewing, Commerce Kitchen, Cotton Row Restaurant, Pane E Vino, Salty Nut, Liquor Express and Craft Beer Store, Mad Malts Brewing, The Poppy

July 1st Week
Straight To Ale Brewing
Wish You Were Beer-Huntsville

July 8th Week
SiP
Melt

July 15th Week
Rocket Republic Downtown HSV
AM Booth's Lumberyard
Oreo
 Houston, the Oreo moon landing cookies have landed. You can now find limited edition "Marshmallow Moon" Oreos — and their bonus collectible moon landing-themed stickers — on store shelves. The cookies come just in time to celebrate the 50 years since NASA's Apollo 11 mission, which saw the first astronauts walk on the moon in July 1969.

"The limited-edition features three fun, moon-landing designs on the cookie with delicious purple marshmallow creme inside. Plus, the cookies come in glow-in-the-dark packaging with anniversary sticker sets on the pack," an Oreo spokesperson said in a statement.
Krispy Kreme
Krispy Kreme is celebrating the 50th anniversary of the first moon landing with the launch of a new type of doughnut.

The sweet-treat retailer introduced the "Original Filled," a twist on its classic Original Glazed doughnut now with a choice of two fillings: "Classic Kreme" and "Chocolate Kreme." More than just an anniversary offering, the Original Filled doughnut is now part of Krispy Kreme's permanent menu.

"Krispy Kreme was at the launch of Apollo 11, serving fresh doughnuts to Americans witnessing liftoff of this monumental mission. As America prepares to celebrate the 50th anniversary of the moon landing, we want to give our fans a new taste experience that is out of this world," said Dave Skena, chief marketing officer for Krispy Kreme Doughnut Corporation, in a statement.
Fans can experience the launch of the Original Filled Doughnut for FREE on June 22 (one free doughnut per guest) as Krispy Kreme's reward to America for meeting the brand's National Doughnut Day challenge of giving away 1 million free doughnuts. For more information on the Original Filled doughnuts, visit www.krispykreme.com/original-filled.
Dairy Queen's Zero Gravity Blizzard
Dairy Queen is turning its celebration of the first moon landing upside down.

The soft serve ice cream chain has debuted the "Zero Gravity Blizzard," a cosmic-colored, frozen treat in honor of the 50th anniversary of the Apollo 11 mission. The "gravity-defying" dessert is available for a limited time only.

"Consumers have had an unwavering fascination with outer space since America's landmark achievement nearly half a century ago," said Maria Hokanson, executive vice president of marketing at American Dairy Queen Corporation. "Fans can feed their imaginations and taste buds alike with the Zero Gravity Blizzard Treat — sending their red spoon spaceships into a deliciously iridescent soft serve galaxy."

Created to celebrate the 50th anniversary of the first lunar landing and humans walking on the moon, the Dairy Queen (DQ) Zero Gravity Blizzard Treat combines Oreo cookie pieces, sparkly swirls and sweet cotton candy topping with DQ vanilla soft serve ice cream and colorful galaxy sprinkles.

Underscoring its name, the Zero Gravity Blizzard is served upside down — or the next one's free.