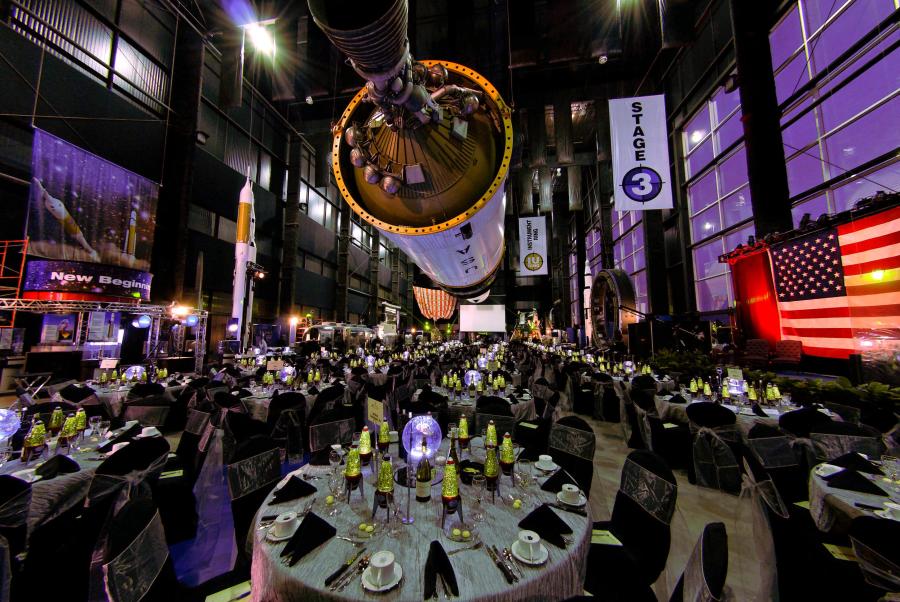 As we celebrate Global Meetings Industry Day (GMID), we now know, more than ever, the importance of a meeting. It's more than an event. It's the life force of the hospitality industry that creates jobs, professional networks, and economic growth in our communities. Meetings truly mean business, and we reached out to a few of our meeting planners in Huntsville and surrounding areas to discuss the state of events in 2021. The theme for GMID is Meet Safe, and the trends show that health and safety are top-of-mind for planners, venues, and attendees.
"The meetings industry is a vital part of our local economy, supporting thousands of jobs including our hotels, restaurants, attractions, small businesses, and more," said Judy Ryals, President/CEO of the Huntsville/Madison County CVB. "It is imperative that our industry make a strong recovery, not just for our visitors and incoming convention attendees, but also for Huntsville residents. Efforts are being made at the local, state, and national level to ensure that in-person events make a strong comeback that keeps the health and safety of attendees a top priority."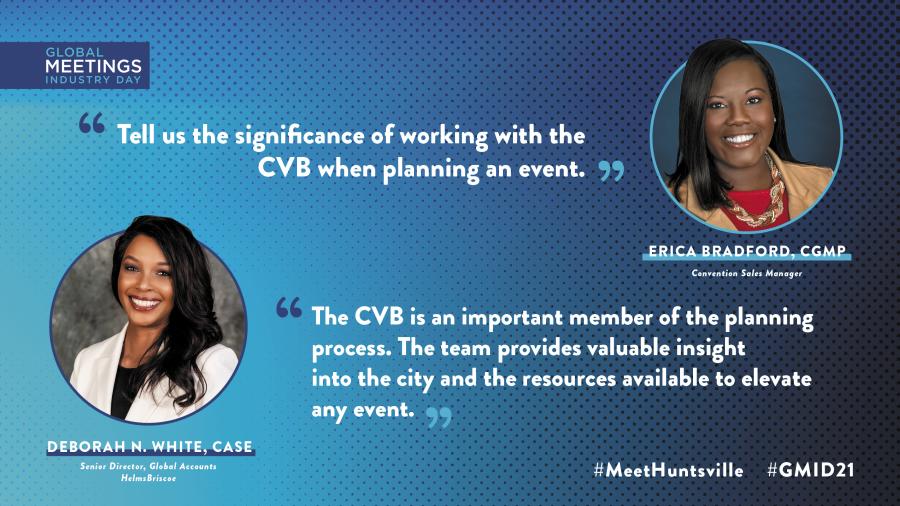 Deborah White, a 12-year employee of HelmsBriscoe based in Decatur, Alabama, has seen trends come and go, but this year has been eye-opening. "Relationships with others are the foundation to peace and life balance," is one lesson she is taking forward with her when looking at the future. "Helping attendees feel their well-being is a priority and making sure that everyone must follow the same rules of precautionary measures. The most important part is that rules should be clearly stated in preliminary announcements."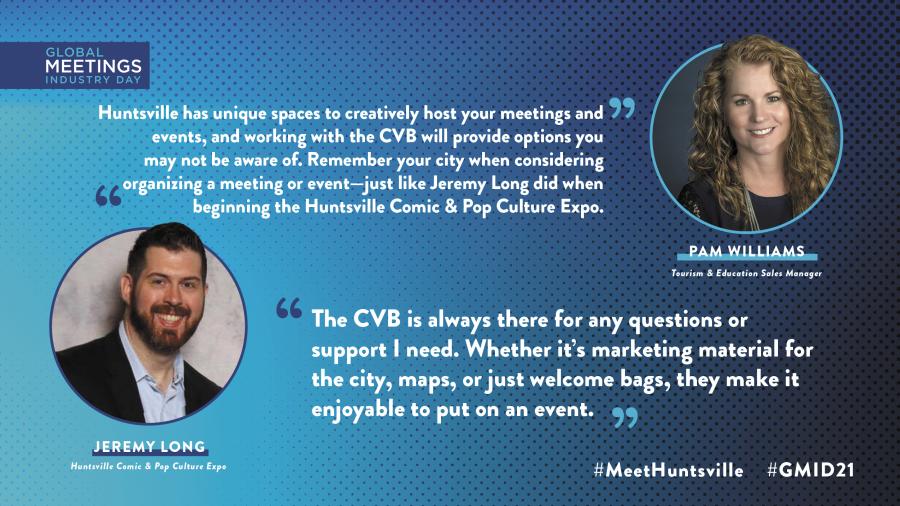 As we move forward with vaccinations, we look to the future, but some people like Jeremy Long of Huntsville Comic and Pop Culture Expo couldn't let the pandemic stop him in 2020. He and his team have been celebrating all things geek for six years, and he knew he would have to work with the Von Braun Center and the CVB to host his event in 2020.
By widening the walkways between vendors to 10 feet, having hand sanitizing stations set up throughout the area, and limiting capacity, he made his event happen for both the vendors/artists and attendees. Masking and communication are key to putting on this event.
"It gives people something fun to do and a sign of life returning to normalcy," Jeremy told us. "Huntsville is an amazing location based on demographics. We are such a melting pot of people from not just all over the country but all over the world."
It seems that his Comic and Pop Culture Expo has something for everyone. From wrestlers, voice actors, Power Rangers, comic artists, and more, he made all the special guests coming into Huntsville feel secure with special entrances that limited outside interaction. The Huntsville CVB worked with him on providing welcome bags, marketing material for the city, and promotion of his event.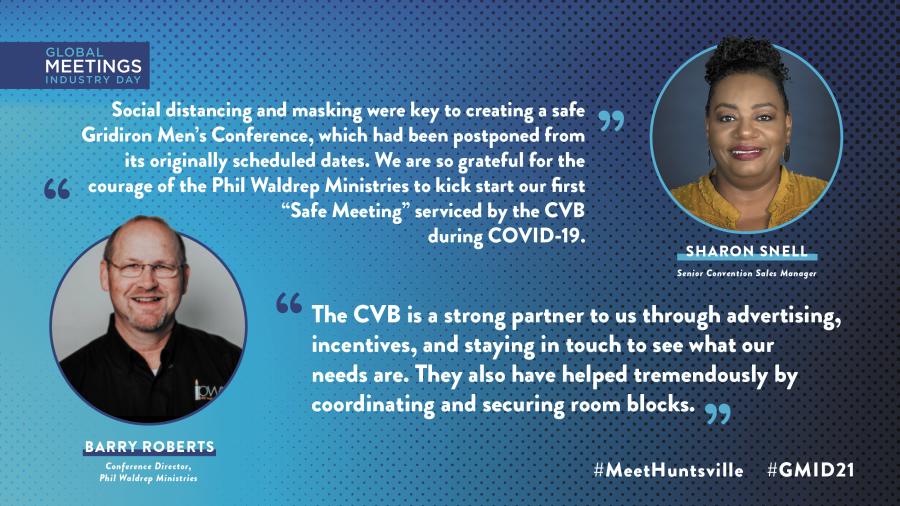 Another planner also held eight events total in 2020 throughout the country. Barry Roberts is the meeting planner for Gridiron Men's Conference in Huntsville. 2021 will be their second year, but they were excited to be in the Rocket City for 2020.
"Huntsville is a great host city for us because of being centrally located within a 4-hour drive from major cities to pull from, " Barry said. "In my 24 years as a meeting planner, I would have never imagined anything such as this pandemic. It has canceled, divided, and pushed resources to the limit taking a devastating toll on the travel industry as a whole that will take years to fully recover. If nothing else, this event has taught us to think outside the box when dealing with venues, set up, advertising, and overall company policies."
As he moves forward with his planning he wants to "assure the attendees that we do care for their safety and will continue to take the necessary precautions." 
While preparing for 2021, the Huntsville CVB will work to secure room blocks, advertise, and eventually provide onsite registration for attendees. The key to hosting a great event is preparation and communication.
"Our Ministry has continued to follow the recommended guidelines at each venue regarding the pandemic," Roberts said. "We communicated those guidelines to our attendees well in advance. Those that do not feel comfortable in attending we are offering transfers to alternate events throughout 2021 and some even into 2022."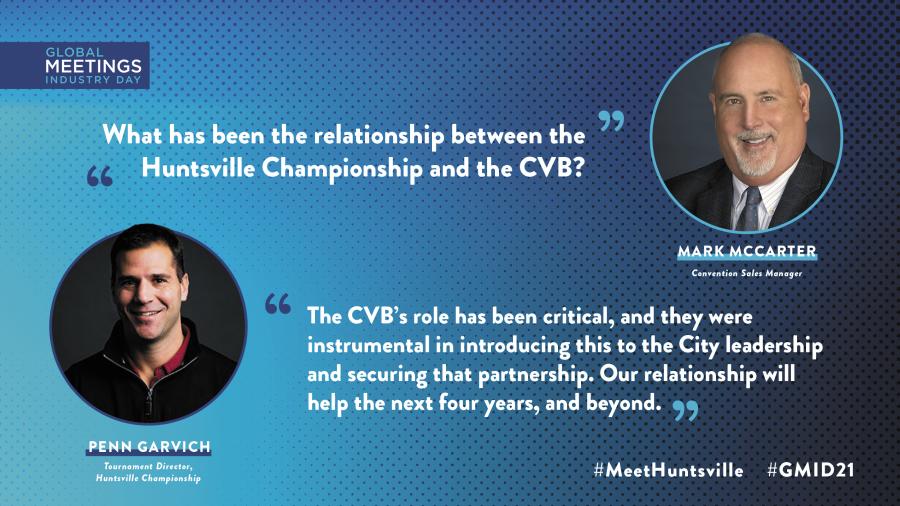 The sports industry has also seen major changes in 2020. Organizations are learning to balance athlete and crowd safety. Penn Garvich is the tournament director for the Huntsville Championship PGA Korn Ferry Tour event, which makes its debut on April 29 at The Ledges.
"Adapt and overcome" has been his motto as he has worked with his team to pivot his event. Dealing with various health-related policies has been a tight rope to walk but, "Golf is a unique sport where this is not fixed arena, where people are packed in there and probably feel a little less comfortable. We have the opportunity to expand, and it's open air. One area of focus is on our hospitality when we've had to reconfigure those spaces, where you can still create the same experience, but just ensure that everyone feels comfortable."
While this will be the inaugural tournament in Huntsville, Garvich is excited for the growth and possibilities the area brings. "For us, there's not been a signature professional sporting event. I know you've got the Havoc, you've got the Trash Pandas coming into town, but the uniqueness of the Korn Ferry Tour and being one of 23 markets, it's an incredible opportunity." Garvich added, "With the growth of Huntsville, there's the ability to tap into the defense and government and aerospace and public-private sectors, and that's been critical to some success we've had early on."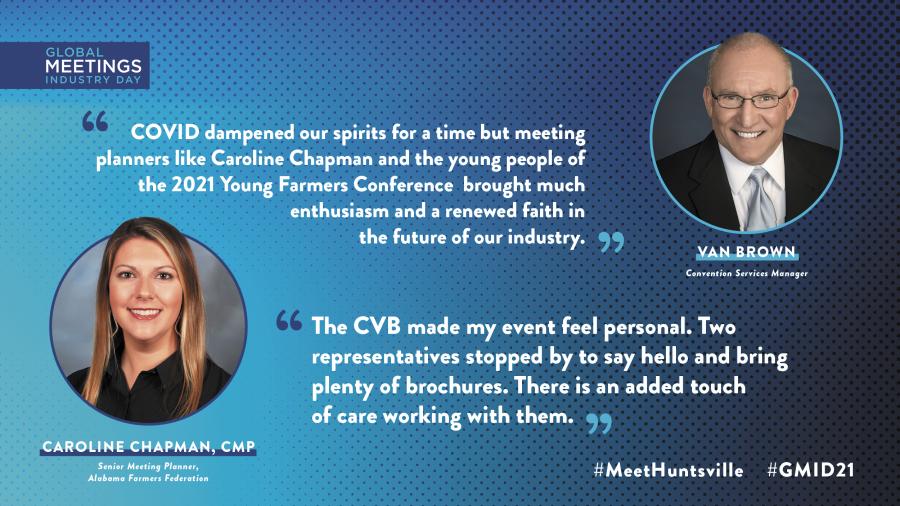 Another fan of Rocket City is Caroline Chapman with the Alabama Farmers Federation. "Huntsville offers attractions for all ages. There is a plentiful amount of restaurant options and fantastic shopping for downtime during conferences and meetings," Chapman shared with us.
She helped to plan the 2021 Alabama Farmers Federation's Young Farmers Conference earlier in late February. The ability to network face-to-face is one of the things her attendees had missed the most. "There is truly nothing like in-person events," Chapman noted. "I don't think anyone in our industry will ever take these for granted."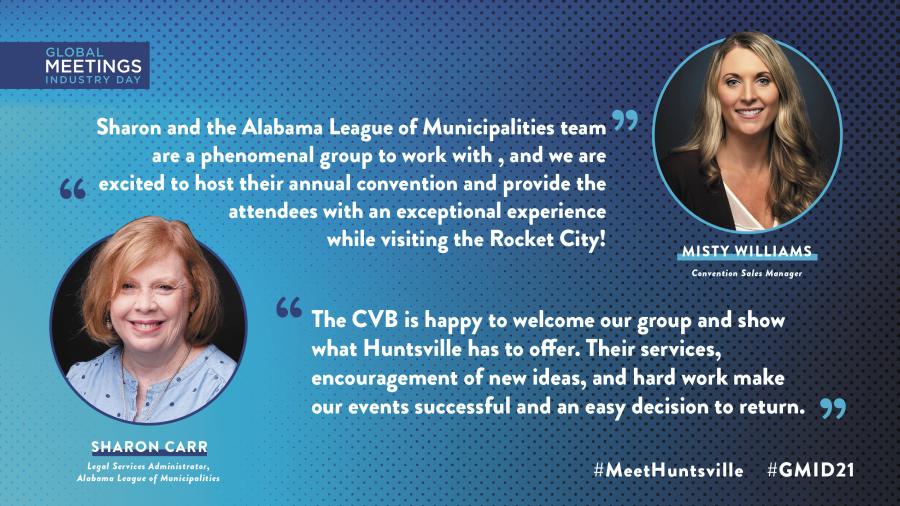 While we hope that it will be in our rear view  mirror soon, we are not quite out of the woods yet. Having people with varying degrees of comfort with distance, masks, and now vaccines on top of that makes it a tough terrain to navigate. One idea that worked well for Sharon Carr was using color-coded wristbands.
"We used the COVID social distance wrist bands. The attendees have the option of red-I don't want any contact, 6 feet apart; yellow-cautious, elbows only; or green-go in for the hug! It was great," said Carr, who is bringing the Alabama League of Municipalities convention to Huntsville later in April.
The Huntsville/Madison County Convention & Visitors Bureau (CVB) offers numerous, free resources for meeting planners, and "they (the CVB) are so happy to welcome our group and show off what Huntsville has to offer," said Carr. "Their services, willingness to serve, encouragement of new ideas, and hard work to make our events successful make it an easy decision to return."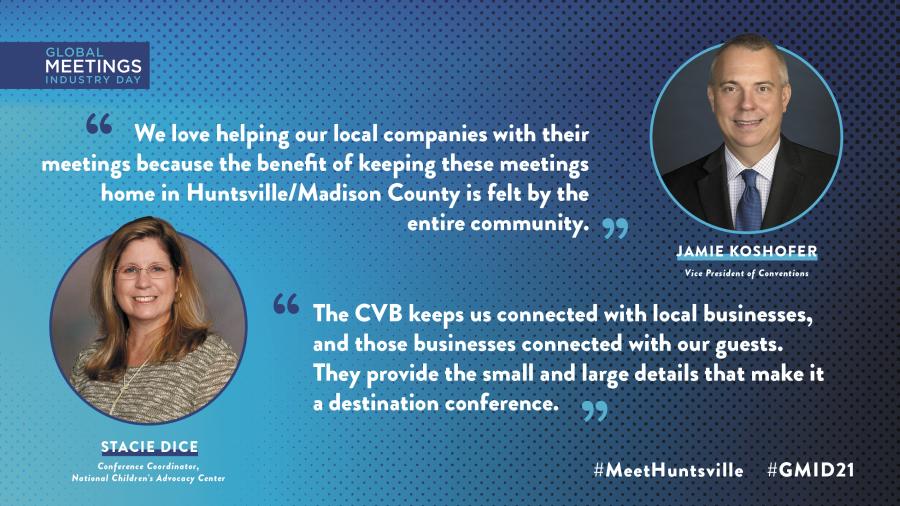 We are proud to work with all of our meetings and conferences, but some just go hand-in-hand like the National Children's Advocacy Center (NCAC). For 37 years, they have hosted the International Symposium of Child Abuse in Huntsville. Why? "The NCAC originated in Huntsville back in 1985, so Huntsville is the perfect place for our Symposium," NCAC planner Stacie Dice told us.
"In fact, most people in our field refer to Symposium as the Huntsville Conference. Huntsville offers diversity in things to do, places to eat, etc. while still having the small-town feel. The city is truly part of our brand as we are known for our Southern hospitality whether you are living here or just visiting. During our virtual conference this year, countless participants said they were so excited to come back to Huntsville!"
As one of the first conferences in the nation to make the tough, yet correct call to cancel in 2020, they are looking to the future. "For the past year, we've missed out on true human interaction. Having a virtual meeting or event does not allow for the connectivity you get from face-to-face interactions. Going forward, it will be important to have these meetings and events in person, with safety and health precautions." These meetings and training events truly do mean business in Huntsville.
"The National Children's Advocacy Center is unique in that we do host one of the world's largest child abuse conferences in our hometown for four days each March, and this is widely regarded as one of the premier conferences in our sector and consistently includes more than 1,600 attendees yearly," said Chris Newlin, the Executive Director of the National Children's Advocacy Center.
"However, what many people may not realize is we also host more than 20 trainings per year with each training including more than 30 professionals from throughout the world, and these trainings last 3-5 days. In total, the NCAC is responsible for booking more than 6,000 hotel rooms per year which has an annual economic impact of nearly $1,000,000," Newlin continued. "Further, most professionals working to fight child abuse in our nation know Huntsville, not as a vibrant research and development community supporting our federal government, but as the home of the Children's Advocacy Center model and our world-renowned Training Center. We are proud to call Huntsville our home and look forward to having all of these visitors back into our community soon!"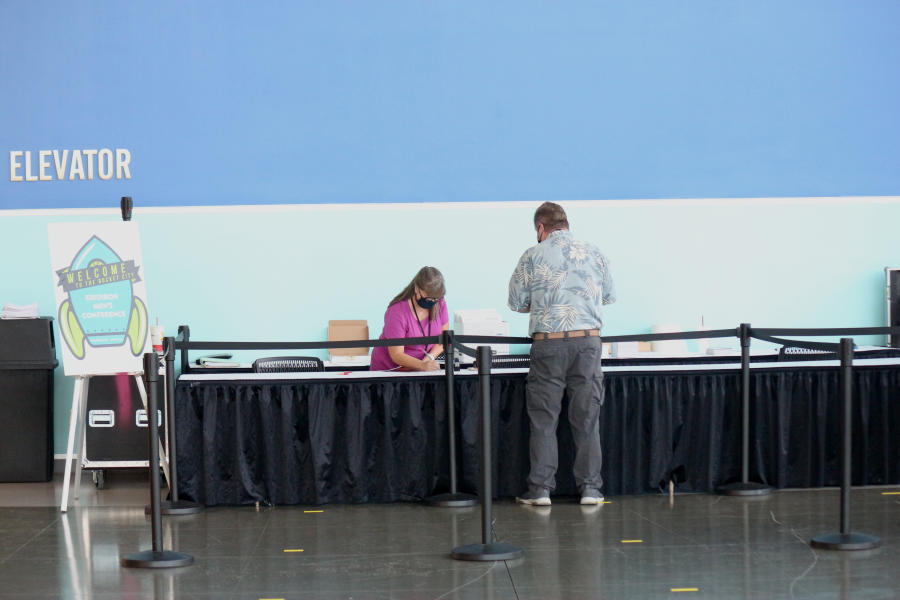 The current landscape for meetings and events is one of the most challenging in our history. Even so, industry professionals rise to the occasion time and time again – from last year, where event planners in all regions swiftly pivoted their plans to virtual, to today, where businesses and destinations are working diligently to return to safe in-person events and embracing the virtual/in-person hybrid model as necessary.
If you have questions about how you can bring your meeting to Huntsville, please contact our convention team and let us help you plan your event to make sure you "rock-et."