If you grew up in a large family or have a handful of kids as we do, you know the struggle to find a fun family outing everyone agrees on. It can be exhausting to find a place that will make everyone happy, especially for parties of six or more. 
If you're nodding your head, "YES!" I have great news, Huntsville has an enormous new venue that will accommodate quite literally everyone. The recently opened Main Event at Bridge Street Town Centre features over 50,000 square feet of fun, bowling, arcade classics, modern arcade games, upscale 4D virtual reality, laser tag, traditional "redemption games," billiards, and even an indoor ropes course in an artificial canopy! 
Main Event's Offerings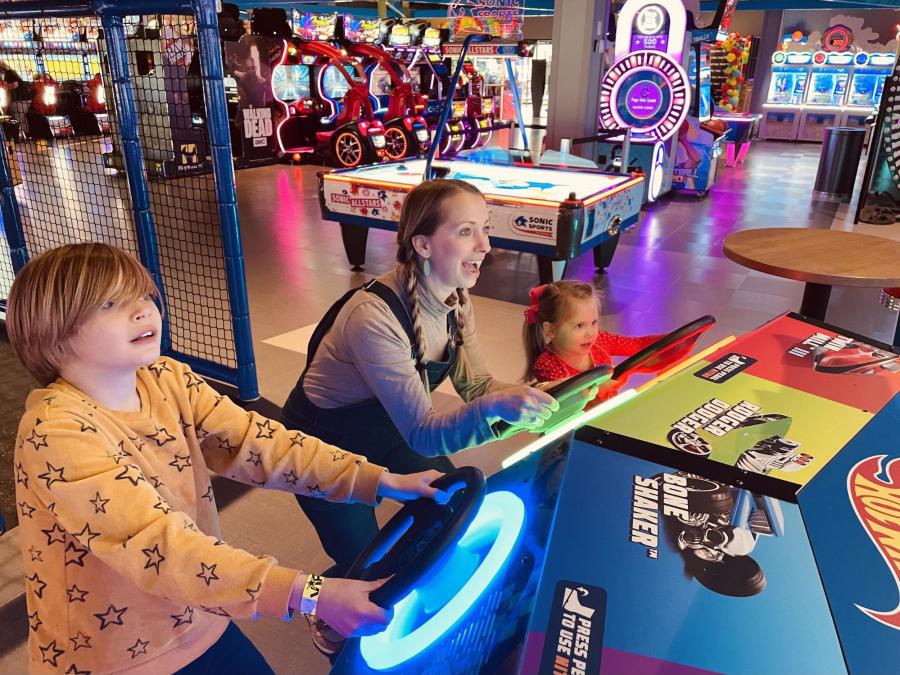 With over 100 games, there's something for everyone. My kids and I loved the multiplayer (up to 4) racers, from the traditional motorcycle racing games to Mario Cart. The 4D virtual reality "Dinosaur Experience." absolutely enraptured my husband and son. They were ducking, dodging, and swinging their fists at the air in front of them, taking on an array of escaped beasts in a "Jurassic Park"-type experience. You could hear their shouts from across the room! 
I love the modern takes on arcade classics, like the huge multiplayer Pacman and a wall-sized multiplayer shooter-version of Space Invaders. And for the arcade traditionalist, there are plenty of simple games to win tickets, which you can redeem for prizes when you're through! For vintage video game lovers, you can take your kids back in time to tell them about playing PacMan and Space Invaders at neighborhood arcades when you were young. Don't forget the lawn game we all played; Twister! 
The Huntsville Main Event is one of only a few in the country to have Multiball, a mixed reality sports and gaming platform that combines physical activity with digital games.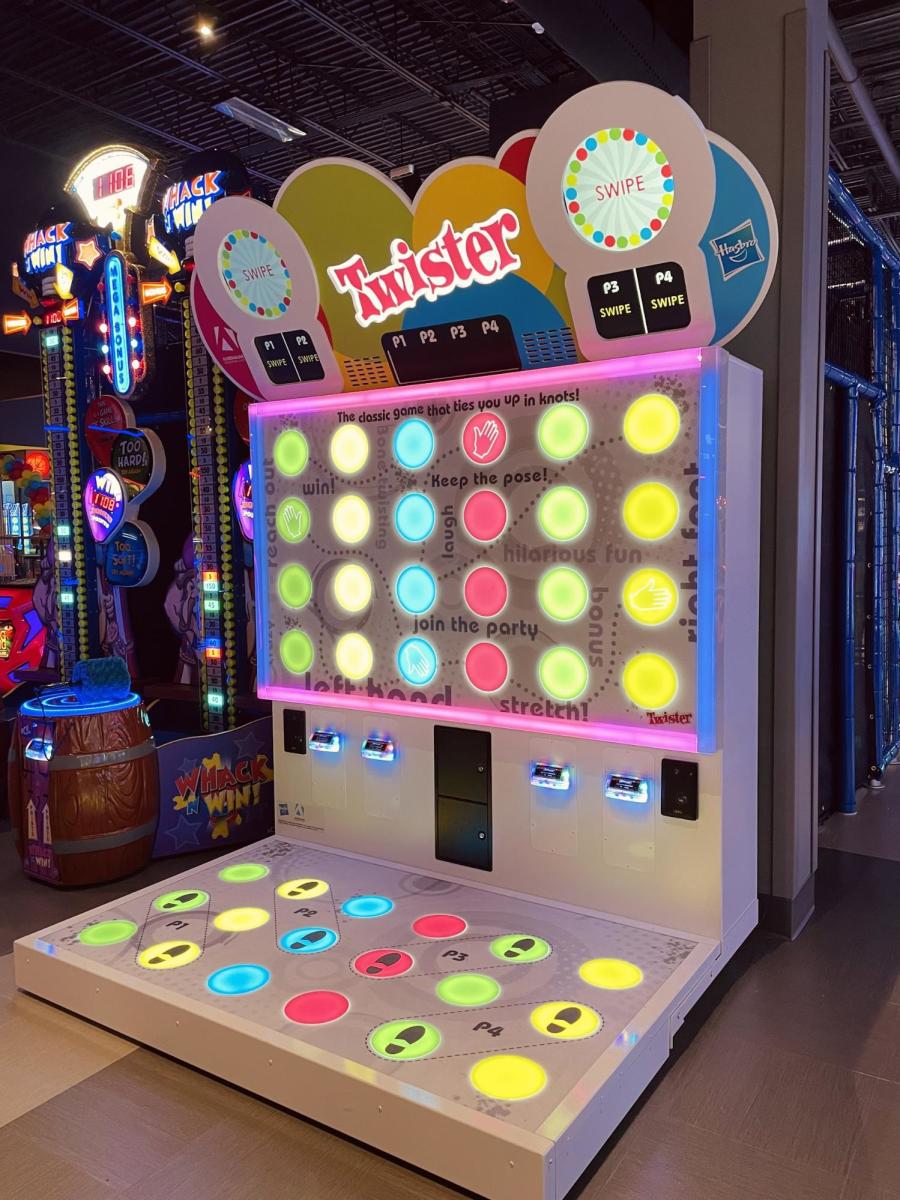 State-of-the-art-Bowling & More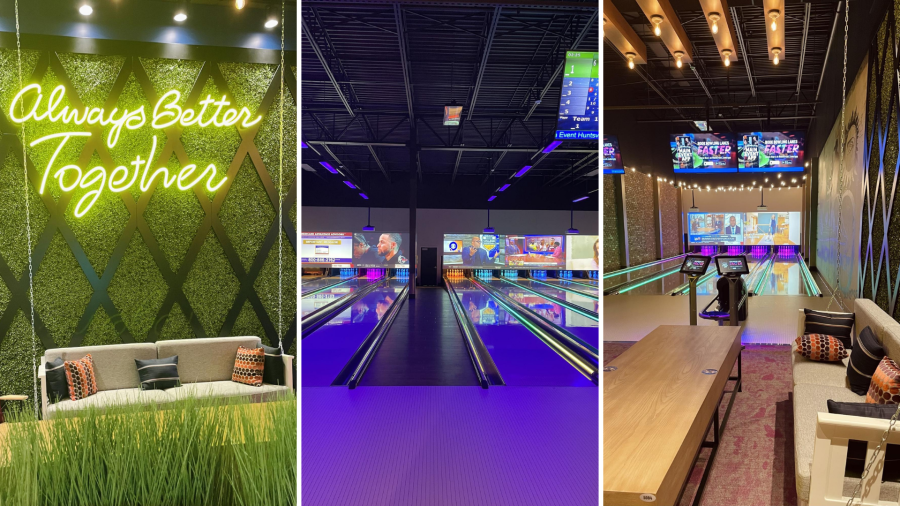 The 22 lanes of bowling at Main Event are not your traditional run-of-the-mill sport. Glow bowling games are available, creating a unique ambiance with dimmed lights and bowling balls illuminated by blacklight. The bowling area's hallmark is a unique technology that utilizes string pinsetters instead of free fall pinsetters. The pins set with strings automatically retract upwards when knocked over rather than free-falling; this creates a more efficient family-friendly game. The bowling area is comfortable, with luxury seating and calming lights. 
The Huntsville Main Event features VIP private bowling lanes for parties or group events. The cozy seating was calling my name; how cute is the neon light display above?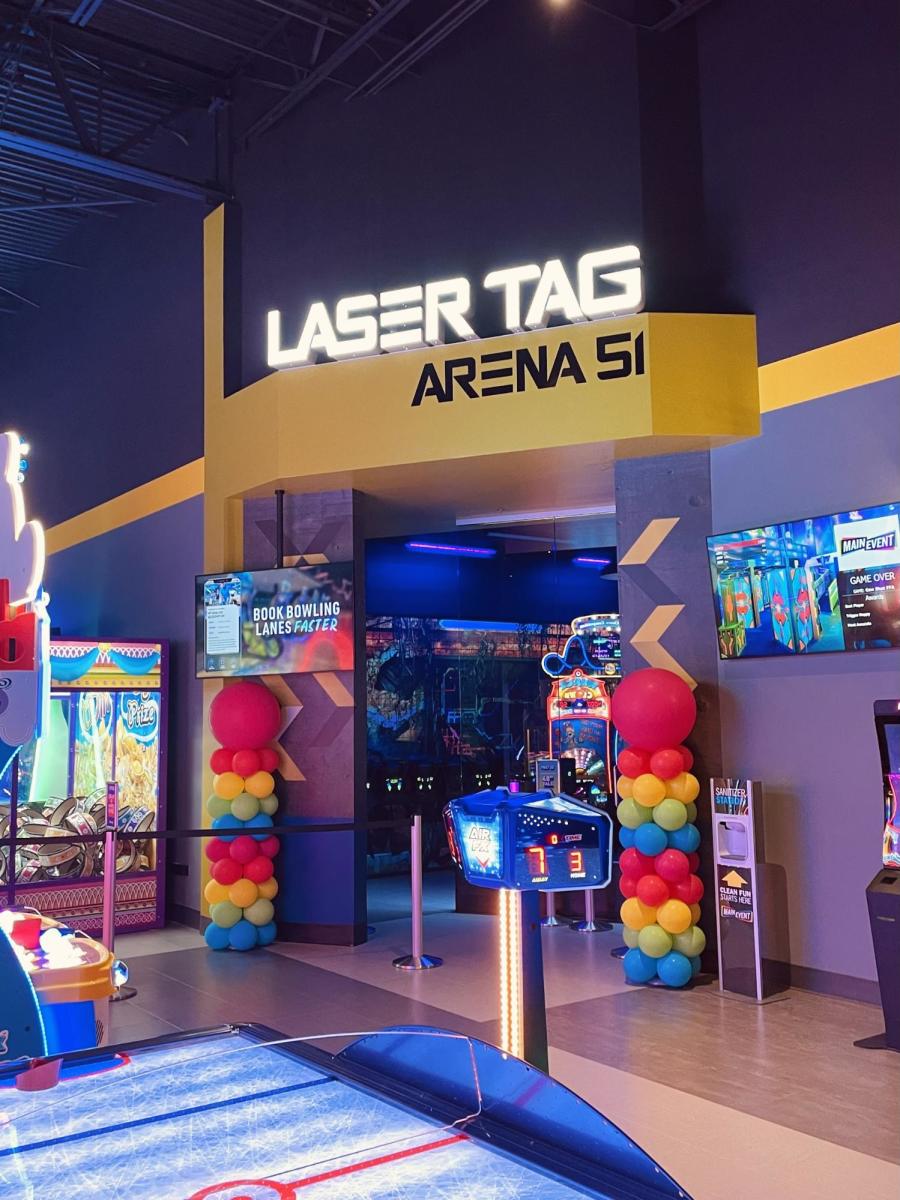 Though we didn't have time to do it, my husband and the boys are excited to take each other on in a game of laser tag. Though single-level for accessibility and safety purposes, the course seemed appropriately complex and looked sharp in the black light. They can't wait to schedule a Saturday there with friends! 
Main Event would not be complete without the Gravity Ropes Adventure. Featuring 22 separate courses, you can walk the tightrope while suspended 20 feet up, exploring rope bridges and balance beams while safely harnessed to a track above. This is also on our "to do" list for the future. 
Host a Party or Event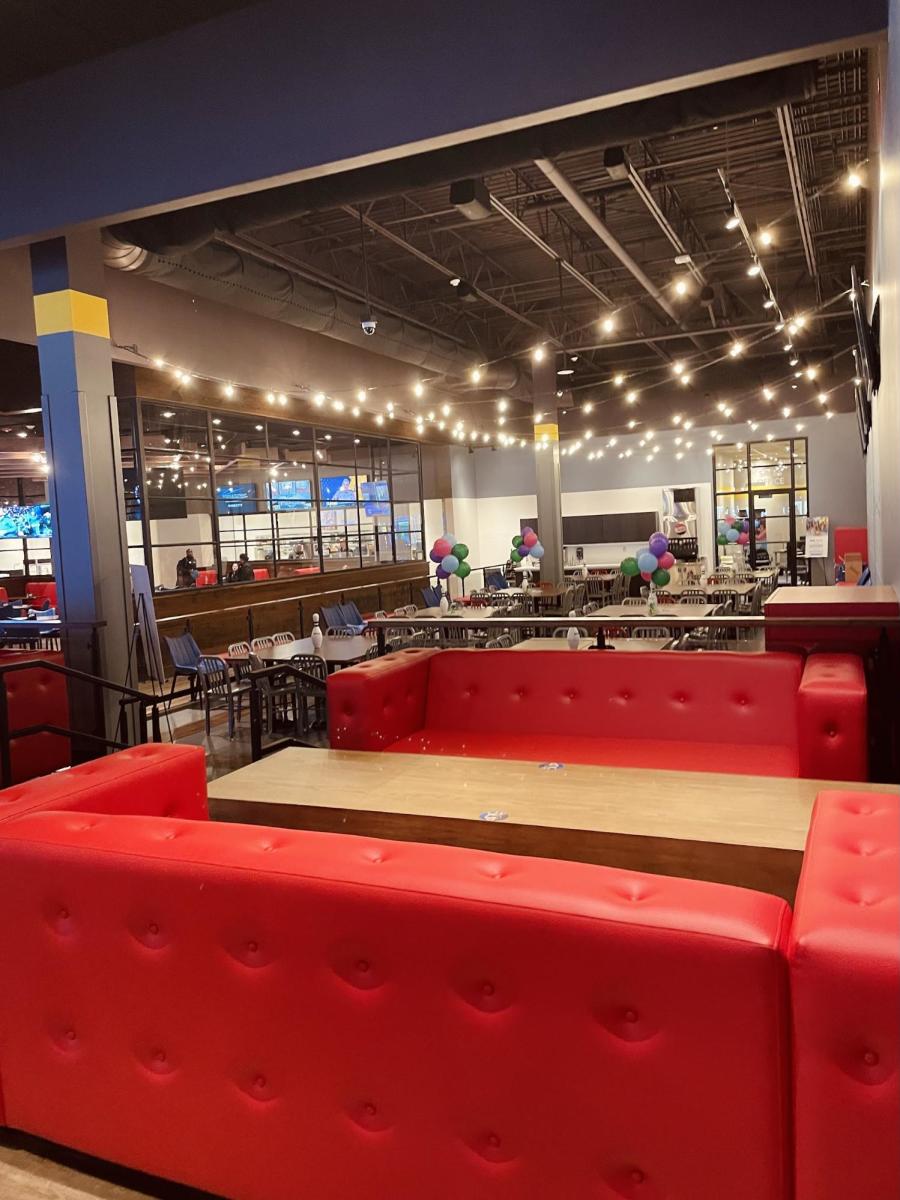 In addition to the fun, there's also a plethora of dining choices. You can choose from traditional family favorites to an elevated sports bar menu. With special event areas, it's an ideal location for parties or just a Saturday afternoon with family. An interactive app makes ordering fast and straightforward! 
The bar offers cocktail specials from 4:00 pm to 7:00 pm, and there are corporate meeting and event packages available. It would make a fun business outing, reserving the bowling lanes and adding a cocktail package. My family truly enjoyed The Main Event, and my daughter has already requested we host her birthday party there. Fun for the whole family and worth a return visit! 
Tips from a Parent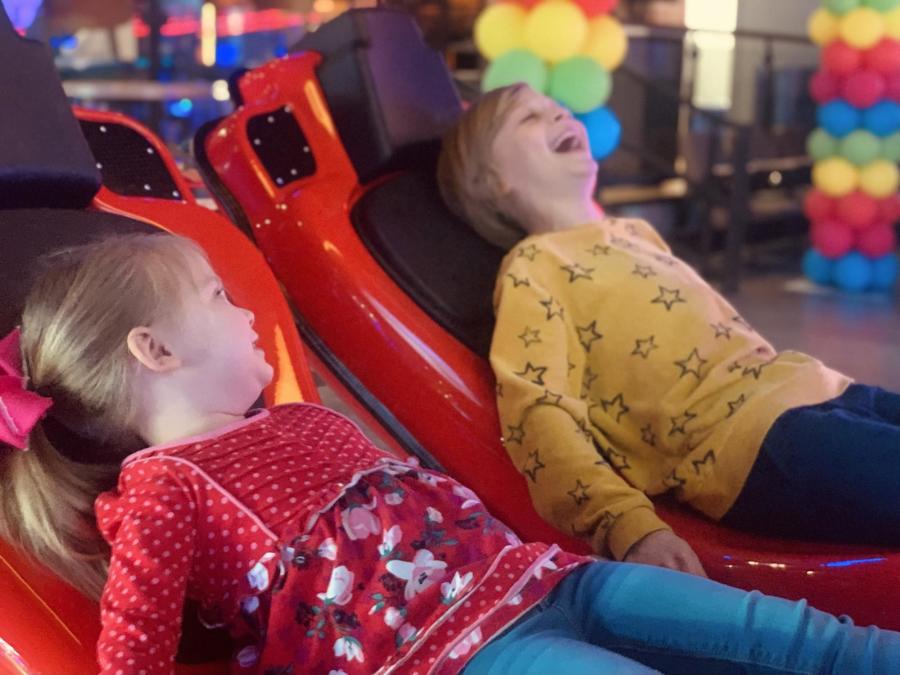 It's no secret that arcades or fun malls can be expensive endeavors for families on a budget. While we didn't find Main Event cheap, we found it more budget-friendly than most. There are unlimited bowl specials on certain days and times, and one-price fun cards are available. We recommend following the Instagram page and checking the website for specials. There are occasionally one-price promotions where you pay one price - we saw one in 2021 that was $24.95 for everything you want all day. 
PRO TIP: Don't go in and pay a la carte for each activity! The space is stimulating, and one fun experience will snowball into another, which could run up the bill!