The summer temperatures have made their appearance and with the rise of heat it is a Mexican tradition to be on the hunt with what we call chucherias. These snacks help stay refreshed and are a great snack alternative between lunch and dinner. Places like paleterias (ice cream shops) are very popular in Mexico. Items like ice cream, popsicles, elotes (corn in a cup) are among the most popular for people of all ages. These shops have become known in Huntsville and the surrounding areas. Check out the list of the ones I've discovered while hunting for the best in the city.. From the most wanted chamoy, to homemade ice creams and popsicles, there's a wide variety of snack options to try something new.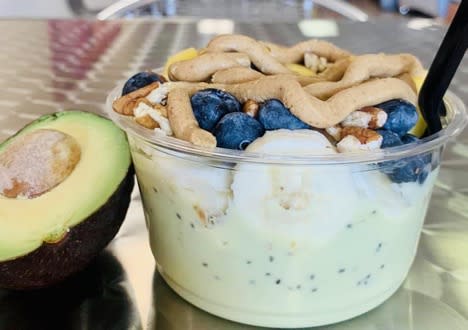 Located in Guntersville, Hola Michoacán Ice Cream and Shop opened its doors in 2021. Co-owners Mayra Rangel and Edgar joined together to bring a taste of Mexico's sweet and salty flavors to this area of Alabama. I had the honor to talk to co-owner Mayra who is originally from Michoacán. Michoacán is a state known for its homemade ice cream and popsicles that are to be known as one of the best in Mexico. Homemade ice cream of milk or water, fresh waters and açaí bowls are some of the few items you can find at Hola Michoacán Ice Cream and Shop. All items are made with the freshest ingredients along with some sugar free options available. Want something bigger than just a snack?  Try some street tacos or tortas.
Hours of Operation:
Tuesday-Sunday
12-8pm
Don Botanas is one of the most recent Hispanic bakeries that first made its appearance to the Huntsville area at the end of 2022. Even though it is known for its mouth watering pastries, Don Botanas also offers authentic Mexican snacks such as: fruit cocktails that are drizzled with lime juice and chili powder, corn in a cup, and their best seller La Greñuda. La Greñuda is a ramen noodle soup that's topped with corn, salsa verde Tostitos, nacho and white coruja cheese. I spoke with first time small business owner Diana Garcia and she's mentioned adding additional items in their snack menu. Items like natural juices, milkshakes will be included in the very near future. Ready for a taste test? Go check them out located inside La Fondita Restaurant at 2713 Patton Rd SW.
Hours of Operation:
Monday- Saturday
7 am - 9 pm
Sunday
8 am- 8 pm 
Located on 1109 Jordan Ln,  Pepito Snacks just celebrated its 1 year anniversary and has become my family's favorite spot to buy authentic Mexican ice cream and popsicles. Entering Pepito's Snacks is like traveling back to Mexico. From its vibrant wall colors to the ample variety of ice cream flavors and popsicles, this is a one stop for all Mexican snacks. Whether you want to grab something to help you stay cool or test your taste buds with something salty or spicy this is where you'll find the most options. Some of their menu items include: milk and water based ice cream and popsicles, corn in a cup, creamed strawberries, fruit cocktails, smoothies, churros, ramen noodles, and much more.
Hours of Operation:
Monday- Sunday
11 am- 9 pm
Mr.Naked Taco is a combination of a dine-in  restaurant and ice cream shop. Naked Taco is another family owned business that has now extended to the Huntsville area from Albertville. Located in the Jones Valley area, Mr. Naked Taco carries authentic Mexican ice cream and popsicles. Flavors like cookies and cream, strawberry, bubble gum, pistachio, are just a few flavors of ice cream you'll find available there and 56 different flavors of popsicles. Their menu also includes corn in a cup, creamed strawberries, walking Doritos and an ample variety of aguas frescas. Mr. Naked Taco is another one stop shop that offers a good menu on their restaurant side and sweet and spicy options in the ice cream shop. Go check them out at 2030 Cecil Dr.
Hours of Operation:
Monday-Sunday
10 am-9 pm
I first connected with Pingüinos Hermanos last summer for a different article and their business came to mind while traveling to Puebla, Mexico just a few days ago. The summer temperatures there are very hot! But to beat the heat we purchased shaved ice on a daily basis! The shaved ice from a town in the state of  Puebla known as Acatlán reminded me of the sweet and fruity flavors of Pinguinos Hermanos shaved ice.
This is a staple Mexican snack that you and your family will enjoy during the hot summer months. One of their best seller shaved ice options is called Georgia Peach, which is a combination of peach, sweet cream and strawberries. Their natural fruit ingredients is what sets apart Pinguinos Hermanos from the traditional American shaved we all know. Chopped off pieces of the fruit adds a special touch and what makes their shaved ice one of a kind. You can find Pinguinos Hermanos at two different locations in Huntsville: 3208 Long Ave and 4925 University Dr. Make sure to give them a follow on social media for updates on hours for both locations. *Cash only for payment.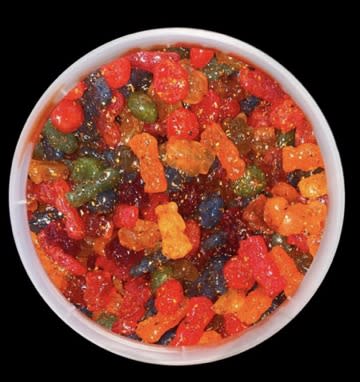 Last, but not least on the list is Most Wanted Chamoy. What began as just an idea from Ana,  wife of owner Jorge Sanchez has now exploded into a very successful business which main ingredient is chamoy. Chamoy is a sweet and spicy pulp that comes from a combination of dried chillies and species. The social media and tech expertise of Ana and Jorge's sales experience in roofing made this dynamic duo's  launch on social media a total success. Jorge believes the success from their very commercial came from the inspiration for it, the Narcos show. The business launched with chamoy rims dips for alcoholic drinks of four different flavors.
The four different flavors include: mango, watermelon, tamarind, and pineapple. Their first product sold out on their very first day in business. The business then began to grow and Jorge decided to include chamoy flavored gummies.  These gummies have now become their best seller. Ready to try this unique twist of Mexican snack? You can find Most Wanted Chamoy at different pop events in Decatur and Huntsville. If you are in Decatur, you can find Most Wanted Chamoy products at Los Palominos grocery store and Serranos Taqueria.
Live in Huntsville? No worries, Jorge also makes weekly drives to Rocket City. You can find Most Wanted Chamoy pop up tent at Taqueria Los Gueros off Triana Blvd. Make sure you give them a follow on all social media platforms and website to receive updates on times and days for their pop up events. Online orders and shipping available via their website at: www.mostwantedchamoy.com
Mexican snacks are a combination of spicy, sweet and salty flavors. From snacks that will keep you cool in the hot summer months, to those that are just good to eat in between meals, there's something for everyone. Don't be afraid to ask if something catches your eye. The owners of all the establishments mentioned above are always welcoming new customers and are happy to help! Some even offer samples. Buen apetito!