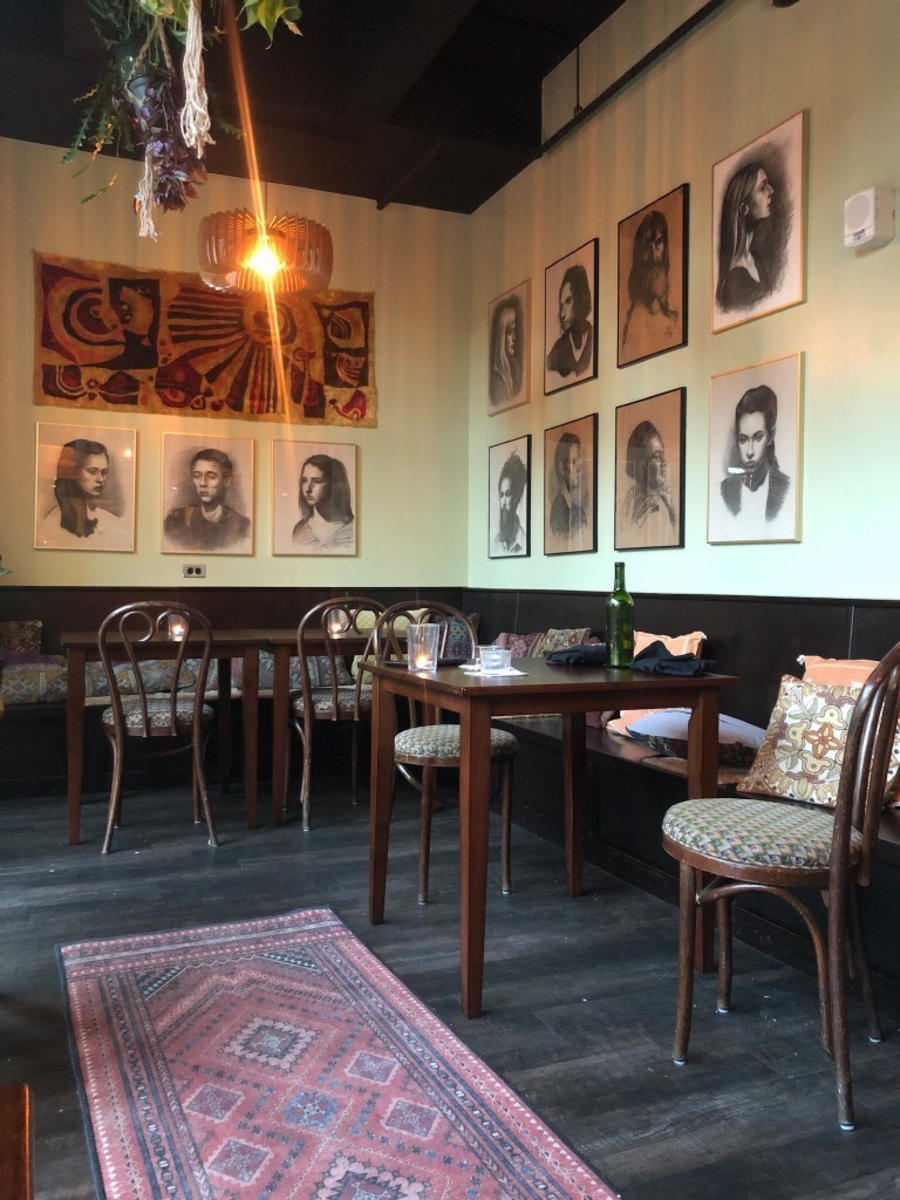 It seems that everywhere you turn, a new and exciting restaurant concept is on the way or opening in the Rocket City! Our horizons are always expanding and becoming more diverse when it comes to cuisine. 
We have everything from popular chains to exclusive local spots—there's something for everyone. Huntsville is also home to many talented restaurant owners, chefs, and unique places that make our lineup of eateries something to be proud of. 
Even with the current uncertain conditions, our local restaurants have risen to the challenge to make dining simple, safe, and enjoyable. We'd like to say thank you to ALL of our friends in the restaurant and hospitality industries. Thank you for supporting us by keeping us well fed and happy!
Before visiting any of these restaurants, we recommend checking their websites and social media accounts to stay up-to-date on current safety measures and updated operations.
NEW AND OPEN!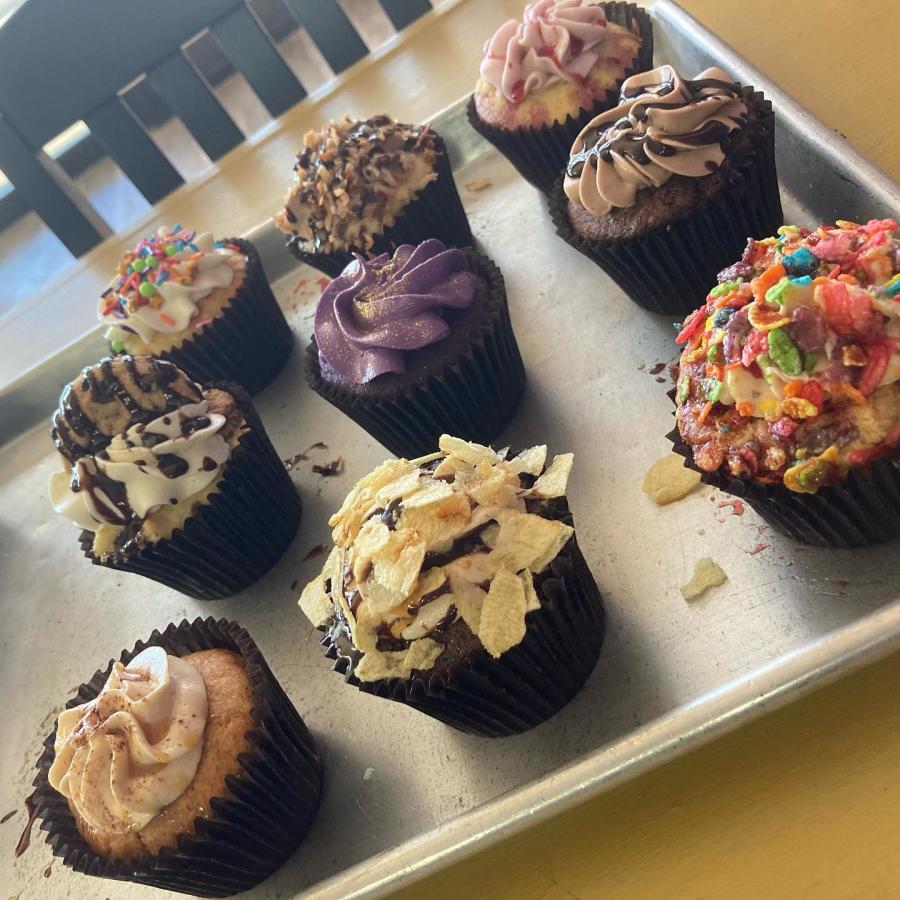 Located near The Juicy Seafood on Highway 72 you'll find Huntsville's newest cupcake shop. Regale Cupcakery has been hustling at markets and events for years and his flavors are so incredible. We are excited to have this cupcake and coffee shop open at 4925 University Dr. NW #114, Huntsville, AL 35816. They are open Monday - Friday 10am - 6pm and Saturday 11am - 7pm.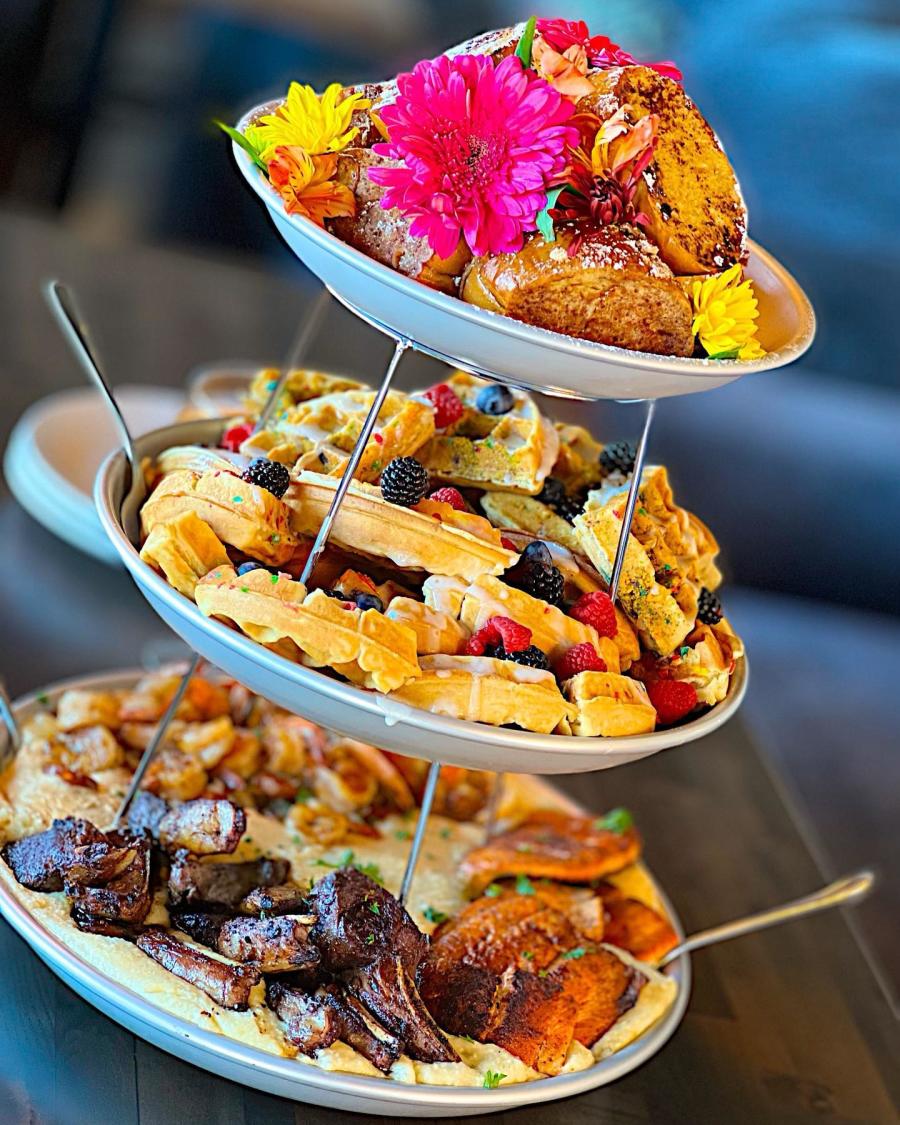 A new daiquiri bar is now open in Huntsville! Along with serving daiquiris in the Rocket City, they will have amazing food for dinner and brunch. Learn more from their Facebook page.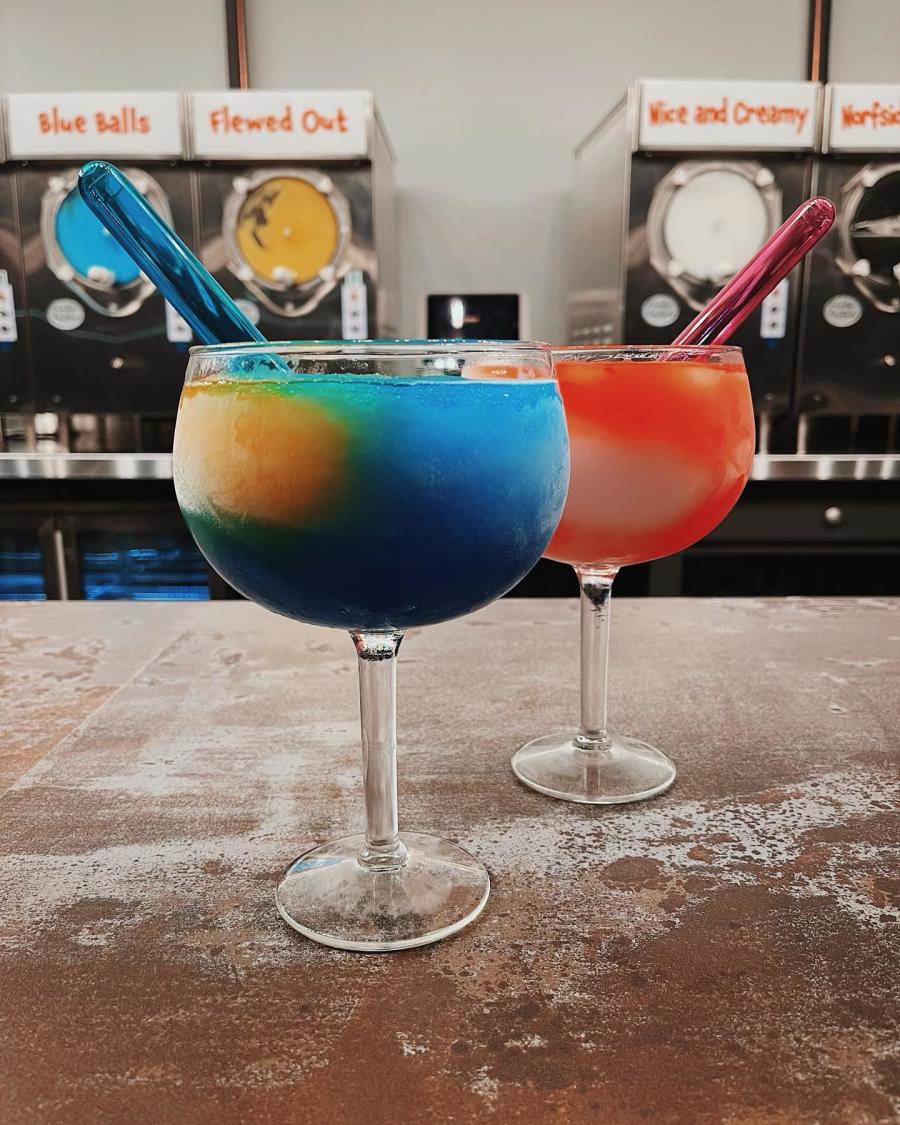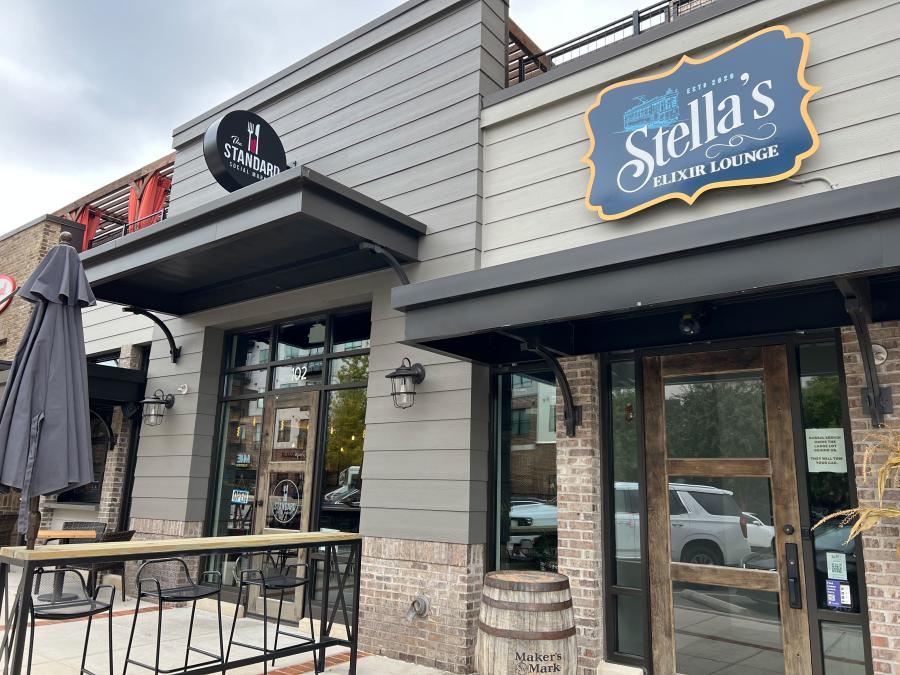 Stephanie and Erick Luther have opened a social market and eatery in downtown Huntsville - The Standard at 127 Holmes Ave! A market featuring charcuterie selections with a variety of cheeses and meats, they also feature butchered meat, seafood, and locally chef-sourced products like oils, vinegars, spices, sauces, and more. The Standard also offers grab and go options along with a full kitchen menu for breakfast and lunch. Soups, salads, sandwiches are available to purchase. Along with soft drinks, energy drinks, juices, and water, The Standard also serves and sells wine and beer.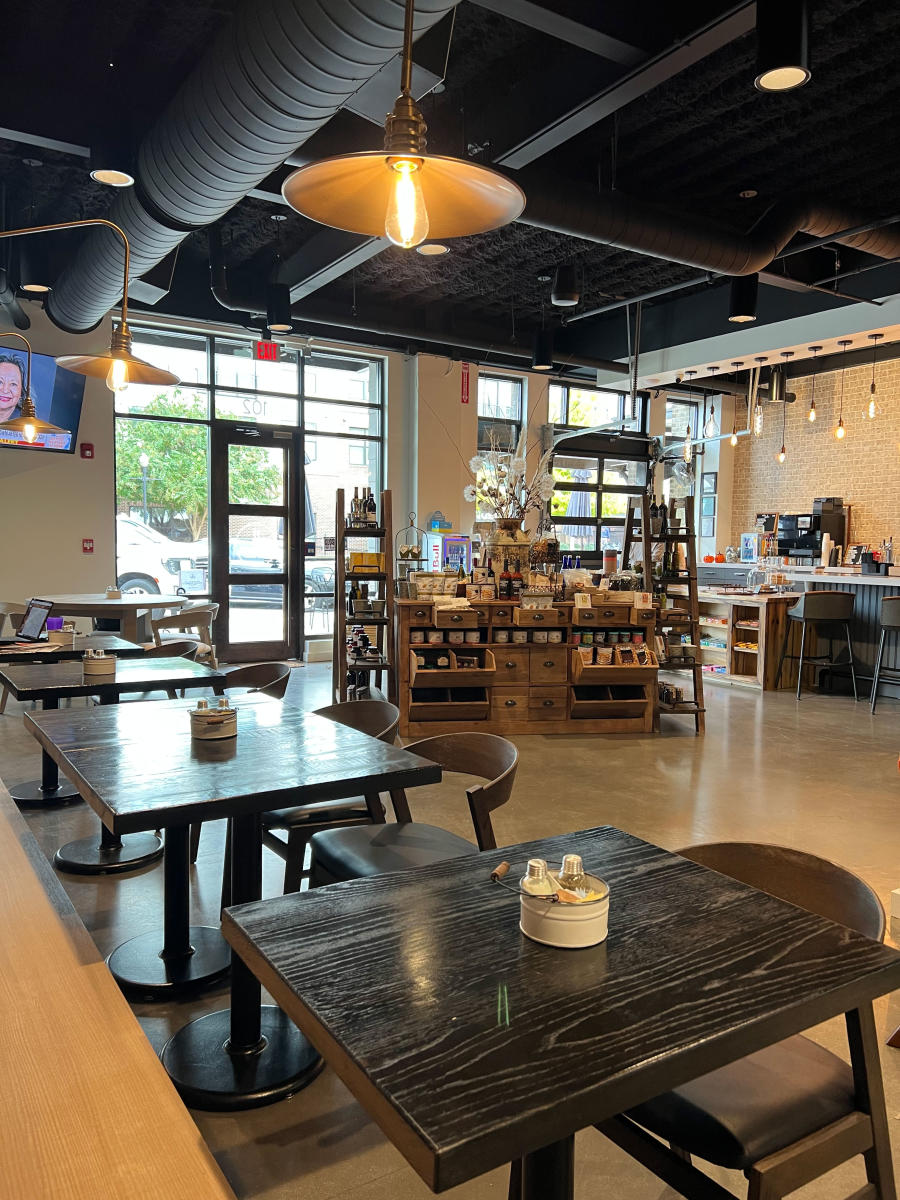 The goal for the location is to be a staple in the community and even carry some basic convenience items like milk, paper towels, or candy bars. The outdoor patio is a place to enjoy a meal and chat with friends and family.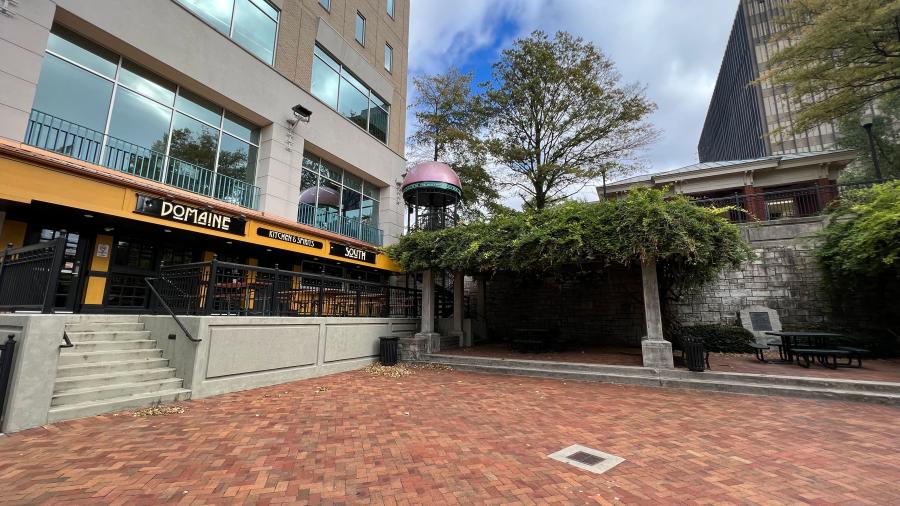 photo credit: Rocket City Dietitian
Domaine South is now located in a larger building just a few steps from their old location. This new space gives more seating and menu options and overlooks Big Spring Park. The former location will be home to try different concepts. To enter, head down the stairs on the west side of the downtown Huntsville square.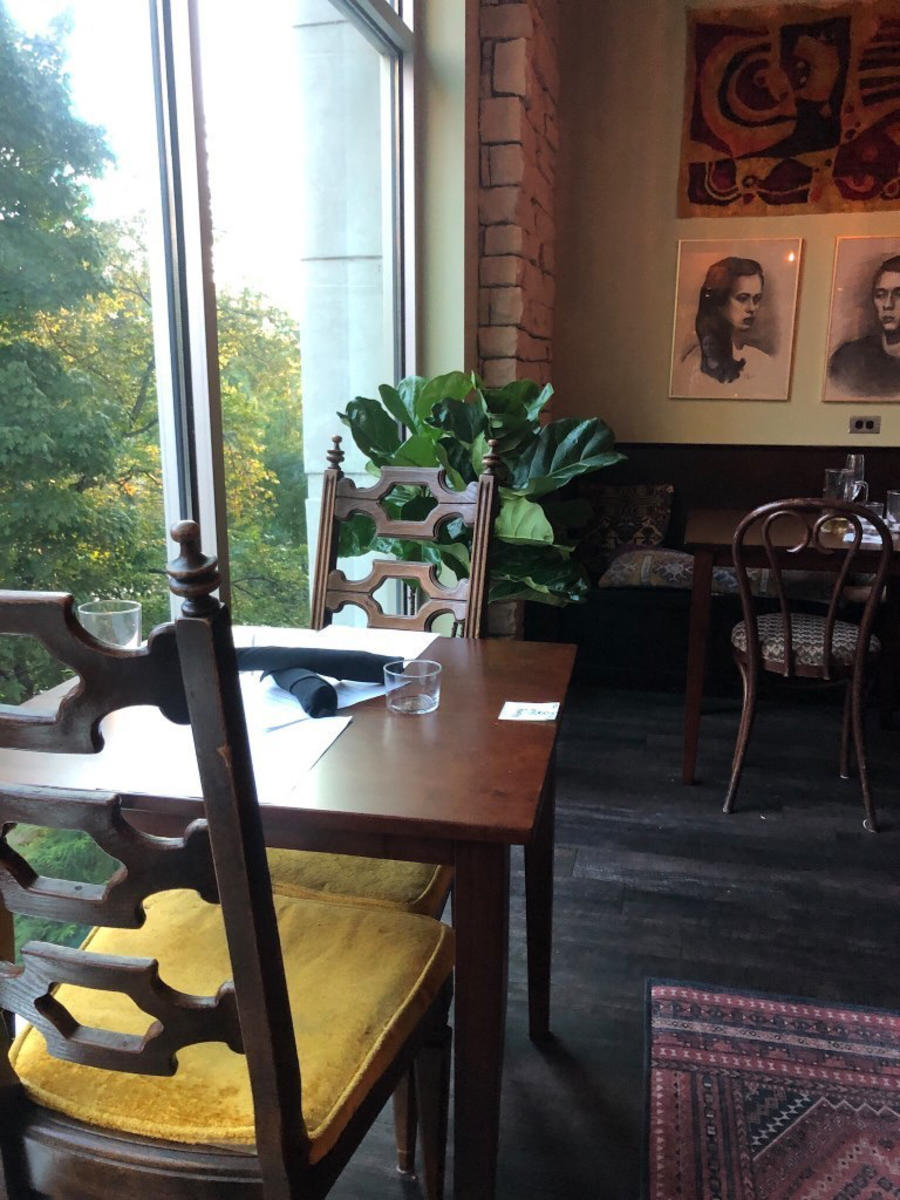 credit: Rocket City Dietitian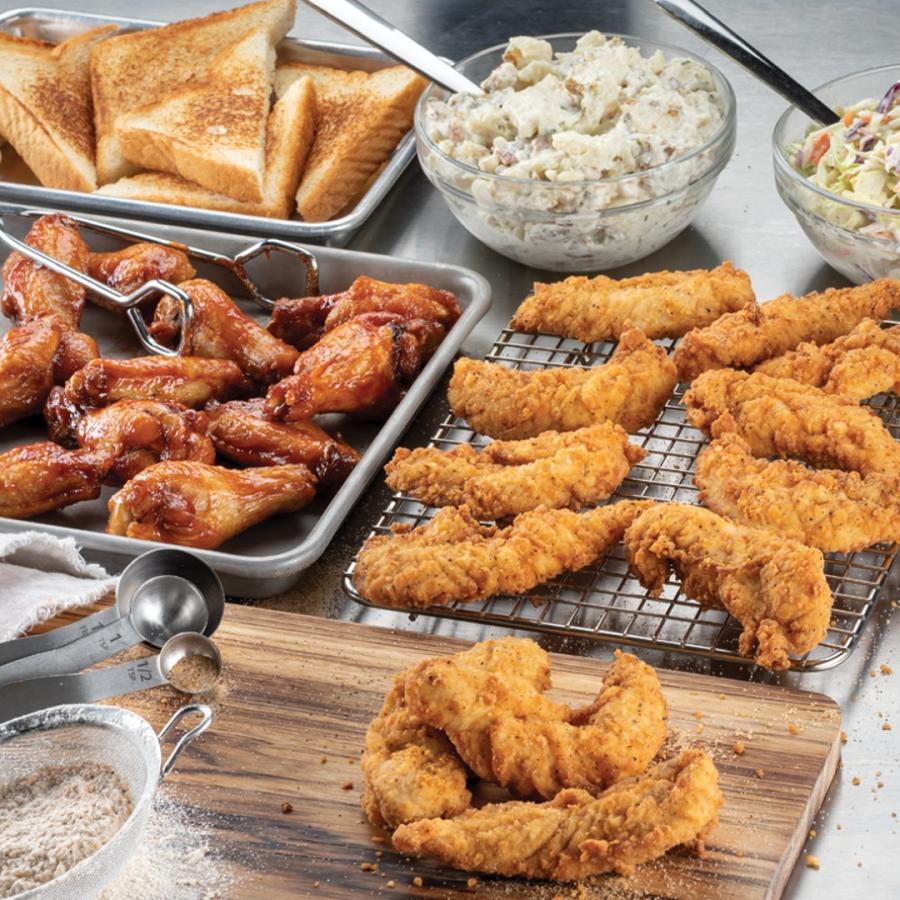 Slim Chickens in Clift Farms off Highway 72 in Madison/Madison County is now open. They also have a second location coming soon to Town Madison. 
Slim's menu offers fresh chicken tenders, Buffalo wings, sandwiches, salads, wraps, iced teas (sweet, unsweet, raspberry, peach), lemonade, and authentic Southern sides. Everything is fresh and cooked when you order it.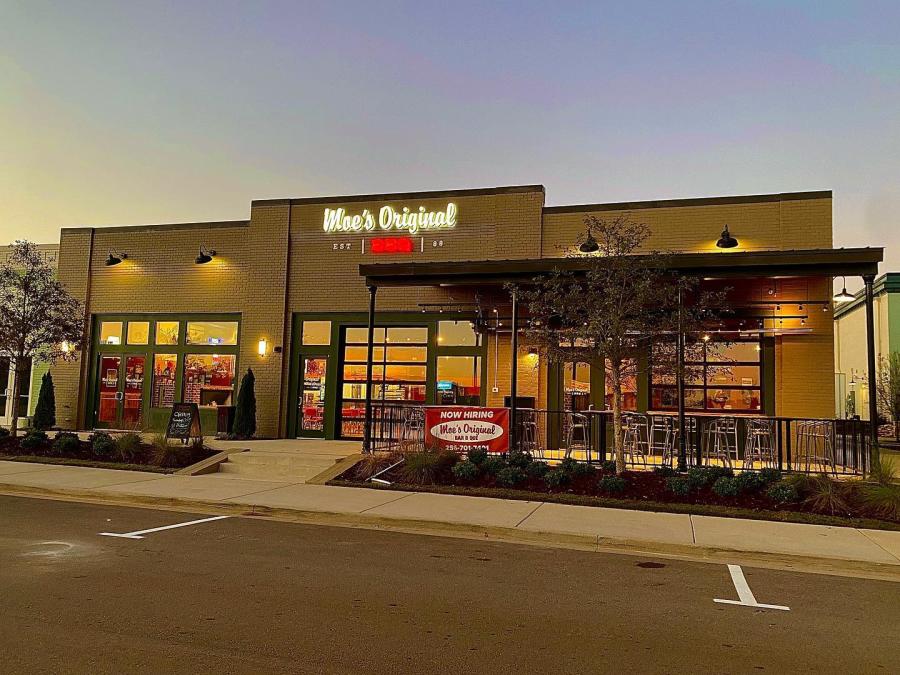 Located just behind Toyota Field where the Rocket City Trash Pandas play, you will find Moe's has expanded into Madison, Alabama. The Town Madison location is open and ready to serve the community.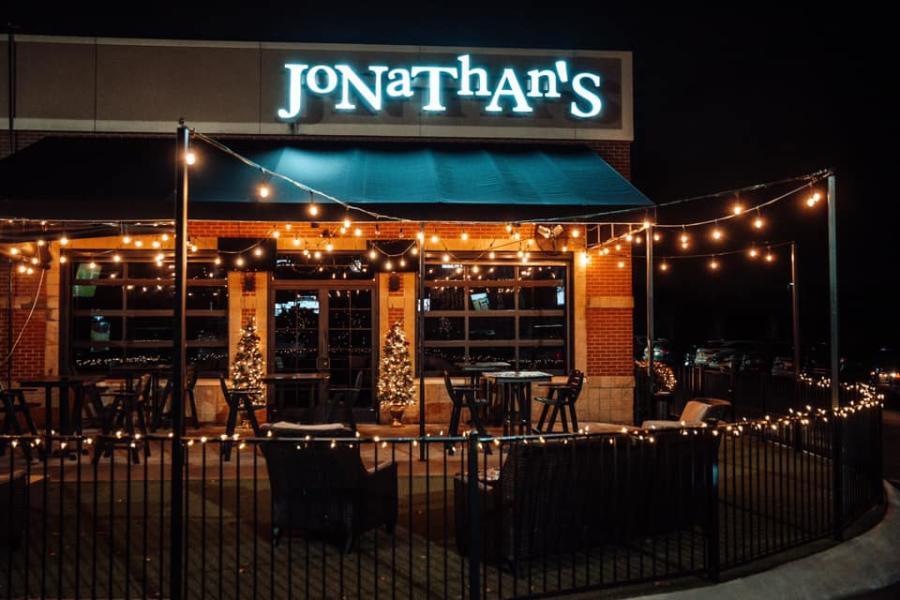 Photo Credit: Jonathan's Grille
Jonathan's Grille, an upscale sports bar with locations in Tennessee, has opened its first Alabama location at Madison's Clift Farms. The food is focused on scratch-made items and they hope to expand to Town Madison near Toyota Field, home of the Rocket City Trash Pandas, in the next few years.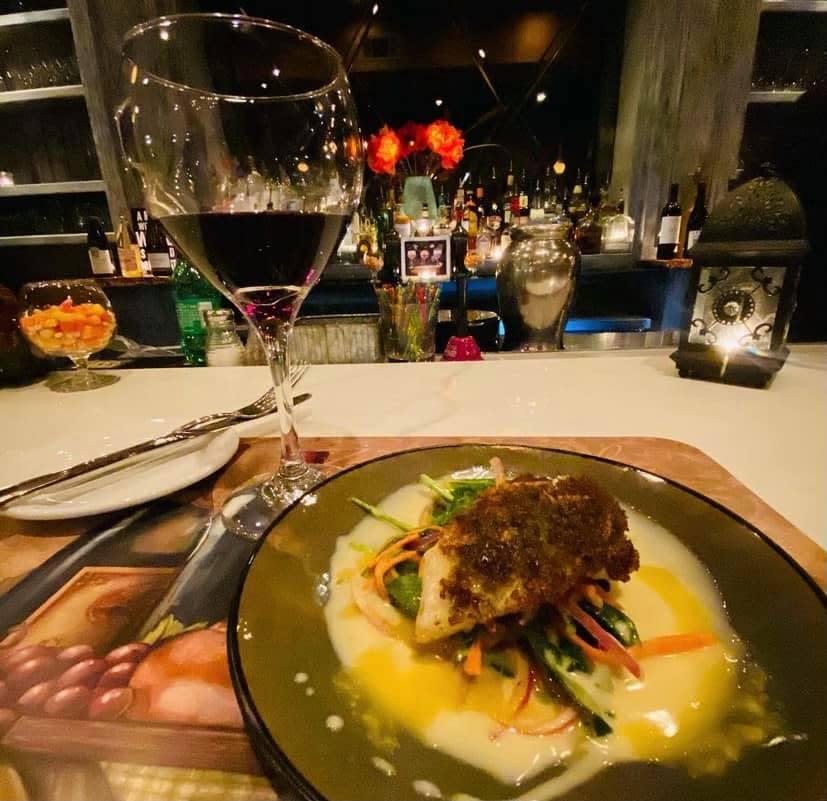 Bacchus Wine & Tapas is the newest form of previous Huntsville favorite, Luciano. Fans will recognize familiar recipes and romantic Italian ambiance, along with the premium wine selection and delectable small bites that its prior concept was known for. Visit them at 964 Airport Road SW.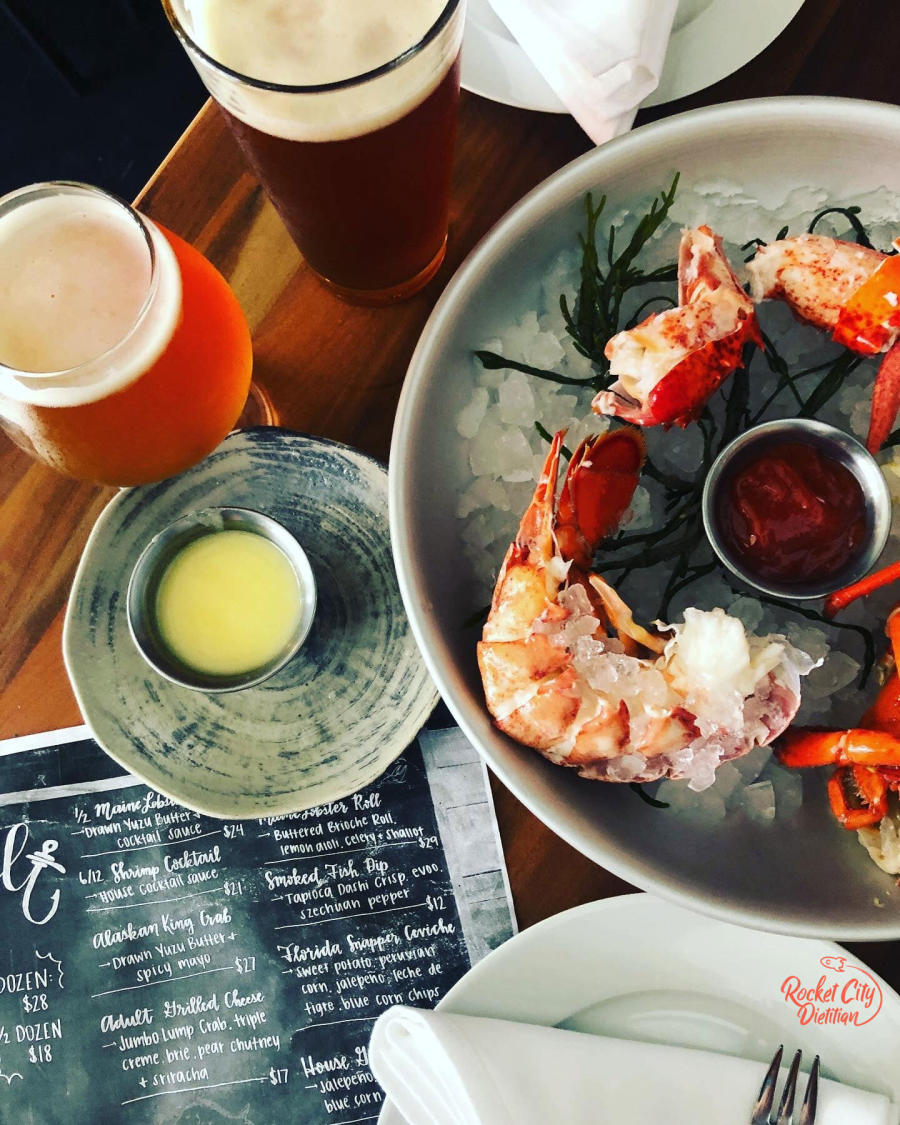 Credit: Rocket City Dietitian
The newest addition to the Church Street Family is now open at the Sea Salt Urban Oyster Bar. Sea Salt serves a variety of oysters from across the country, more than two dozen beers on tap, an extensive wine offering and special seasonal foods. It's open for lunch and dinner and perfect for a date night. Currently they only have two-top tables and bar seating but are working to get outdoor and covered patio seating set up soon. Click here to read more.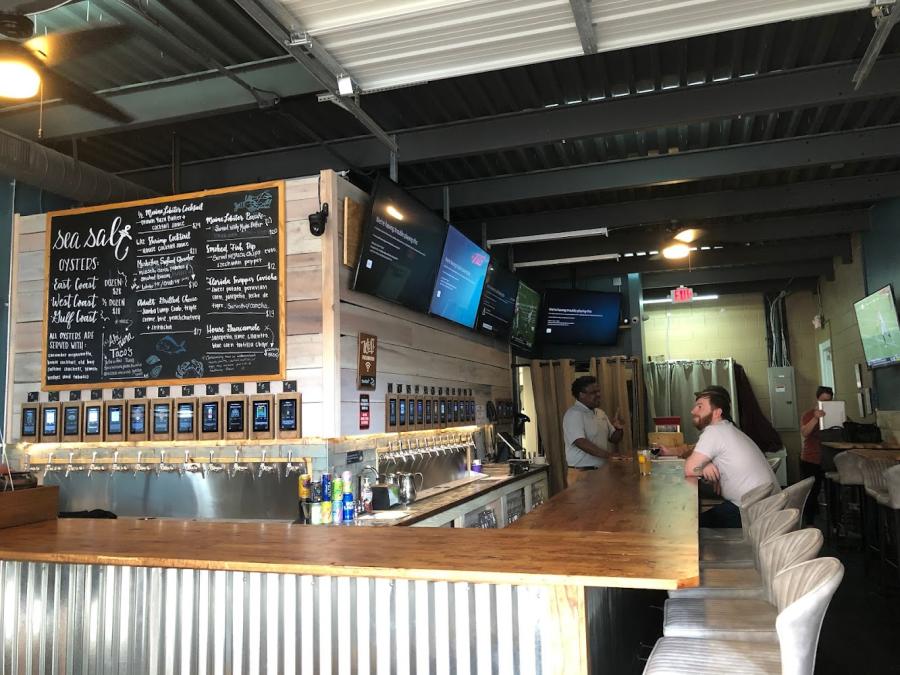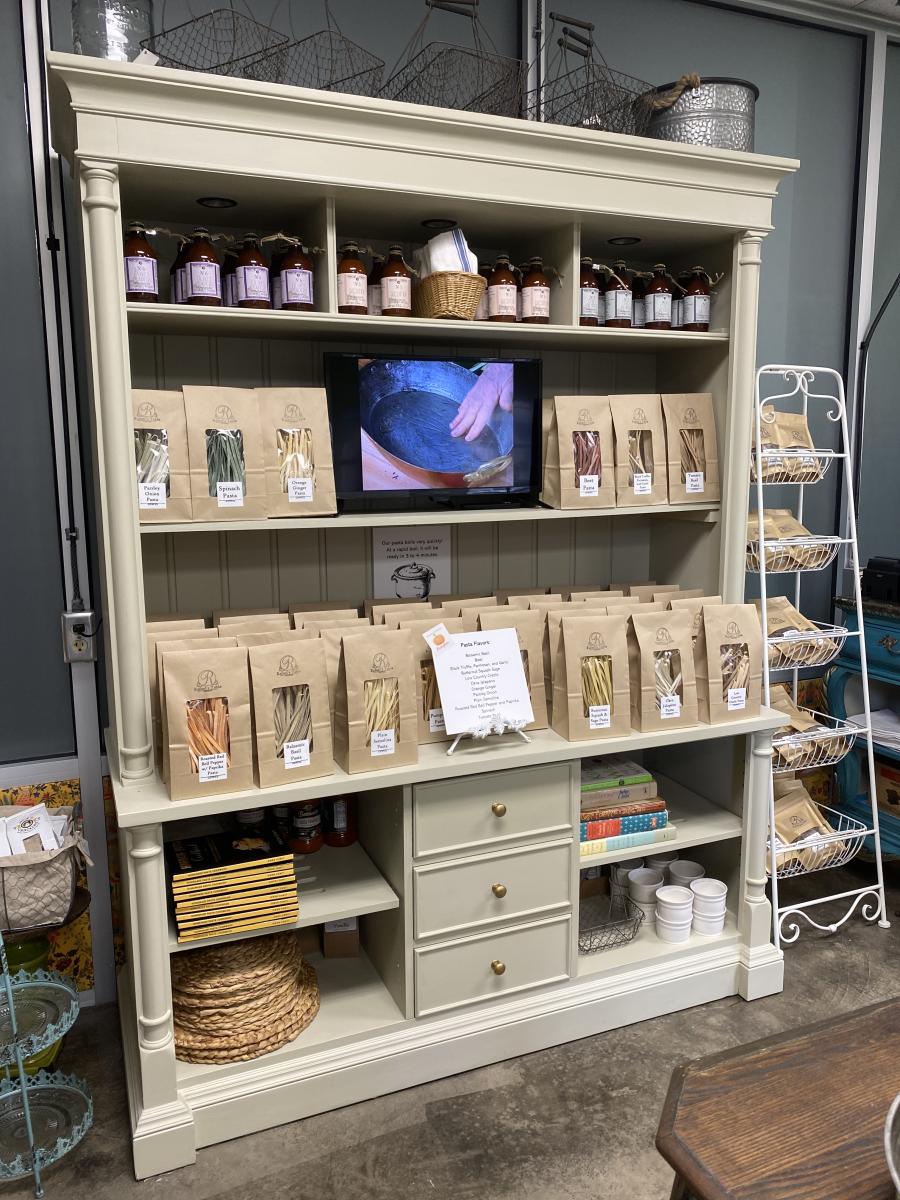 Rafael's Table is open at Lowe Mill A&E, Studio 1034. Their hours are Wednesday through Saturday from 11am - 7pm. From the owner:
"It's an eclectic gourmet food and kitchen shop that is styled as an artful mix of a French brocante, a vintage Spanish villa, and an old southern country cottage.  Colorful, small-batch pasta (made by us, of course!) is our specialty, and I can assure you that you've never tasted anything like our pasta!  Low-Country Creole, Roasted Red Bell Pepper with Paprika, Orange Ginger, Butternut Squash with Sage, and Okra Jalapeno are just a few of our mouth-watering flavors. And I definitely don't want to forget to mention our family-secret crepe mixes!  Whether you want a savory crepe for your meal, or a sweet crepe for your breakfast or dessert, we've got you covered.  Honey Lavender, Pumpkin, Chocolate, Tuscan, Low-Country Creole – is your mouth watering yet?"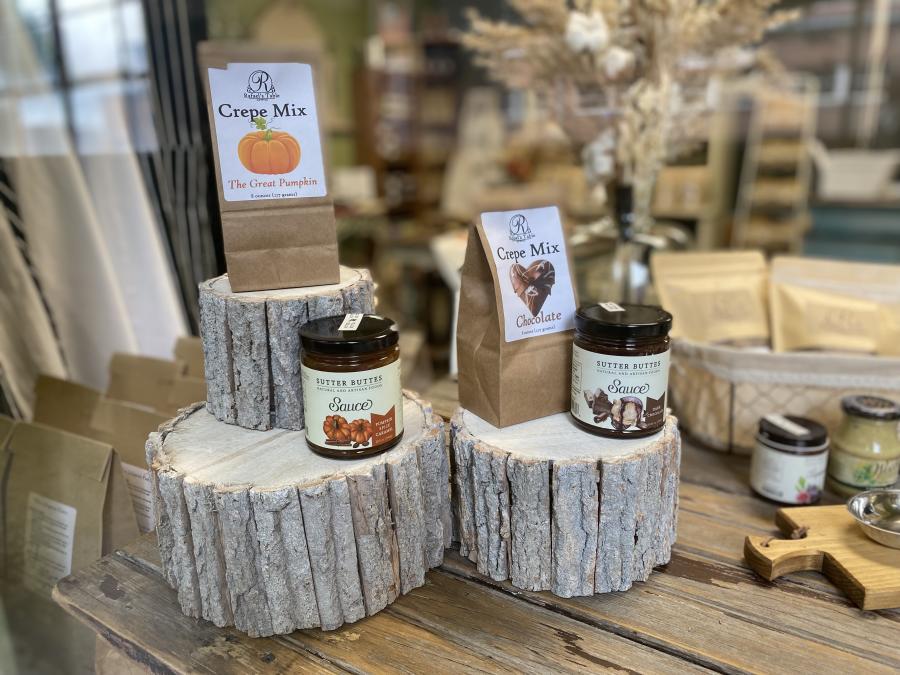 "We also carry a full complement of additions for your homemade meal – extra virgin olive oils, olives, pestos, tapenades, dipping herbs, breads, sauces – as well as utensils and serving pieces.  Need a mesh skimmer for quickly removing your pasta from boiling water?  We've got them.  A wooden spurtle for turning your crepes without scratching your crepe pan?  We've got that, too.  And the crepe pan?  Yep, we have those, too. There is something about enjoying a home-cooked gourmet meal that warms the soul, and when that meal involves our pasta, oh my goodness, it's sheer perfection!  Our pasta cooks very fast, so with the toss of a herb-infused olive oil and a sprinkle of cheese, you can sit down to your meal in less than ten minutes.  Now that's perfection!"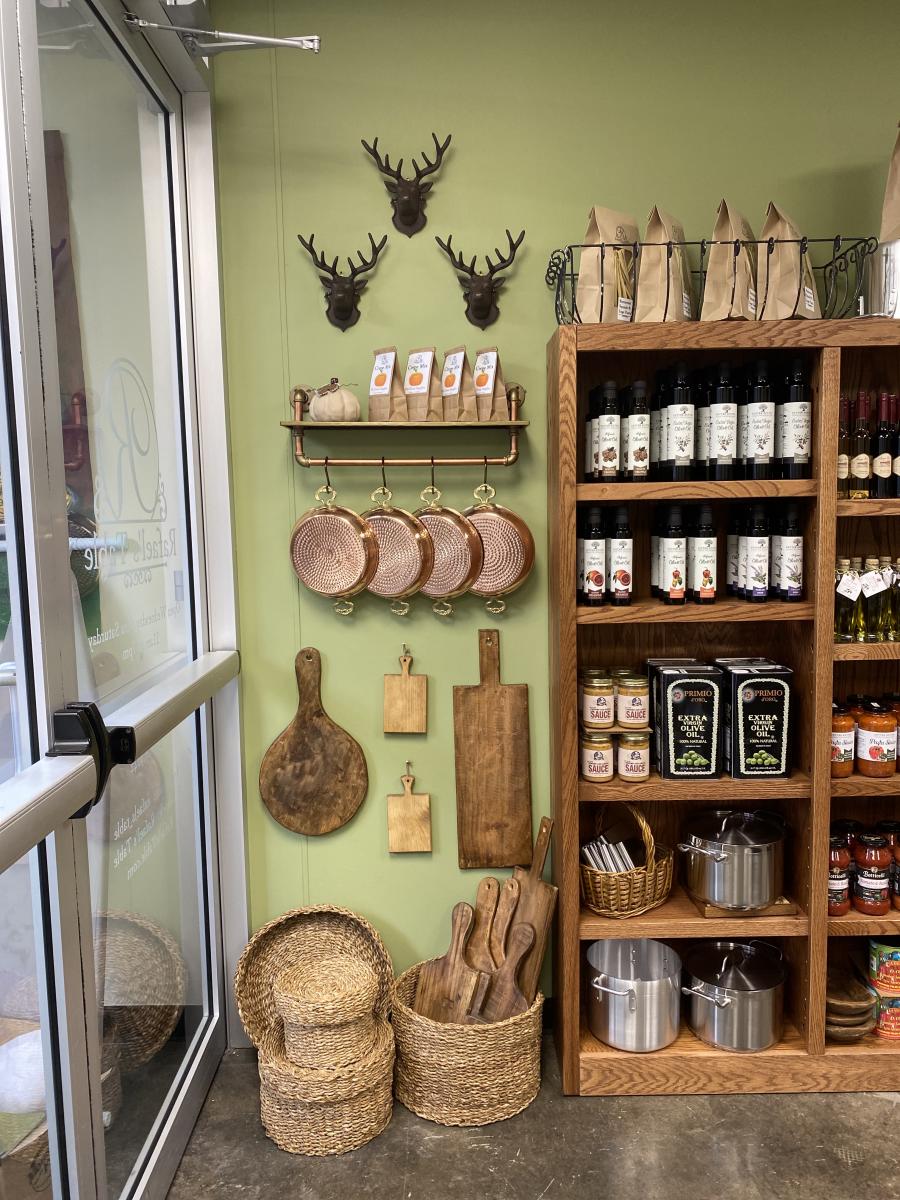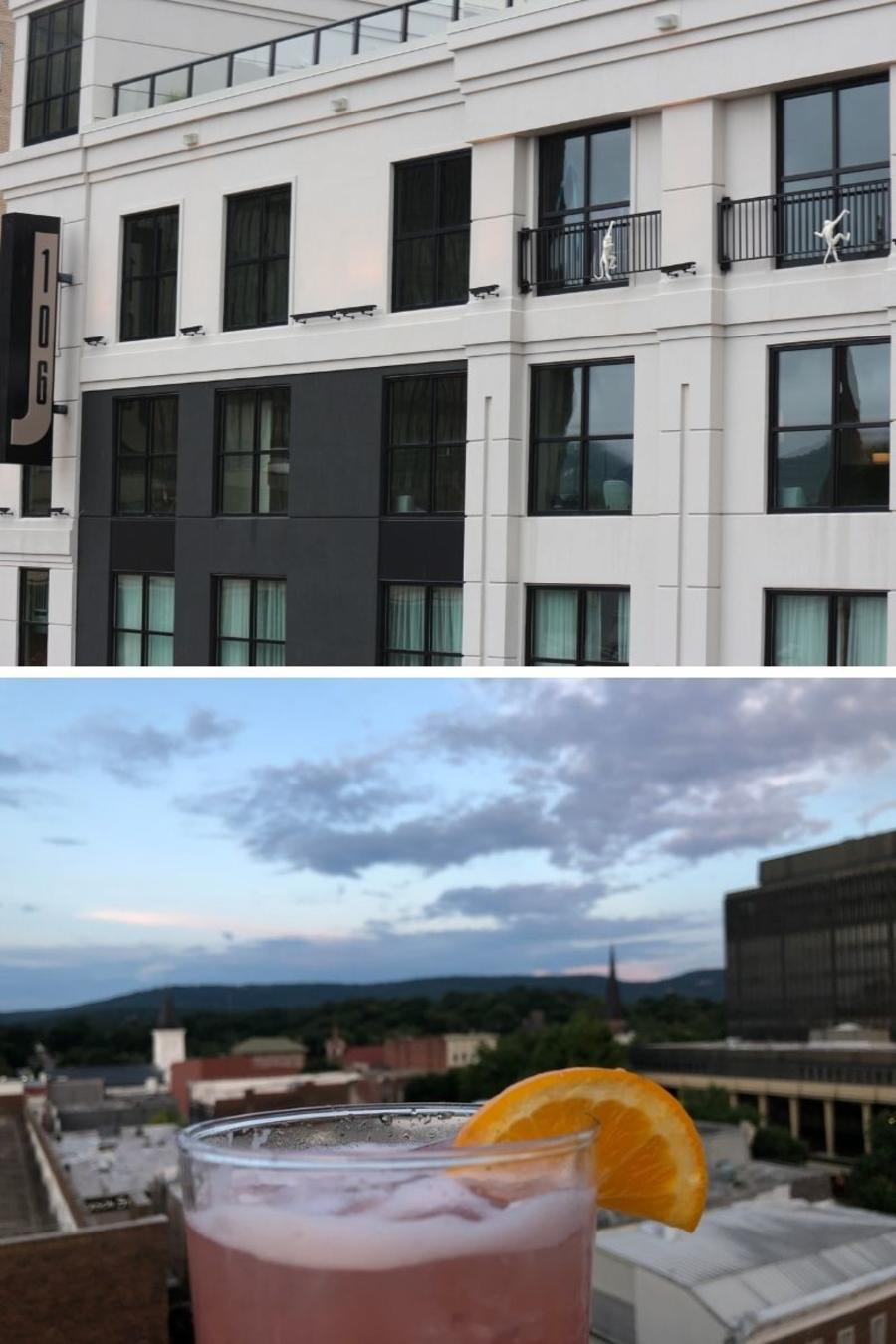 If you look up in downtown Huntsville at 106 Jefferson Street, you'll see some monkeys climbing Huntsville's newest hotel and rooftop bar. These two monkeys represent Baker and Able, the first two monkeys to return from space. In fact, Miss Baker has quite the history in Huntsville that you can learn all about here. With amazing views and specialty cocktails, Baker and Able is sure to be Huntsville's newest hot spot for dates and meeting friends.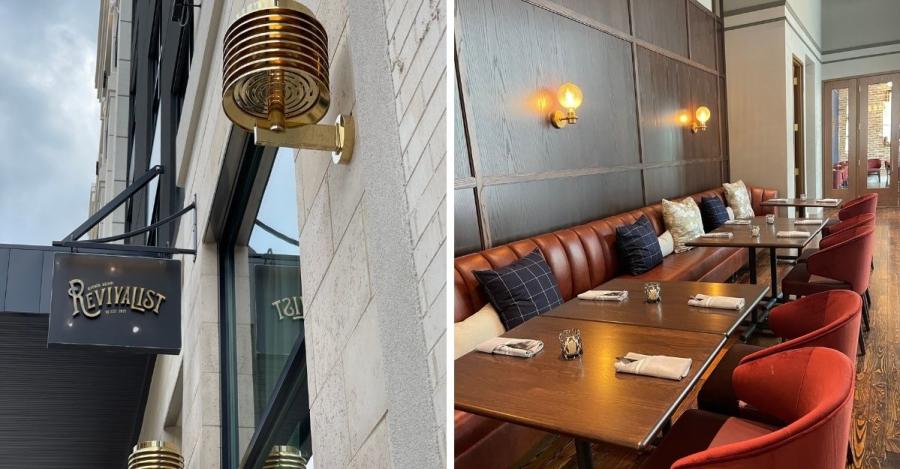 Located inside 106 Jefferson is The Revivalist, touting the slogan "Southern charm with astronomical views." The Revivalist offers new world flavors inspired by European classics and American regionalism. They serve breakfast, lunch and dinner. Click here for reservations.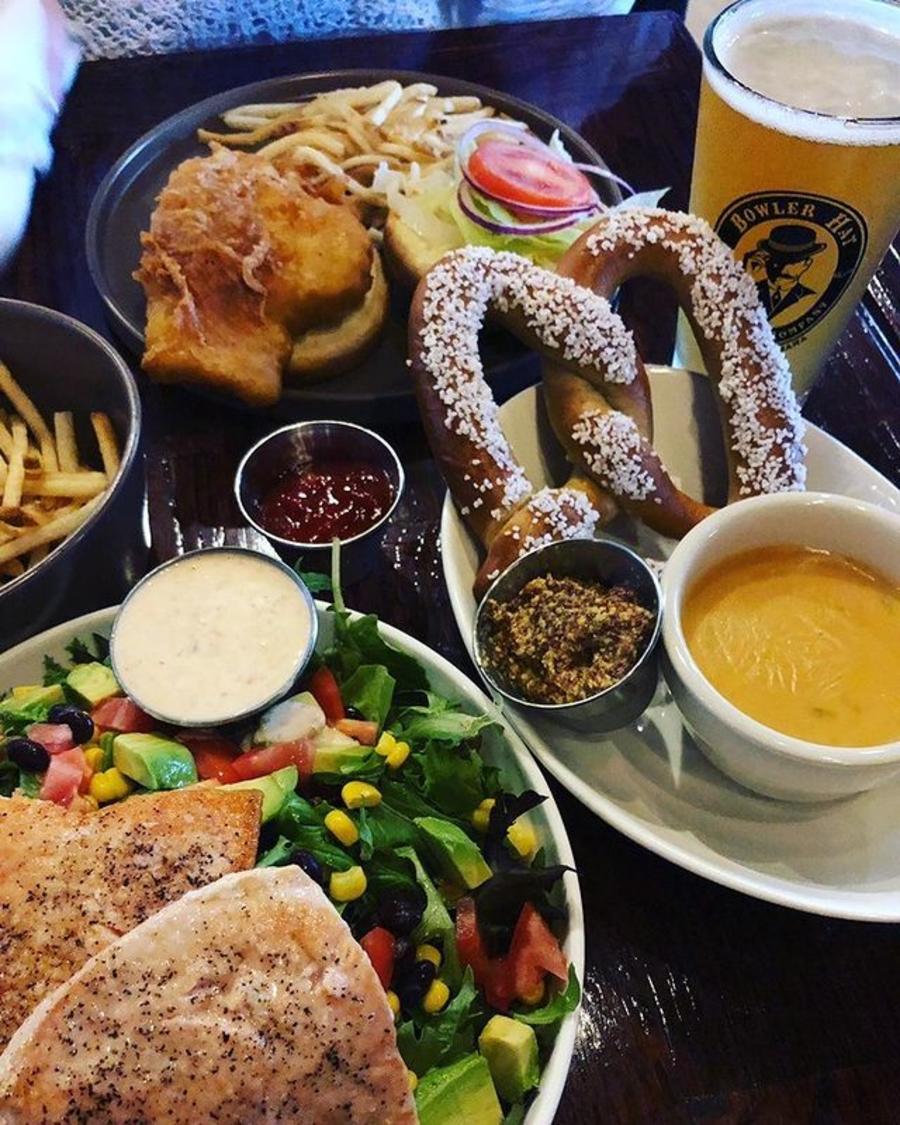 Photo Credit: Rocket City Dietitian
A new farm to table restaurant is located at Bowler Hat Brewing in Madison. Farm + Feed is a creation of Antonio Spence and Chef John Cleveland. They spent years seeing how fresh food impacts people. After the COVID-19 pandemic closed Antonio's previous employer, Antonio decided to go out on his own with Chef John and create a true farm to table experience. Chef John's creativity will be unleashed on the menu comprising of delectable creations that will leave guests longing for more!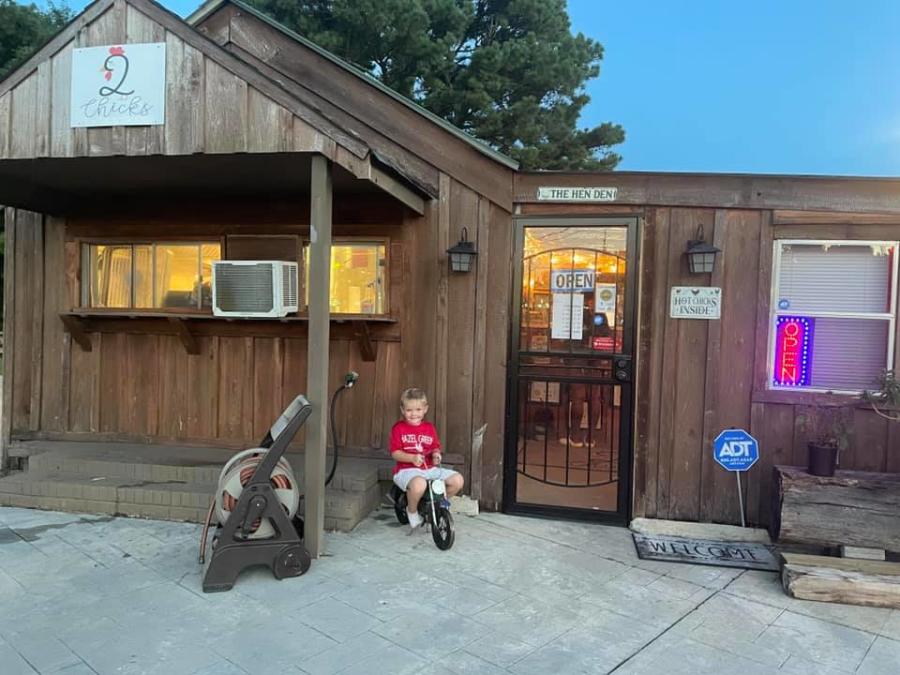 A food truck that has been a favorite at Downtown Huntsville's Food Truck Rallies now has a location in Hazel Green. You'll find amazing chicken sandwiches, sweet potato fries, french fries, and tater tots, and breakfast. The two sisters who own this restaurant are ready to welcome you to their newly opened store at 14056 Hwy 231/431 N Hazel Green, AL 35750.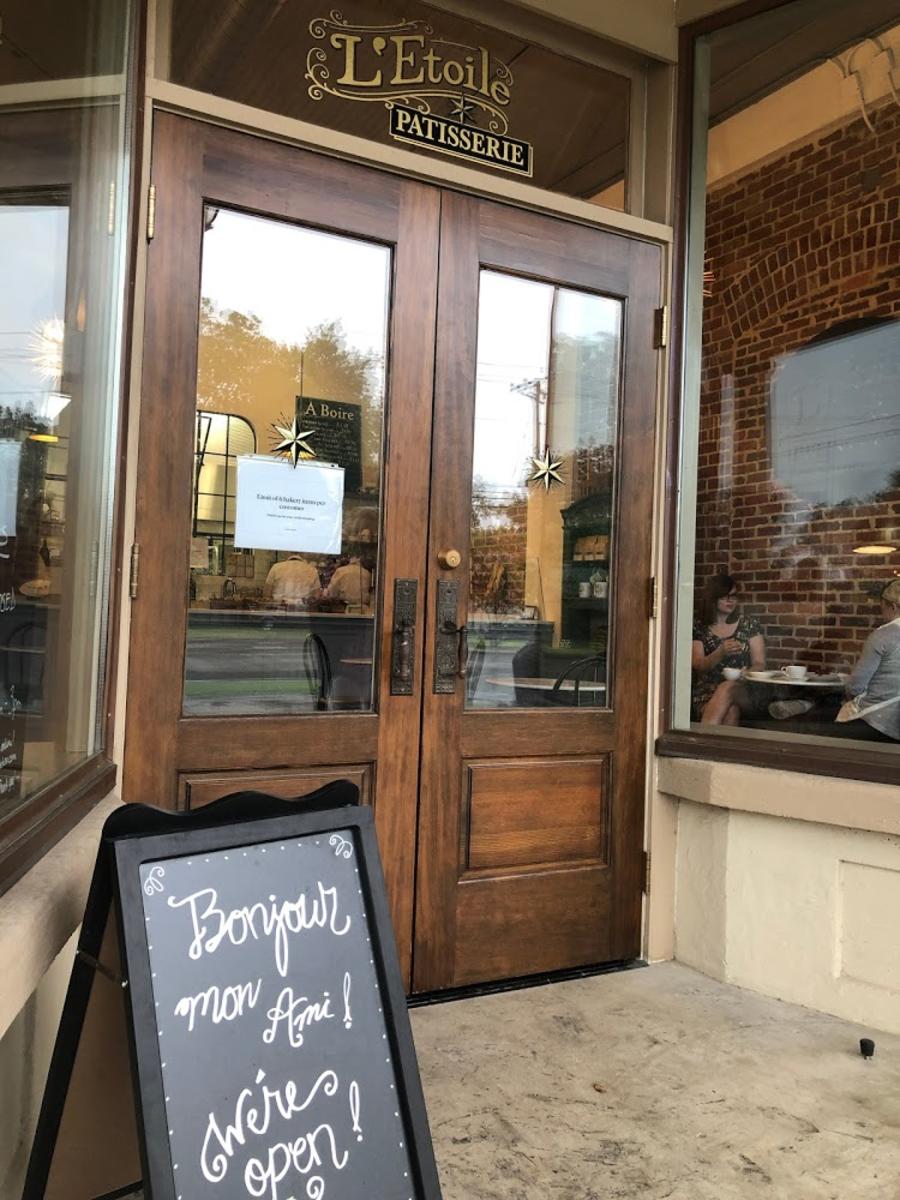 A new star has entered the Meridian Street stage serving up authentic French desserts and coffee inside a Parisian-style patisserie.  L'Etoile Patisserie French Bakery & Café is the creation of Kevin and Kristen Zurmuehlen, who have combined their love of travel and excellent cuisine into a new concept for Huntsville. Using classic French formulas and ingredients in all of their offerings, they hope to transport guests to an imaginary afternoon of strolling the Champs-Élysées and enjoying a pastry under the Eiffel Tower.
Currently guests are limited to 6 items at a time. If you are looking to order more for an event or your team, please contact the bakery at least 72 hours in advance. 
Etoile means "star" in French—a nod to the Rocket City's history. When open, the patisserie is located between Holtz Leather Co. and Preservation Company on Meridian Street. In addition to quality flavors, the shop itself will be a treat. Visitors will be welcomed into a classic Parisian café with muted blue hues and gold accents throughout. There will also be plenty of stars hidden within the design. (Read more)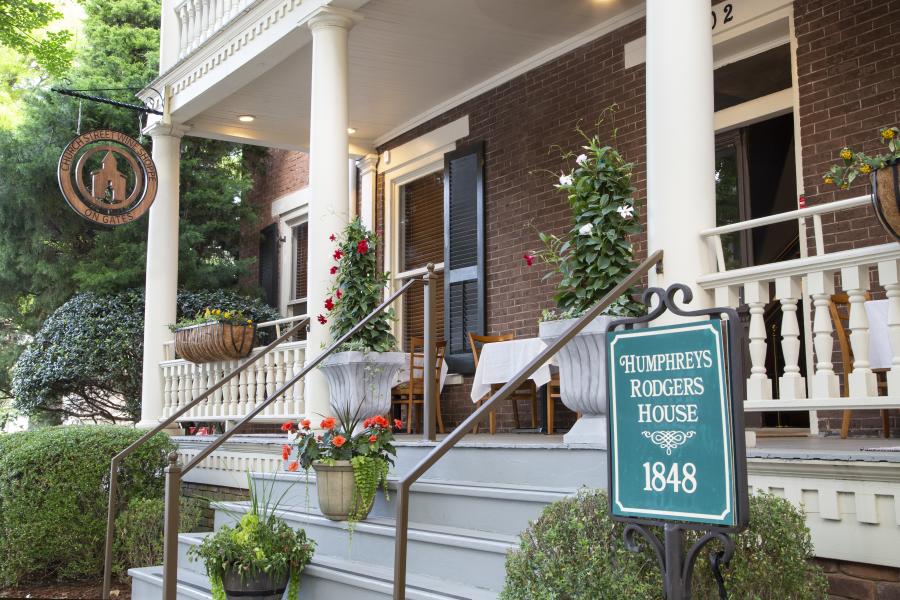 Mazzara's Vinoteca now open in the historic Humphreys–Rodgers House at 102 Gates Ave SW. Find authentic Italian food with fresh in-house-made pastas, charcuterie, wine flights, lunch, and dinner at this location. It's located inside the downtown Huntsville Arts & Entertainment District, allowing you to order an adult beverage in a purple cup and enjoy walking around downtown. They are also the only business in the United States to serve the Australian wine Greenock Estate.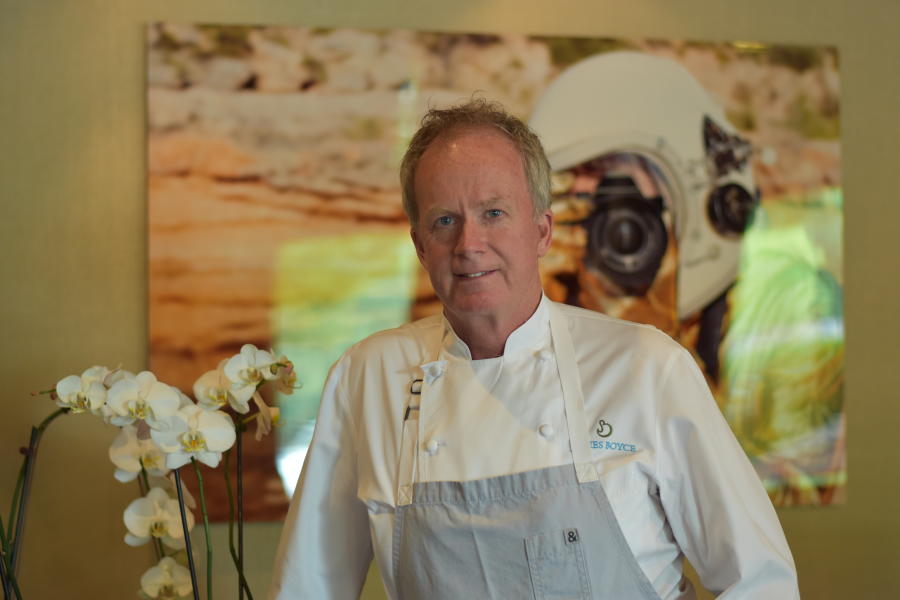 Grille on Main is now open in the Village of Providence. Chef James Boyce of Cotton Row, Commerce Kitchen, and Pane e Vino  has transformed the former Grille 29 space with many of the same employees, a new menu, new décor, and a plenty of space. Their doors are open for people to enjoy lunch, dinner, and brunch.
Limited Chains and Familiar Favorites

Whataburger is in Huntsville and all of our Texas transplants are rejoicing! Find the burger and honey-butter biscuit serving restaurant in South Huntsville at 11701 S Memorial Pkwy, Huntsville, AL 35803.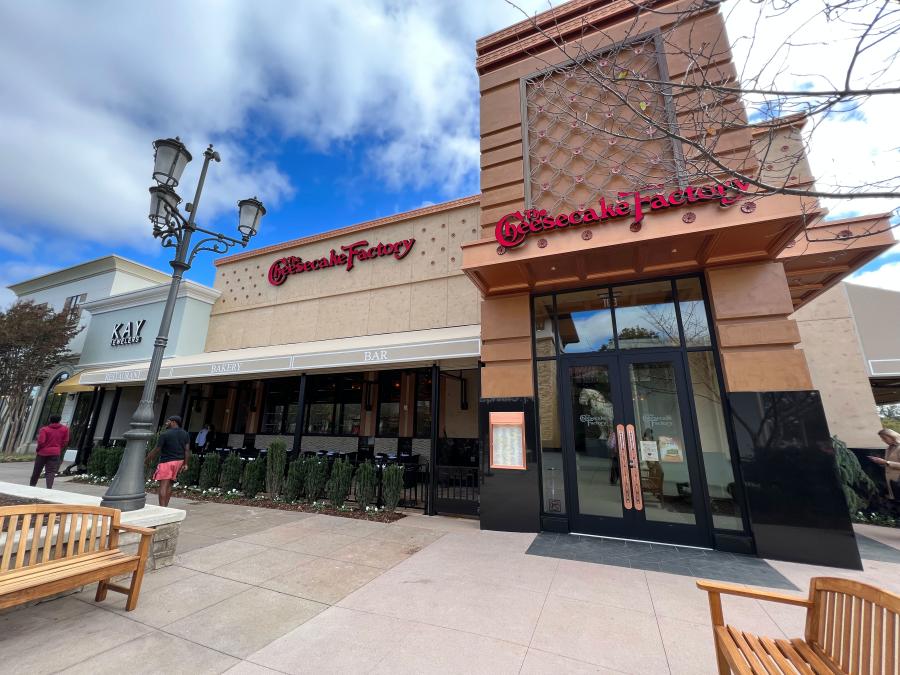 The Rocket City has finally gotten a Cheesecake Factory. The chain is now open at Bridge Street Town Centre near P.F. Chang's and Barnes & Noble. 
COMING SOON!
Honest Coffee Roasters Expanding to Madison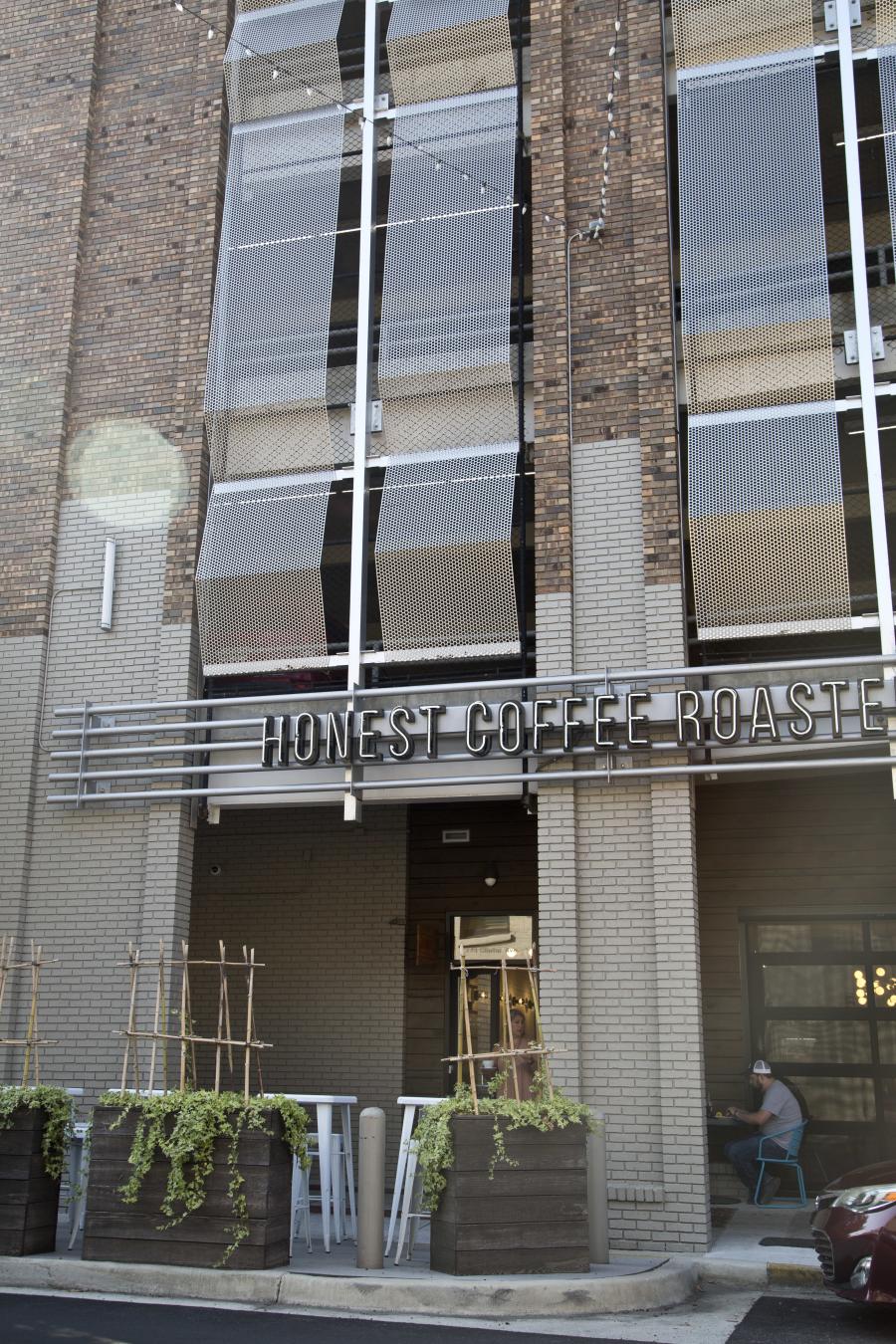 Honest Coffee Roasters is opening a second locally owned location at The Avenue Madison. With plenty of parking, outdoor space, and more than 1900 square feet indoors, owner Christy Wimberly is excited for the new addition. The shop is expected to open in late summer of 2022 at 92 Shorter Street in the mixed-use development of The Avenue Madison.
The Peach Cobbler Factory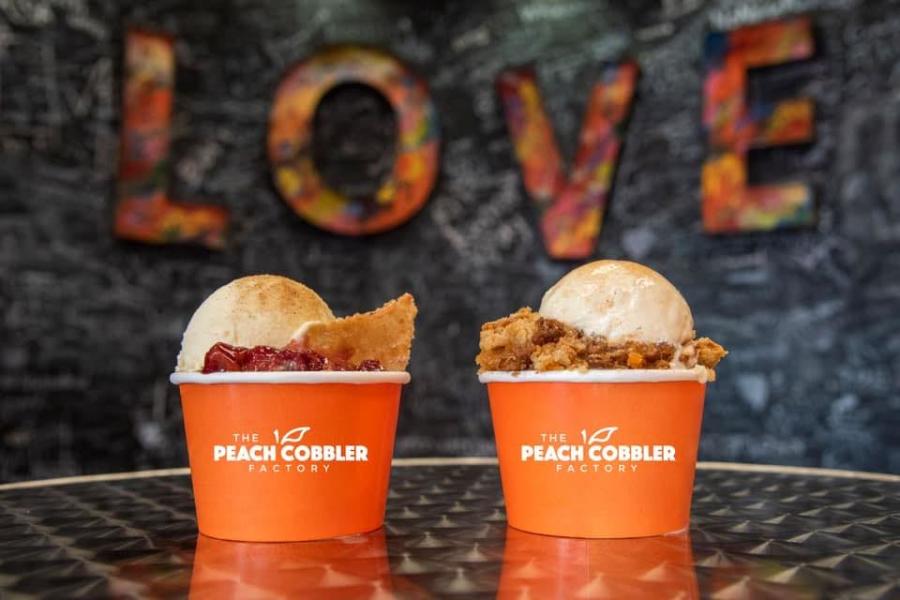 Nashville-based The Peach Cobbler Factory has plans to expand into Huntsville in the Spring of 2022. With more than 12 flavors of cobblers, banana pudding, and cinnamon rolls, they are hitting on all of the southern staples. A location has not been released yet, but as more information becomes available, we will update you.
A Taste of Maine Food Truck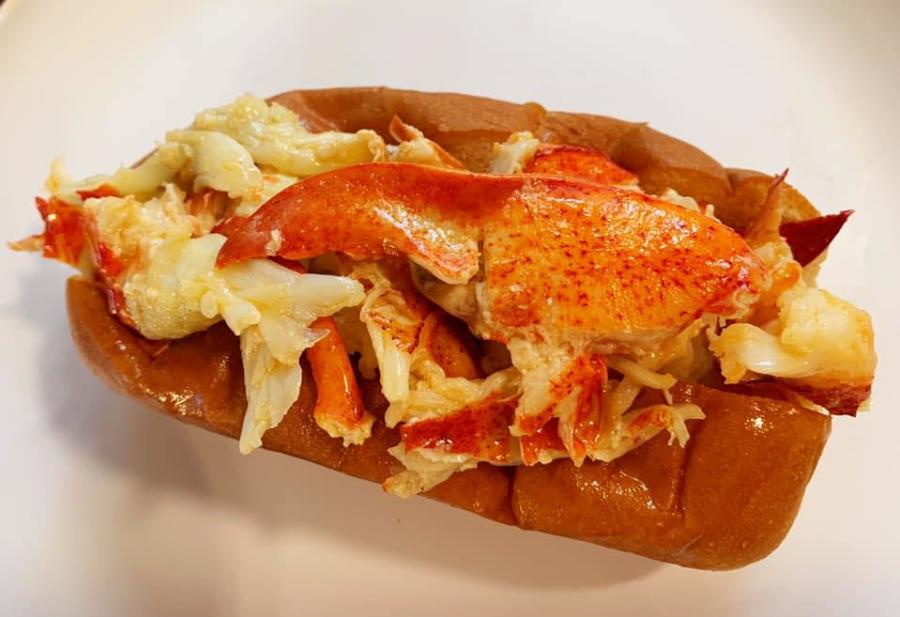 Lobster lovers rejoice! There is a new food truck that should be on the road soon to deliver a Taste of Maine (or Connecticut) to you. Hot dogs, fluffernutters, grilled cheese, and chowders also are on the menu along with the Lobster Rolls. We're sure it will be wicked good.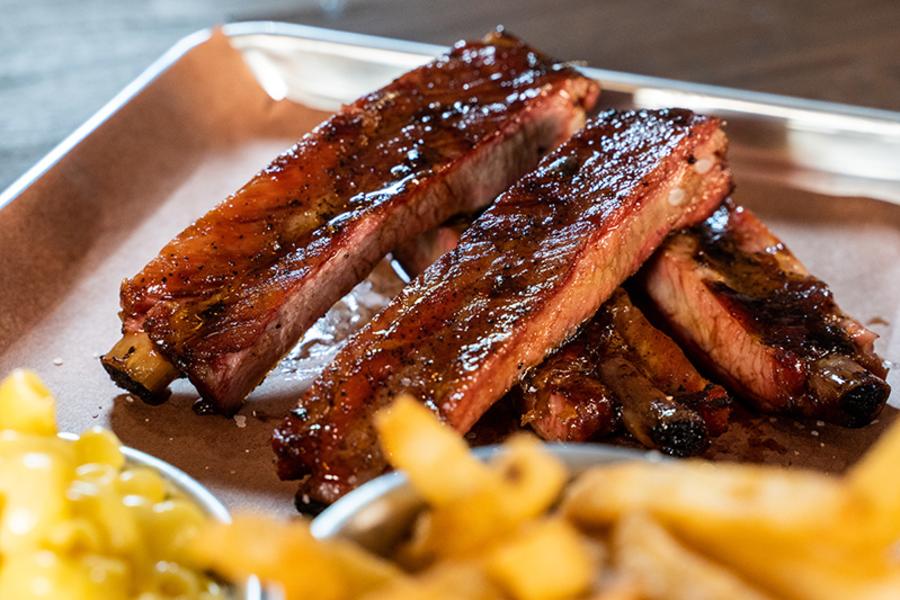 Photo credit: Fusion Barbecue
In the Spring of 2022, you'll find Fusion Barbeque at Lincoln Mill's Dye House.  From a release from the Crunkleton team, "Guests will be able to enjoy a variety of plates inspired mostly by Asian cuisine—think Asian Bourbon-Glazed Ribs, Wagyu Brisket Bao Buns, and smoked duck wings. There will also be side items like Hot Honey Brussels and French Fries deep-fried in Wagyu beef fat. For dessert, the team recommends giving the Miso Cheesecake with Oreo crust a try. It will come with a house-made blackberry-caramel reduction. All of this is just a sample of what's to come!" Read more about the restaurant and concept.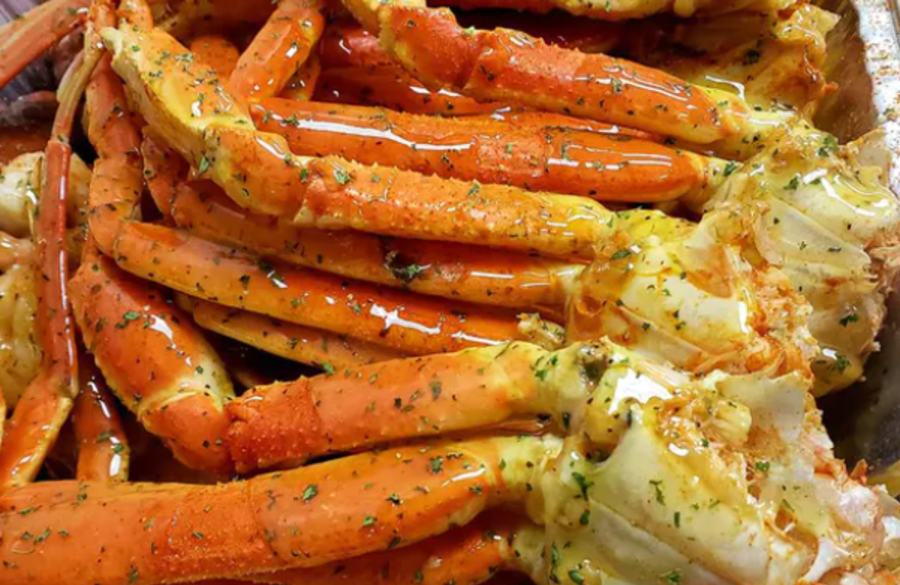 A new seafood restaurant is coming to 7900 Bailey Cove Road called Krab Kingz according to their Facebook post. They should be open with their boiled and fried seafood offerings by January 2022. They are also looking at a second location in the Five Points area at 200 Oakwood Ave NE, Ste. V, Huntsville, AL 35811.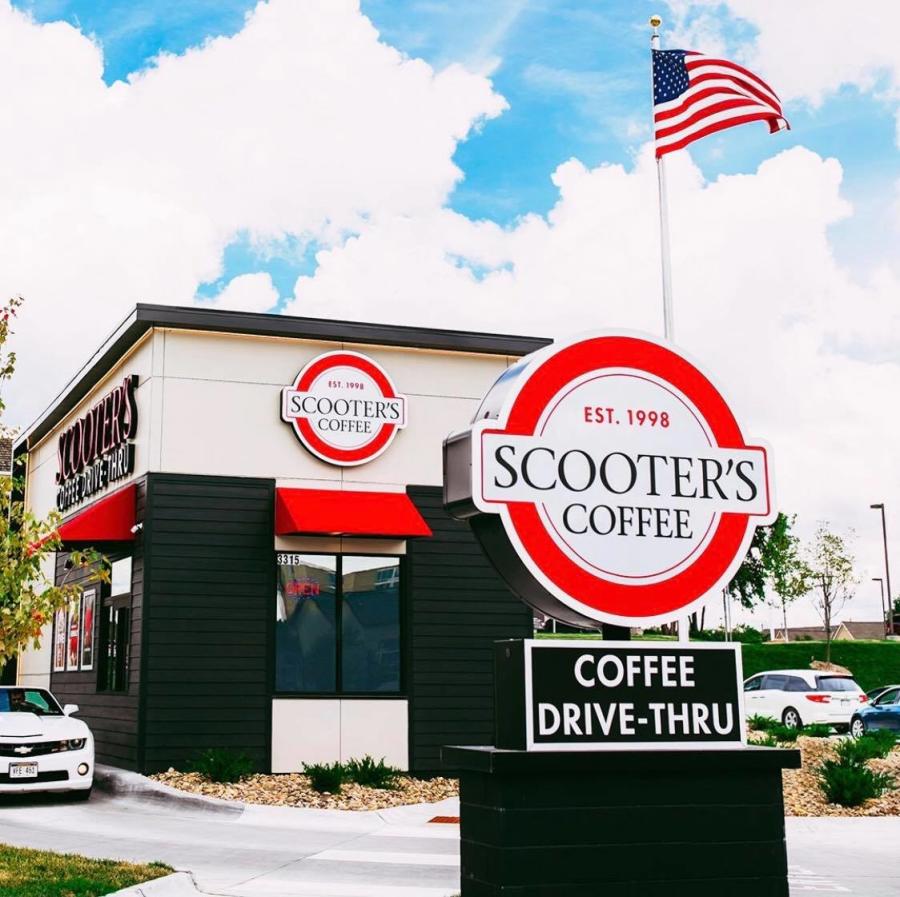 Photo Credit: Scooter's Coffee / Crunkleton
Crunkleton just announced that at 700 Governors Drive there will soon be a Scooter's Coffee. It's just past the First Baptist Church (Eggbeater Jesus) near Huntsville Hospital. It hopes to open in April of 2022 and offer high-quality coffee drinks, smoothies, teas, and a traditional breakfast menu.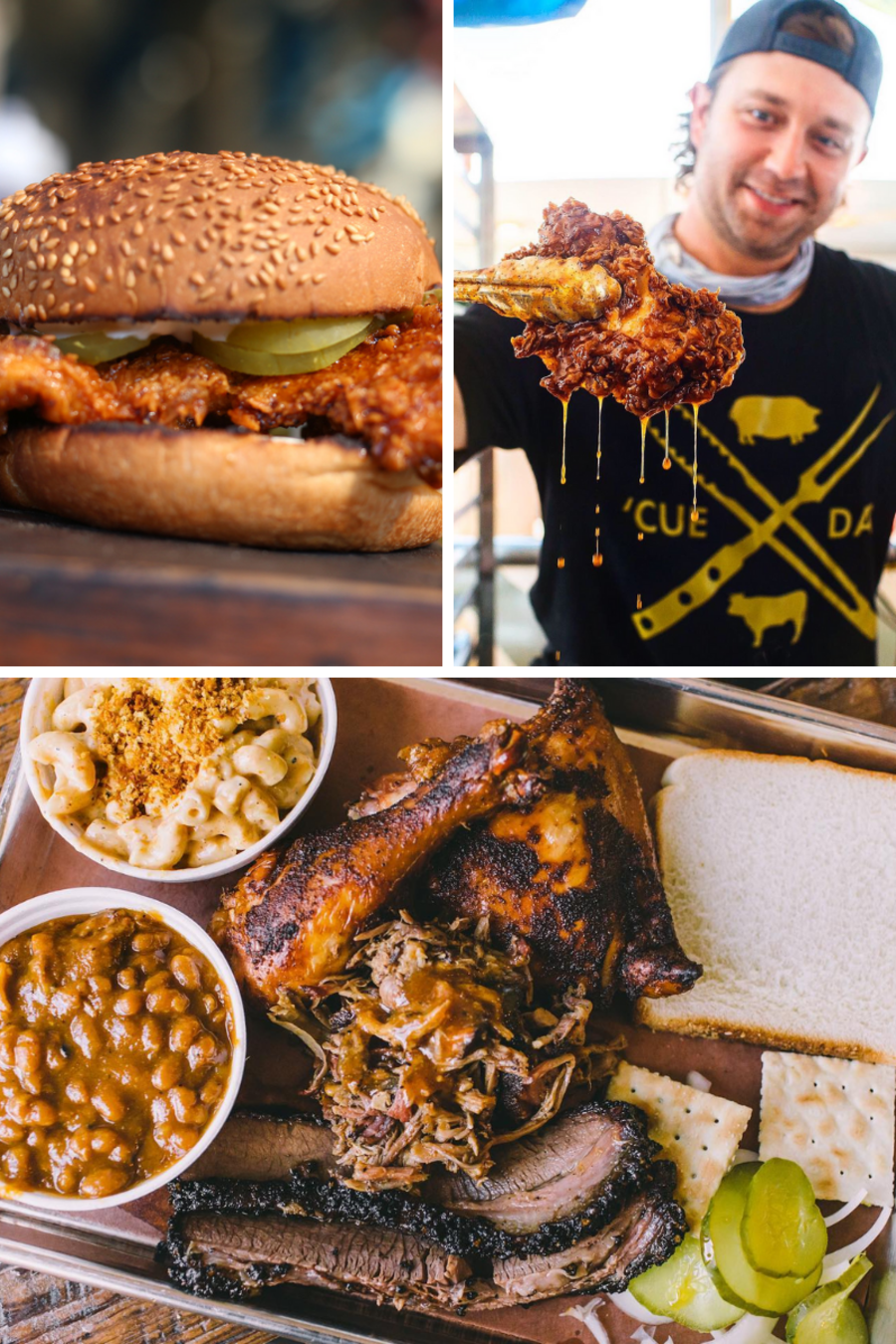 2022 is looking to be a huge year in the MidCity District. In the summer of 2022, a New Orleans based BBQ restaurant with accolades such as the 'best wing spot in New Orleans' (Delish) and 'the best fried chicken in America' (The Today Show) will open their doors in the Rocket City. Blue Oak BBQ is the brainchild of well known restaurateurs Philip Moseley and Ronnie Evans, both natives of Louisiana and longtime culinary ambassadors with the desire to create unique and out-of-the box flavors and push the boundaries on traditional recipes. Distinctive staples include items such as Sichuan and ranch-style rub used on a variety of meats, pork belly crackling, garlic and panko-topped macaroni and cheese, spiced ginger and toasted sesame seed slaw, and more.
"We've wanted to expand our presence in the Southeast for quite some time, and after visiting Huntsville for ourselves and seeing the thriving community, it made perfect sense to call this our next home," said Philip Moseley, co-owner of Blue Oak BBQ. "Huntsville's vibe is so unique, deep with colorful history and demonstrates a culture that is rich in innovation; it mirrors the story of Blue Oak BBQ really well, and we're pumped to be here."
"Blue Oak BBQ is so much more than just a restaurant," said Max Grelier, co-founder of RCP Companies, the developer of MidCity Huntsville. "The experience of flavors, the ambiance of the surroundings and the creative mindset behind Blue Oak BBQ is a perfect fit for our community and something we've been looking for. They've built a significant reputation in New Orleans and we're thrilled to have them as part of the MidCity family."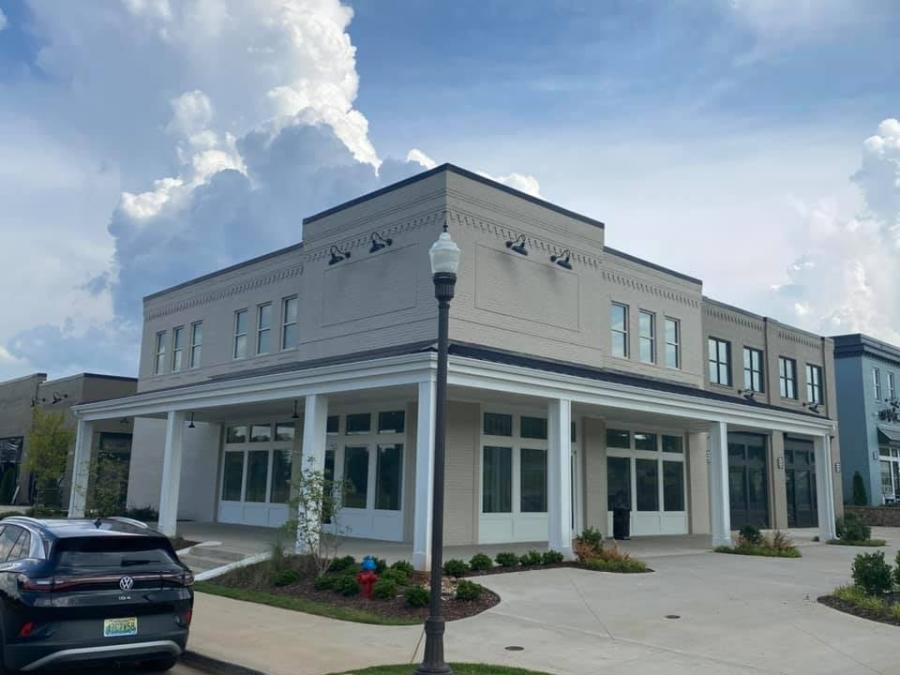 Town Madison is getting a serious Italian restaurant that is expanding from Montgomery opening at the beginning of 2022. According to the SA ZA website:
"Walking into SA ZA is an absolute feast for all your senses. SA ZA is set in a hip atmosphere with bold colors, exposed brick walls, historic hardwood floors and eye-catching artwork. With the energy from the music, the open kitchen, and the local artists creating masterpieces right in the dining room, you know in that moment that this is gonna be amazing. In this hot concept even the bathrooms are cool. Attention to detail is the focus here at SA ZA and it begins at the front door and continues right into the kitchen. Chef uses only the freshest ingredients and specialty items like: San Marzano tomatoes, pizza dough made in New York, wild salmon from Ireland and Norway, and scallops from Georges Banks, Massachusetts. From the quality of the food, Chef Joe has created a menu guaranteed to create a symphony in your mouth.
The food at SA ZA is a unique fusion of old and new. While it's authentic and traditional Italian food, it is also new and inventive. This eclectic blend stems from the fact that about 80% of SA Z's menu is made up of recipes from Chef Joe DiMaggio Jr.'s grandmother. Chef Joe is renown for creating fresh and innovative food. He describes SA ZA's menu as extreme peasant cuisine.
The atmosphere at SA ZA may be what initially draws you in but it is the food that will keep you coming back. With the diversity found on SA ZA's menu there is definitely something to excite every palette.
Traditional pastas are also a favorite choice including amazing touches such as our number one seller, angel hair served with Maine lobster meat, chopped shrimp and spinach in a chardonnay, exploded garlic and olive oil sauce.
As for the pizza, Chef Joe promises traditional toppings but also offers specialty pizzas. Guests can create their own pizza from a choice of 40 toppings. SA ZA's crispy pizza crust originates from their special dough made with spring water in Utica, New York by Dioro's bakery."
Salt Factory Pub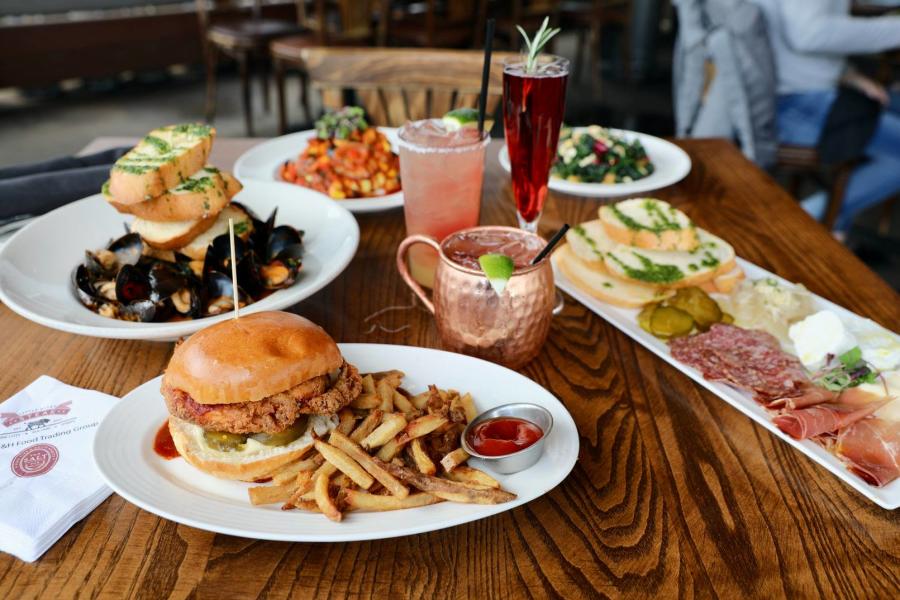 Alabama is getting its first Salt Factory Pub in Huntsville's MidCity District. The Georgia-based restaurant has had items like the Braised Lamb Shepherd's Pie featured on Food Network. Their self described menu is a combination of an upscale gastropub that offers modern and approachable cuisine with an unbeatable beer list. The restaurant is modeled after the pubs in the English Countryside with exposed brick walls, dark hardwood floors, cozy booths, and dim lighting. They hope to open in early 2022. 
Turbo Coffee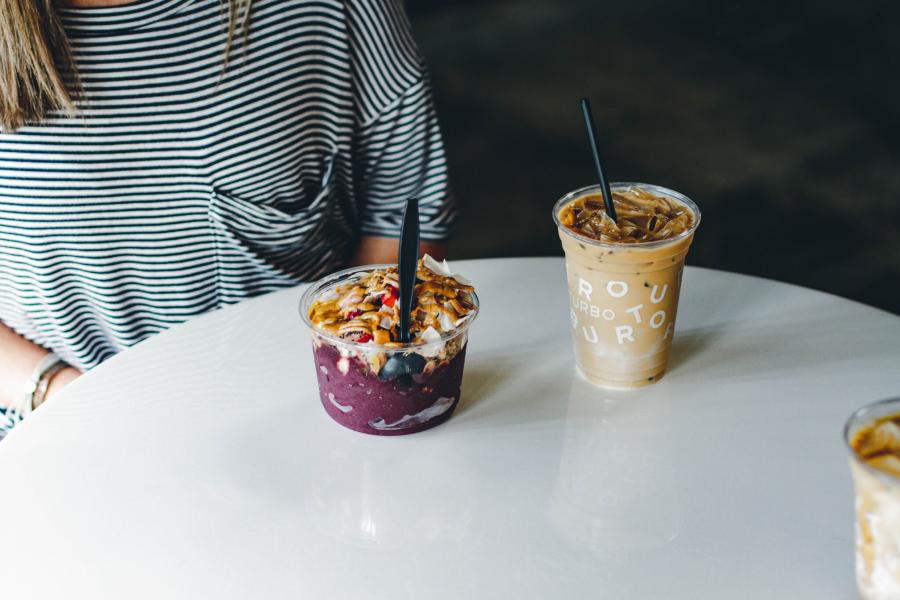 Photo by Shane Parker for Crunkleton
The Florence-based Turbo Coffee is opening up a third location at Lincoln Mill in Huntsville. According to the Crunkleton blog, "Turbo will have a 1,774 square foot shop at the property's historic Dye House and has plans to open in Q4 2021. "Making people faster" is the slogan of Turbo and gets to the heart of what they are all about: serving up excellent coffee to get people going for the day and impact their lives for the better. In addition to coffee, they serve build-your-own smoothie bowls, superfood smoothies, pastries, cookies, and sandwiches."
Town Madison Restaurants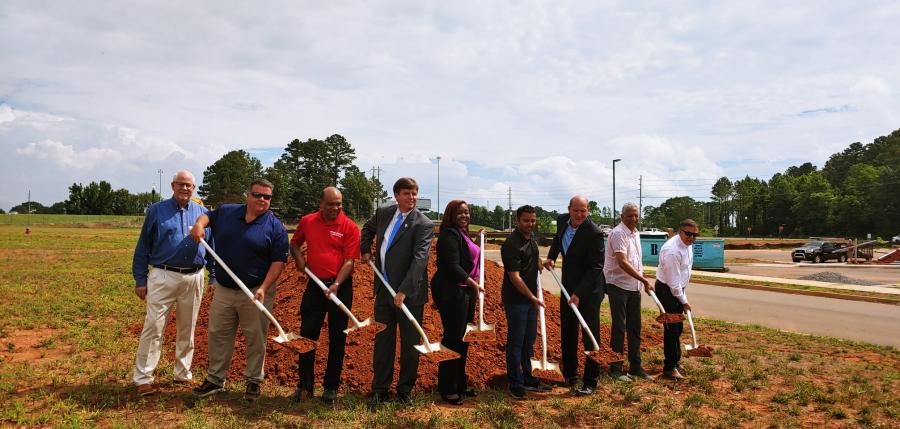 The Madison Chamber of Commerce just announced five new restaurants coming to Town Madison development off Zierdt Road near the new Rocket City Trash Panda Stadium, Toyota Field.
Slim Chickens will be building in Madison, along with Prohibition Rooftop Bar & Kitchen. Prohibition Rooftop Bar & Kitchen is a gastropub and bar with a 1920s flair and a variety of meal options. It will feature 2,500 square feet of indoor dining and 1,000 square feet of covered rooftop that overlooks the community.
Super Chix will be opening a second location. You can currently find the Texas-based chicken and custard restaurant in Huntsville. 
5 Guys Burgers and Fries is also headed to Town Madison. There are currently three locations in the Huntsville area where fans can get their burger, hot dog, and fry fix until the new Madison location opens. Outback Steakhouse has officially opened their doors in the Town Madison complex.
>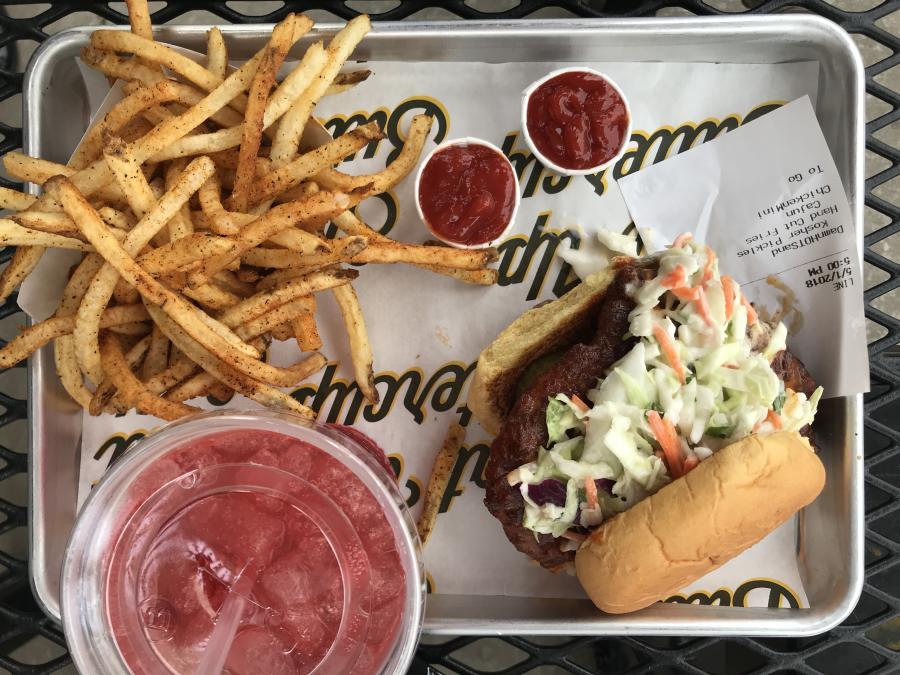 Biscuit Belly in Huntsville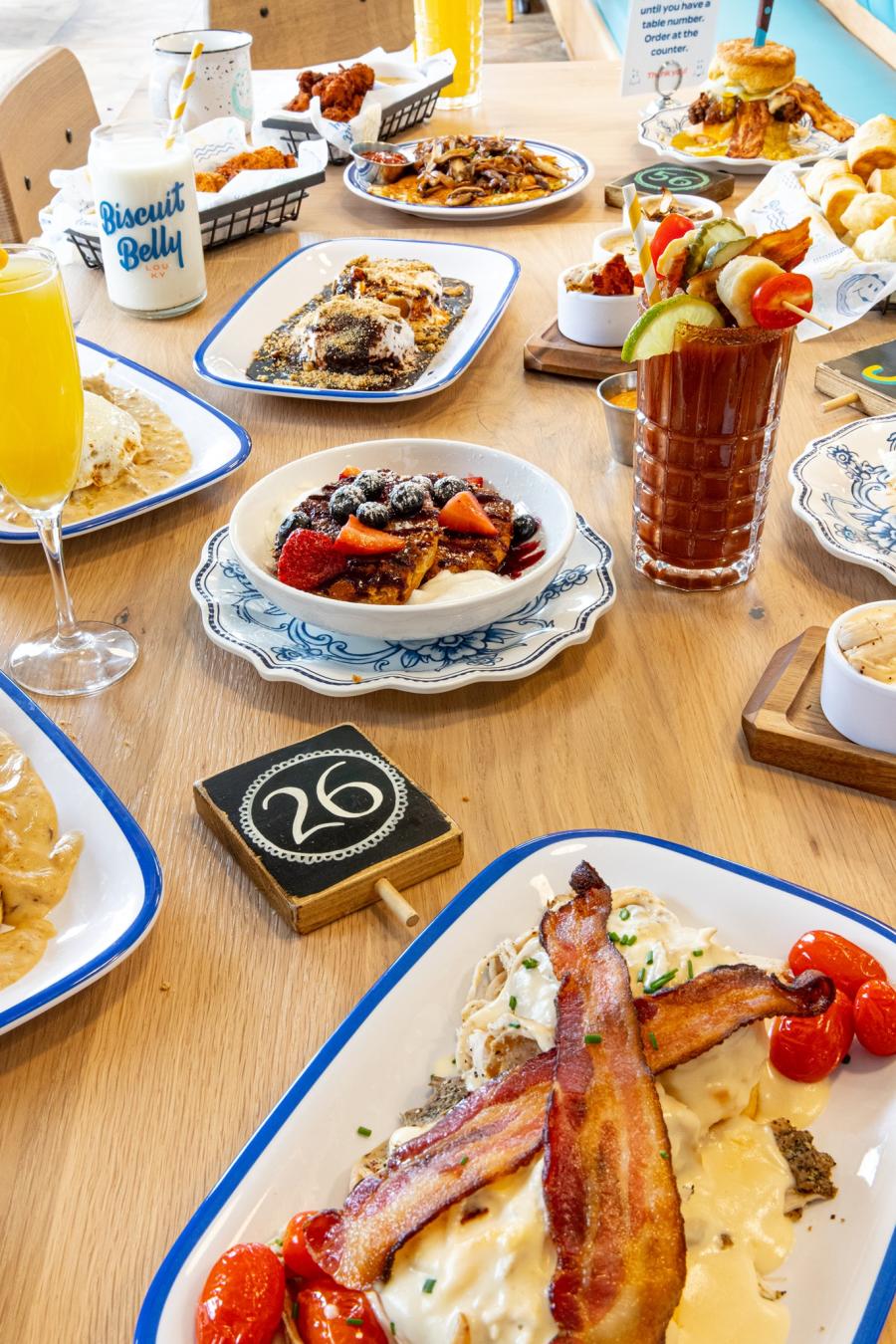 A Louisville restaurant is coming to Huntsville in 2022. Biscuit Belly is a chef-driven breakfast spot that offers up gourmet biscuits in a fast-casual concept. Click here to learn more about them and see their menu. 
Amerigo to Open in South Huntsville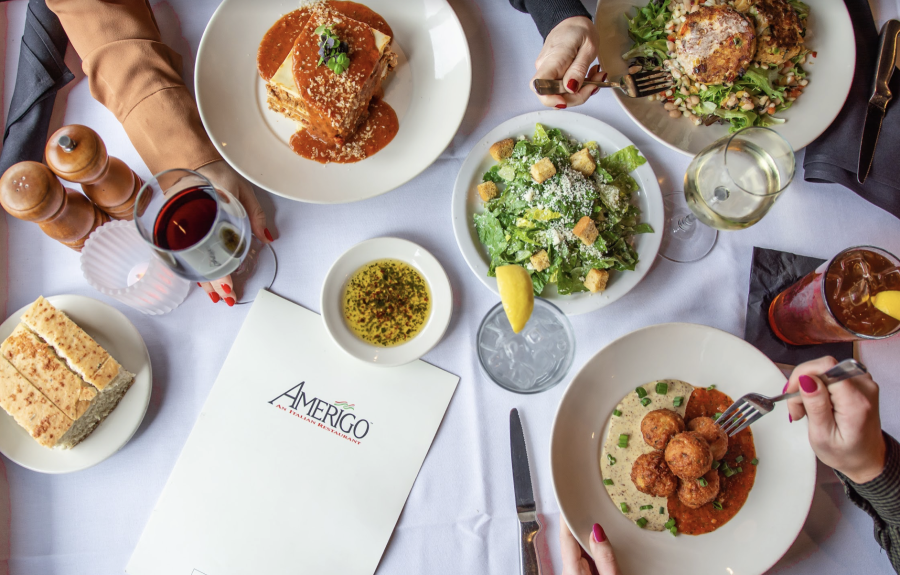 Coming to the new Hays Farm location in South Huntsville, Amerigo is an Italian concept from the hospitality group the brought in Char. The new restaurant will bring a blend of traditional and modern Italian cuisine along with its signature welcoming atmosphere in late 2021. Amerigo will be open for lunch and dinner seven days a week and offer brunch from 11 a.m. to 2 p.m. on Saturday and Sunday. Guests will be able to enjoy patio seating, private dining spaces, a full bar, and a comfortable dining room.
Since opening its first restaurant in Ridgeland, Miss., more than 30 years ago, Amerigo has become a crowd favorite and added locations throughout the Southeast. Its consistently delicious menu along with quality customer service and approachable price points have made Amerigo a mainstay in the industry. Each of Amerigo's five locations share many of the same timeless dishes, and each secures local ingredients and purveyors to give its plates a home-grown flavor. Its dedication to serving fresh Italian meals extends to various dietary needs including vegetarian and gluten-free lifestyles. A dedicated gluten-sensitive menu offers a wide range of salads, entrees, and desserts that make Amerigo an excellent dining experience for everyone.
Eggs Up Grill in Madison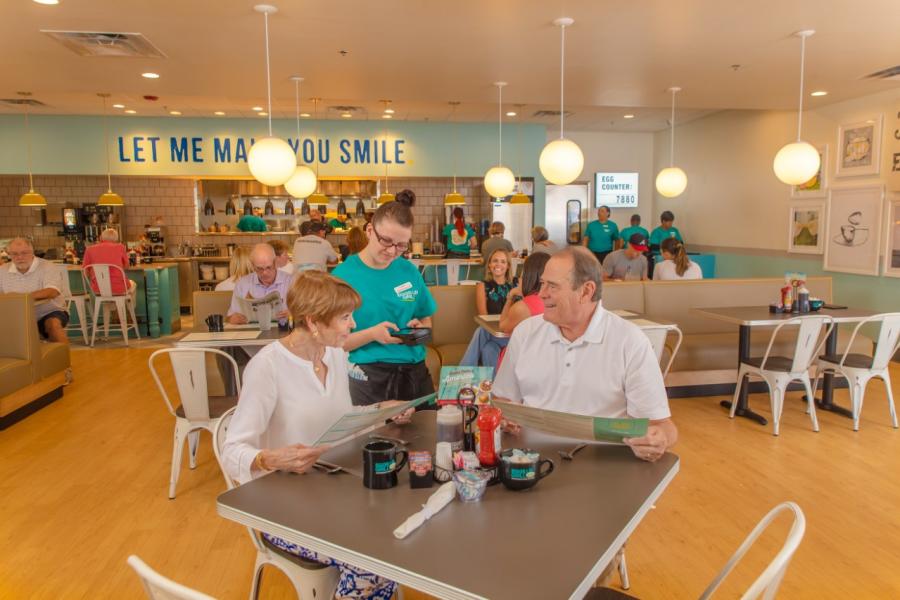 Eggs Up Grill is opening up their first restaurant in the state of Alabama. This summer you will be able to find the breakfast, brunch, and lunch concept at 300 Hughes Road. It will have seating indoors for 86 and an outdoor patio to make guests feel at home. The restaurant will be open seven days a week from 6:00 am - 2:00 pm. 
Eggs Up Grill will offer its full menu, open to close, for dine-in, takeout, or delivery. Menu categories include breakfast sandwiches, benedicts, omelets, pancakes, waffles, French toast, as well as classic breakfast entrees, home-fry bowls, and fan-favorite muffins. There are also lunch choices including burgers, sandwiches, wraps, and salads.
They will offer dine-in, online ordering, takeout, catering, and delivery options available. A dedicated to-go station will allow for easy pick-up for online orders and third-party delivery.
The new Eggs Up Grill will be focused on giving back to the community. The owners are Alex and Kristen McLellan. The team is passionate about working with first responders, churches, schools, and as Alex is a veteran, the military. They are dedicated to becoming a community fixture that serves as a local gathering place for residents and a support for organizations.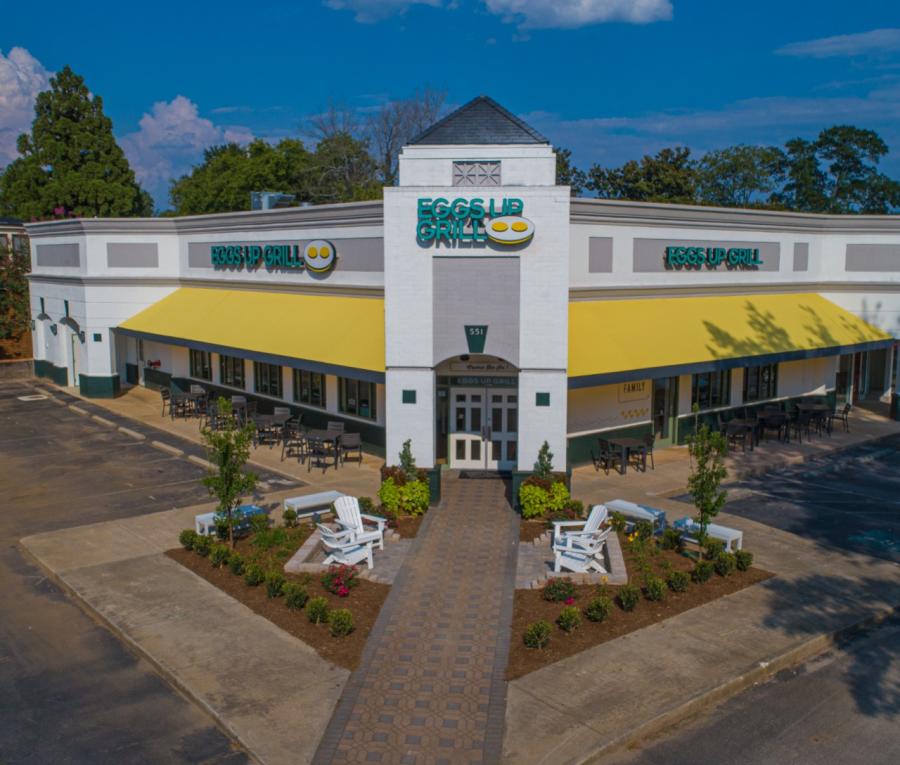 La Gran Riviera Cantina & Grill in Madison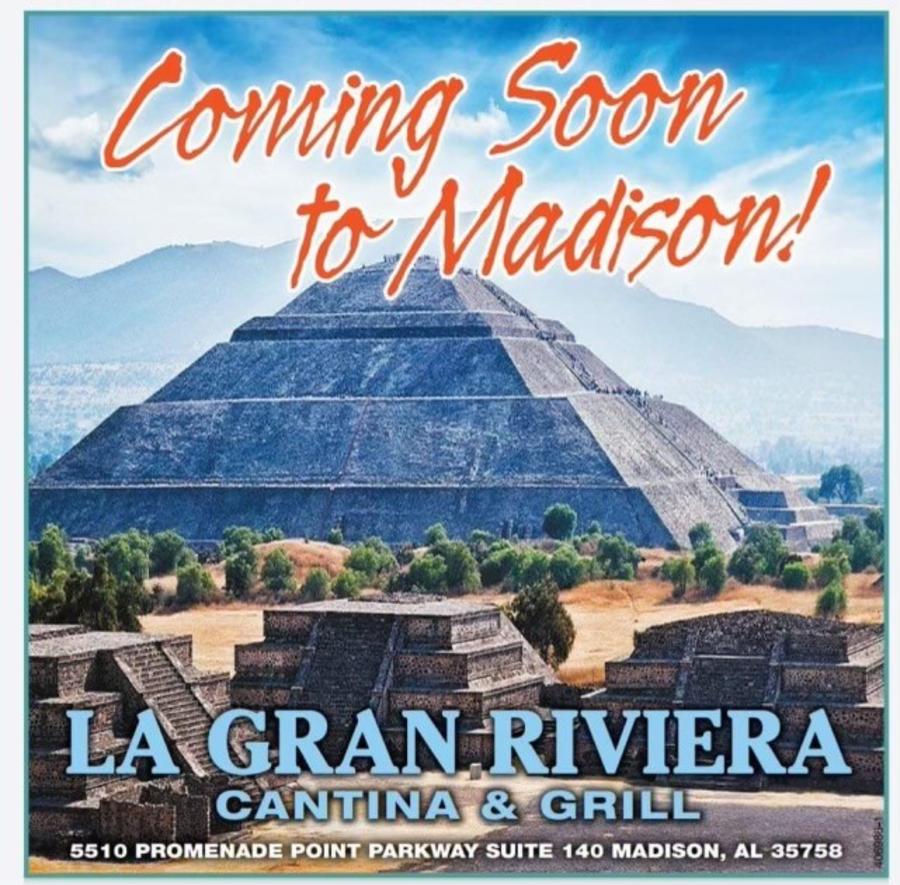 La Gran Riviera Cantina and Grill will open in the Colonial Promenade complex in front of the Walmart on Highway 72 in the former Stevie B's pizza restaurant location. Guests can look forward to award-winning margaritas (rated the best of Cullman for five years in a row), steaks, chicken, seafood, and a lengthy menu of traditional Mexican dishes.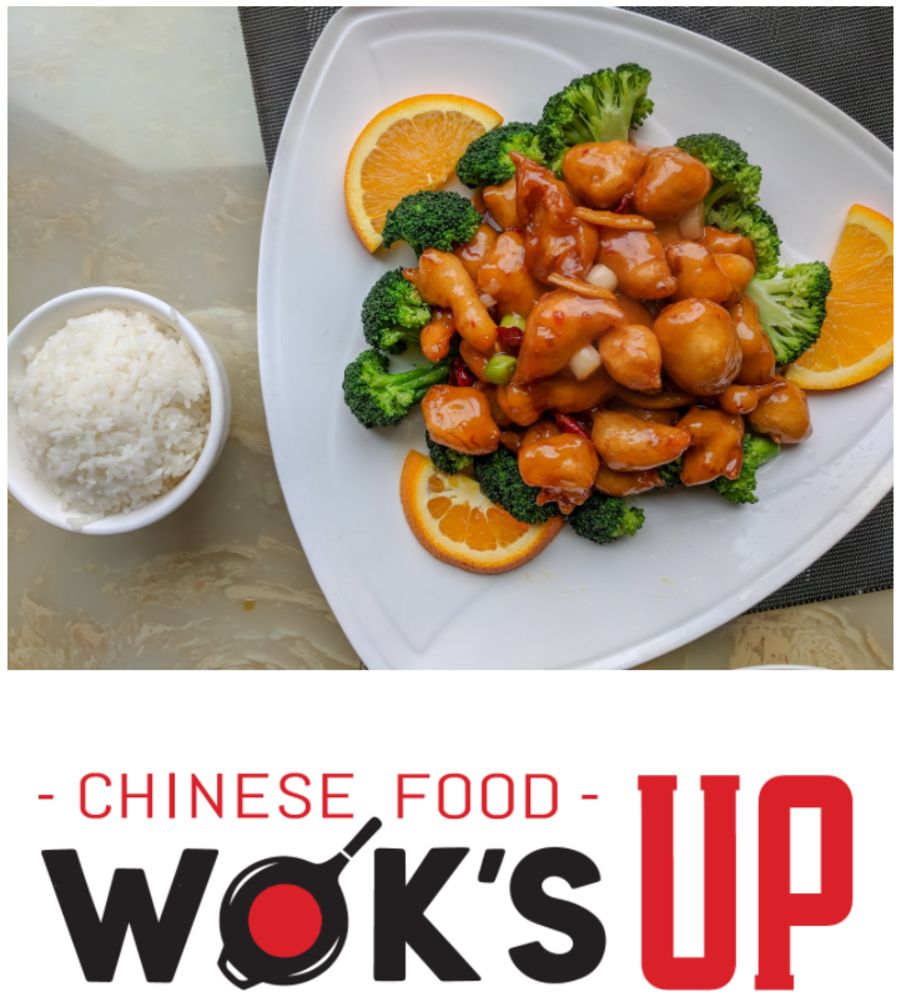 The team behind the popular Kamado Ramen and Oh Crêpe restaurants has decided to introduce a new concept to Stovehouse that will feature traditional Chinese dishes like orange chicken, Mongolian beef, egg rolls, soups, and more. Wok's Up, a fast-casual Chinese eatery, is slated to open in Q2 2021 in the space between Oh Crêpe and Taqueria El Cazador. Click here to learn more!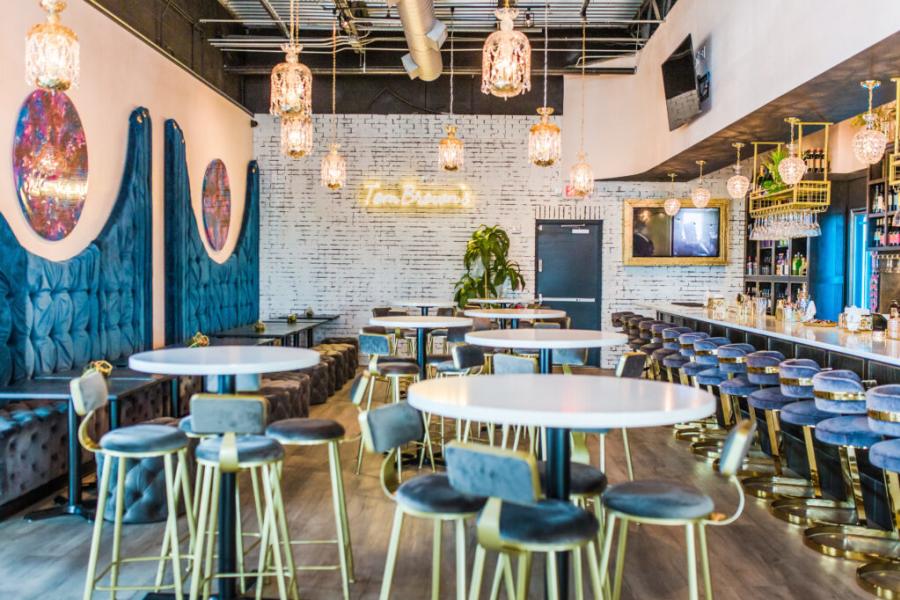 Photography by Whitney Briscoe Photography & All Things Madison 
Tom Brown's Restaurant is a steak and seafood restaurant that's  opening their second location at the Market in Hays Farms in South Huntsville. Their first location is in the Shoppes of Madison on Highway 72 near Target. It's a premium casual restaurant that is filling a niche for upscale food without any stuffiness. The new restaurant will have its own unique decorations. You can read more about the Madison concept and opening on All Things Madison.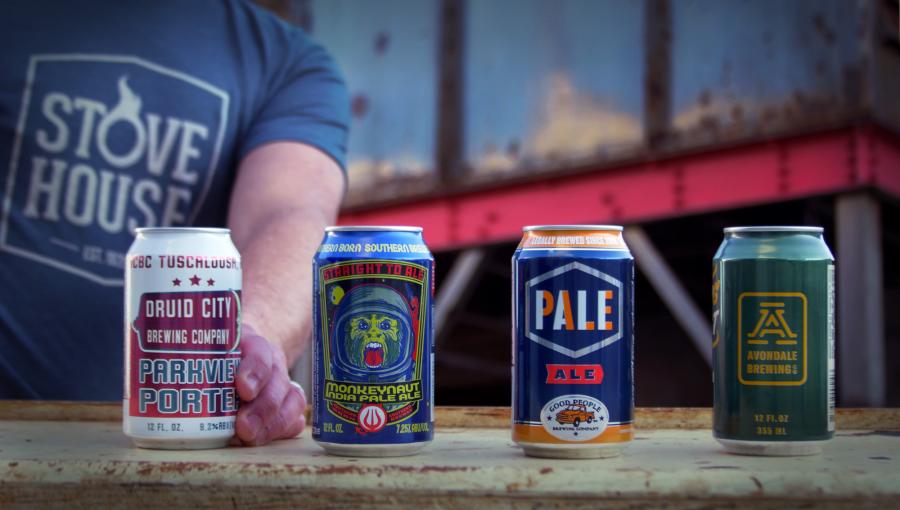 In Huntsville, Alabama, craft beer is growing again with a new brewpub popping up at Stovehouse. A new alliance between four of Alabama's most influential breweries has created the Southern Brewers Cooperative.
Huntsville's Straight to Ale, Birmingham's Good People Brewing and Avondale Brewing, and Tuscaloosa's Druid City Brewing are pushing the limits with the new concept. A new 10,000 sq. fit. facility at Stovehouse located on Huntsville's west side. Along with craft beer, wine and spirits will be available to drink on location. The kitchen will feature American comfort food to pair with the brews.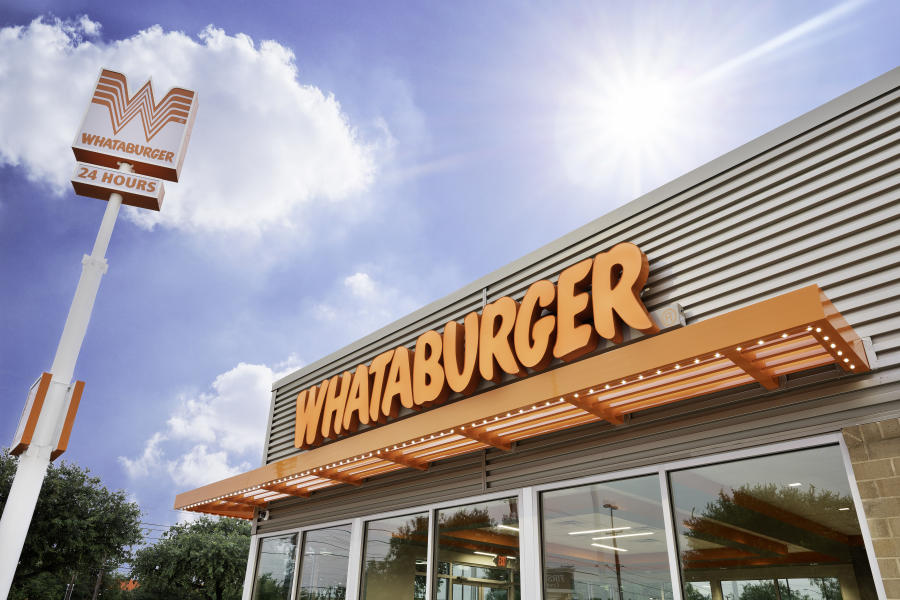 The Texas- based chain Whataburger will be making its way into Madison. The location will be at 7837 Highway 72 W, Madison, AL 35758 near the Kohl's and Home Depot and the corner of Hughes Road. Just announced in early August the company said, "Whataburger will introduce new restaurant models and remodels that have a reduced environmental impact by using renewable resources when possible, LED lighting and more efficient equipment for 24-hour use."
More restaurants will feature elements of this new look soon. The remodels will vary based on the needs of each location, ranging from kitchen and exterior upgrades in some restaurants to major updates in others. What's not changing? The iconic elements they are known for. You'll see plenty of orange and white stripes and that classic Whataburger flair their Family Members and guests know and love.