A natural-born explorer, I've spent most of my existence looking to the stars and dreaming of the mysteries they might reveal to me. Lately, I've come to realize it's foolish to chart a course for the vast unknown without first discovering all that surrounds me each and every day. To that end, I have decided to embark on a miniature mission to share my petite perspective. I invite you to come along as we explore together what I like to refer to as "little" known Huntsville.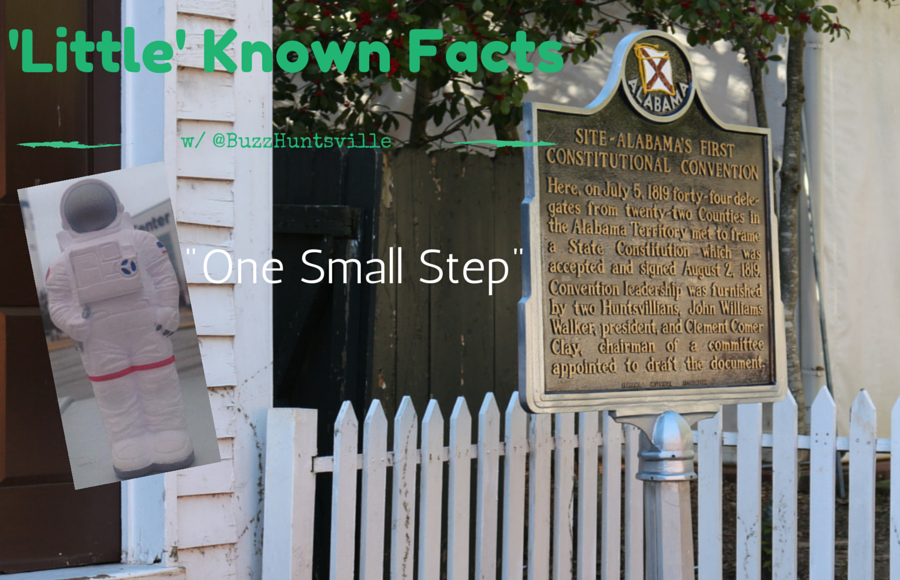 So, here goes. Here's my first "Little" Known Huntsville fact/AWESOMENESS you should explore for yourself. Hope you enjoy!
In the heart of downtown Huntsville, a block south of the square on Franklin and just behind Alabama Constitution Hall Park are two historical markers. To the naked eye, these spots appear to be separated by about fifteen feet. In reality, the distance is far greater; 175 years and about 238,000 miles greater.
See what I'm saying?
The first marker honors the historical significance of this site where on July 5, 1819, 44 delegates from 22 counties in the Alabama Territory came together to frame the State Constitution which was accepted and signed on August 2, 1819. The second, from July 20, 1994, is where the City of Huntsville commemorated the 25th anniversary of the Apollo moon landing. This second marker is what first piqued my itty-bitty interest and the one I'll tell you more about today.
Let me just say, when Huntsville celebrates, we go BIG! Now, I have long been a proponent of bigger is not always better, but in this case, I would be wrong. On July 20, 1994, we commemorated the 25th anniversary of the Apollo moon landing with (wait for it…) Alan B. Shepard's moon boot footprints in our downtown concrete! Just for fun, we added 25 awesomely lucky Huntsville/Madison County school students to the mix. Tiny kid-feet are immortalized in the sidewalk of our city next to a man who was (let's review):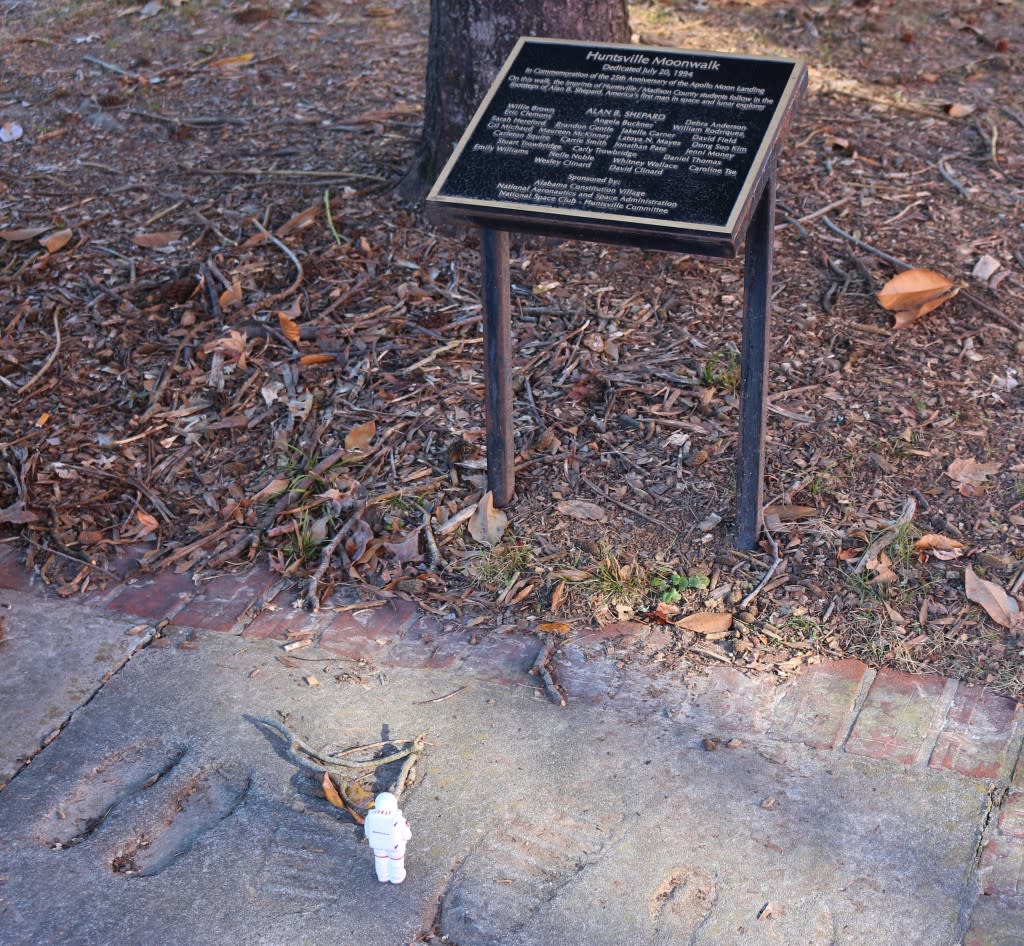 weeeeeeeeeeeeeee!
The second person and first American to travel into space
The fifth and oldest person to walk on the Moon
The only of the Mercury Seven astronauts to walk on the Moon
At age 47 and the oldest astronaut in the program, commanded the Apollo 14 mission, piloting the lander to the most accurate landing of the Apollo missions
Hit two golf balls on the Lunar Surface – just because he could!
So where else in the world can you be strolling through town and say "Look, Honey, there's where this place became a State. Oh, and hey, there are the footprints of the first American in Space/dude who walked on the Moon!"
In my opinion, there is nowhere more quintessentially Huntsville than this place right here! I guess it makes perfect sense that I describe myself as a natural-born explorer; it's where I come from. So next time you're downtown take a look, take a friend and together we'll make this special place in Huntsville a little less little known.