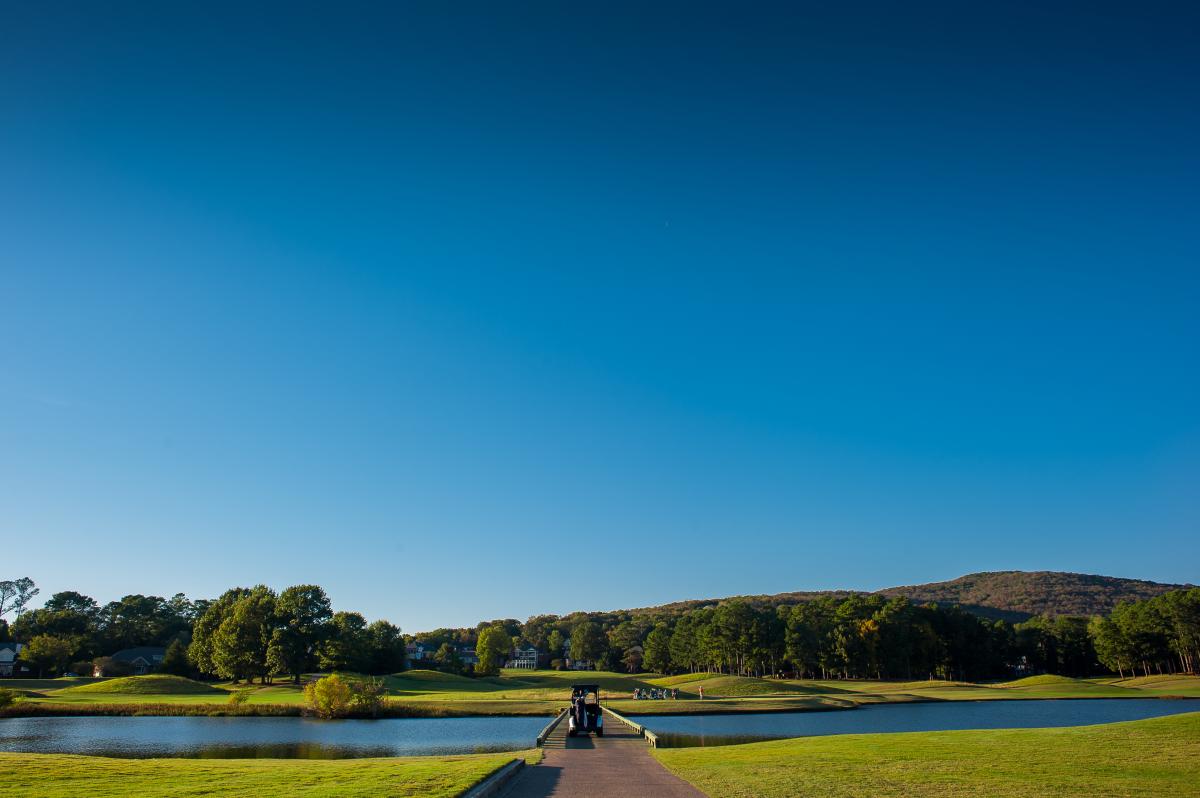 There are a lot more gimmes and a lot fewer high-fives. The lovely melody of a well-struck putt tumbling deep into the cup is silenced. Where golf's famous warning cry has always been "Fore!" now it's "Six" -- as in stay that many feet away from each other.
The rules of "social distancing" are a challenge to follow for a sport that is at its essence so much a social occasion. However, golf has been exempt from shut-down orders, so Huntsville golf courses have remained open. Let's call it business as unusual.
Should the warm weather and the sight of cobwebs growing on your clubs soon tempt you back onto the course, or if you're among the legion of players who have found in golf a cure for cabin fever, we offer this more important warning than "Fore!": 
Please don't mess it up for everybody else. Adhere to the rules. Keep your distance. Honor the demands of the Huntsville golf pros, who are simply following strict rules themselves. There is no shortage of fuddy-duddys who think golf courses are non-essential, so don't give them the ammunition.
Your Best Shot at Social Distancing
As Canebrake pro Micky Wolfe recently told the Athens Courier News, "The only way we're going to be able to stay open is if everybody is bought in. The courses that are being closed is because of a very small minority of people not following the rules. Our goal is to keep things as safe and as normal as possible."
(Quick aside. Here's a request, not a warning: Be generous. Carry a few clean dollar bills with you. The kid who may have once lugged your bag from your trunk to the cart is the same one who is making sure you now have a sanitized cart.)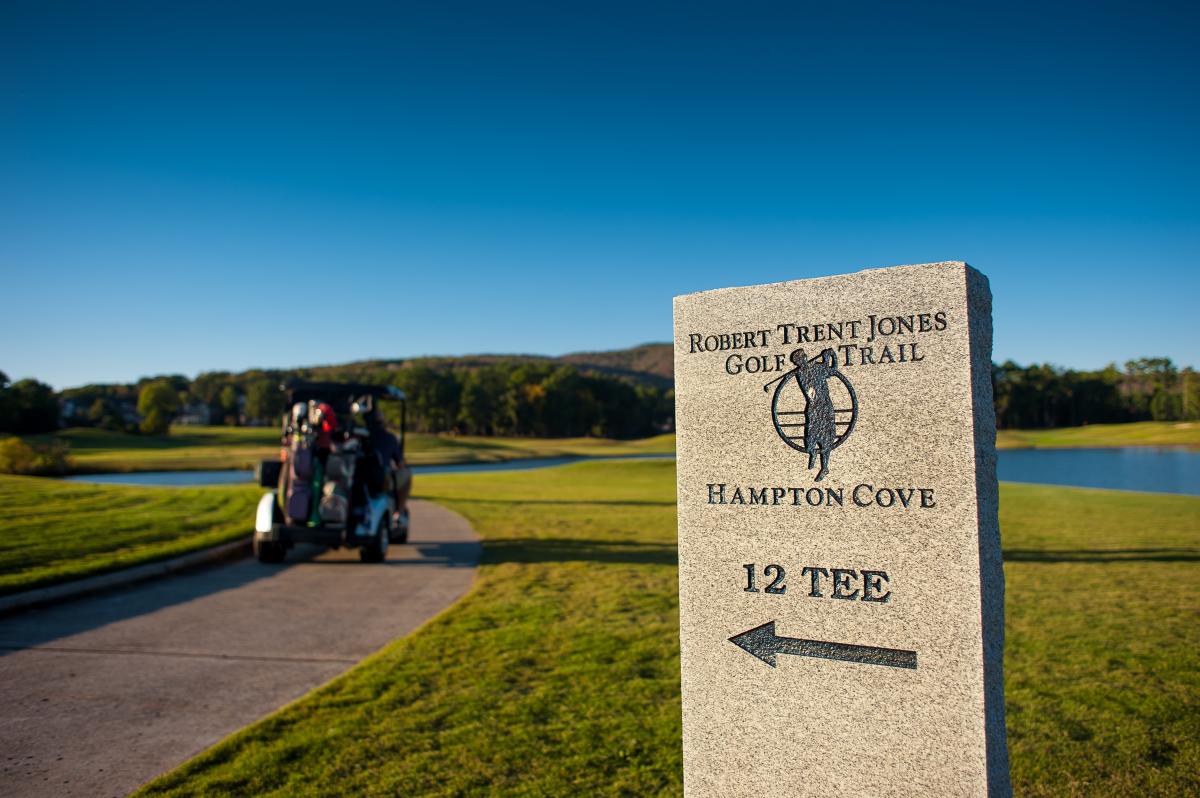 Steve Mack is the director of golf at Hampton Cove, part of the famed Robert Trent Jones Golf Trail, one of the state's most popular visitor destinations. Like his peers on the Trail and in the Huntsville area, he has been making the adjustments to serve what has been a large number of golfers. 
"We've had a lot of people appreciative that we're open," said Mack. "We're doing a lot of things to keep open, so we want players to be conscious of their distancing on the tees and fairways." 
Conveniently, his staff can check golfers in through the pro shop window. They sanitize everything down to the tokens to purchase range balls. (Unlike some Huntsville golf  courses, his driving range remains open, though they have expanded the bays so the tees are 18 feet apart.) There is limited order-out food service and cart service -- at a distance -- on the course.
While some courses do allow spouses to ride in the same cart, Hampton Cove mandates one person per cart; the lone exception is a junior golfer who isn't old enough to drive and who can ride with a parent. 
New Rules of the Game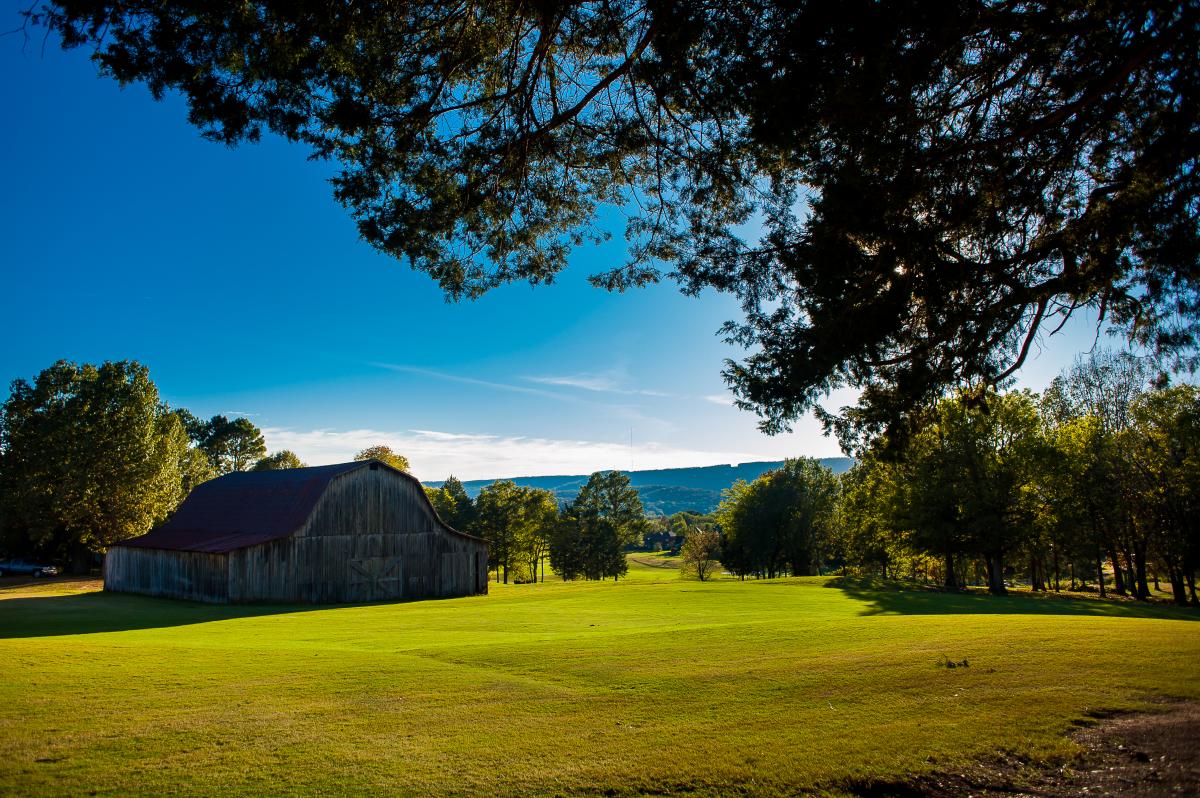 Universally, courses are adopting measures as Mack has in place at Hampton Cove. Golfers are requested to leave the flagsticks in while putting. Cups have been turned upside down, so a golfer can retrieve a ball while touching no other surface. Bunker rakes are disappearing. Pencils are tossed after one round. Carts are scrubbed down after each round. 
Many Huntsville golf courses are requiring phone-ahead tee time reservations. That's important on two levels. One, to avoid potential overcrowding around the clubhouse, first tee, etc. Second, the one-to-a-cart rule prevents many courses from serving maximum numbers during the course of a day. Local pros are actually seeing more people walking and using pull-carts or lightweight bags.
Rob Clark, head pro at The Ledges, said "we are seeing a large amount of play when the weather is good," and that golfers thus must ride one to a cart or walk. The driving range is open but, like Hampton Cove, the stations have been spread out. Additionally, they have assigned group leaders for Clark and his staff to communicate through to the other golfers.
As Jay McLelland, the pro at Valley Hill, noted, the social distancing aspect is a challenge in this social sport, especially at private clubs. His members now must reserve tee times, which is unprecedented, but "they're adapting."
"Right now," McLelland said, "the golf course is a viable option for people. We're getting 75 to 150 players per day. On weekends, it's busy, busy, busy. We're giving people the avenue to get outside, but we have to keep monitoring things. People are understanding that this is a trying time and we want to get through this as best as we can without any more problems than we already have."
Pro Tips: 
-- Do stretching exercises to keep your flexibility
-- Walk in your neighborhood, and even on the course
-- Hit the driving range, if it's open