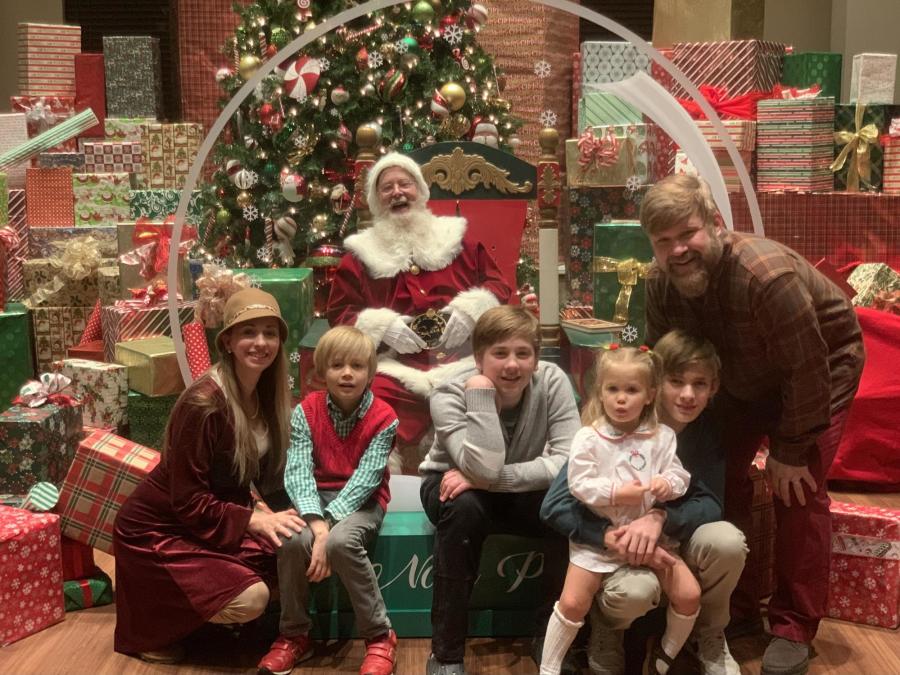 Following a challenging search for holiday fun in 2020, I had heard raving reviews about Santa's Village, a North Alabama tradition. I was looking for a Christmas event where we could dress in holiday attire and get a nice Santa picture, and enjoy ourselves in the process. 
Then I saw a Facebook post about the Nights of Santa at EarlyWorks Children's Museum. The creators of Santa's Village reimagined a new format of the event; a safe way for families to visit Santa, have photographs made, and enjoy holiday merriment. I secured our tickets and planned for us to attend. Being a storyteller, I get excited about anything if the story behind it is a good one. Nights of Santa spun a good one!
The Story: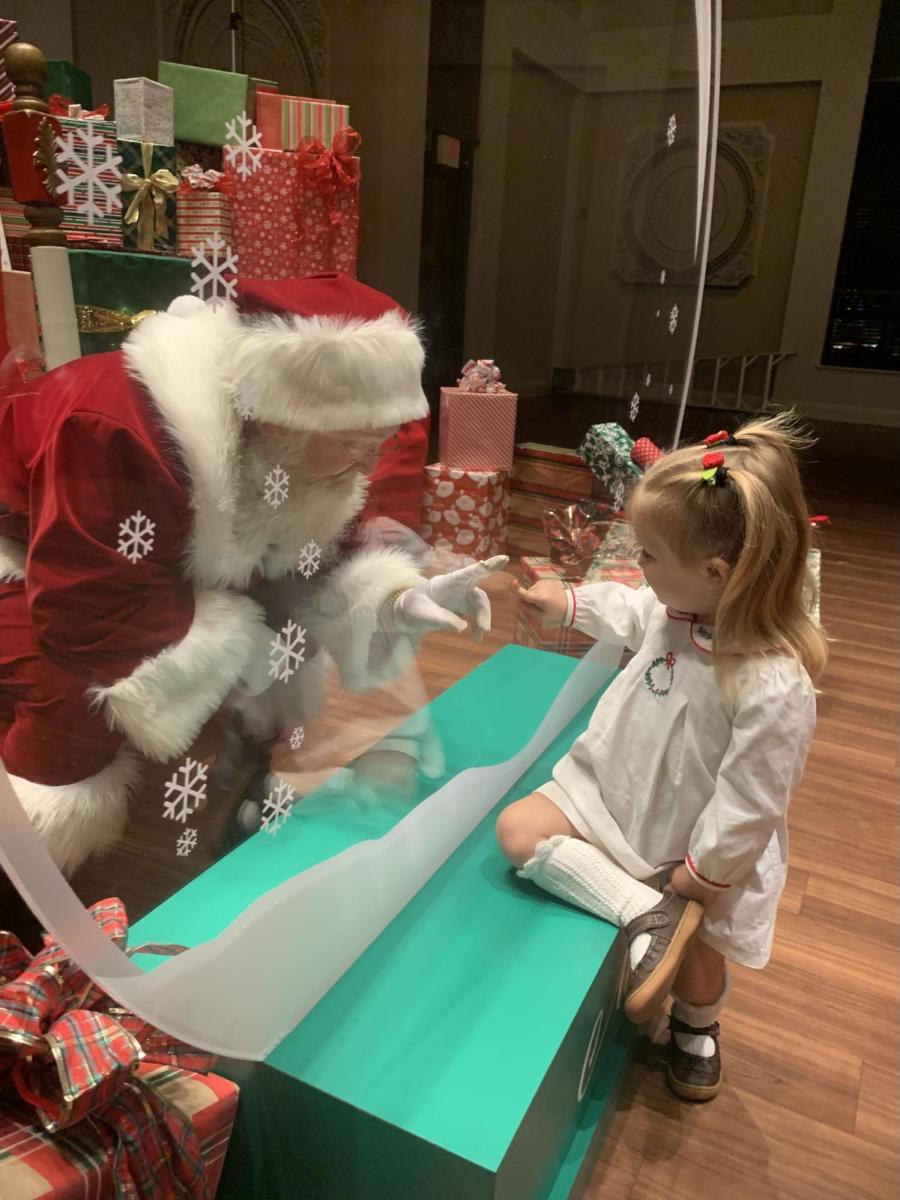 Nights of Santa (and how to explain to your kids why Santa is stuck in a snow globe): Santa's Village wasn't built with pandemic safety in mind, so it was reimagined as Nights with Santa. In a safety-motivated plot twist, Santa is protected within Santa's magic snow globe due to an accidental "magic elf dust" spill back at the North Pole.
However, he was determined not to let his confinement prohibit him from spreading Christmas cheer. With Santa stuck in the snow globe, he had to bring his elves (museum staff and volunteers) to aid in the family fun. His elves lead magical nightly snowfalls, crafts, holiday-themed experiments in the Tinker Lab, and socialize as various costumed characters. We were immediately caught up in the fun and creativity of it all!
The Experience:
We bought tickets (tickets should be bought in advance) and secured our time slot at 6:30 pm. I fed the kids a light charcuterie board-style dinner before we dressed in our nice clothes and drove to the children's museum. When we pulled into downtown, the kids were teeming with excitement over the bright lights and displays. The line to enter was 20 minutes at most.
When it was our turn to take pictures, my daughter started crying, but Santa started being funny while the "elves" were calming and patient. She came around. Santa in a snow globe was cuter than any Santa picture arrangement I'd ever seen. The snow globe story and set-up made for an adorable family pic. I preferred it to having kids sit in Santa's lap. When it is your turn to see Santa, photographers capture the moment for you to view and purchase later. I asked if they would take a few with my phone, and they did, and these pictures had me in stitches!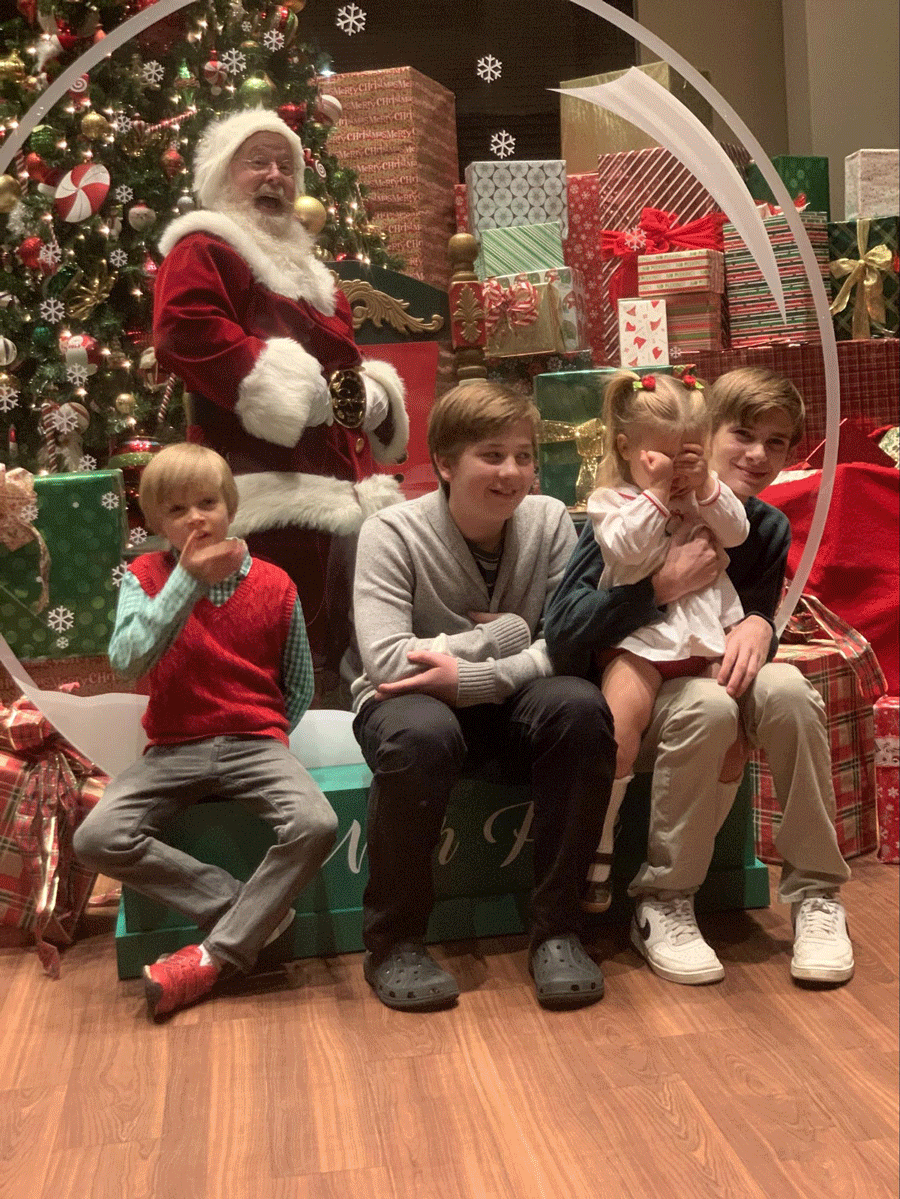 Would you look at this, Santa? He was having a jolly good time - maybe the jolliest I've ever seen. He infused our pictures with intense JOY. 
After photos, you are led through an outdoor path through an artificial snowstorm, surrounded by holiday characters and spirited music. The next door you enter leads you into the museum, which your ticket includes as part of admission, so you can also enjoy a museum outing for added fun! We had a great time and have looked forward to going again this year. I can't wait to see what surprises this year's event brings!
The Nights of Santa was so popular, and with Covid-19 still a threat, the creators decided to keep this NEW Santa event for the 2021 Holiday. Nights of Santa will be held from December 13-23 indoors at the EarlyWorks Children's Museum. There are a limited number of spots offered online and they adhere to EarlyWorks' and state public health safety protocols. Each timed entry slot has limited capacity to ensure safety for all.
Tips for Nights of Santa:
Please get your tickets early. In 2020, they sold every single ticket available - the event utterly sold-out event.
If you want your kids to be more comfortable while playing after pictures, bring a change of clothes. Parts of the museum do involve water.
Use the restroom before waiting in line.
Eat before coming, so your toddlers aren't hungry.
If you have small children, consider bringing a stroller.
For toddlers, bring something to entertain them while waiting.
Nights of Santa Ticket and Pricing Information
Buy tickets online in advance at earlyworks.com
December 13-23, 2021
$12/person, kids under 1 year free
The most important tip is to purchase your tickets early. It bears repeating! This event will sell out.