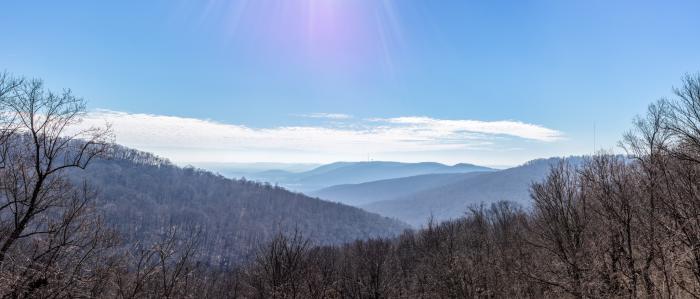 The U.S. Space & Rocket Center doesn't just take visitors on a tour of the universe, it's  a top learning center for renewable energy 
Everyone (well, most everyone) knows about the U.S. Space & Rocket Center (USSRC). It's big. It's beautiful. It contains priceless artifacts of all things space exploration that generations of space geeks have flocked to and fawned over. A beacon of pride jutting into Huntsville's big blue sky, the Saturn V moon rocket itself piques enough curiosity to bring travelers from all over the world to our little corner of the universe (see what I did there.) However, something people may not know is that the USSRC is also a wonderful place to learn about ways to conserve energy, how Alabama in particular is doing its part to lower our state's energy impact, and even how visitors' personal lifestyles affect the environment. With a section of informative kiosks slowly growing into what is being deemed "energy alley," organizations like the Tennessee Valley Authority and the Nexus Energy Center provide areas full of information on how everyone can work together to make our little blue planet a little greener.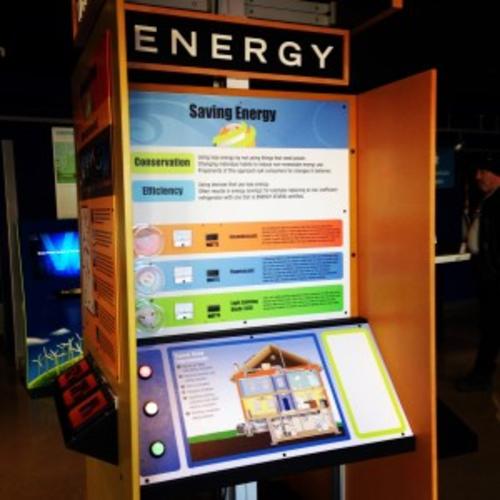 Nexus Energy Center Kiosk at Davidson Center, U.S. Space & Rocket Center
Huntsville is home to the smallest, energy-efficient house in Alabama
Something is making huge waves in American pop culture. And by huge, I mean tiny. I'm talking about tiny houses, people! With entire television series on national networks like HGTV dedicated to these quirky little buildings, the tiny house trend is catching on like wildfire. These structures are perfect for camping, or for those looking to make a true lifestyle change. Oh, and I almost forgot to mention… Huntsville has the most energy-efficient one in the whole state! Built by the Nexus Energy Center, the Tiny Green House serves as an educational model showcasing various efficiency measures, such as LED lighting, tankless water heating, insulation, and more. The best part? These measures can be outfitted into any home - old or new, big or small. Meaning you don't have to live tiny to be environmentally friendly, just have the right efficiency features. Come see the Tiny Green House for yourself at the Nexus Energy Center located at 6767 Old Madison Pike NW, Huntsville, AL 35806.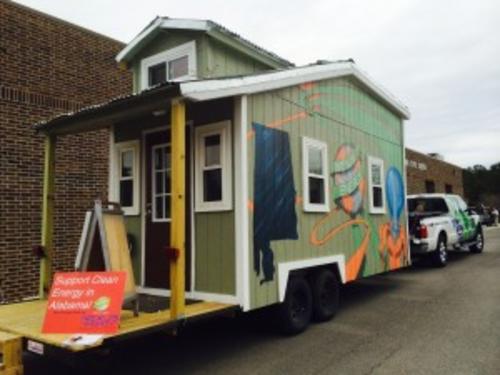 Nexus Energy Center's Tiny Green Home at Jackson County Senior Educational Seminar
The plant life at Huntsville Botanical Garden isn't the only thing that's "green."
There's another top Huntsville attraction that's playing its part in helping keep the city green. Apart from all the beautiful flowers, lush gardens, and whimsical exhibits like the Butterfly House, the Huntsville Botanical Garden is also getting green by utilizing solar panels. Solar panels are one of the top ways to reduce a facility's draw on the power grid, saving energy and reducing emissions that occur from using other common energy sources. Partnering with TVA, the Huntsville Botanical Garden is a leading example on how all kinds of organizations can use alternative sources of power. Visitors can enjoy an all-around green experience by getting outside to explore the gardens with the knowledge that their activities are supporting clean energy.
Looking to make your Huntsville visit a little more… permanent? Huntsville residents are becoming leaders in energy conservation 
The AlabamaWISE program is a one-of-a-kind program focused on helping families take control of their home's energy performance.  Administrated by the Nexus Energy Center, features like unbiased advice on efficient home improvements, reliable contractor referrals, and affordable loans make AlabamaWISE a top resource for homes looking to not only help the environment, but to lower their own utility costs as well. Homes that participate in AlabamaWISE receive an Energy Star home performance rating, which increases property value. Since implementing WISE, our community has saved over 11 million kWh of energy and helped over 1600 homeowners save over $1.1 million in energy costs.
Sustainability champions of the world unite at this exciting geospatial and energy technology conference, taking place at the U.S. Space & Rocket Center every November. Born out of the Energy Huntsville Initiative started by Huntsville Mayor Tommy Battle, this is a wonderful opportunity for anyone interested in alternative energy to hear from nationally renowned leaders in the industry, learn about the latest technological advancements in renewable power, and see how some of the nation's largest corporations are working together to grow the economy through sustainable energy and set the landscape for America's energy future. 2014's conference featured keynote speaker Robert Cardillo, Director for the National Geospatial-Intelligence Agency, as well as guest speakers from various other energy agencies. If you consider yourself a green energy lover, this conference is the perfect reason to come to the Rocket City and explore all the different ways we're "keeping it green."