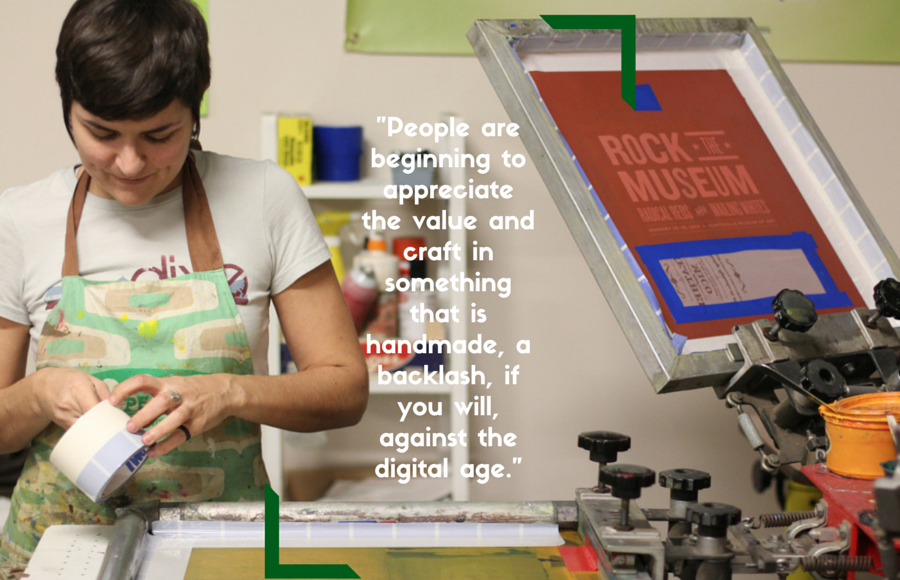 Rachel Lackey and Martin Blanco sat down with me to talk about their print shop Green Pea Press. Their studios are located on the first floor of Lowe Mill ARTS & Entertainment, right by the Happy Tummy restaurant. Surrounded by bright, imaginative prints and well-loved printing presses, I asked Rachel about the origins of her business.
Green Pea Press, or GPP for short, operates as a business and collective of local printmakers. Rachel joined the Flying Monkey Arts Center at Lowe Mill in 2004. In 2010,  she made the first steps toward operating her own collective, and a year later GPP officially opened for business.
Originally, she envisioned a non-profit operation but quickly realized the limits of this model. Instead, Rachel combined a business plan with an art collective, in which members of the collective pay a yearly fee to use the facility. Members can also sell their art in the gallery area and teach classes. Martin joined the venture about a year later. With a background in retail, Martin became vital to sales management. Thanks to him, there was a reliable flow of customer orders, and these orders kept GPP in business.
I asked Rachel why she felt the need to start a printing press company in Huntsville. She said she fell in love with printmaking at UAHuntsville, the Huntsville campus of the University of Alabama collegiate system, but after graduating she no longer had access to printing presses. Soon Rachel found others who were also unable to continue printmaking after college. She had discovered a problem. Rachel could have abandoned her passion for printmaking, but she endeavored to do something about it instead. Her solution was Green Pea Press. Now anyone with interest in printmaking can take a class or join the collective and use the printing presses.

Being at Lowe Mill gave Rachel and Martin the supportive community of artists and passionate people they needed to start Green Pea Press. Community is incredibly important to them. Rachel smiles when she says that they never have to advertise because, "our audience was already here where we were. They came to us!"
In a city as tech savvy as Huntsville, the irony of Rachel and Martin's next thought was not lost on me.
Both got excited as they described how people are beginning to appreciate the value and craft in something that is handmade, a backlash, if you will, against the digital age. Two seemingly opposite worlds colliding and blending in a beautiful, unexpected way.
Martin, also grinning, talks about teaching classes to students. "At first I told Rachel that she was teaching her competition," he laughs," But it's not like that at all." In a recent class he had fellow Lowe Mill artist and accomplished potter Guadalupe Robinson as a student. Martin said it made him really happy to watch her get excited about making her first print, even though she was already so talented in another medium.
"It's about keeping the tradition alive," Martin finishes.
Green Pea Press grew with Lowe Mill, and continues to grow with it. Recently they expanded their gallery area and have expanded again to a building nearby on Governor's Drive. Rachel says the best part about having a studio at Lowe Mill is that visitors can come inside and watch them work, unlike other print shops where guests are barred from the presses by counters. In the future, both of them want to do more on-site printing so people can get even closer. They already travel to art festivals, like Southern Makers, and last year took a trip to the Hangout Fest.
You can keep up with all things Green Pea Press by liking their Facebook page, Twitter (@GreenPeaPress) and Instagram (greenpeapress).
And, of course, you can checkout their website and sign up for the monthly newsletter.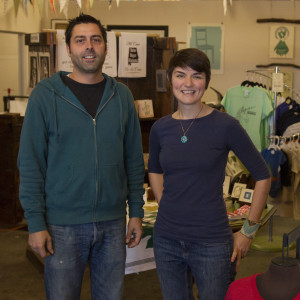 Green Pea Press (GPP) Founders Rachel and Martin
Which iHeartHsv blogger wrote this?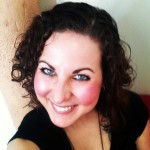 Sharon Singletary
I am a Huntsville native (well, Hazel Green is close enough) and proud graduate of Auburn University. In my fourth year, I freaked my parents out by abandoning graphic design for art history, but I knew I was meant to spend my life supporting creative souls, not imitating them. And so far, much to my poor parents' relief, it's worked out.
Huntsville changed a lot while I was away, and upon returning I rediscovered my hometown. The budding art scene especially impressed me, and I longed to be a part of it. Thankfully, I landed a sweet job at Lowe Mill ARTS & Entertainment which not only allowed me access to the art movement, but also the privilege of helping to support Huntsville artists.
My blog, Art For A Hungry ShareBear, started as self-assigned homework projects, but I found I really enjoy blogging. So even though I am busy these days, I do my best to post once a month, and twice when I can. You can read my blog by clicking here.