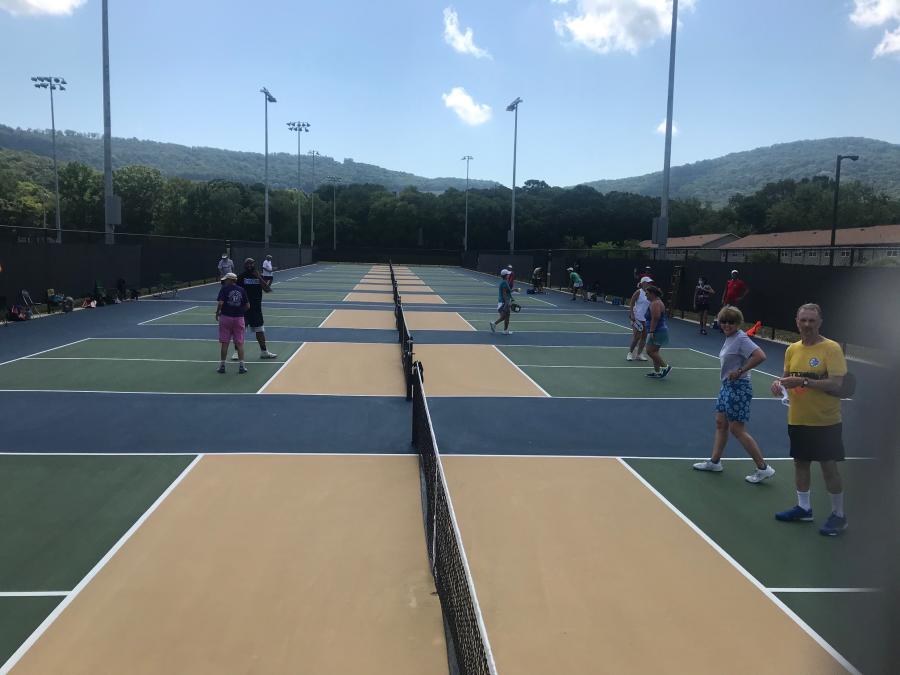 On a warm summer morning, the air is filled with a clicking, castanets chorus of plastic balls being defiantly or defensively slapped by wooden paddles. Players with sun hats, knee braces, visors, designer sneakers, wristbands, tennis skorts and T-shirts that represent a multitude of messages and memories are fanned out across the courts that unfold across campus.
We have celebrated here before, and will continue to do so, Huntsville's wonderful knack for creative and adaptive reuse – as recently as reporting the August "Venue of the Month," the spectacular transformation of J.O. Johnson High School into the Johnson Legacy Center.
It is exemplified across town from Johnson on these 12 sun-splashed, green-blue-and-khaki pickleball courts, a facet of the Sandra Moon Complex at what was once the site of Grissom High School. The courts are lighted for night-time play, and protected by windscreens to minimize Mother Nature's interference in play.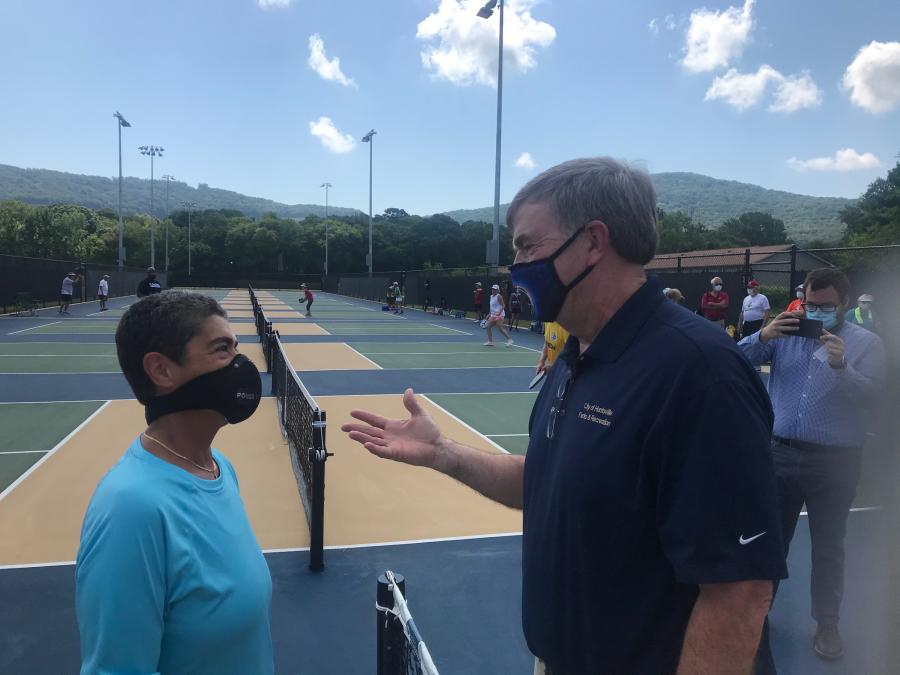 Necessity being the mother of invention, and nothing being more necessary than keeping youngsters entertained on vacation, a U.S. Congressman from Washington named Joel Pritchard and his friend Bill Bell needed something for their families to do at Pritchard's home on Bainbridge Island. There was a badminton court, but no rackets. However, there were some ping-pong paddles and Wiffle-style plastic balls. They improvised.
Thus, in the summer of 1965, pickleball was born. As with any sport, it has gone through evolution and organizational growth. (And no small amount of legend, as well: Nobody is quite sure about the roots of the name, but it is believed to honor the Pritchard's cocker spaniel, Pickles, who avidly interrupted games by chasing the plastic balls.)
USA Pickleball has emerged as the sport's governing body, and it reports some 3.3 million players across 50 states, abiding by 73 pages of a rulebook that Pritchard and Bell might not recognize. It is played on a 20 x 44 foot court, can be singles or doubles competition, using paddles eight inches wide and 15 inches in length that swat at a baseball-sized orb full of holes.
The Huntsville Pickleball Club has nearly 300 members, with many more participants who play at recreation centers all across town. (Huntsville was tabbed as the host site for the Alabama Senior Games pickleball competition, but the event was canceled due to the pandemic.)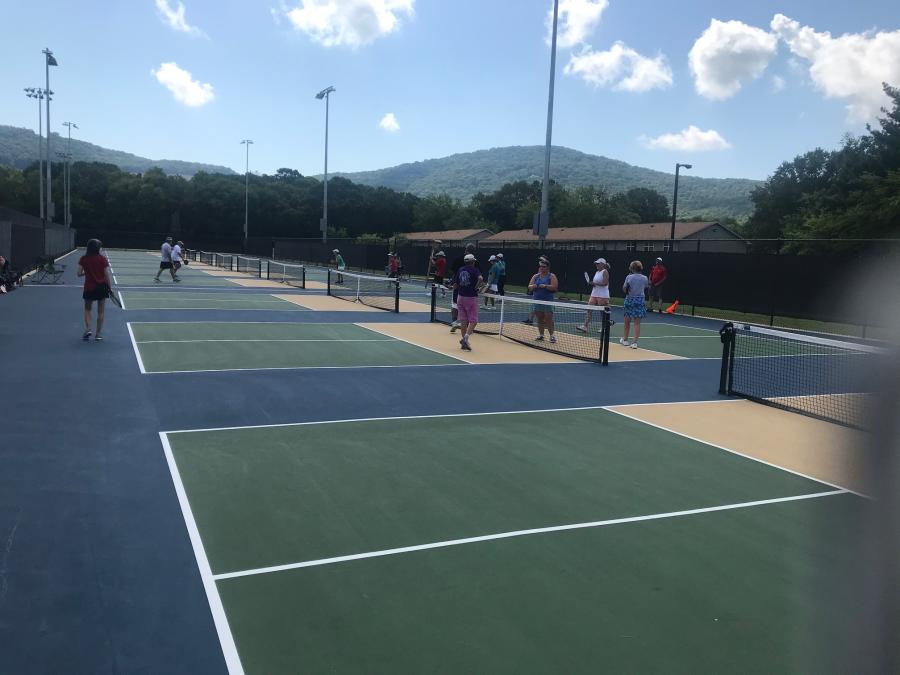 The Sandra Moon Complex has provided Huntsville pickleballers a popular new venue, but the master plan offers so much more.
The existing Grissom gyms and athletic fields will be utilized by Huntsville Parks & Recreation. A state-of-the-art, 40,000-square foot library is going up on the property, and the old Grissom theater will be the centerpiece for an arts and cultural center. A sprawling lawn can host outdoor events, or simply be a place of leisure.
At its completion, the complex will be "a downtown for South Huntsville," says Huntsville Council member Dr. Jennie Robinson.
It is something much-needed to serve the neighborhood. And as it was for pickleball's inventors, the necessity has led to ingenuity – and a lot of fun.