Transportation
Getting to Huntsville is Easy
Huntsville, centrally located in the Mid-South, is easy to reach by car or air. It is less than a day's drive for a quarter of the nation's population. 
By Plane:
Huntsville International Airport (airport code HSV)  is accessible with all major airlines/major carriers with non-stop service between many destinations such as: Atlanta, Charlotte, Chicago, Dallas, Denver, Detroit, Houston, and two airports in Washington D.C. - Dulles and National. The airport is a quick 15 minutes from downtown Huntsville via Interstate 565.
Airlines that service the Huntsville area:
American Airlines
Delta Airlines
United Airlines
U.S. Airways
To compare flight prices, check out Huntsville Hot Ticket website.
By Car: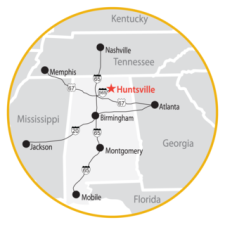 Driving Distance Details
1.5 hours north of Birmingham, AL
2 hours south of Nashville, TN
3.5 hours from Memphis, Knoxville & Atlanta
5 hours southwest of Greenville, SC
5 hours south of Louisville, KY
5 hours north of Mobile, AL
6 hours southeast of Indianapolis, IN
7 hours north of Tallahassee, FL
7 hours southwest of Charlotte, NC
Huntsville is served by several U.S. Highways, including 72, 231, 431 and an Interstate highway spur, I-565, that links the two cities of Huntsville and Decatur to I-65. Alabama Highway 53 also connects the city with I-65 in Ardmore, Tennessee. Major roadways include University Drive, Governors Drive, Airport Road, Memorial Parkway and Research Park Blvd.
Car Rental, Taxi Service, Charter Services, Limousines and public transportation:
Several automobile rental companies provide service in Huntsville area. Convenient on-site car rentals at the Huntsville International Airport and the surrounding area is at the following car rental agencies.  Of course, there are charter services, taxi companies, limousine, and the City of Huntsville provides  public transportation.