Lucky Duck Scavenger Hunt
Want a super fun and totally unique way to explore downtown Huntsville? Take part in the Lucky Duck Scavenger Hunt and see a side of the Rocket City you can't see any other way!
The Huntsville/Madison County Convention & Visitors Bureau has cleverly hidden 14 ducks around downtown Huntsville, and it's up to you to find them all. And while you're looking, you can experience the sights and history that the heart of our city has to offer. Perceptive players who find all 14 ducks can stop by the Visitor Center and get a special prize.
*Please note: The duck hidden at Alabama Constitution Hall Park has temporarily 'flown away' while construction for the Park's renovation is underway! She will be back once the Park reopens in March 2019.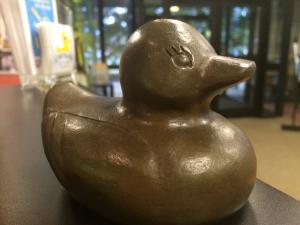 Download the free clue card here or visit us today to get started on your Lucky Duck adventure!