#iHeartHsv
February 1-14
Celebrate the Heart of Hospitality...and Win Big!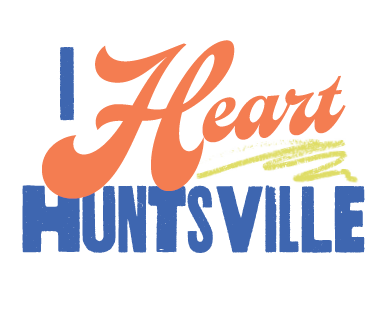 Show the love for Huntsville (and our heroes of hospitality) by using the hashtag #iHeartHsv on Facebook, Twitter, and Instagram!
The Basics:
2020 was a challenging year for everyone, particularly for our local tourism and hospitality industry. These people are our neighbors, friends and true "heroes of hospitality" - those who welcome our visitors from far and wide and show them the heart and soul of the Rocket City (and what makes it so special). So for 2021, we don't want to just go on and on about why we love Huntsville/Madison County. We want to show the love to our local hospitality heroes...and you could win big for doing so!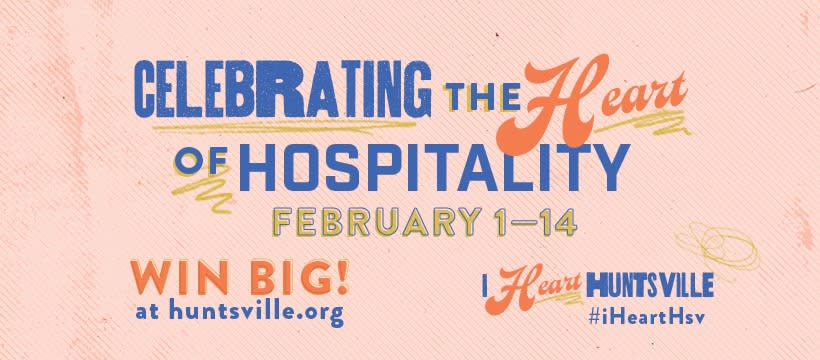 How to Win:
Each day from Monday, February 1 until Sunday, February 14, we'll be awarding our favorite #iHeartHsv post with a pretty great prize - $150 towards the winner's choice of a local restaurant, attraction, or hotel stay! A winner will be chosen every day, so you have plenty of chances to take home the $$$.
Look for the daily Hero of Hospitality spotlight: Each day we'll be spotlighting a different Huntsville hospitality worker - those that have gone above and beyond to rise to the challenges of the past year. Along with each video spotlight, we'll pose a prompt on our Facebook, Twitter, and Instagram accounts. One day we might ask you to tell us about your most memorable Huntsville concert, or perhaps we'll ask about a favorite local restaurant experience you've had… maybe even to tag your own hospitality hero. You'll just have to follow along on social to find out!
Post: How will you enter? Respond to the day's video highlight with your most unique response and use the hashtag #iHeartHsv! It's that easy.
Win: Winners will be selected by a committee of CVB team members based on the use of the hashtag #iHeartHsv, relevance to the day's prompt, and creativity. Each day's winner will be announced at 8:30 p.m. CST each night of the contest. See additional contest entry rules and guidelines here.
When:
The #iHeartHsv social media campaign will run from Monday, February 1st through Sunday, February 14th.
Where:
Online! Respond using the hashtag #iHeartHsv on Facebook, Twitter, and Instagram. Be sure to check your Facebook privacy settings to ensure we can find your hashtags. If you are unsure of your Facebook privacy settings, post directly to the Huntsville/Madison County Convention & Visitors Bureau's Facebook wall.
Helpful Hints:
Want to be extra sure we see your pic? Tag @Go2HuntsvilleAL on Twitter, @VisitHuntsvilleAL on Instagram and @Huntsville-Madison County Convention & Visitors Bureau on Facebook along with hashtag #iHeartHsv and your response to the day's prompt/video.
Be sure to follow the Huntsville/Madison County CVB's social media channels to find out the theme for the day's social chatter.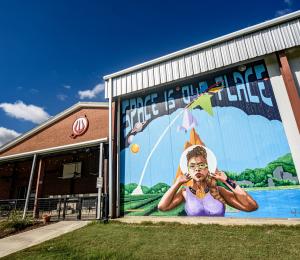 5 Unexpected Things to Do in the Rocket City
Think you know everything there is to see and do?