WHAT IS DINE AND DASH? 
Dine and Dash are monthly food tours around Huntsville that help you explore and experience Huntsville's culinary scene. You'll hit three restaurants in a two-hour timeframe with a guided host (all local food bloggers and content creators). Restaurants will change each month.
On the tour, you will meet the chefs, and restaurant owners, and sample food and drinks before dashing over to the next location on a beautiful, air-conditioned trolley ride from Rocket City Trolley. Learn more about your favorite Huntsville restaurants, details of how they started, and fun facts from your local food blogger experts
Rocket City Trolley rides to each restaurant with a host guiding you through the night. Local Food Content Creators like: @rocketcitydietitian; @Madison_Vegan.eats; @_thatskenny; @thekulturekat; @ham_likethefood
On the tour, you will learn fun facts about the restaurants, get insider tips, and grab some discount codes. You'll receive freebie snacks and swag on the tours.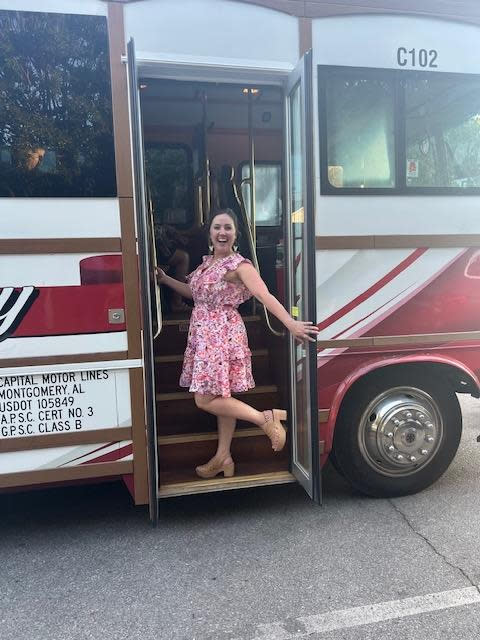 WHEN IS DINE AND DASH? 
Dine and Dash happens once a month from April until September 5 pm-7 pm. There are four trolley tours in one night for up to 35 people a trolley.
WHY JOIN A DINE AND DASH TOUR?
You'll get to explore multiple Huntsville restaurants in one night, sampling the food and drink at each. This tour is a great way to discover a new favorite or a place you will want to come back to and enjoy a full meal experience on another day.
You'll also be supporting local Huntsville establishments that support our local economy, local families, and local bellies! Our unique restaurants are what make Huntsville, Huntsville!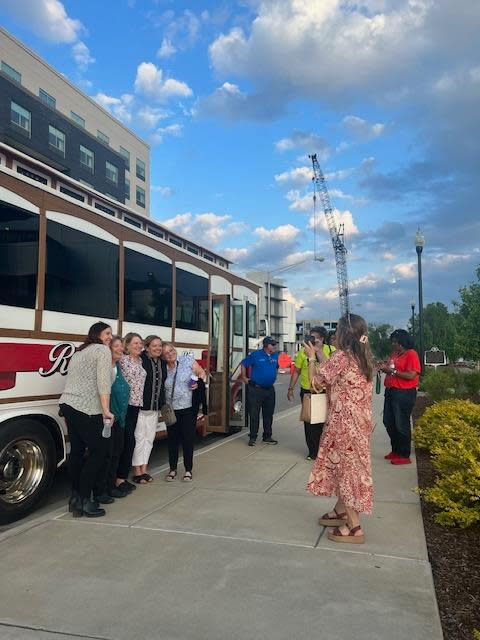 HOW DO I JOIN A DINE AND DASH TOUR?
Reserve your tickets online ahead of time HERE!
Tickets are $65-70. Each ticket includes trolley rides to each restaurant and food and drinks at each stop. Tickets cannot be refunded, but you can transfer them to someone.
You will choose your starting restaurant when purchasing your ticket. You will go to all three locations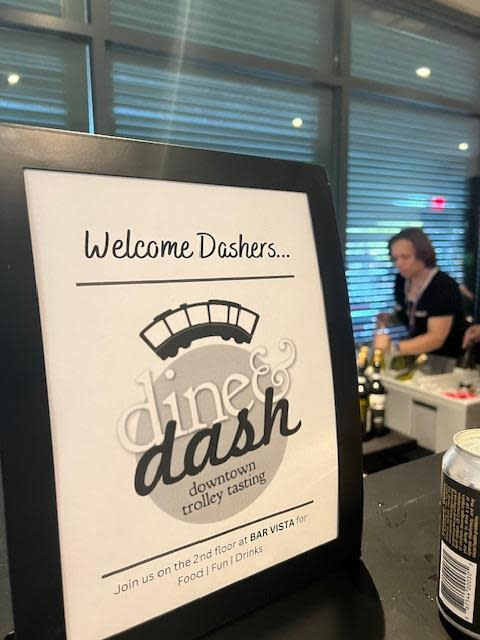 How it Began:
Ashely Ryals, Homegrown events owner of Crush Food and Wine Festival started Dine & Dash thirteen years ago. This tour started with five restaurants in one night! Ryals states, "Huntsville's growth and thriving emerging restaurant scene has made this event the talk of the town. It is our mission to encourage and rally behind local establishments, nurturing the heartbeat of our community. Promoting and supporting small, local businesses lies at the very core of our purpose."
Other Home Grown events include; Sip & Shop, Barks & Brews, Brewery Tour, and Crush Wine & Food Festival happening this year, September 23, 2023.
PRO TIPS:
Bring small bills to tip trolley drivers and hosts. After the tour, walk downtown at Big Spring Park before you head home. Ask for a purple cup at a restaurant if you have not finished your drink. This is a free and legal way to drink on the trolley and/or on the streets in Huntsville. Relax and have a great time!