About the CVB
Officially, the Huntsville/Madison County Convention & Visitors Bureau (CVB) is the destination marketing organization (or DMO) for the Huntsville area, including Huntsville, the city of Madison and all other attractions and offerings throughout Madison County. However, we like to think of ourselves simply as your tour guide to Huntsville.
It is our job to help create and support economic growth by highlighting Huntsville and Madison County's attributes to visitors, meeting planners, business travelers and convention-goers. If you want or need to travel, we want to tell you why you should visit Huntsville! And we offer free services to make that trip, conference, wedding, sporting event, family reunion—or whatever else may bring you our way—the best travel experience it can be.
Nuts and Bolts Details of the CVB 
We're a non-profit 501(c)(6) organization funded from dedicated lodging tax.
We've been around since 1970 as the official city/county agency promoting the area as a convention and visitor destination.
Our annual operating budget is around $3.7 million.
We have 16 full-time staff members and a nine member board of directors.
We serve locals too – just because you live here doesn't mean you can't take advantage of Huntsville vacation packages, deals or coupons. Stop by the Visitor Center at 500 Church Street NW in downtown Huntsville to learn more!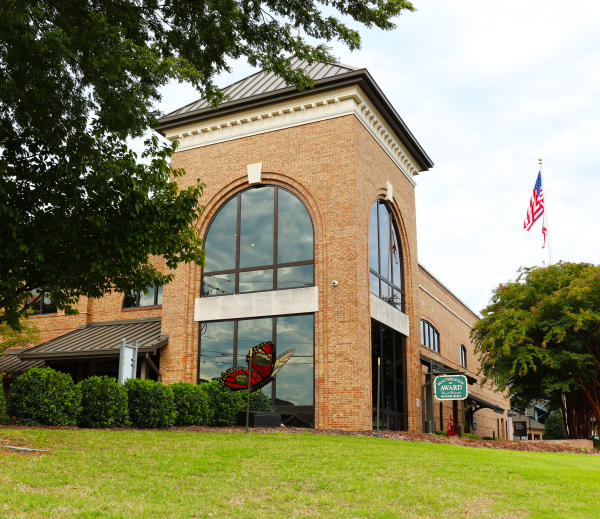 Contact the CVB 
Want to talk to us? We certainly want to talk with you. Our administrative offices are open Monday through Friday, 8 a.m. to 5 p.m. Central Standard Time. You can visit us in person at the addresses below, or you can reach out through your preferred mode of communication.
Email: info@huntsville.org
Call Locally: (256) 551-2230
Toll-free: (800) 843-0468
FAX: (256) 551-2324
Socially: Reach out to us on our primary social platforms - Facebook, Twitter or Instagram
Downtown Huntsville Visitor Information Center and Administrative Office
500 Church Street NW, Suite One
Huntsville, AL 35801
Call Locally: (256) 551-2370 or if it's after 5 p.m. CST: (256) 551-2371
Toll-free: (800) SPACE-4-U
Downtown Visitor Information Center Hours: Monday through Saturday, 9 a.m. to 5 p.m. and Sunday, noon to 5 p.m.
 
Huntsville International Airport (HSV) Visitor Information Center
Located in the HSV baggage claim area
1000 Glenn Hearn Boulevard
Huntsville, AL 35824
Call Locally: (256) 772-9470
HSV Visitor Information Center Hours: Monday through Friday, 9 a.m. to 5 p.m.
Holiday Hours
All of our locations, including both Visitor Information Centers, are closed on Easter Sunday, Thanksgiving Day, Christmas Eve, Christmas Day and New Year's Day. 
Meet your tour guides to Huntsville, Alabama. Whether you are planning a convention, a trip with the family, or booking a venue for a wedding or family reunion, we're here to help.
---> Click here for the full staff directory.
We are governed by a nine-member board of directors, representing diverse perspectives from all over the area. The board of directors meets monthly every third Monday at noon, at the Huntsville/Madison County CVB administrative offices in the second floor conference room.   
---> Click here to get to know our board.
We've got space! (And we're not just talking about the space center!) Contact us for space for your next convention, conference or meeting.  
Planning your meeting or event just got easier – all you need to do is contact our convention sales staff to learn more about the comprehensive meeting planner services available when you bring your gathering to Huntsville, Alabama. From the initial site selection to planning the smallest detail, our team can help you plan and execute a seamless event in the "Rocket City."    
---> Click here to get to know our Convention Team.
If you're looking to write about, blog on, photograph or video Huntsville and its surroundings, then look no further because we're here to help! We know the area inside and out and will:
Connect you with great sources for your stories
Share with you the best photo and video locations (or even send you high-resolution photography and video footage)
Or suggest an itinerary to best immerse you in our relaxed Southern charm and hospitality.   
We'd also love to help you spread the word about your experience, so let us know what you're working on and we'll share it through our channels to help you gain exposure on your piece. After all, we're here to promote all things Huntsville – and if you're talking about our city, that means promoting you, too! 
When getting social, search for and use #iHeartHsv for maximum visibility.
---> Click here to get to know our Marketing Department.
Although it's known as one of the top places in the U.S. to live, Huntsville is also a great place to visit. You have many options for where and how to spend your time. Interested in family-friendly excursions or museums? Check. Up for an outdoor adventure? We have multiple options. Just want to wind down and enjoy some live music or a dining experience? We've got those too.
We also have resources to help you make the most of your trip. You can download a visitor's guide or you can simply ask one of the friendly faces below for assistance. 
---> Click here to get to know our Tourism Department.