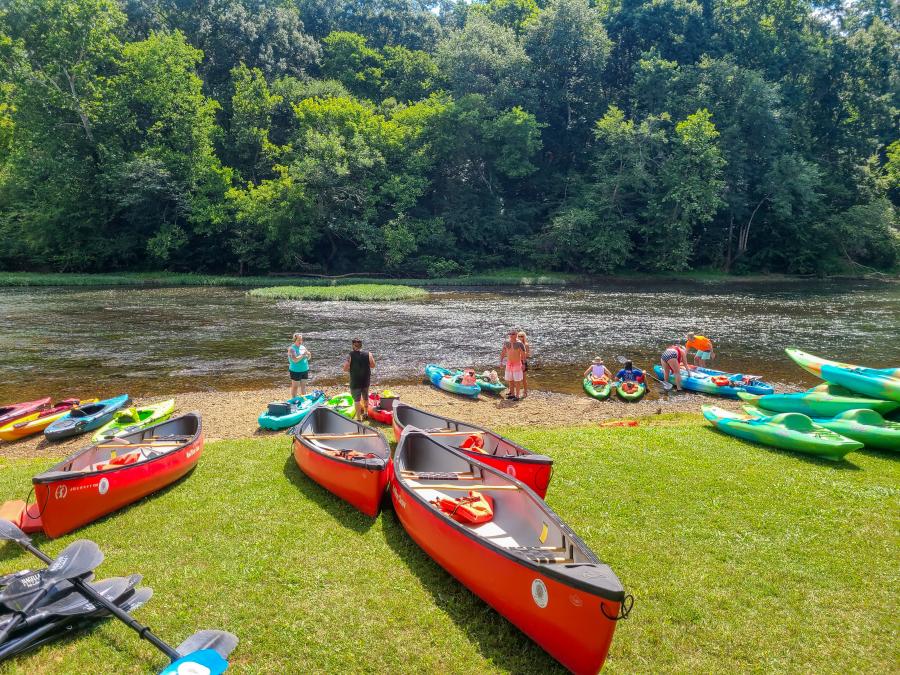 Paddling in Huntsville is one of the town's not-so-hidden gems, with four commercial outfitters, over 60 miles of navigable rivers, and plenty of backwaters. You can spend lazy summer days floating with friends or brisk spring mornings challenging rapids. No matter how you like to get out on the water, this guide has you covered, even if you don't own a boat.
Huntsville Paddling Trail Map
Below is an interactive map for paddling in Huntsville. It's divided into three sections corresponding to the sections in this guide: Flint River, Ditto Landing, and Wheeler National Wildlife Refuge. Each will have an area overview and specific paddling trails, including access points and points of interest. If it doesn't load, just hit the refresh button. If you like it, download it to your phone and take it with you.
Flint River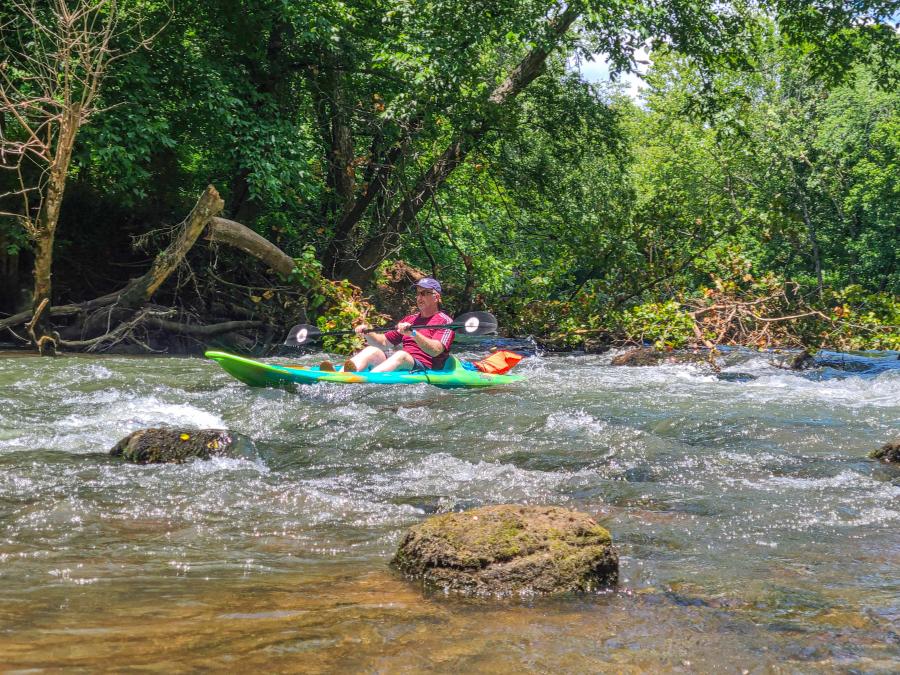 The Flint River is Huntsville's premier river running experience, with over 50-miles of floatable water. The Flint River season runs from March through November, with the areas north of Winchester Road being generally unfloatable between Memorial Day and Labor Day.
For an indication of water level, check the Brownsboro gauge. According to the Alabama Scenic River Trail - "The best level to run the Flint is at seven to eight feet on the gauge, which is just over four feet in actual river depth."
This guide divides the Flint River into four half-day sections: Winchester Rd to Ryland Pike, Brownsboro Rd to Little Cove Rd, Little Cove Road to Hays Nature Preserve, and the Lower Flint (included in Ditto Landing).The upper Flint (north of Winchester Rd) gets mentioned in passing in the Winchester Rd Section.
Three outfitters operate on the Flint River. They all offer canoe and kayak rentals as well as shuttle services for private boaters.
Brown Bear Canoe and Kayak services the river from Oscar Patterson Road to Ryland Pike.
North Alabama Canoe and Kayak (NACK) services the river from Ryland Pike to Little Cove Road. 
Flint River Expeditions services the river from Little Cove Road to Old Big Cove Road. 
Flint River Paddling Distances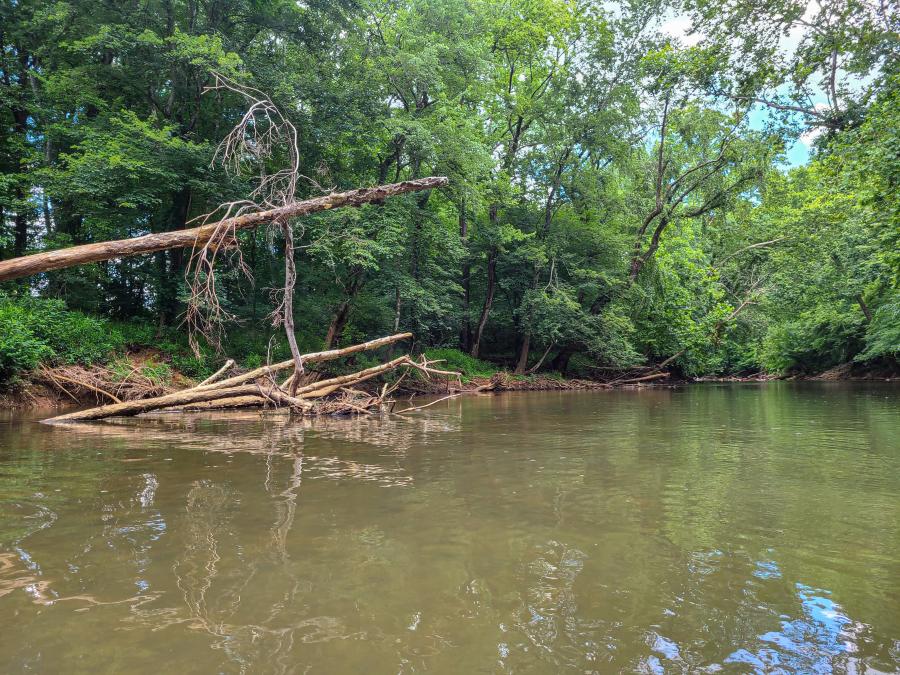 Below is an approximate mileage chart from the Oscar Patterson Road access on the Flint River to Ditto Landing on the Tennessee River. Since Oscar Patterson is the start of the prime paddling section, it is labeled as mile-0. Generally, it takes about 3-4 hours to paddle 5 miles, but it could be more or less depending on how much you work or how many breaks you take.
Notice that there is a 23-mile gap between Hays Nature Center and Chickasaw Landing. That, in and of itself, would make for a long day of paddling. However, this section rarely gets run, so it's overrun with fallen trees and often drops into swampy bottoms. I'm not saying don't go there, but think long and hard about it, know your capabilities, and come prepared.
| | | |
| --- | --- | --- |
| Access Point | Distance | Ownership |
| Oscar Patterson Road | 0 | Public |
| Brown Bear Livery | 5.5 | Brown Bear |
| Ryland Pike | 11.5 | Public |
| Brownsboro Road | 13.3 | NACK |
| US-72 (Talado Landing) | 14.2 | Public |
| Little Cove Road | 19 | NACK / Public |
| Old US 431 | 24 | Public |
| Hays Nature Preserve | 25.6 | Public |
| Chickasaw Landing | 48.5 | Public |
| Turkey Springs Ramp | 50.3 | Public |
| Tennessee River Jct | 53.5 | N/A |
| Great Bend Yacht Club | 57.25 | Private |
| Hobbs Island Rd Ramp | 57.1 | Public |
| Aldridge Creek Docks | 59.6 | Public |
Flint River from Winchester Rd to Ryland Pike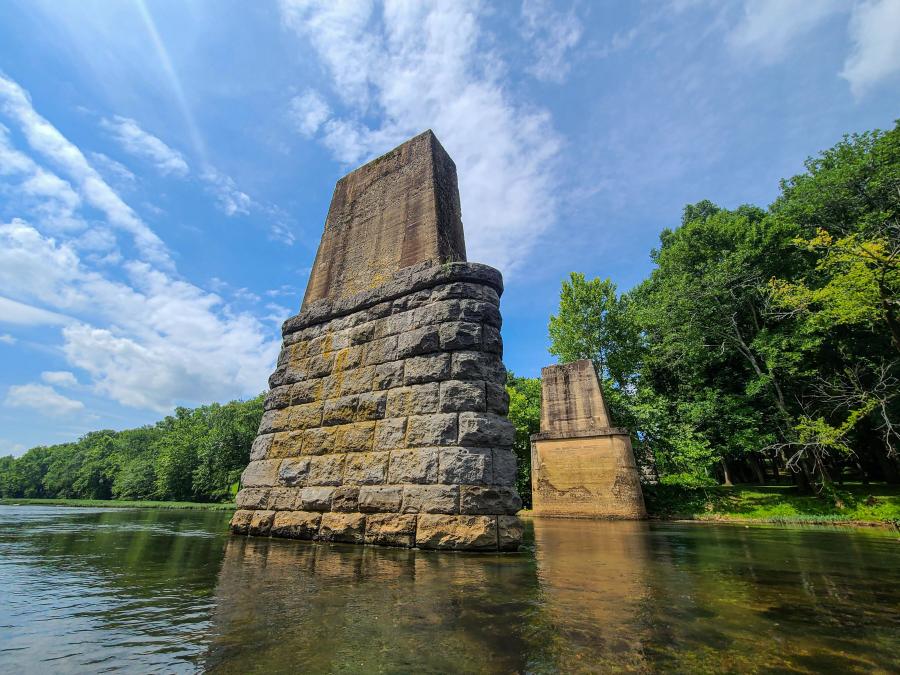 This section of the river is Brown Bear country. Not the animal, but the outfitter. There are really no private access points around Winchester Road, so you have to contact Brown Bear if you're going to paddle here. Their services run from $10 parking and access fees to shuttle services to fully equipped trips. They're also an invaluable source of information for running the upper Flint. Brown Bear encouraged us to call ahead and make reservations for our paddling trip, but they also had walk-in spaces available.
Brown Bear's principal run is a 4-5 hour journey down to Ryland Pike. The river channel is deep enough here that you'll rarely see any houses. They keep this section clear enough from fallen trees to paddle the entire way, with one exception. There is a tractor bridge that you'll have to portage over, but it's only 10' and exceptionally easy. The river runs at about 1.5 mph with a few ripples but no big drops or hydraulics, so paddlers of any level can enjoy this section of the Flint.
Flint River from Brownsboro Rd to Little Cove Road
NACK services this section of the Flint with two private river access points. You park and pay at their office off US-72, and they'll shuttle you to and from the access points. Their floats are first come, first serve, and they only take cash. There is an ATM at the office in case you forget, but it's better to come prepared. The take-out is river right, just before Little Cove Road and the public access point river left.
Much like Brown Bear, the primary run is a 4-5 hour float. The largest drop is right at the put-in, but it's not much. Also, much like the previous section, there are lots of smooth waters, light rifles, and clear passages.
In other ways, the NACK run is different than the Brown Bear Run. It seems like there are more sandbars on the NACK section and people with coolers enjoying them. There are also more riverfront homes that you'll pass along the way. The most distinctive feature is Sublet Bluff, where the slopes of Monte Sano reach the river, so for about 1/2 a mile, you'll paddle alongside a 50' high limestone bluff.
It's hard to say which section is "better" or "more fun" between the Brown Bear and NACK runs. They are both very similar but different enough to enjoy in their own way.
Flint River From Little Cove Road to Hays Nature Preserve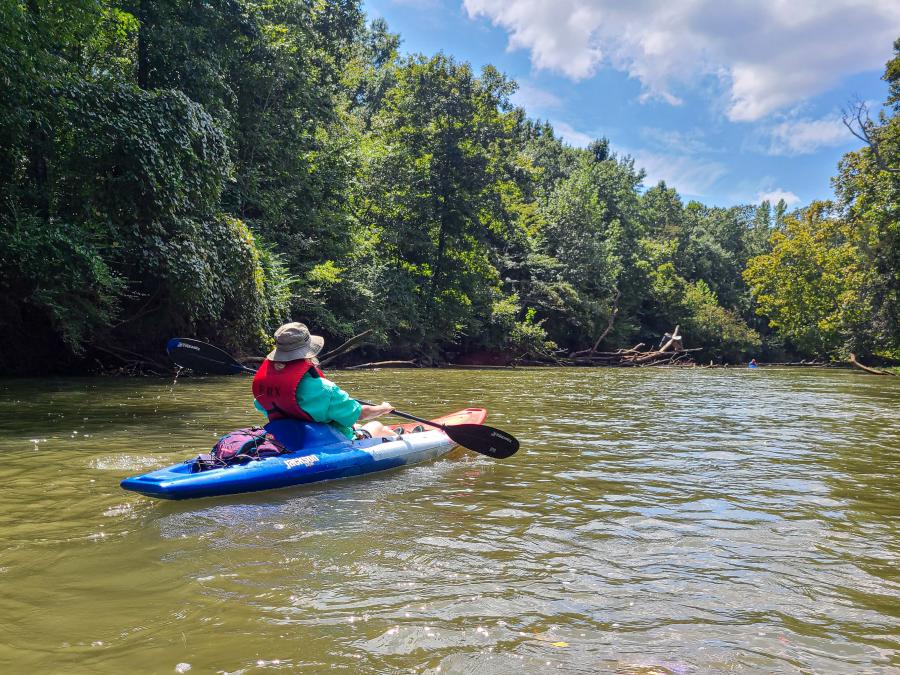 This section of the river isn't the only run with private access points. Popular runs include Ryland Pike to US-72 and US-72 to Little Cove Road. This river section is now being run by Flint River Expeditions, the newest outfitter on the Flint. They have a new fleet of kayak rentals with trips running on Saturdays and Sundays. They are keeping this section clear of fallen trees, so there should be a clear path during boating season, which has been an issue in the past. Generally speaking, the water is deeper here and it's fairly forgiving to novice paddlers.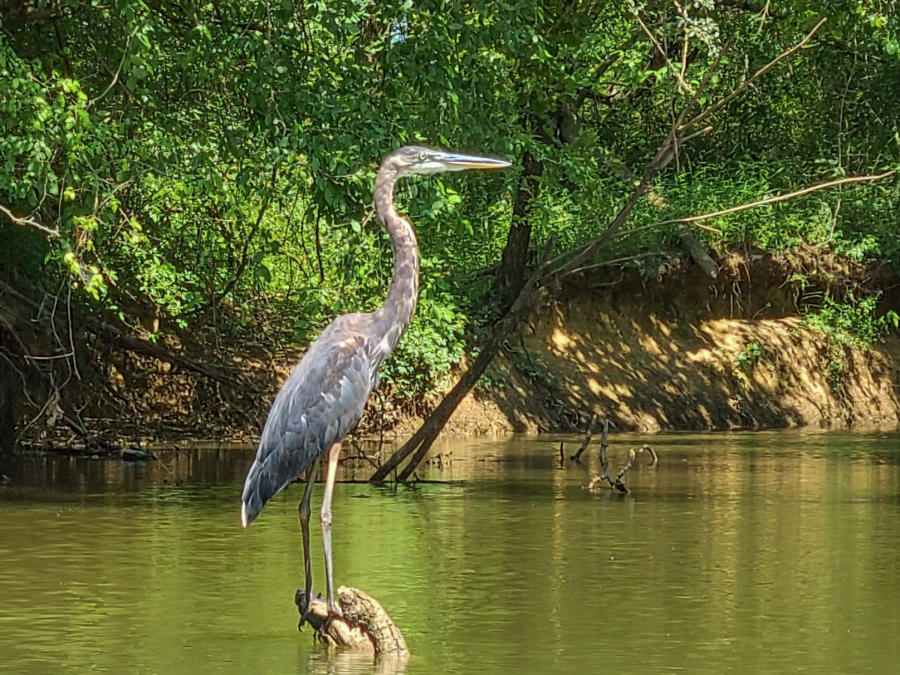 There is also a fabulous bike trail connecting all three access points (Little Cove, Old 431, and Hays Nature Preserve), so you could set up a self bike shuttle too. The run from Old 431 to Hays takes about as long as it does to ride the 17-miles of trail, so you and your friends could even take turns riding bikes or floating the river.
A couple of more items of note. An ongoing construction project on Old 431 has closed car access to the river since January 2020. Also, the take outs here are a bit tricky. The Old 431 takeout is a step short of being user friendly. The Hayes / Cherokee takeout is a little better. When the water is up, the steps work fine. When the water is down, it's a little awkward to get out of your boat.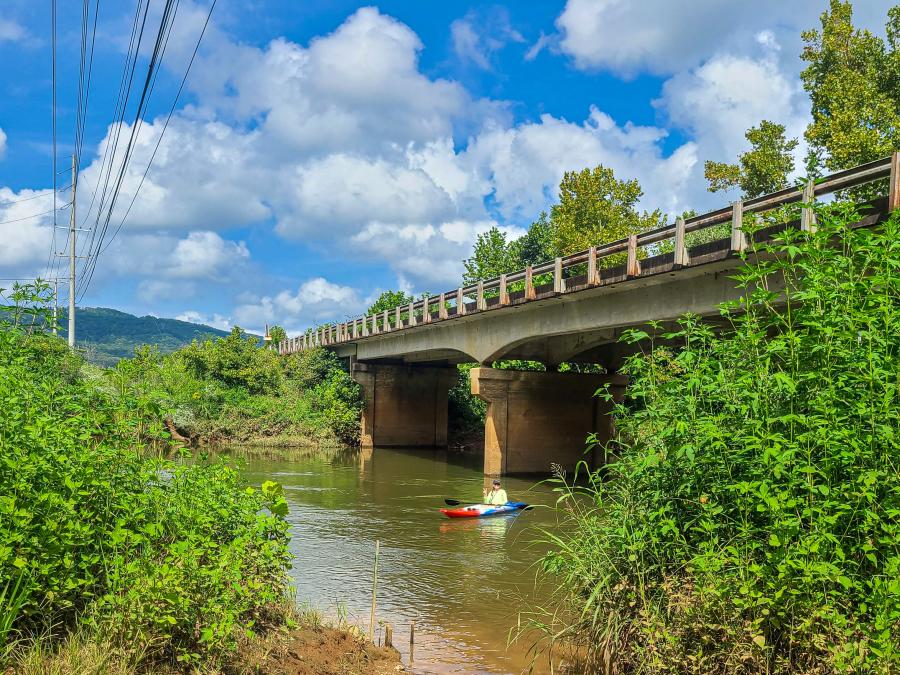 Hays Nature Preserve to Old Big Cove Road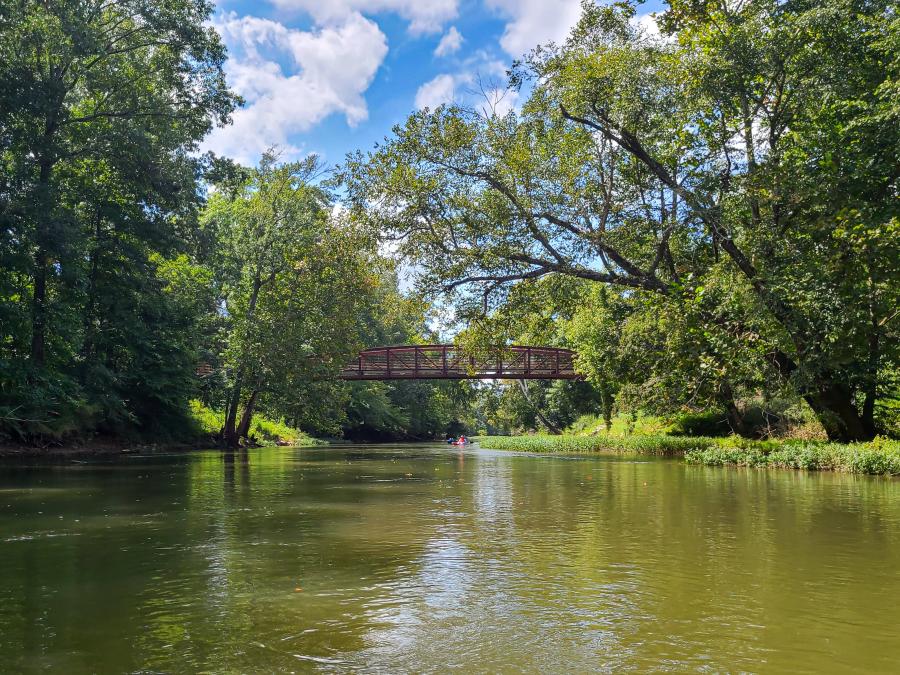 Flint River Expeditions is working on setting up the 4.3 mile run from Hayes Nature Center to Old Big Cove Rd for commercial trips. They anticipate the run should be open by fall 2021. With the steady flow here, they say a run should take about 3-hours, which makes it the quickest trip on the Flint. You could also combine it with the section from Little Cove Road for one of the longest trips on the Flint. It's always good to have options.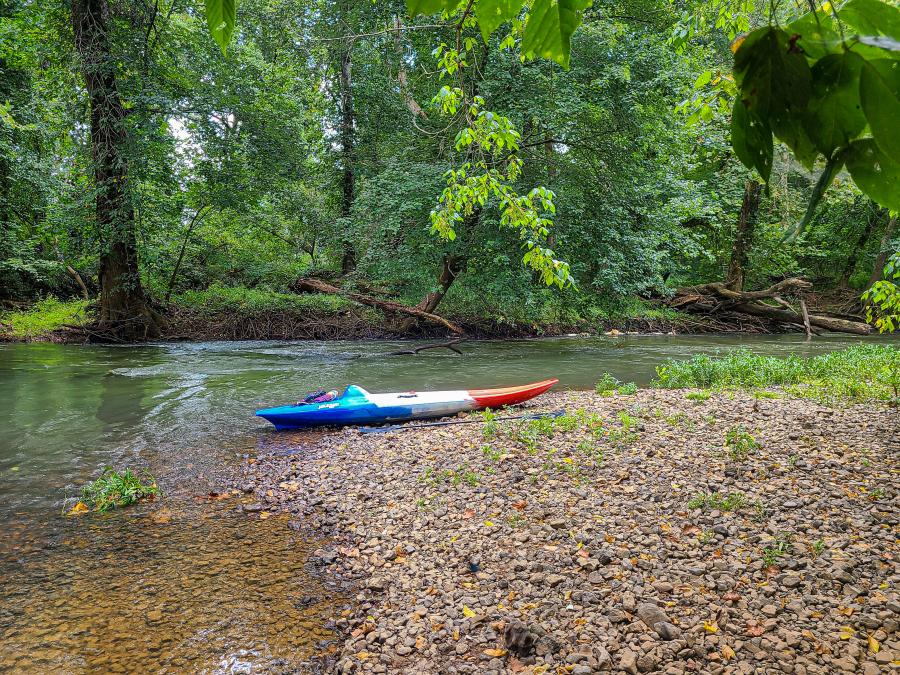 Ditto Landing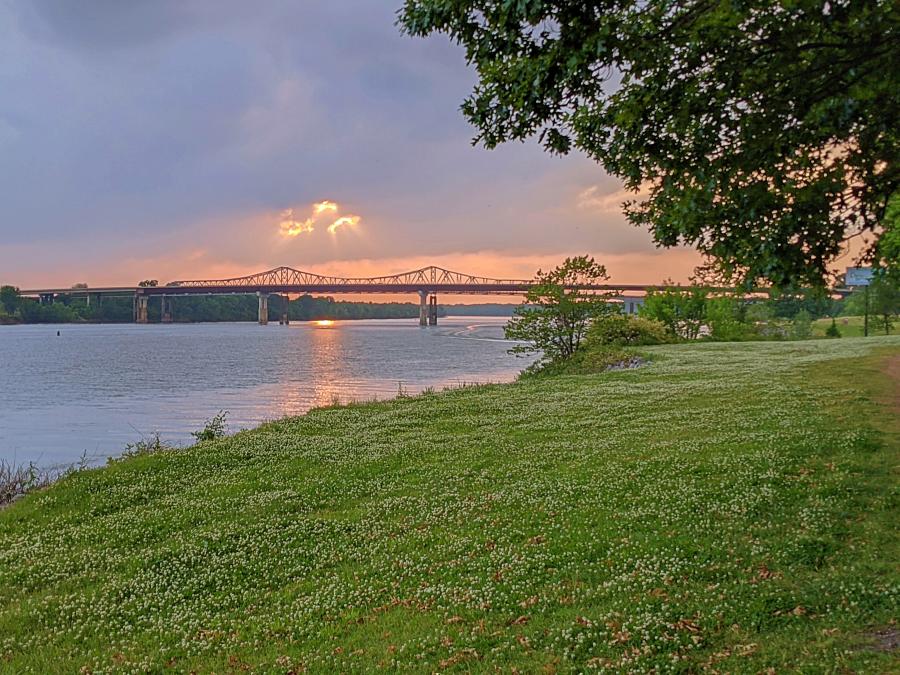 If you type Ditto Landing into your navigator, you'll arrive at a marina on the Tennessee River four miles south of Huntsville. This is where US-231 crosses the Tennessee River. The marina offers powerboat rentals, camping and is the southern terminus of the Aldridge Creek Greenway.
Someday, the entire Tennessee River might be prime paddling territory. The Tennessee RiverLine is a conceptual project for a continuous, multimodal system of trail experiences along the Tennessee River from its formation in Knoxville, TN, to its confluence with the Ohio River in Paducah, KY. Huntsville has already been selected as one of fifteen 'Rivertowns', and I can't wait to see how this vision develops.
However, for the purpose of this guide, I'll detail three much smaller paddling adventures around the Ditto Island area: the Hobbs Island Channel, the Aldridge Creek Slough, and the Flint River to Ditto Landing run.
Hobbs Island Channel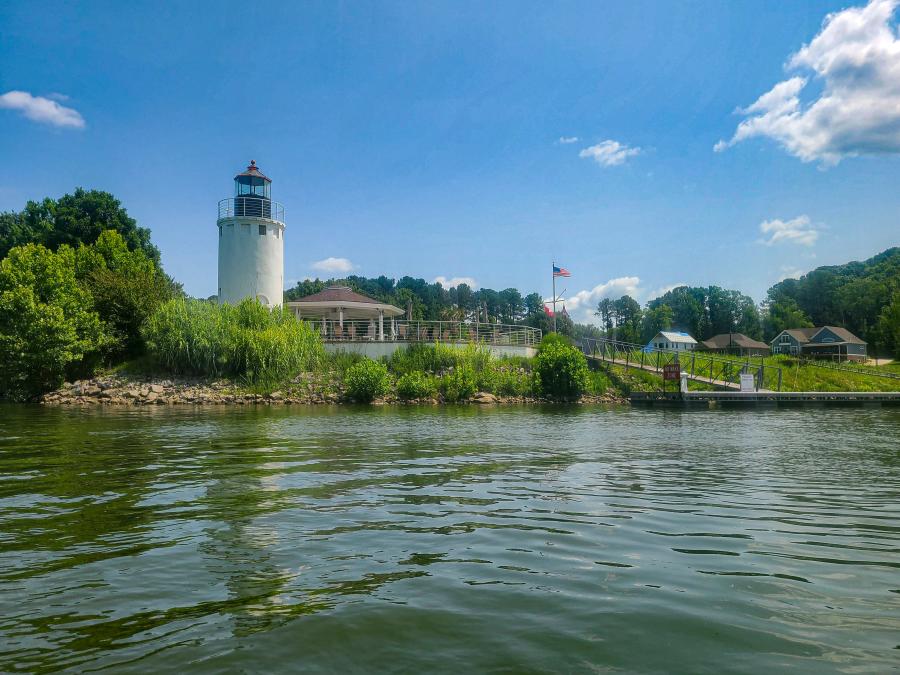 Hobbs Island is a 2-mile long by 1/2-mile wide 334-acre island just upstream from Ditto Landing. It used to be called Chickasaw Island after an Indian Village that occupied the land when Pioneer James Ditto first came down the Tennessee River in the early 1800s. Functionally, it separates two miles of river for paddlers to play in, away from the boat traffic on the main river channel. Hobbs Island Channel is where Rocket City Rowing and the University of Alabama Huntsville have their boathouses. There's also a public boat ramp and a paddleboard operator - Forrest Paddleboarding.
We recently had the opportunity to go paddleboard with Forrest in the Hobbs Island Channel. We called ahead to schedule a weekend time slot and met him by the UAH boathouse. We launched off a private dock in the Whitesburg Boat and Yacht Club inlet and paddled up the channel to the Great Bend Yacht Club Lighthouse.
The trip took 2-hours of leisurely paddling upstream and then coming back with the current. In fact, heading upstream is a generally good idea for any paddling trip to avoid getting caught downstream of your vehicle. We loved the water quality in the Hobbs Island Channel for SUPing, because there's always a chance that your paddleboarding trip will turn into a swim.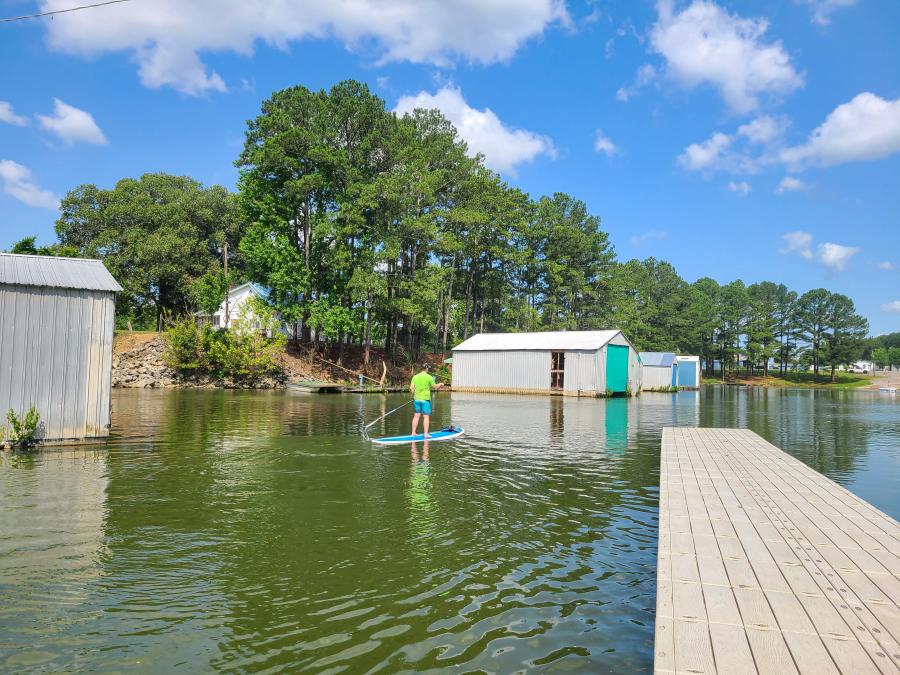 Aldridge Creek Slough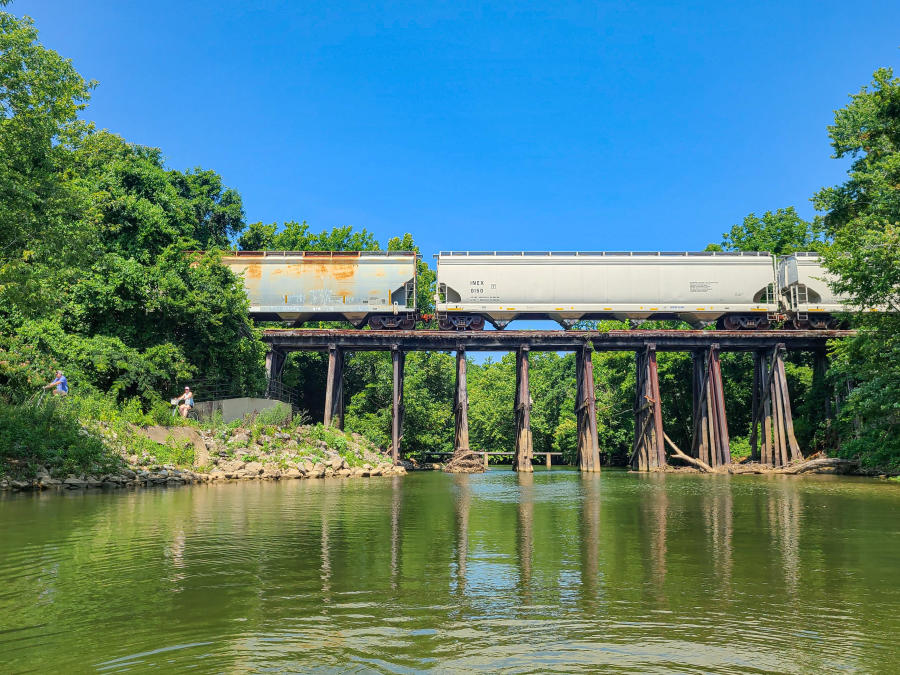 By and large, Aldridge Creek isn't well suited for paddle craft, except for the final 1.25 miles where it joins up with the Tennessee River. It's a bit awkward to launch out of Ditto Landing with all the boat traffic, but there's a sports dock on the Aldrich Creek side that Huntsville-Madison County Rowing & Watersports (Row Huntsville) installed. It's a beautiful launch on a sheltered body of water to launch your own boat or a rental from Row Huntsville.
Row Huntsville's primary mission is their youth rowing program, but they also rent equipment by appointment only. Someday, when the Ditto Landing master plan is realized, this might change, but it's great that the boats are even available for now.
It takes about an hour to paddle to the railroad bridge and back to the docks, which is about as far as you can go in Aldridge Creek before it gets too shallow. As you go upstream, the water gets a little gunky in the middle of the summer if it hasn't rained recently. However, you can always head out to the main river and up the Hobbs Island Channel if you don't like the water or want a longer paddle.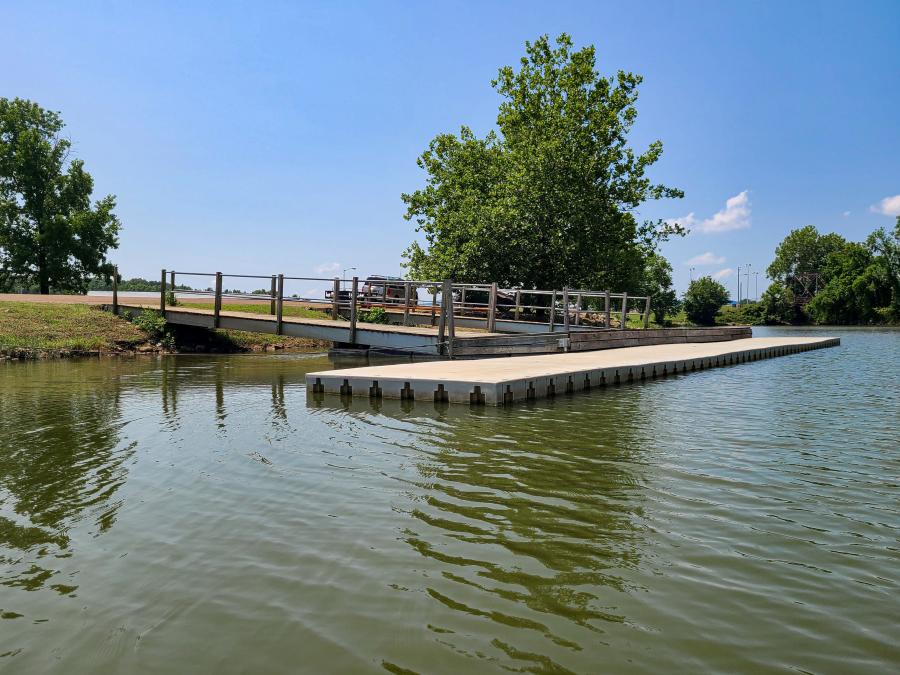 Flint River to Ditto Landing Run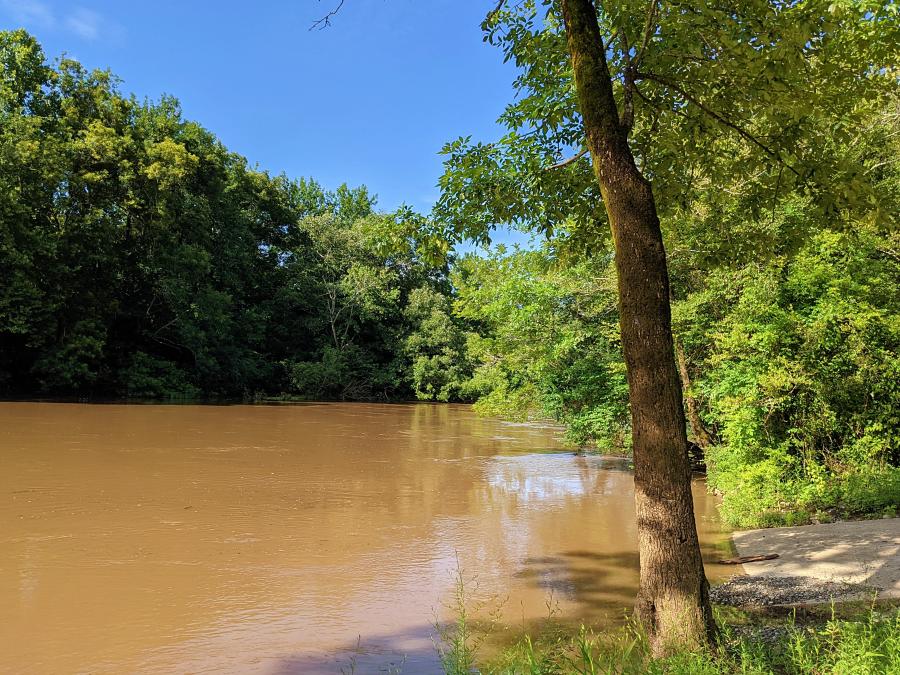 While we were SUPing with Forrest, we talked a lot about the logistics of the Flint River to Ditto Landing Run. If you remember from the mileage chart in the Flint River section, the shortest route is 6.8 miles from the Turkey Springs Ramp to the Hobbs Island Rd Ramp. This route makes for a very long paddleboard but a feasible kayak trip. It's only 1.8 miles farther to the Chickasaw Landing Ramp, which has an easier (5.5-mile) car shuttle. Forrest said this was a nice paddle with a lot of diversity. The first five miles are through an open but heavily forested section of the Flint River before you join up with the Tennessee River. Next, there are 2.5 miles of paddling in the main riverbed and then a mile through the Hobbs Island Channel. You'd want to start early in the morning because there's not much shade once you get out onto the Tennessee River.
Wheeler National Wildlife Refuge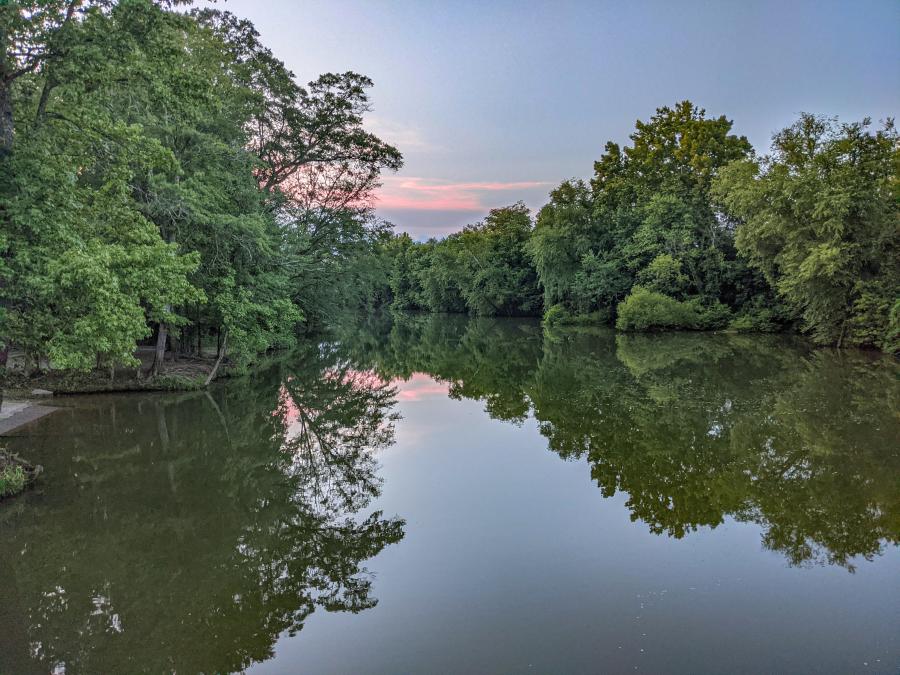 Just a short drive away from Huntsville is the Wheeler National Wildlife Refuge (NWR). For a good reason, when people discuss the Wheeler NWR, they often talk about the visitor center and trail to the wildlife observation building. Massive numbers of Sandhill cranes and a few critically endangered Whooping cranes flock here mid-December to mid-January. However, the refuge spans more than 35,000 acres of wetlands along the Tennessee River from the Redstone Arsenal to Decatur. The calendar of birdwatching at Wheeler NWR also includes spring and fall migrating songbirds and winter waterfowl.
Since Wheeler NWR is a wetland experience, exploring this wildlife spectacle from the water makes a lot of sense. Its great habitat diversity includes deep river channels, tributary creeks, tupelo swamps, and open backwater embayments. This guide shows private paddlers how to explore each of these regions, except for the deep river channels because of their heavy boat traffic.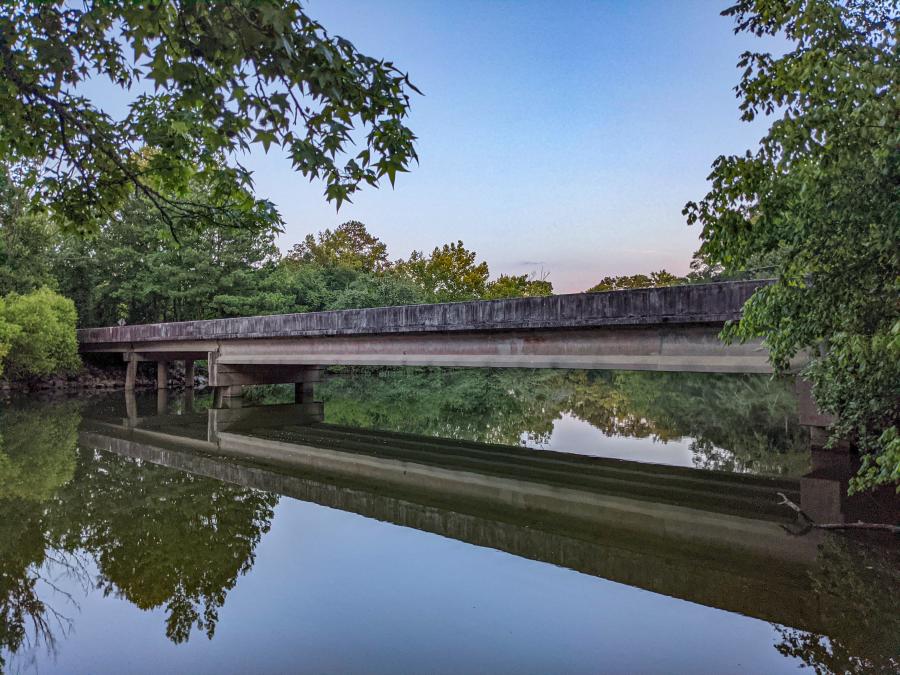 Flint Creek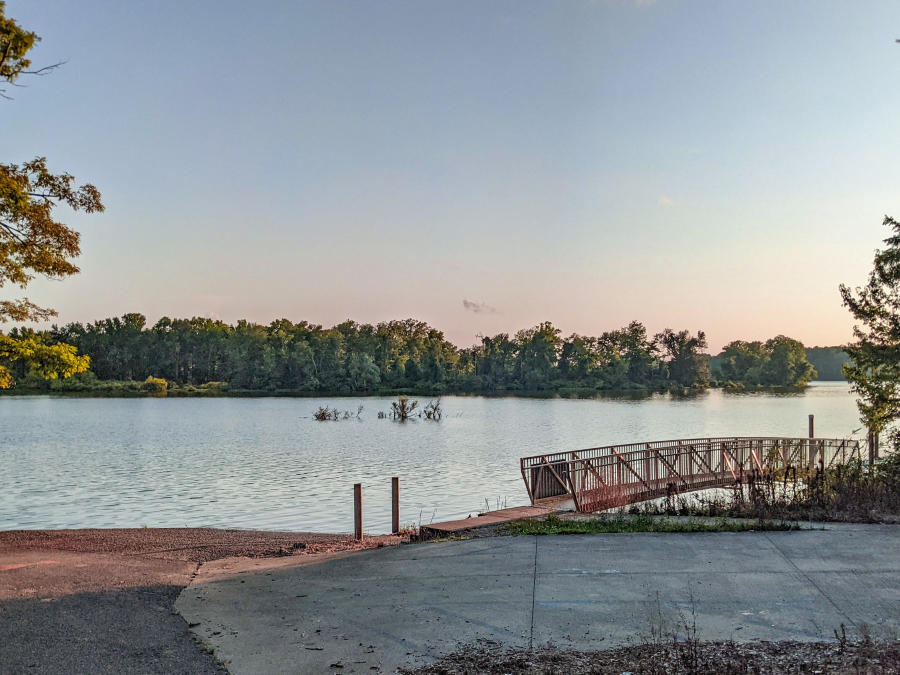 Flint Creek is an entirely different waterway than the Flint River. Decatur sits at the confluence of Flint Creek and the Tennessee River. Wheeler Visitor Center and the observation building are located on the backwaters of Flint Creek, and the Flint Creek Canoe trail meanders from Hartselle to Decatur.
There are many access points along Flint Creek, but my not-so-secret spot is the Hickory Hills boat ramp. It's not too busy and close enough to Point Mallard for specialty paddling. You can also explore upstream on Flint Creek for watchable wildlife, but you must follow the park rules, including not flushing birds, keeping a 600' distance, and not crossing dikes.
Limestone Bay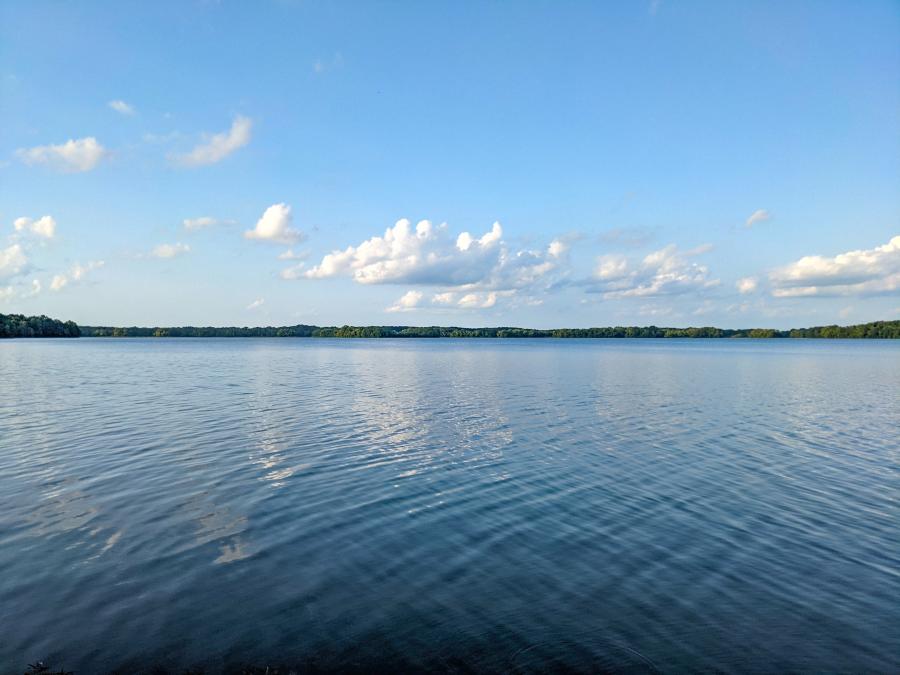 Limestone Bay is an oval-shaped open-backwater area. You access the bay by the Limestone Creek boat ramp, located 3-miles past Mooresville just a short drive outside of Madison. It takes a little bit of paddling to cross the bay, but park rules prohibit personal watercraft or skiers in Limestone Bay, so you are free to focus on the crossing.
Two treasures await you on the other side, Limestone Creek and Beaverdam Creek. The mouth of Limestone Creek as it enters the bay is prime alligator territory. On sunny days, you might see 6' or larger gators out sunning themselves along the shores here. Beaverdam Creek is a slow-moving tributary that's navigable for over 4-miles to the Swancroft Bridge and beyond.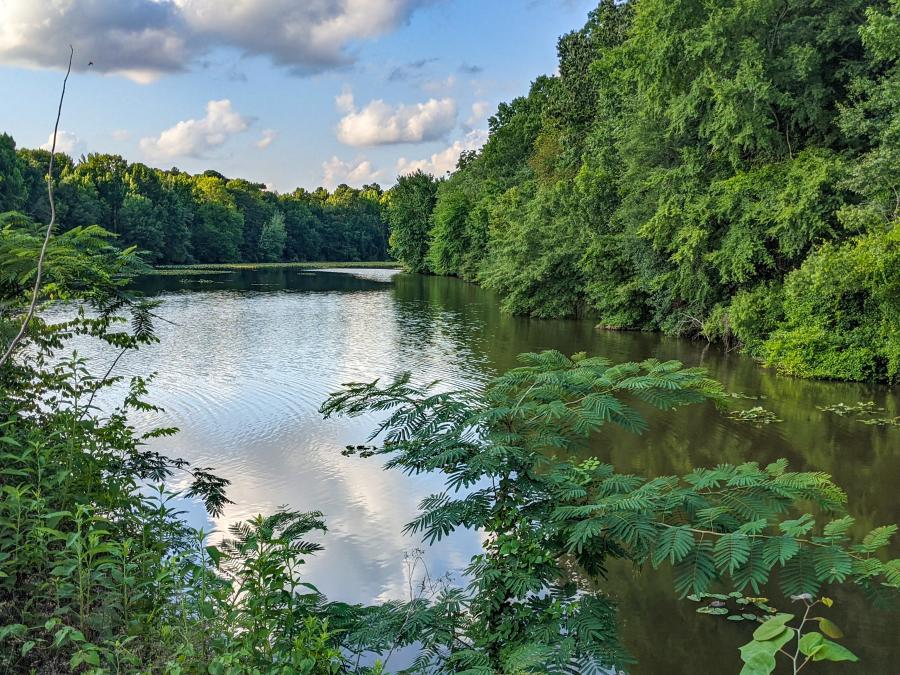 Blackwell Swamp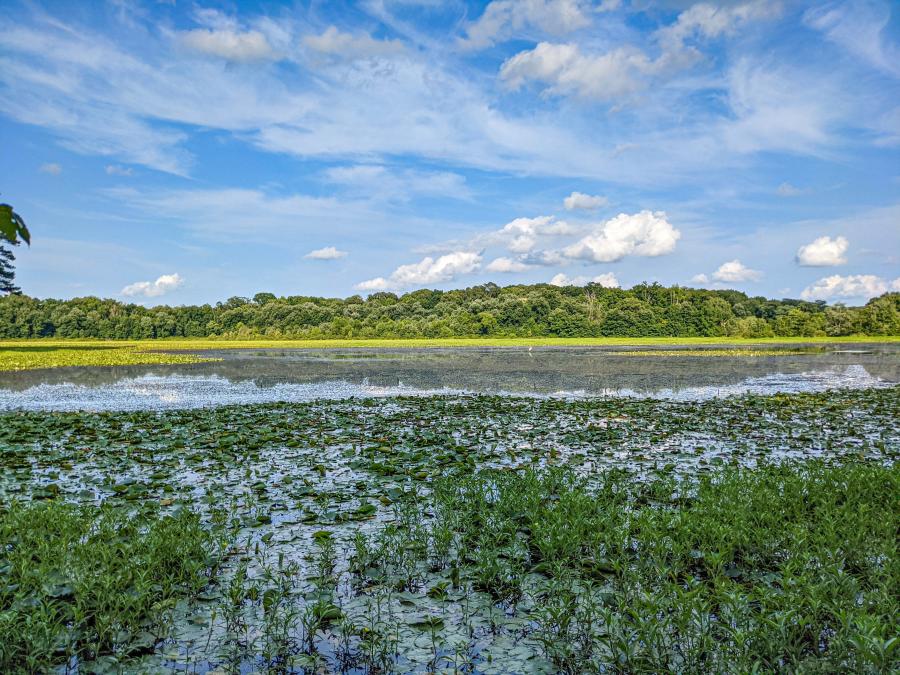 Blackwell Swamp might be Huntsville's premier blackwater paddling experience; only blackwater paddling isn't for everyone. The swamp contains abundant and diverse wildlife. Combine those critters with cypress knees and other exotic plants, and you have an other-worldly experience that's hard to put into words. Sounds wonderful, right? Only they call it "blackwater" for a reason. You really (really) stay in the boat between the water quality and soft, muddy bottoms. In fact, you might even consider putting the plugs into your self-bailing kayaks. Plus, the aquatic plants that make the swamp so beautiful get thick-as-flies by mid-summer. Oh, and on the subject of flying insects, there might be a mosquito or two-hundred here. Alabama Scenic River Trails indicates a north and south access point for Blackwell Swamp. The south access is much better with more open water and better / easier access roads.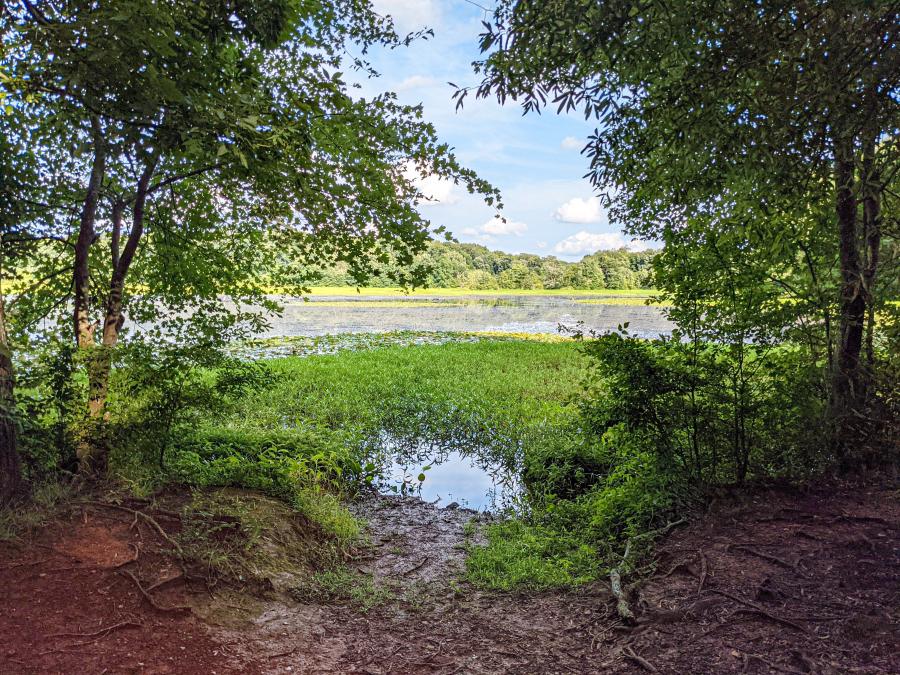 Triana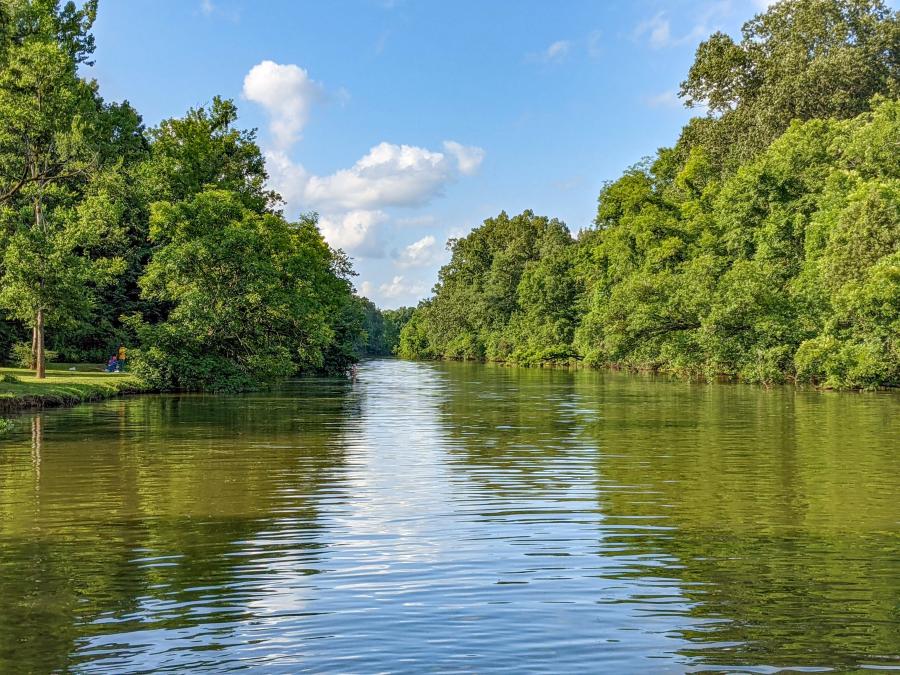 Triana is a historic town located at the where the Indian Creek meets the Tennessee River.  While there were some issues of contamination in the past, they have been mitigated. If you ever have concerns about  waterways, check the Alabama Department of Environmental Management water info page for current issues and warnings.
The Triana boat ramp is right at the Indian Creek / Tennessee River confluence. It's probably more fun to paddle up Indian Creek than out into the deep river channel, and you can go for miles and miles upstream on the creek. If you want even more adventure, the entrance to Barren Fork Creek is only 1/2 mile upstream from the boat ramp. It's possible to kayak up to the open bay by Zierdt Road, but you'll most likely have to portage at the shoals and maybe around a fallen tree or two.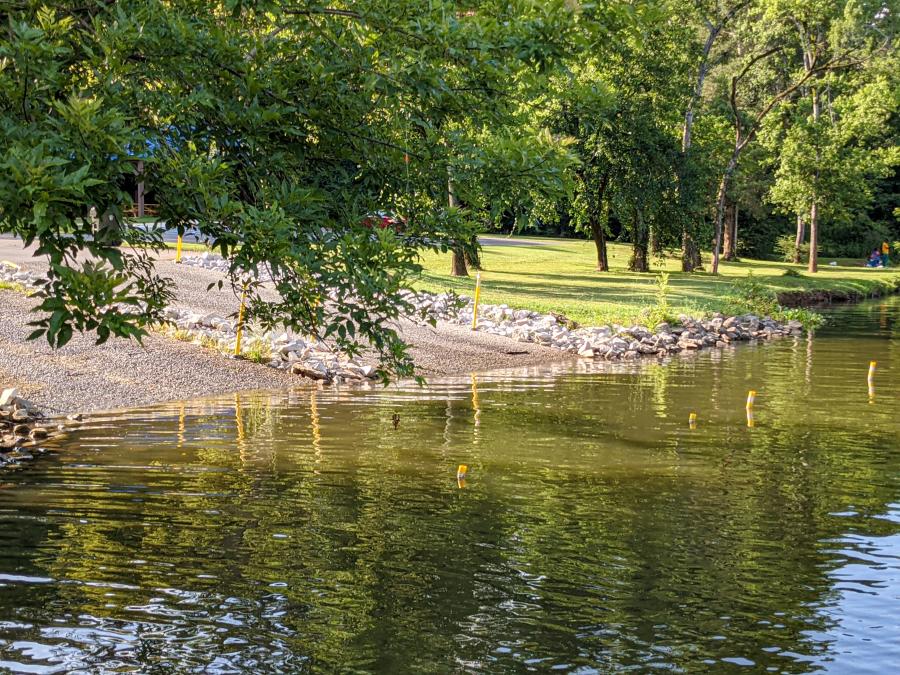 Cotaco Creek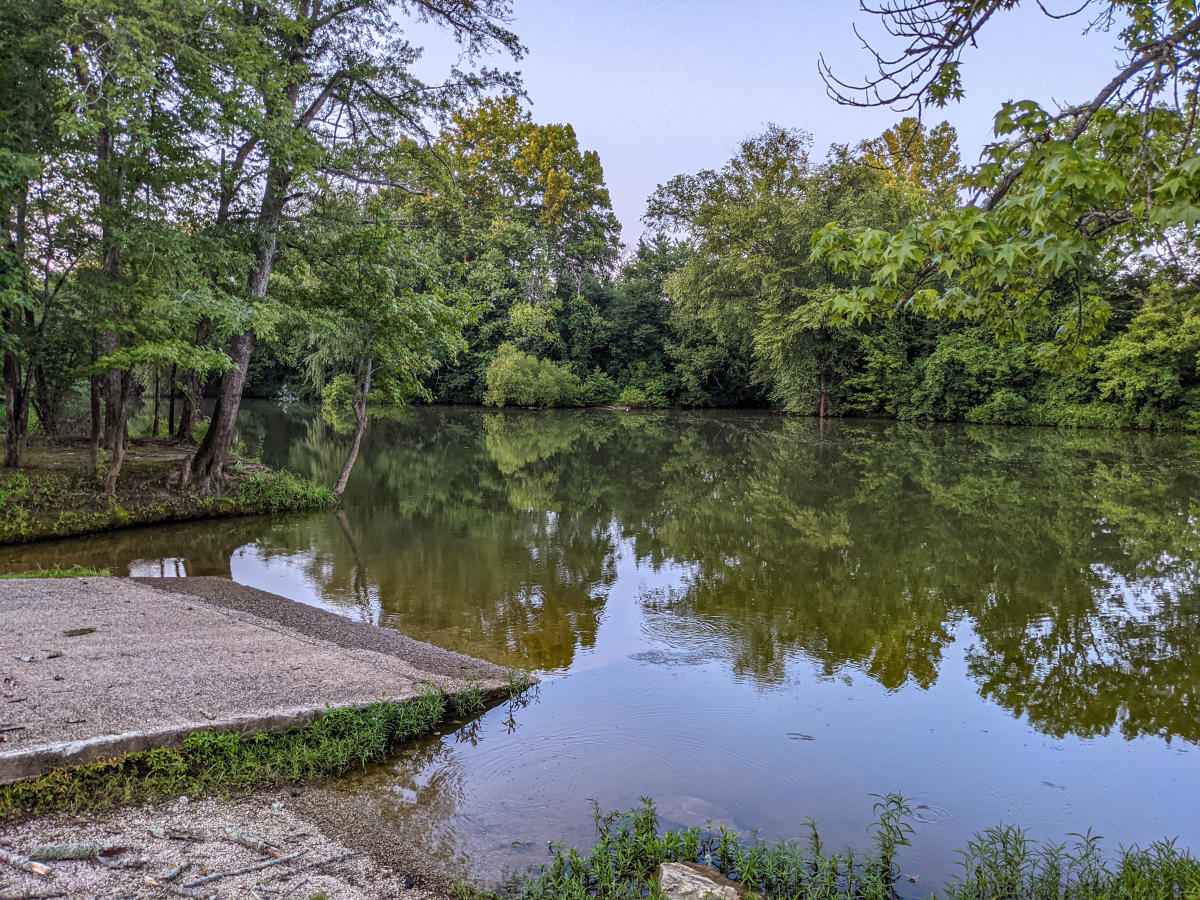 Even though Cotaco Creek is less than 2-miles from Indian Creek, it's on the south side of the river. You'll have to cross at I-65 or US-231 and take a scenic country drive to get to the Cotaco Creek boat ramp (35-minutes from downtown Huntsville). However, once you launch, you can explore five different sloughs from the same access point, so it's worth the trip for no other reason than paddling diversity. The most popular paddle up Cotaco Creek takes you to Cove Springs and Grindle Hole. This area is known for its freshwater springs. The nearby town of Valhermoso Springs used to house a flourishing mineral springs resort, and a grindle is a prehistoric fish endemic to springheads. If you look carefully at the limestone bluffs here, you might find fossilized sponges, which are the oldest animal still alive today. A more cursory paddle will probably feature a heron or two and beautiful reflections on the still waters of Cataco Creek.
Wrapping Up the Huntsville Paddling Trail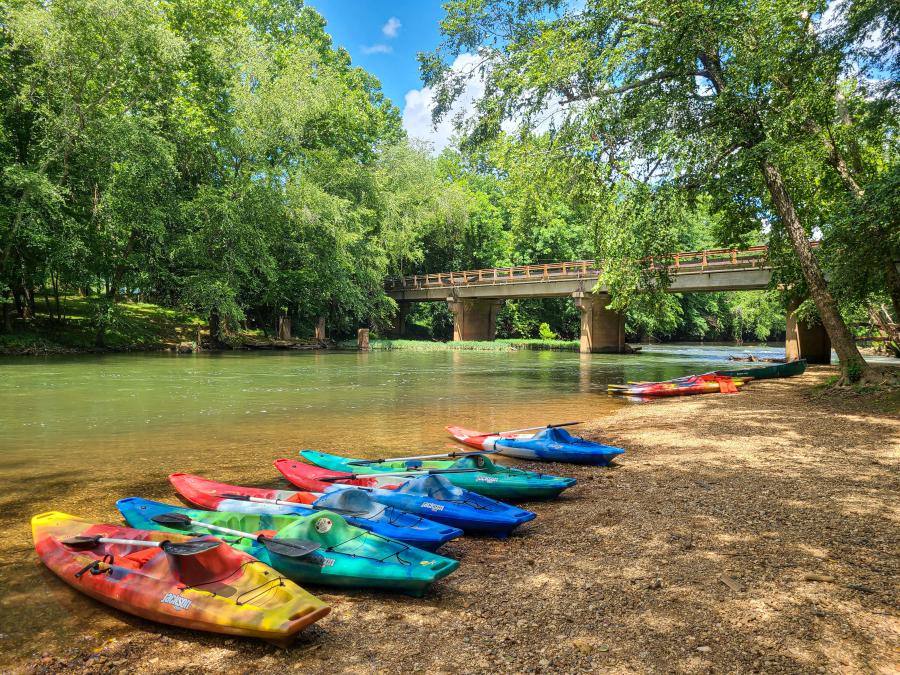 With so many stops, Huntsville's paddling trail is bound to keep locals exploring for years and visitors coming back. With the diverse experiences and seasonal differences, Huntsville's four outfitters can keep the casual paddler busy too. However, with so many options available, you might find yourself buying your own boat sooner or later or renting one from Redstone MWR Outdoor Recreation Center (assuming you have base access). No matter how you get out on the water, we hope you have fun, stay safe, and are a friend to nature.