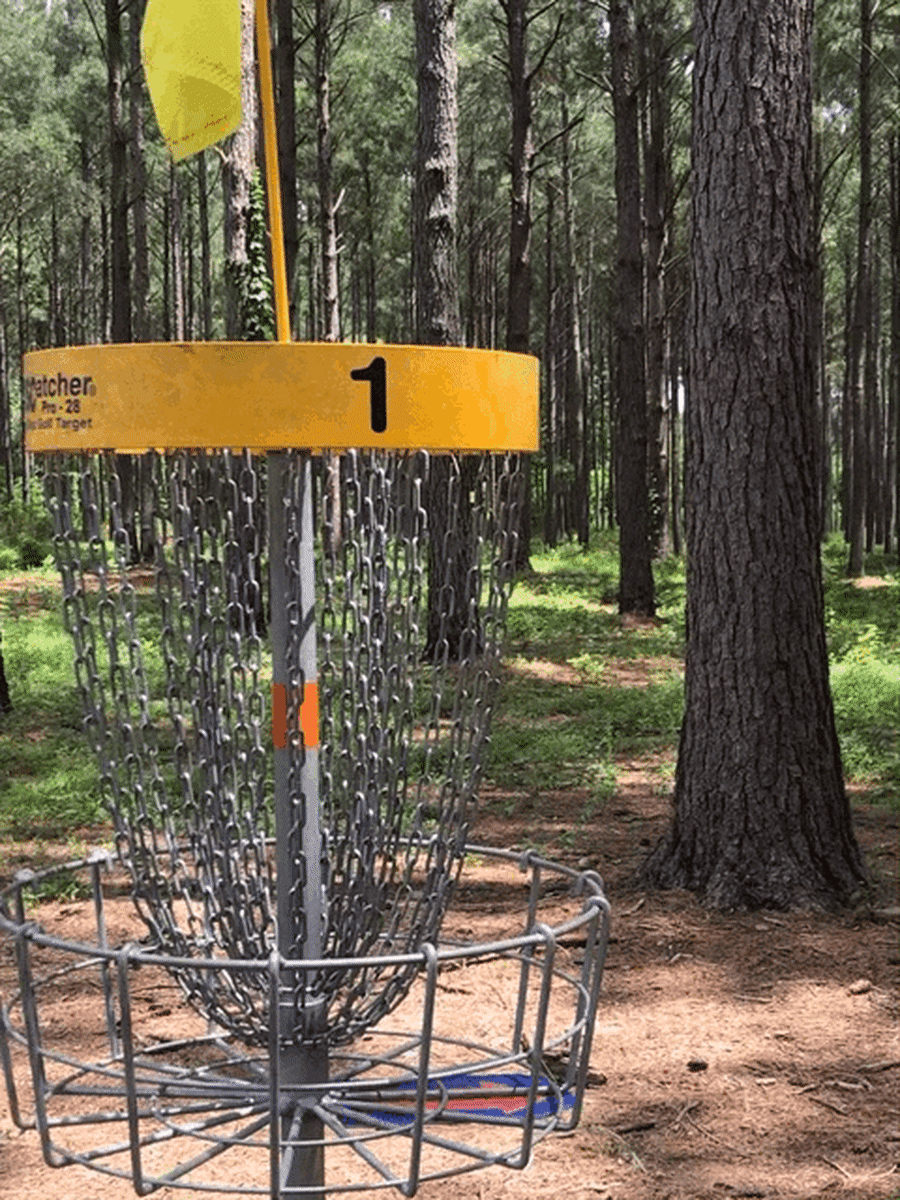 Disc golfers hitting the links in the Huntsville / Madison / Madison County area have more options than ever. This ever-growing sport is a great way to get outside and enjoy our community. So, what is it, and where can you play in our community?
What Is Disc Golf?
It's a game similar to golf, except instead of clubs, you'll throw discs to complete each hole (that means, aiming the disc into a basket-like target.)
Much like golf clubs, you have a variety of discs out there to choose from. The Professional Disc Golf Association recommends starting out with a lightweight, mid-range disc. Here's a beginners guide from the organization to get you started. The more you play, the better you get! And the more addicted you'll become.
Where to Play
There are so many options to play in the Rocket City for a good reason: some of the oldest disc golf courses in the world are right here!
Huntsville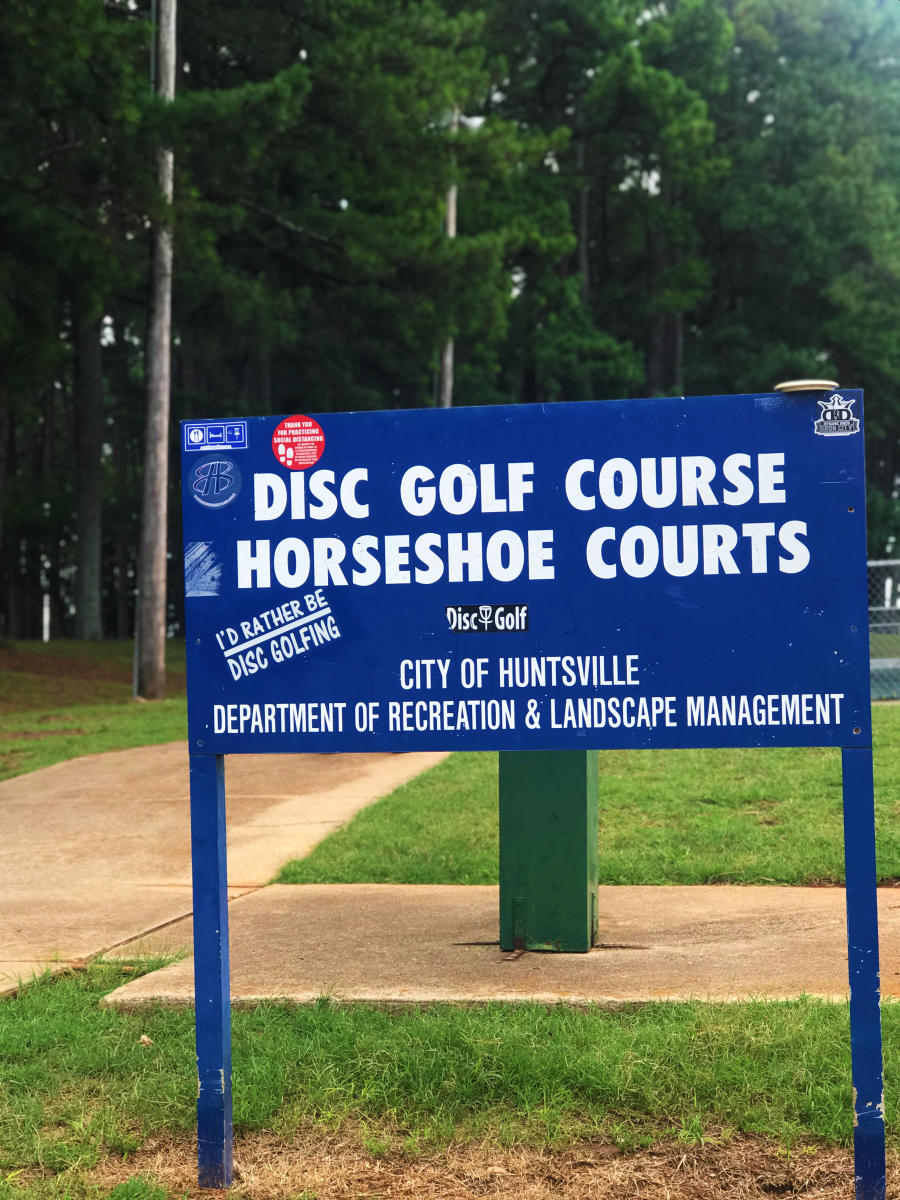 The City of Huntsville maintains six disc golf courses, with a variety of views and obstacles to make playing fun for players of all skill levels. One of those, Brahan Spring Park, is the 2nd oldest disc golf course. The story goes that a few students who played at University of North Alabama (UNA) in Florence came to Huntsville and started the sport in the Rocket City. Tom Monroe and Lavone Wolfe worked with the Father of Disc Golf, and Ed Headrick to complete the courses and were later established by the Professional Disc Golf Association as professional disc golfers.  Read about the history of disc golf here.
The University of Alabama in Huntsville (UAH) also has an impressive course that is also one of the oldest courses in the world and hosts championship tournaments that bring people to Huntsville from far and wide. This article from UAH details its rich history and explains the unique-to-Huntsville vistas at this course that you don't want to miss.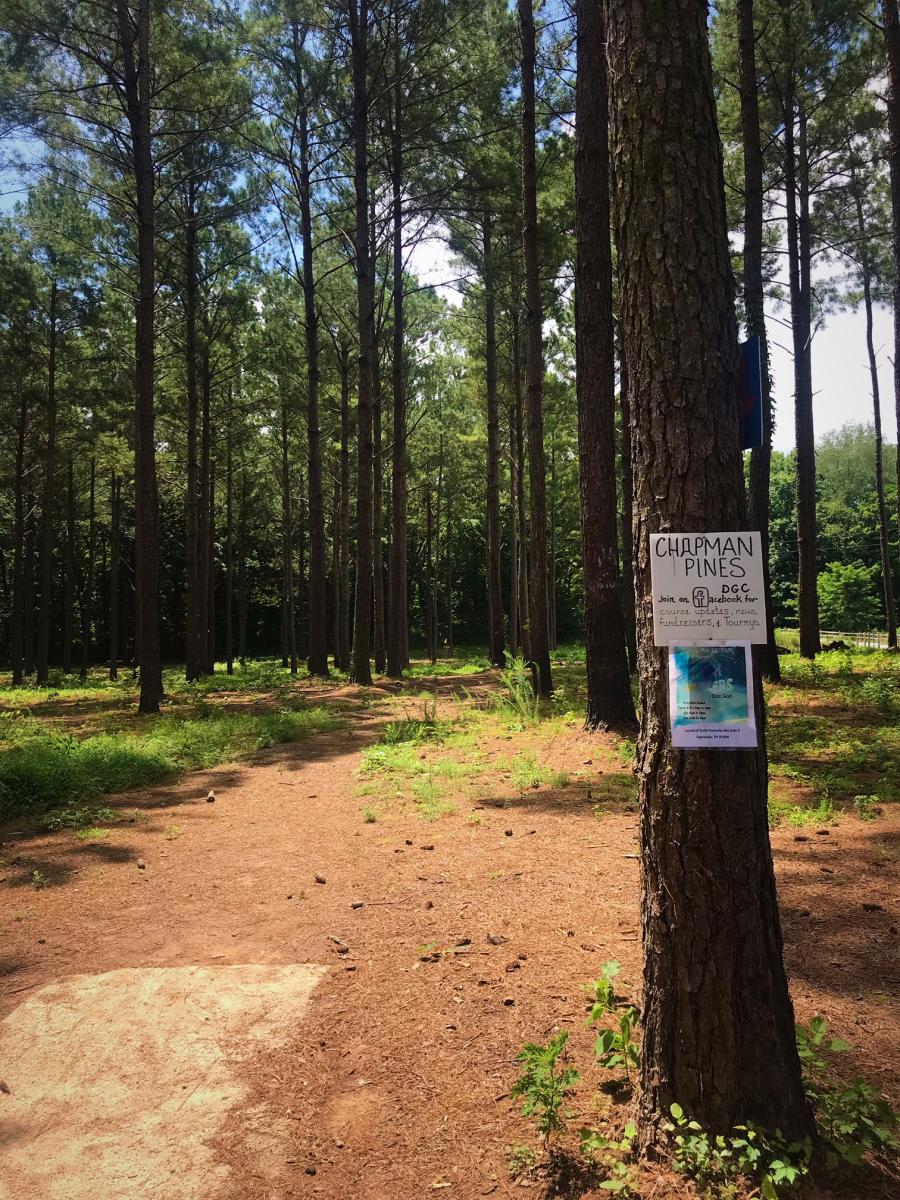 You should also check out the newest Huntsville course, located at the Land Trust of North Alabama's Chapman Mountain Nature Preserve. It boasts 18 holes and is along the Driskell Trail. This is a woodsy course that provides a great opportunity to practice accuracy to avoid trees and other obstacles. And, there's a new practice area to make sure you're warmed up and ready to go before you begin play!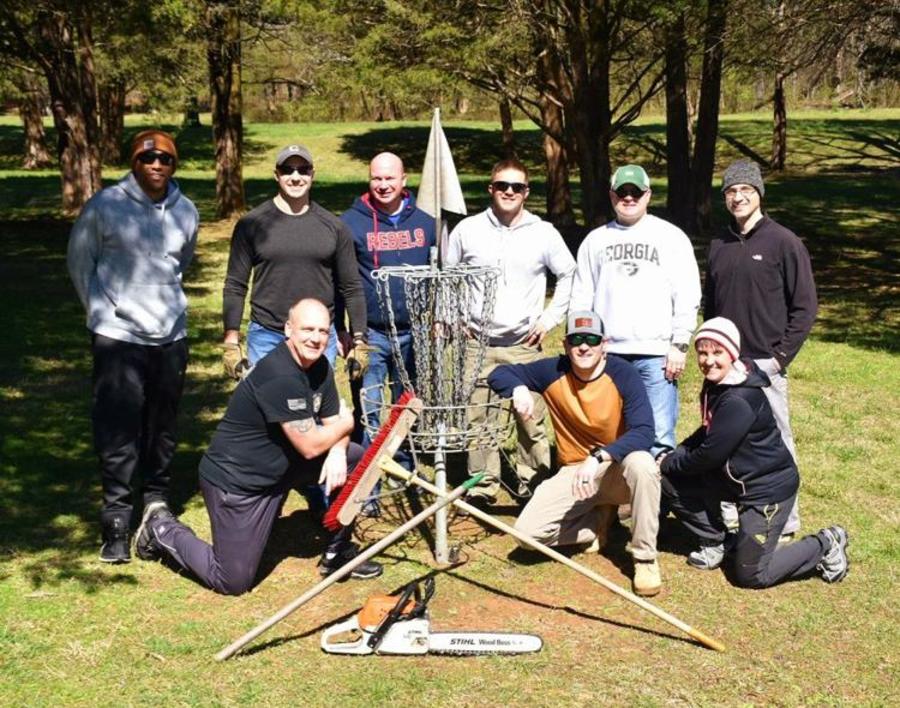 Credit: Redstone Rocket
You can also play at the disc golf course at Redstone Arsenal on Vincent Road (at Vincent Park.) You can even rent disc sets for $5/day at the Outdoor Recreation Center at 5139 Sportsman Drive! The Redstone Arsenal Army Family and Morale, Welfare, and Recreation (MWR) provide a course map and downloadable scorecard, too!
Madison also has a few disc golf courses, like the one found at Dublin Memorial Park.
What to Take With You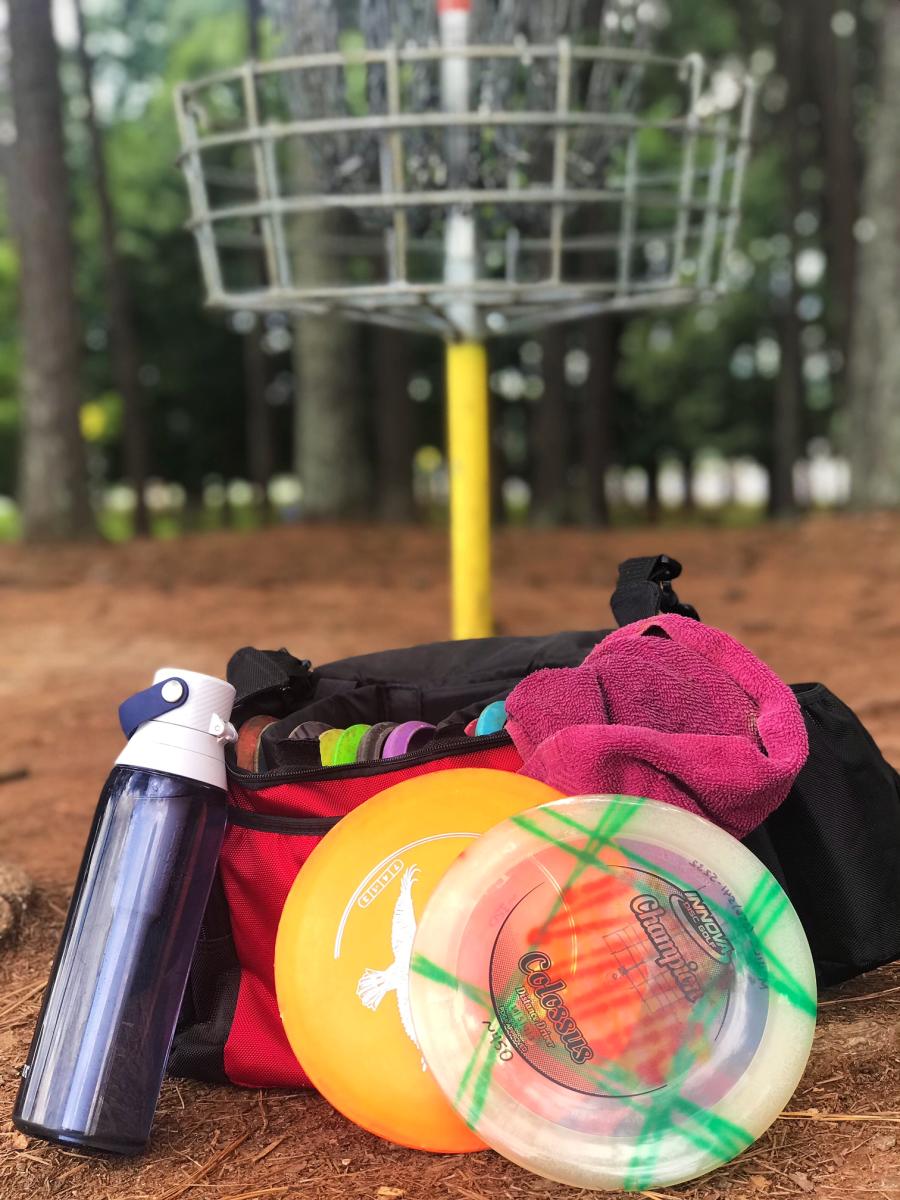 So, you've found a course you want to try! But, what should you take with you?
A bag that's easy to carry and fill it with your favorite discs.
A sharpie, so you can write your contact information on your discs in case they get lost!
Sun protection. Many courses are sunny, or have sunny areas. Sunscreen, a hat, and/or sunglasses are helpful when looking to sink that perfect throw.
Water. Be sure to hydrate! You'll be walking a lot, and disc golf uses many muscle groups for exercise.
A towel. Not only is a towel helpful when it gets hot, but often your discs could land in the mud, in wet grass, or if you're unlucky, in the water! Help yourself out by carrying a towel for easy cleanup.
Shoes you don't mind getting dirty. Grab some old sneaks or a pair of hiking shoes so you're prepared for courses featuring wooded trails as well as open fields.
A positive attitude. Golf, in all its forms, is as much a mind game as it is a physical one! You'll have good and bad throws. It's important to put mind over matter and have some fun!
A friend! Disc golf can be played alone, but the more the merrier!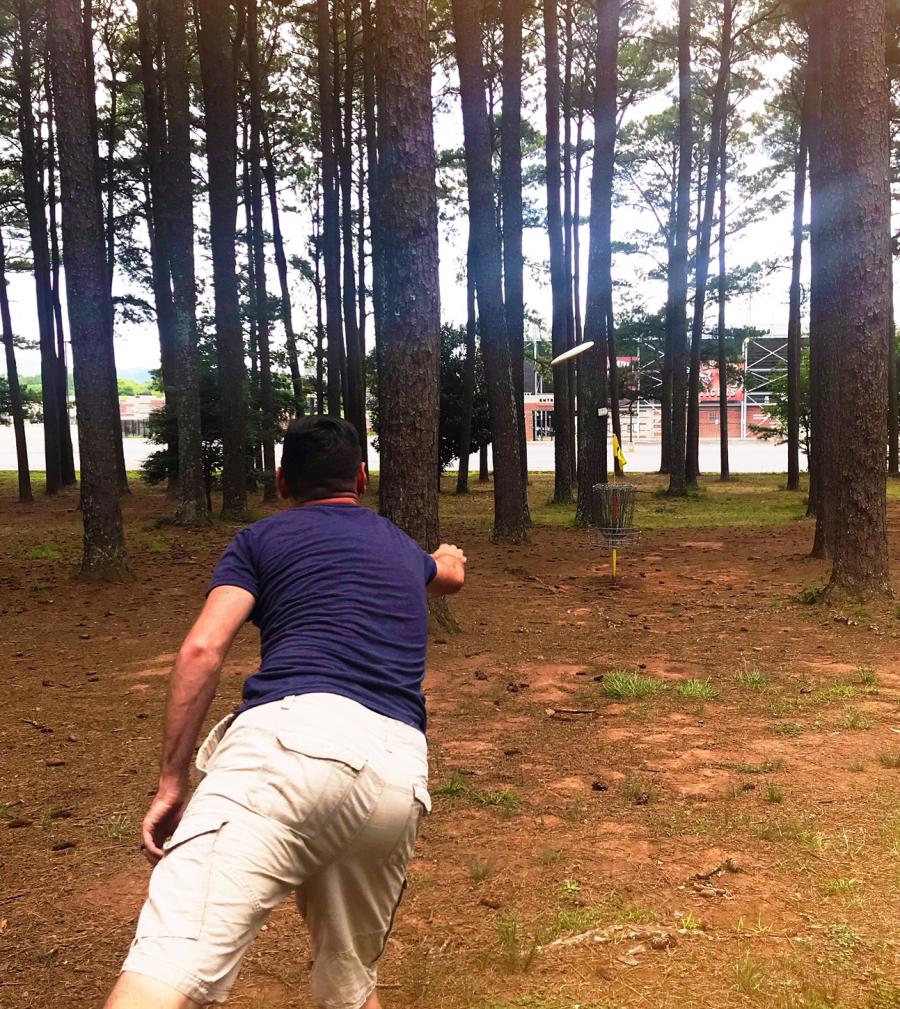 What are you waiting for? Get out and enjoy the great outdoors this summer, and take advantage of all the area has to offer with disc golf in Huntsville!
Join the Rocket City Chain Gang
The legacy of disc golf is still strong with the Rocket City Chain Gang. A disc golf group that started in 1983, it's seen its members spike as more and more people learn about the sport. It was featured in the Alabama State Games. Entire families can get outdoors and play! Their members are always willing to make new friends and teach others how to play.