Moving cities for me always means knowing where the closest Hispanic stores are located. Hispanic supermarkets carry everything you'll need to create authentic dishes or satisfy your hunger with food and snacks. Don't worry about communication being a barrier from you purchasing products. I frequent all the stores listed here very often and the staff in each one is always friendly and willing to help all of their customers find what they need. From fresh produce to aromatic spices and chilies, these stores have everything you need for your next carne asada (cookout) or next authentic Hispanic dish on your dinner menu. Take a look!
The list is not limited to all the stores located in our area. Feel free to contact us to add your favorite spot!
Huntsville Hispanic Supermarkets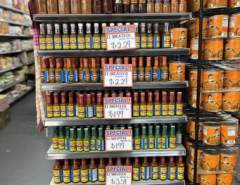 Located on 2108 Triana Blvd, Tienda Guanajuato has been in the business for over 10 years and just recently transitioned into new ownership within the same family. This is the first Hispanic store I discovered when first moving to Huntsville over a year ago. It carries a variety of Hispanic grocery items like dried chilies, spices, fresh produce, freshly delivered tortillas, and much more. The store also includes a butcher shop where you will be greeted by Spanish music blasting in the background. You can order meat by the pound, or grab one of their pre-packaged trays. Cheeses are also available to order, along with in house made chorizo which is a family favorite in my home.
The butcher shop now also carries weekend specials of carnitas (pulled pork) and barbacoa de borrego (lamb). Barbacoa is meat(beef or lamb) that has been slowly cooked with seasonings. If you stop on a Sunday, you'll also find barbacoa de res (beef).  Chicharrones or pork rinds are also available Monday-Wednesday. Need a three kings cake or candy for your next birthday party? Tienda Guanajuato will take care of you for your next authentic Hispanic cookout or celebration.
Let's continue driving down Triana Blvd and introduce you to another Hispanic store that carries an ample variety of Hispanic grocery items. Located at 2900, just a few minutes from Tienda Guanajuato, La Luminaria is another supermarket you can visit to find kitchen items that are a staple in every Hispanic household. From fresh produce to bakery items such as sugar cookies, and pan bolillo, which is a twist of french bread, this store is small, but neatly organized. La Luminaria also has a butcher shop where you'll find poultry and meat, among other items like chorizo and Mexican cheeses. If you happen to stop by during the warmer months of the year, Tienda Luminaria also offers pre-packaged sliced fruit like watermelon, mango, and pineapple.
El Patron Supermarket
There's no doubt why El Patron Supermarket translates to "The Boss!" Stepping foot in El Patron is like traveling back to Mexico and buying all your grocery necessities! This is the largest Hispanic grocery store in the area and carries not only food, but also clothing items, hats, and even cowboy boots. El Patron is one of my favorites because of their family-friendly environment. Let's start with the kid-size shopping carts that your littles can push around the store to gather those grocery items for any Hispanic dish you may be planning to make! My boys love coming here with me and of course, enjoy visiting their candy aisle that carries sweets not only from Mexico but also from South and Central America. El Patron also has a butcher shop that includes seafood and special meat cuts. Chicharrones are also available if you are looking for something crunchy to snack on. Take time to stop by their refresqueria (refreshment area.) Fruit cups, esquite( corn in a cup,) fruit shakes, and an assortment of ice cream flavors are just a fraction of what their refresqueria has to offer. Looking for decorations to celebrate one of our Hispanic celebrations like Day of the Dead, or Cinco de Mayo? El Patron will supply your party necessities as well.
Last on the list is Supermercado La Colonial. Located at 1222 on Jordan Ln, Supermercado La Colonial is a Hispanic supermarket that, like the others on the list, carries groceries from countries like Mexico, and South and Central America. I met the owner of Supermercado La Colonial several months ago and he takes pride in his store and everything it has to offer. This is another supermarket that is family-owned, where cousins and siblings all work together to deliver the best service and products.
From spices to freshly homemade corn tortillas, La Colonial is another supermarket you should add to your list! La Colonial has its very own restaurant where you can find traditional food dishes like tacos, tortas, and birria. Check out their website to find their extensive menu... This supermarket just recently opened its own refresqueria called Pepitos Snacks, which carries popular snack items such as esquite, fruit cups, churros, handcrafted ice creams, plus much more.
Whether you are new to the area or have lived here and don't know where to find those Hispanic grocery items, use this list as a guide to help you explore and find ingredients for your next authentic Hispanic dish. Take time to visit one or all the supermarkets listed here. Be ready to receive incredible customer service and be greeted with a smile. Until next time!