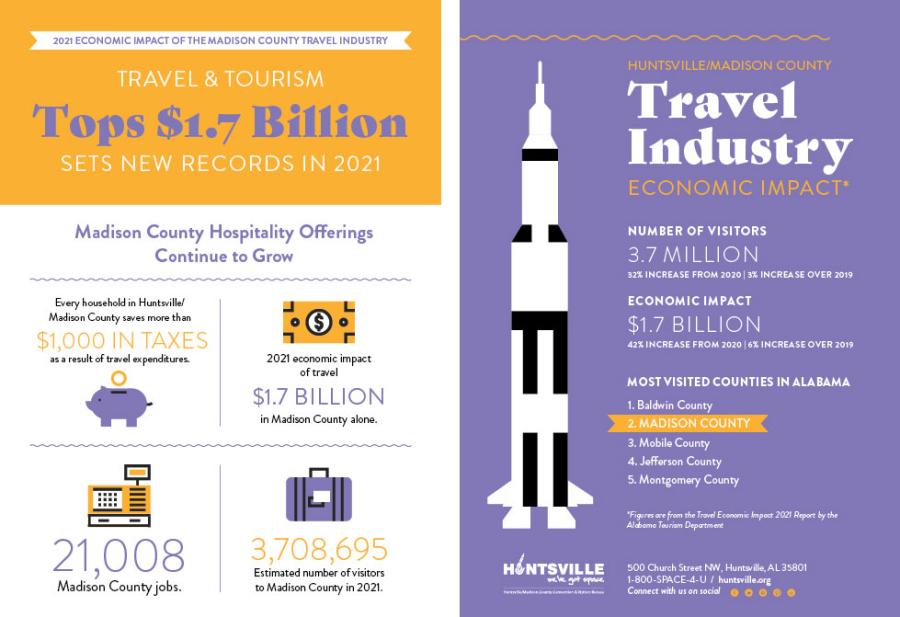 In the Alabama Tourism Industry Economic Impact Report 2021, just released by the Alabama Tourism Department, the estimated economic impact of visitors in Madison County exceeded $1.7 billion.  This figure represents a 42% increase over 2020, which was severely impacted by the global pandemic.  Even when compared to 2019, which was the previous record year, the 2021 economic impact figures are up by more than 6%. 
There's a similar trend for the number of visitors to Madison County.  The 3.7 million visitors in 2021 far exceeded the 2.8 million who visited in 2020.  The previous record for visitors was 3.6 million in 2019.  The number of visitors in 2021 increased by 32% over 2020 and bested 2019 by 3%. 
The number of jobs in travel and tourism Madison County in 2021 jumped to more than 21,000 after falling to less than 15,000 during 2020.  As a result of the visitor expenditures, every household in Madison County saved more than $1,000 in taxes in 2021, compared to $700 in 2020. 
Madison County was the second most visited county in Alabama in 2021, behind only Baldwin County, which includes the beachfront communities of Gulf Shores and Orange Beach.
"We're thrilled to see new visitor and economic impact records for Madison County," states Judy Ryals, President and CEO of the Huntsville/Madison County Convention & Visitors Bureau.  "The hospitality industry here is both strong and resilient, and we benefit from elected officials who understand the importance of our industry.  With the continuing growth of the community as well as the addition of world-class facilities like the Orion Amphitheater, I'm confident that we'll see the numbers continue to increase," says Ryals. 
For the full report from the Alabama Tourism Department visit 2022-Economic-Impact-Report-FINAL.pdf (alabama.gov)