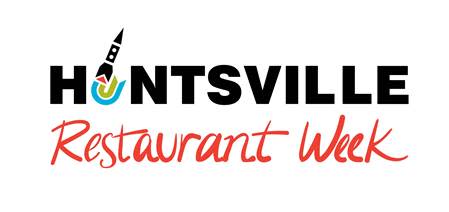 6th Annual Huntsville Restaurant Week happening August 11-20
Additions for 2017 include specialty craft brews; new locations
FOR IMMEDIATE RELEASE
August 1, 2017
(Huntsville, AL) – It's the sixth year for Huntsville Restaurant Week, a county-wide event that promotes locally owned and operated restaurants by encouraging patrons to explore the diverse dining scene of Madison County, and providing unique culinary events for both residents and visitors alike to enjoy. Today the Huntsville/Madison County Convention & Visitors Bureau (CVB), along with elected officials and representatives of the local hospitality industry, gathered at Table in the Garden to announce this year's participants and special events.
Mayor Battle showed appreciation for the diversity of Huntsville's culinary scene, adding, "Huntsville's gastronomic scene is growing with more chefs and greater variety. Restaurant Week provides the perfect opportunity to try out a new restaurant or an old favorite with the most delicious food bargains around."
60 local eateries are participating with special deals, making this one of the largest Huntsville Restaurant Weeks to date. Huntsville Restaurant Week is a part of the larger, statewide Alabama Restaurant Week which promotes the state of Alabama's unique culinary offerings by encouraging residents and visitors to get out and try local cuisine.
"As the coordinator of Huntsville Restaurant Week, it has been my pleasure to see this promotion grow over the six years to include such a variety of places, from Korean fusion to Italian, Persian to Thai, to Cajun and good old-fashioned Alabama barbecue. Restaurant Week serves to showcase the Madison County dining scene to visitors and to remind locals to try something new," said Pam Williams, Tourism Sales Manager for the CVB.
The theme of Huntsville Restaurant Week is "ten tasty days of deals," referencing the specially-priced menu options provided by participating restaurants as part of the event. Lunch specials include fixed-price selections at $10 or $15 featuring two courses. Dinner specials include selections at $10, $20, $30, and $40 with three courses.
Restaurants may choose to offer one or any combination of the above specials.
Exclusive to Huntsville Restaurant Week, a 'Bonus Bites' category is also featured to include those establishments that do not offer a traditional lunch or dinner but do offer breakfast, desserts, appetizers or small bites exclusively. 
For a list of participating restaurants and their specials, visit huntsville.org/restaurantweek.
Judy Ryals, President/CEO of the Huntsville/Madison County CVB, spoke to the importance of having a strong culinary community to a destination city.
"Exceptional, local and unique dining experiences are one of the top reasons people travel," Ryals said. "And we already know the great economic impact travel has on Madison County – bringing in $1.19
billion to our community in 2016. We have dozens of dining options reflecting different cuisine types and price ranges. From USA Today's proclaimed 'Best Southern Fine Dining' at Cotton Row to the food truck scene, we've got great selections for every palate."
New for this year, various Huntsville and Madison breweries will take part in Huntsville Restaurant Week, adding a refreshing addition to the traditional dining options offered.
Straight to Ale, Below the Radar, Green Bus Brewing, Old Black Bear, and Rocket Republic Brewing will be offering specialty Restaurant Week brews.
The specialty beer styles range from Belgian tripels, to sour ales, to an aptly named "Apollo Amber." Craft beer enthusiasts are encouraged to be on the lookout for the designated Huntsville Restaurant Week badge on the popular Untappd mobile app. Those who try at least two of the available Restaurant Week beers are eligible to unlock the badge.
Madison restaurants are also in on the action again this year, including LawLer's BBQ, Uncle Maddio's Pizza, and Mangia Italian Restaurant, to name a few.
Several events and online activities were announced as part of Huntsville Restaurant Week 2017 including:
10 Official Huntsville Restaurant Week Events
The Huntsville/Madison County CVB has partnered with local organizations and restaurants on the following official Huntsville Restaurant Week events.
August 7 – Rocket Chef Competition – Huntsville Restaurant Week Kick Off!
August 9 – Homegrown Huntsville's Dine & Dash
August 10 – Rocket Republic Apollo Amber Beer Release at Royal Rose Diner
August 10 & 17 – U.S. Space & Rocket Center's Biergarten
August 11 – Grille 29 Five Course Cocktail Pairing Dinner
August 11-20 – Huntsville Restaurant Week Social Media Contest
August 18 – Downtown Huntsville, Inc.'s Battle of the Food Truck All Stars
August 18 – Cyn Shea's Dinner & a Movie
August 19 – Cyn Shea's and Church Street Wine Shoppe's Wine & Dine
August 20 – Whiskey, Wine and Cigar Lunch at Nick's Ristorante
#DineHsv and WIN! August 11-20
The Huntsville/Madison County CVB will be hosting 10 days of giveaways. Simply tweet or post to social media using the official Restaurant Week hashtag #DineHsv with your favorite part of Huntsville Restaurant Week, what dish you most want to try, etc. Multiple winners will be chosen throughout the 10 days of Restaurant Week to win a gift certificate to participating restaurants.
Rocket City Food Bloggers Tour
July 28-30
New Orleans Lunchbox, Rocket City Tavern, Yoshi Sushi Fusion, Nick's Ristorante, and The Social at Athletic Club Alabama
Three of Huntsville's cuisine-savvy bloggers joined forces with Pam Wattenbarger of Chattanooga's Simply Southern Mom, Kaleigh Allen, based in Atlanta, of KK Travels & Eats, and Murfreesboro-based Tomiko Harvey of Passports & Grubs to come together for a dining tour of five participating Restaurant Week establishments. In efforts to promote Huntsville Restaurant Week to potential "foodie" visitors from out of market, the bloggers will publish their experiences in the Rocket City online and on social media to their respective followers.
Local bloggers on the Rocket City Food Blogger Tour include:
Bo Williams: RocketCityMom.com; BoWilliams.com
James Stovall and Stephanie East: GrubandLove.com
The CVB's own blog, iHeartHsv.com, will be featuring dedicated food and beverage content throughout the month of August. Snapchat users are also encouraged to use the event-branded geofilter in downtown Huntsville and other various locations.
For more information, contact Kristen Pepper, Marketing Manager at the Huntsville/Madison County CVB, at 256.551.2294 or by email at kristen@huntsville.org.
About Huntsville/Madison County CVB
The Huntsville/Madison County Convention & Visitors Bureau (CVB) is a non-profit 501(c)(6) organization which was developed in 1970 to create economic growth for Huntsville/Madison County by marketing the community as a top-of-mind convention and visitor destination. As the official city/county agency which promotes the area as a tourist destination and convention site, the CVB works with an array of hospitality industry partners to market our destination to visitors of all types. 
###