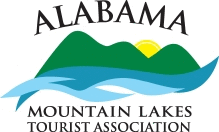 FOR IMMEDIATE RELEASE
CONTACT: Alabama Mountain Lakes Tourist Association
PHONE: 256.350.3500 / 800.648.5381
EMAIL: info@northalabama.org
AMLA Announces 2017-19 Executive Committee
Decatur, Ala. (October 2, 2017) – The Alabama Mountain Lakes Tourist Association (AMLA) announced at the association's annual meeting, held at Huntsville Botanical Garden in Huntsville, Ala. on September 21, 2017, the election of a new Chairman of the Board and executive committee. Hugh A. Stump III, executive director of the Greater Gadsden Area Tourism, will preside over the 58-member, volunteer Board of Directors for a 24-month term.
Stump began his career as a musician, leading several music groups around the U.S. After 10 years onstage, he moved offstage into the entertainment management side of the business. After stints in Memphis and Oxford where he led the efforts to create the Oxford CVB, he was hired in September of 2009 by the Etowah County Tourism Board in Gadsden to create a new tourism program. He has been certified as a Conference Center Manager by the Cornell University School of Hotel Management, a Mississippi Tourism Professional by the Mississippi Tourism Association and as a Special Events and Festival Planner and a Travel Marketing Professional by the Southeast Tourism Society.
The following positions were also elected to the Board of Directors during the Annual Meeting:
Chairman of the Board           Hugh A Stump, III     Greater Gadsden Area Tourism
Incoming Chair                       Katy Norton                Marshall County CVB
Secretary                                 Melinda Dunn             Decatur/Morgan County CVB
Treasurer                                 Sandy Thompson        Alabama Veterans Museum
Past Chair                                Thereasa Hulgan         Cherokee County Chamber of Commerce     
Additional members serving on the Executive Committee include:
Phil Segraves                           City of Guin
Donny Wilson                         Evelyn Burrow Museum
Tim Haney                              Alabama State Park System
Jennifer Moore                        Huntsville/Madison County CVB
For more information, call AMLA at 256.350.3500.
About Alabama Mountain Lakes Tourist Association (AMLA)
AMLA is a nonprofit organization dedicated to the promotion and development of the travel industry within the 16 northernmost counties of the state. It is supported by 500-plus members consisting of chambers of commerce, Convention & Visitors Bureaus, attractions, campgrounds, festivals, communities, counties, golf courses, restaurants, tour operators, accommodations, vendors, financial institutions and individuals. Counties included within the AMLA region are Blount, Cherokee, Colbert, Cullman, DeKalb, Etowah, Franklin, Jackson, Lauderdale, Lawrence, Limestone, Madison, Marion, Marshall, Morgan and Winston. Additional information on North Alabama destinations, accommodations and special events is available by calling 800.648.5381 or by visiting www.NorthAlabama.org. Follow us on Twitter and Instagram @VisitNorthAL and like us at www.facebook.com/VisitNorthAL. 
###