Von Braun Center • 700 Monroe Street, Suite 2 • Huntsville, AL 35801
(256) 519-2787 (ARTS) • www.artshuntsville.org
News Release
For immediate release:                                                         
Monday, April 17, 2017         
For more information, contact:                                           
Daniela Perallon, 256.519.2787
Get a Taste of Panoply with Straight to Ale's Exclusive "Honeysuckle Blue" Panoply Craft Beer
-Currently being served at six Huntsville restaurants and Straight to Ale-
Huntsville, AL - Arts Huntsville has partnered with Straight to Ale to bring a taste of Panoply to the public ahead of the festival, held April 28th – 30th. Straight to Ale's Honeysuckle Blue American Wheat Ale was exclusively brewed in celebration of Panoply Arts Festival and will be served at local restaurants ahead of the festival and at Panoply's Craft Beer tent, which will feature a variety of local and regional craft beers.
"We have long recognized craft brewing as an art form in and of itself and are excited to continue to showcase this craft in a new way at Panoply," said Allison Dillon-Jauken, executive director of Arts Huntsville. "We can't wait for the community to enjoy this delicious honey-blueberry wheat beer at the festival!"
Honeysuckle Blue is a summertime ale made with two row and specialty malts, honey, and blueberries. It is currently being served at: 1892 East, Church Street Wine Shoppe, Old Towne Beer Exchange, Pane E Vino, Pints & Pixels, and Sam & Greg's.
"Straight To Ale is incredibly proud to be a part of Panoply - Huntsville's long running arts festival. Having been fans of the event since the 80's, we are honored that our Honeysuckle Blue American Wheat Ale is an official beer of Panoply," said Dan Perry, founder and owner of Straight to Ale. "We are proud to showcase this beer in and around Panoply this year, and look forward to many more years of working with the Arts Huntsville team."
For more information about this year's Panoply headliners and highlights, please visit artshuntsville.org and follow Arts Huntsville on Facebook, Twitter, and Instagram. Tickets are on sale now with day passes available in advance or at the gate for $10, weekend passes available in advance for $18. Kids 12 and under get in free.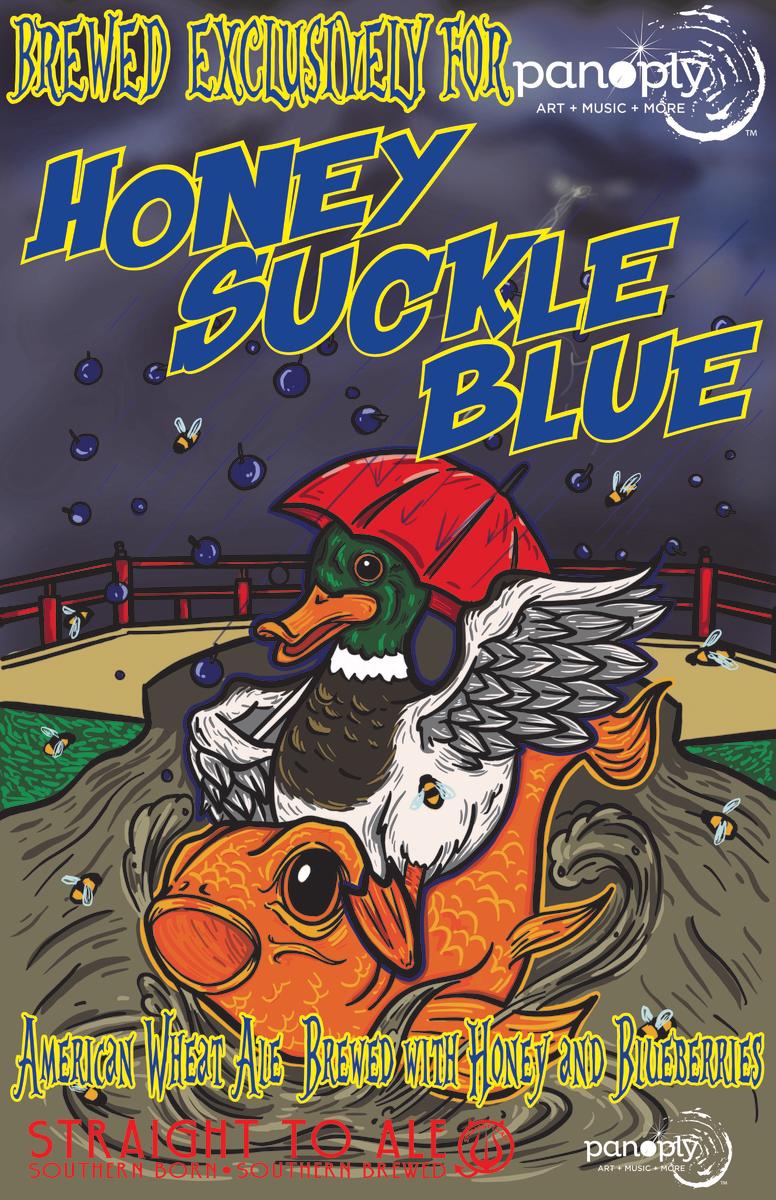 Arts Huntsville is a non-profit organization founded in 1962 to stimulate and support community creativity and engagement by advancing the arts, entertainment and culture to enrich quality of life, education, and economic development in the greater Huntsville metropolitan region. With nearly 250 member arts organizations, individual artists, arts patrons, and other arts-minded non-profits, companies, and technical and professional organizations, Arts Huntsville focuses on four core program areas while serving as the service organization for area arts groups and individual artists, providing them with resources and tools to ensure their success.