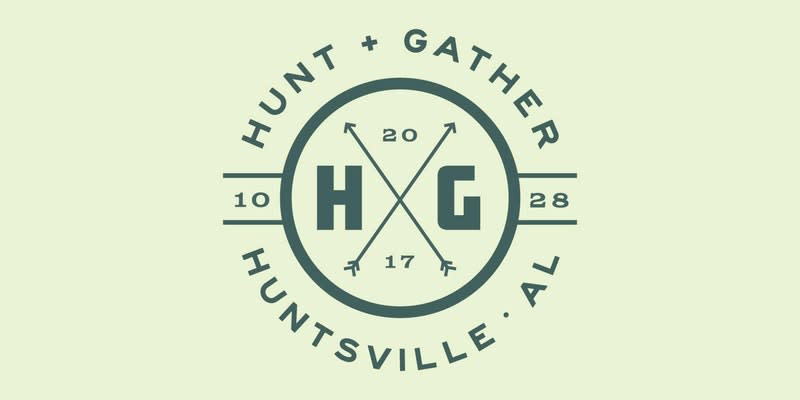 Hunt + Gather
Curator, Abby Owen
huntgather.hsv@gmail.com
Phone: (256) 627-8850
FOR IMMEDIATE RELEASE
HUNT + GATHER ARTISAN AND MAKERS MARKET TO DEBUT IN DOWNTOWN HUNTSVILLE
An all-new makers market showcasing North Alabama & Tennessee Valley creative talent, followed by a block party-style event.
HUNTSVILLE, Ala. – Aug. 22, 2017 – Downtown Huntsville Inc. in collaboration with event curator Abby Owen is proud to announce the first-ever Hunt + Gather Artisan and Makers Market event that will take place in downtown Huntsville on Oct. 28, 2017.
Inspired by similar curated artisan and makers events in larger markets, Hunt + Gather will feature local makers, showcasing their merchandise throughout the day within a modern block party atmosphere. The event will bring together some of North Alabama's and the Tennessee Valley's most unique makers in a wide variety of categories including food and drink, fashion, home décor, pet products, skincare, vintage collectables, and more.
"The 'maker movement' has been rapidly growing over the past few years," said Abby Owen, curator of Hunt + Gather. "Events like this give artisans a chance to highlight their small business and unique creative talent. We're so fortunate to have such an incredible variety of talented makers in our area. Our community is very supportive when it comes to local talent, and there are so many vendors that we look forward to sharing with everyone!"
"After spending the last several years traveling out of town and state to attend various curated makers markets, I began to wonder why Huntsville didn't have a similar event," said Owen. "After speaking with Chad Emerson of Downtown Huntsville, Inc., we decided to work together to create it. We encourage everyone to come and enjoy the party, discover new small businesses, and celebrate the artisan and makers we have in North Alabama."
The event will take place in the former drive-thru at the Regions Bank building at the corner of Spragins Street and Holmes Avenue, with public shopping hours from 10 a.m. to 6 p.m. A VIP shopping hour will be held from 9 a.m. to 10 a.m. Passes for this hour of private shopping are available for purchase on Eventbrite and are available on a first-come-first-serve basis. The after party, to include live bands and food trucks, will be held in the adjacent streets, from 6 p.m. to 9 p.m, and is also free to attend. This event is presented by Regions Bank, with support from Historic Huntsville Foundation.
Hunt + Gather is currently accepting vendor applications. To apply, email huntgather.HSV@gmail.com. Follow Hunt + Gather on its official Facebook Page for updates on vendors, entertainment, and more at @huntgatherevent.
For more information on the news of this release, contact Event Curator Abby Owen at huntgather.HSV@gmail.com.
###