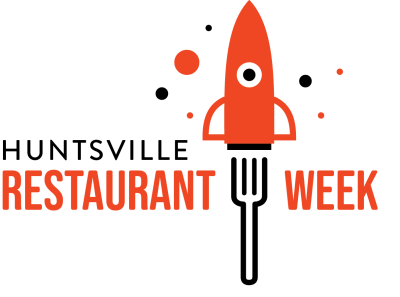 Huntsville Restaurant Week returns for ninth year, August 13-22
August 10, 2021
(Huntsville, AL) – Following a year of quiet dining rooms and an ever-evolving travel and tourism landscape, the Huntsville/Madison County Convention & Visitors Bureau (CVB) is ready to "savor the moment of coming together again" with the return of Huntsville Restaurant Week, a county-wide initiative that highlights the Rocket City's diverse culinary scene by promoting locally owned and operated restaurants, food trucks, breweries, and more. Happening August 13-22, this year serves as the 9th annual celebration of all things food and beverage. Over 60 local eateries are participating this year with unique menu items and special offerings.
Judy Ryals, President/CEO of the CVB, said, "Just as we have world class museums, outdoor recreation, arts, and more, Huntsville also has a world class dining scene. Our local restaurants are a part of our identity as a premier travel destination, and Restaurant Week is just as much of a celebration for our restaurants as it is for visitors and locals. We've witnessed the incredible tenacity and hard work our restauranteurs have shown over this past year, and this campaign is one way of expressing our appreciation for them."
This year, the CVB is extending the celebrations past the ten days of Restaurant Week, with special events taking place throughout August. Highlighted events include the WhistleStop BBQ Festival, Craft Beer Trail Fest, cooking and sushi classes, plus a job fair hosted in partnership with the Alabama Restaurant and Hospitality Association, happening August 24 at the Von Braun Center.
"Last year the support was overwhelming for our restaurants," said Pam Williams, who spearheads Huntsville Restaurant Week for the CVB. "People realized how crucial our local dining scene is to our community – to the economy, to our quality of life. Restaurants still need our support to recover, so this year workforce development will be part of the focus, because our culinary scene can provide more than enjoyable experiences - it can also provide a rewarding career path. We encourage everyone to make it a "Culinary Month" by attending any of the special events happening throughout all of August, dine in, get delivery, order take-out – there are so many opportunities to support local this year." 
As part of the precautions for COVID-19, the CVB is encouraging alternative ways for both residents and visitors alike to support Huntsville Restaurant Week, primarily by partnering with local delivery services Rocket City Delivered and GrubSouth, which are both waiving the standard delivery fee for participating restaurants using the code HRW2021. Patrons will be able to choose from the variety of participating Restaurant Week establishments that currently offer delivery through either or both of the two services.
Despite the pandemic, diners can expect to see several first-time participants on the list for 2021. BeeZr Gastropub, Bubby's Diner, Oscar Moon's, Grille on Main, and Frankie's Crab Shack are just a few of the newcomers to Restaurant Week.
#DineHsv and WIN! August 13-22
As a bonus feature of Restaurant Week, the Huntsville/Madison County CVB will be hosting ten days of giveaways through social media. Simply tweet or post to Facebook or Instagram using the official Restaurant Week hashtag #DineHsv with your best "foodie" photos, what dish you most want to try, etc. A winner will be chosen each day throughout the ten days of Restaurant Week to win restaurant gift cards and CVB prizes.                                                                   
The CVB's own #iHeartHsv blog will be featuring dedicated food and beverage content throughout the month of August.
To view the full list of participating Huntsville Restaurant Week venues, visit the CVB's website at www.huntsville.org/restaurantweek.
For more information, contact Kristen Pepper, Director of Marketing for the Huntsville/Madison County CVB, at 256.551.2294 or by email at kristen@huntsville.org.
###