New arena will crown the state junior college basketball champions in March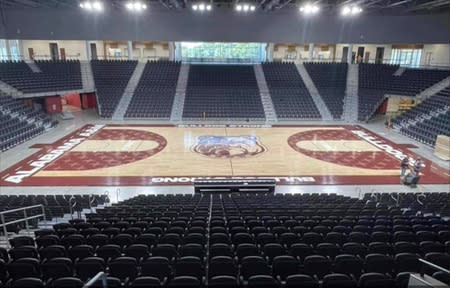 Photo: ACCC Athletics 
        The freshly finished Alabama A&M University Event Center has been selected to host the 2023 Alabama Community College Conference men's and women's basketball championships – bringing the top eight teams in the state to battle for a spot in the National Junior College Athletic Association championships.
            Thanks to a partnership with A&M, Huntsville/Madison County Convention & Visitors Bureau, Huntsville Sports Commission, and the City of Huntsville, the ACCC will hold its annual championship in a neutral site for the first time.
            "The new Event Center at Alabama A&M is a tremendous asset for their university and our community," said Huntsville Mayor Tommy Battle.  "We look forward to this being the first of many events in the venue that will make an economic impact throughout our community and our partners at A&M as they continue to build championship athletic programs." 
            The championships are set for March 7-10, starting with four men's quarterfinals on Tuesday, with four women's quarterfinals on Wednesday.  The semifinals for both men and women are set for Thursday, with the championship games on Friday evening.
            "Thanks to the efforts of everyone in Huntsville, we are excited to bring our men's and women's basketball championships to the Alabama A&M Event Center," said Dean Myrick, Commissioner of the ACCC.  "This is a great opportunity for our student-athletes to play in a top-notch venue that will elevate our championship experience to new heights."
            For Alabama A&M, the championships are an opportunity to introduce the University and basketball programs to the top junior college prospects in the state of Alabama.
            "We are proud to be a partner in hosting the ACCC championships at the Event Center," said Dr. Paul Bryant, AAMU Director of Athletics.  "This new facility continues to open doors for our institution and builds on our programs' momentum as we welcome the student-athletes from across the state to compete for the championship."
            Visit the ACCC website to purchase tickets and get more information about the championships at Alabama Community College Conference (acccathletics.com).