Kayak Bass Fishing to launch new headquarters at Ditto Landing | Huntsville to host the KBF National Championship three times in the next ten years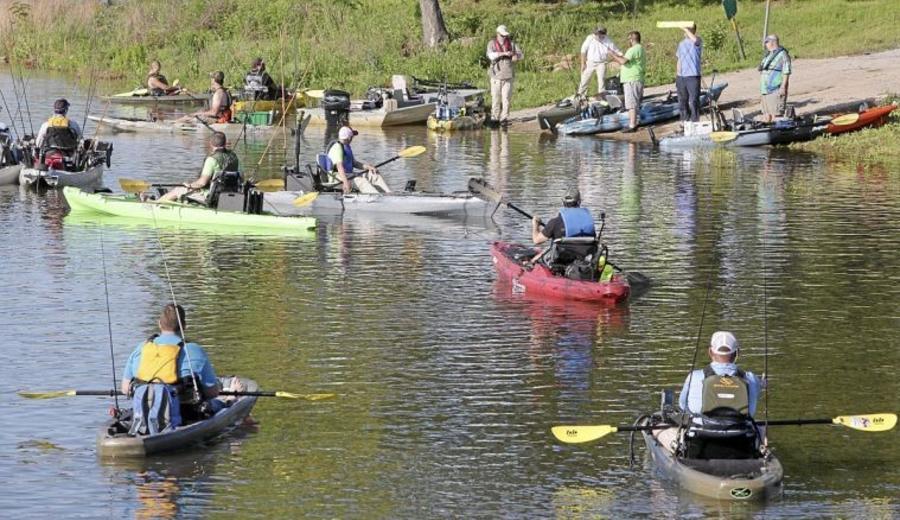 FOR IMMEDIATE RELEASE
September 14, 2022
HUNTSVILLE, AL – One of the fastest-growing sports in the country is partnering with one of the fastest-growing cities as Kayak Bass Fishing (KBF) announced the creation of a headquarters facility at Ditto Landing that will serve as a hub for the sport as it continues to grow.
"We are pleased to welcome Kayak Bass Fishing to Huntsville and excited to have their headquarters at Ditto Landing," said Huntsville Mayor Tommy Battle. "As our city continues to grow, adding companies like Kayak Bass Fishing not only improves our quality of life but introduces Huntsville to a new market of people who might not otherwise know we're the best city in the U.S. to live."
Founded in 2009, Kayak Bass Fishing has grown in stature - bringing thousands of anglers into the sport by hosting competitors from Mexico, Canada, and nearly every American state. Additionally, KBF organized the first-ever kayak bass fishing national championship in 2016 and co-hosted the first-ever kayak fishing tournament with a national boat series in 2019.
"With a perfect location on the Tennessee River and the support of everyone in Huntsville, we are excited to create a headquarters facility that will help foster the growth of Kayak Bass Fishing," said Kristie Hoover, President of Kayak Bass Fishing.  "When we first discussed this idea, north Alabama was an ideal area for us to start, and the partnership with Ditto Landing and its location on the river made this an easy decision."
On top of bringing their headquarters to Ditto Landing, KBF will be bringing their national championship to Huntsville in 2023, 2025, and 2031 as well as one of their annual tour events to the headquarters.  Each national championship will have more than 650 anglers competing for a week to claim the top prize, bringing in an estimated economic impact of $3.5 million.  The venue is expected to generate more than $16 million in economic impact through the total events scheduled over the next ten years.
"This is a tremendous partnership that not only brings major events to our area, but it helps market Huntsville and Ditto Landing as one of the top outdoor destinations in the country," said Judy Ryals, President and CEO of the Huntsville/Madison County Convention & Visitors Bureau. "With the visibility in their television package and ever-growing follower counts on social media, bringing their headquarters and events to Huntsville is a big win for our community."
Bringing the headquarters to Ditto Landing continues the efforts to improve the facility as one of the premier outdoor recreation areas in the Southeast.  Earlier this year, the facility added to its camping options with a new fully-equipped RV park for more than 30 vehicles. Kayak Bass Fishing is a new addition to their master plan that is being implemented over the next decade.
"Bringing the team at Kayak Bass Fishing and their national championships to Ditto Landing opens new opportunities at the facility," said Brain Quick, Executive Director of Ditto Landing.  "This partnership will help push Ditto Landing even more in the consciousness of the fishing world, especially having the honor of hosting the national championships three times in the future."
The headquarters will be housed in the East Harbor of Ditto Landing and will be undergoing renovations.  Upon completion, the facility will house the production studio, host seminars, and be the hub for their activities for FishOPS – a non-profit charity focused on supporting Veteran's Advocacy, Public Servant, and First Responder organizations.
"Having a partnership like this with Huntsville and Ditto Landing will help us further the impact of Kayak Bass Fishing through FishOPS for our military veterans," said Chad Hoover, the founder of Kayak Bass Fishing and the lead presenter of its broadcasts.  "To have a venue like this to be our home as we continue to build the following and participation in Kayak Bass Fishing allows us to do some amazing things in the future."
For more information, contact CVB Executive Vice President Charles Winters at (256) 551-2235 or via email at cwinters@huntsville.org.
###
The Huntsville/Madison County Convention & Visitors Bureau (CVB) is a non-profit 501(c)(6) organization that was developed in 1970 to create economic growth by marketing the community as a top-of-mind convention and visitor destination. As the official city/county agency which promotes the area as a tourist destination and convention site, the CVB works with an array of hospitality industry partners to market our destination to visitors of all types.