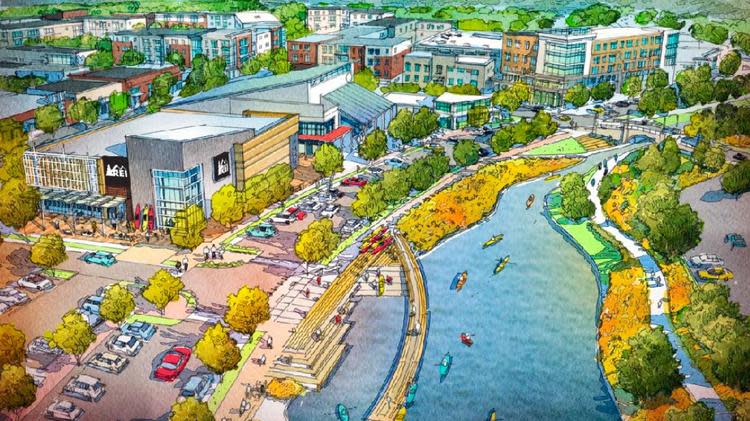 HUNTSVILLE, ALA. — RCP Companies, an Alabama-based real estate firm, announces the next wave of concepts at MidCity District​, the $850 million mixed-use destination being developed at the intersection of two of Huntsville's primary commercial corridors – University Drive and Research Park Boulevard.  First-to-Alabama concepts Kung Fu Tea and Color Me Mine represent two national concepts, and Kamado Ramen will open its second Huntsville location joining the retailer line-up at MidCity in the front-facing five-unit retail strip adjacent to REI Co-op on Mid City Drive.
Construction is under way for the first-to-state Kung Fu Tea and the local favorite Kamado Ramen. The shared suite is located on the opposite end of the strip from Wahlburgers, across Mid City Drive from REI Co-op and High Point Climbing & Fitness. Bubble tea shops have become part of the tapestry in many North American cities, particularly those with large Asian populations, such as Los Angeles, New York City, San Francisco and Toronto. As the go-to bubble tea brand in the beverage industry with 250+ domestic and international locations, the first Kung Fu Tea shop in Alabama is planned to open at MidCity in Summer 2020.
"They are the brand that is currently communicating the 'culture' — in their word — of bubble tea," Aimee Harvey, managing editor for Foodservice consulting company Technomic, said of Kung Fu Tea in an article by ICSC. The chain's U.S. sales rose by 59 percent in 2018, she notes. "They're differentiating themselves by speaking directly to the Gen-Z consumer, by making bubble tea cool, with lots of different flavors, limited-time offers, promos tied to gaming and rewards linked to social media."
In the same space, Jim Xue, local restauranteur and operator, will also open the second location for Kamado Ramen, Huntsville's authentic Japanese ramen restaurant. Ramen is a trendy and widely available culinary concept, two factors that make it an ideal option for foodies. With options ranging from spicy to vegan, and kale noodles to broth-less, the soup bowls at Kamado are made by hand with careful attention to ingredients and preparation, seasoned using a minimum of salt.
"Ramen is a culinary staple that Huntsville was craving and missing out on," Xue said. "The initial response from our first Kamado Ramen location has been incredible," Xue said, "We are looking forward to the accessibility and expansion of space at our second shop at MidCity to meet the demand from our amazing customers and those who have not tried our traditional ramen yet. The combination of ramen and bubble tea together will be a complimentary foodie experience."
 Another first-to-Alabama concept, Color Me Mine is the leader in contemporary ceramics and the industry's only international chain, with over 140+ studios offering a relaxing environment where customers can create lasting memories from their customized paint-it-yourself ceramics. Currently under construction at MidCity, Customers will enjoy the upscale art-as-entertainment service at the 1,000 square-foot studio as they choose one of 400 unfinished pieces and spend an hour or two painting it to express their own vision. Ceramic pieces are left to be glazed and fired, then picked up when finished.
 "The mission statement of Color Me Mine is to make the unique and creative experience of ceramic painting accessible, affordable, worthwhile and fun for everyone," says Angela McGhee, owner of Color Me Mine Huntsville, "We plan to incorporate this mission into the Huntsville branch and bring this unique experience to the community."
 Kamado Ramen, Kung Fu Tea, and Color Me Mine plan to open by Summer 2020 along with Wahlburgers. The new local and national concepts will be joining REI Co-op, Dave and Buster's, Topgolf, High Point Climbing & Fitness, The Camp, Touchstar Luxury Cinemas, Indigo Hotel, Aloft Hotel, and more to be announced soon in establishing the entertainment and active lifestyle offerings envisioned for MidCity District.
CONTACT: 
Kamado Ramen / Kung Fu Tea: Jim Xue
256-679-6656, jimxue30@gmail.com
Color Me Mine: Angela McGhee
RCP: Nadia Niakossary
256-348-6609, nadia@rcpcompanies.com
About MidCity District
Recently cited as one of the 12 largest commercial real estate projects in the nation, MidCity District is a nationally acclaimed mixed-use district located in the heart of the Tennessee Valley's high-tech employment center and at the epicenter of the 13-County regional trade area with more than a 1.1 million population. Private investment at MidCity District is estimated to exceed $850 Million over the next 5 years. Once complete, the development will include 350,000 square feet of retail, dining, and entertainment space; approximately 400,000 square feet of high-tech office space; 1,400 residential units; and approximately 650 hotel rooms. Building on the reputation of the City, it will create a new destination designed to be a social and economic focal point for the diverse and dynamic community, as well as a tool for recruitment and retainment of the younger workforce. More information available at www.midcitydistrict.com.
About RCP Companies
RCP Companies is an Alabama-based real estate firm that provides acquisition, development and asset management services. RCP is dedicated to creating vibrant and creative public spaces that are carefully conceived to inspire social interaction and memorable experiences – well built, culture-forward environments where people want to live, learn, work, play and stay. As a developer of innovative places, RCP focuses on community empowerment and improved quality of life for the residents, visitors and surrounding neighborhoods. The company is currently master developing projects totaling more than $900 million.  More information available at www.rcpcompanies.com.
#  #  #