Concerts in the Park begin in Big Spring Park starting June 6. Awarded the 'Downtown Event of the Year" Concerts in the Park is a free Huntsville tradition, hosted by Arts Huntsville and Huntsville Parks & Recreation, bringing live, local music to the area in the park just behind the Huntsville Museum of Art every Monday night for 10 weeks.
It's an extension of the weekend, a banisher of Sunday scaries, and just a fun way to spend a Monday night in the summer.
The Concerts will take place in downtown Huntsville on the Huntsville Museum of Art outdoor stage in Big Spring International Park from 6:30 – 8:30 p.m. The series is FREE to the public; concertgoers should bring their own seating and leashed pets are welcome.
Know Before you Go: Concerts in the Park
Whether you're a local looking to expand your entertainment horizons, a family on vacation, or here on a business trip, Concerts in the Park provides a laid-back way to enjoy a warm summer evening in the heart of Huntsville.
Here are a few things you need to know to plan your visit to Concerts in the Park: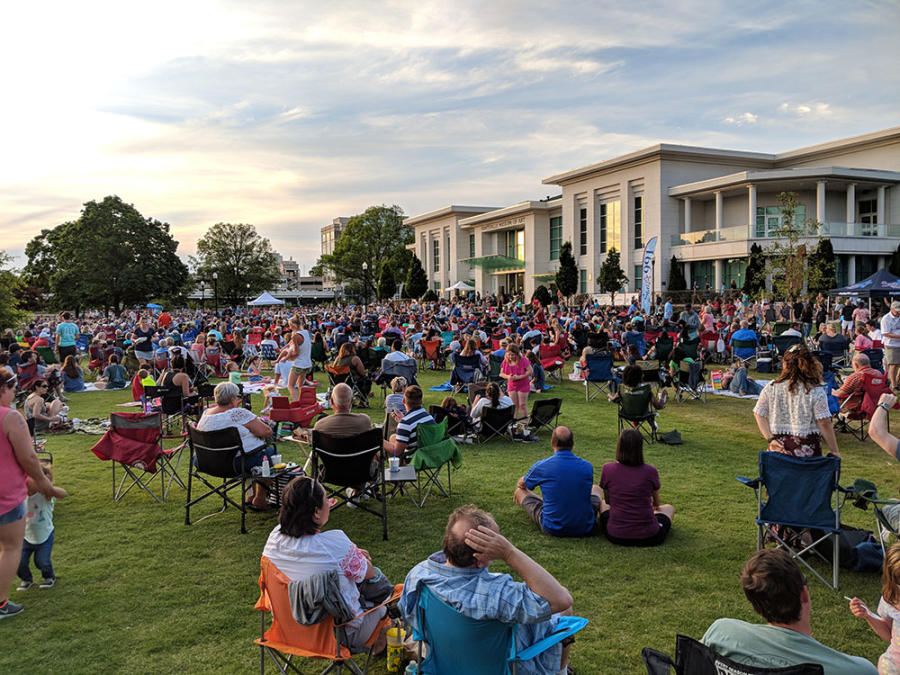 It's a Showcase of Huntsville's Local Music Scene
Concerts in the Park features several different bands over 10 weeks throughout the summer ending on August 1. The series showcases local music talent in a mix of genres from rock, folk and country to Latin, dance, R&B, and today's hits. Arts Huntsville and the Parks and Recreation Department post updates every week on Arts Huntsville's Facebook page.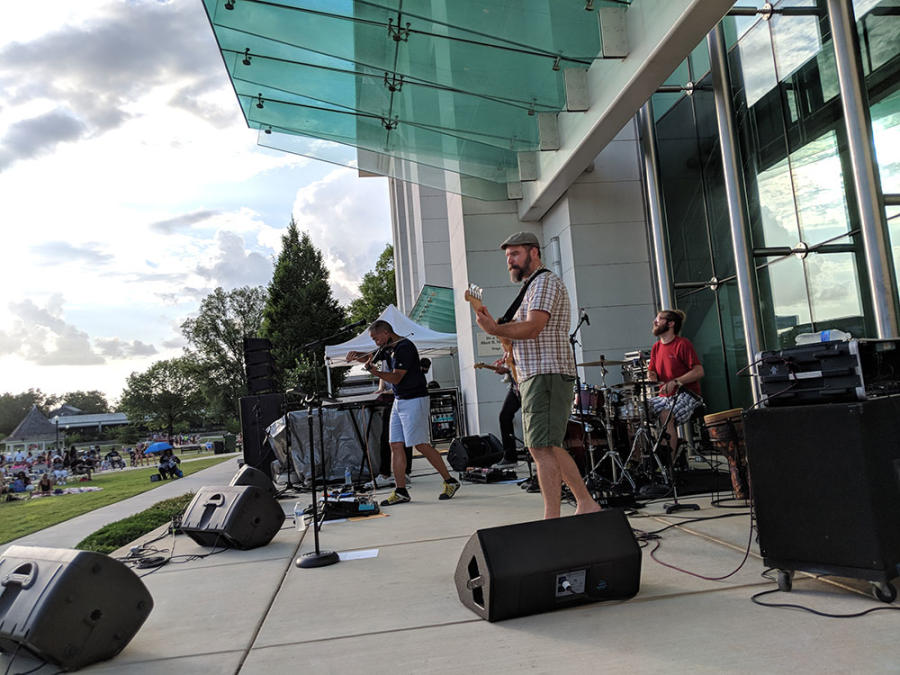 The 2022 Concerts in the Park lineup is as follows:
June 6 -  Jazz McKenzie / JUICE
June 13 - Common Man / Remy Neal & The Moon Band
June 20 - April Pendergrass / The Bubbanauts
June 27- Armed Forces Week Celebration - Maneuver Center of Excellence Band (MCoE) of Fort Benning                       
July 4 - Peruvian Coin / JED Eye
July 11- Rocket City Jazz Band Orchestra / Midlife Chrysler
July 18 - Them Damn Dogs / Karmessa
July 25 - Gypsy Soul / Poor Rover
August 1 - Mil Music Entertainment / Unique Live Band
August 8 - Weather Make-Up Date
What to Bring:
Concerts in the Park take place in Big Spring Park. You are encouraged to bring a blanket, chair, or even your own picnic table to enjoy your food. There is plenty of space to spread out on the lawn behind the Huntsville Museum of Art. 
Tasty treats from Food Trucks
There are plenty of food and treats to be enjoyed. Food trucks will be along Williams Avenue and Church Street. The menus will be everything from plant-based Southern comfort foods to all-beef hotdogs and lemonade. The menus include Filipino street foods from Flippin Filipino, all-beef hotdogs and treats from Golden Years Ice Cream Parlor & Diner, flavorful shaved ice from Iceworks, gourmet macaroni and cheese from Mac & Snacks, award-winning yummy goodness from New South Hot Dog & Sushi, delicious BBQ from O Taste & See BBQ, specialty iced teas from Piper & Leaf Tea Company, handmade fruit popsicles from Suzy's Pops, tasty tamales from Teresita's Tamales and gourmet popcorn and lemonade from Yum Yum's Gourmet Popcorn & Lemonade Stand.
It's Free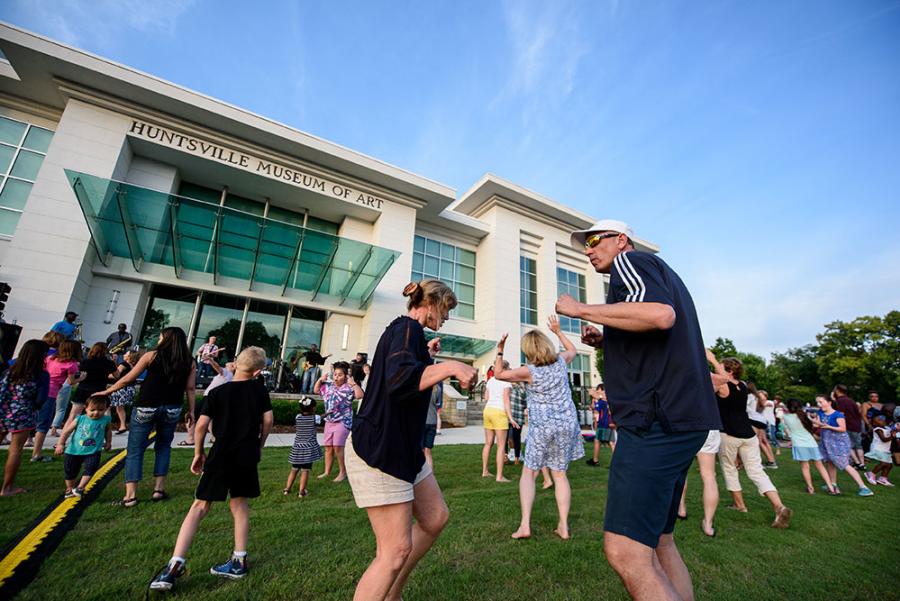 Budget conscious? Concerts in the Park is totally free. Hopefully soon you will be able to grab that picnic from home and enjoy a night of free, live, local entertainment that truly captures the spirit of Huntsville.
What are you waiting for? Enjoy Concerts in the Park, 6:30pm -8:00pm. Follow along to get updates on each week's concert at Facebook.
Photo Credits: Jeff White Photography