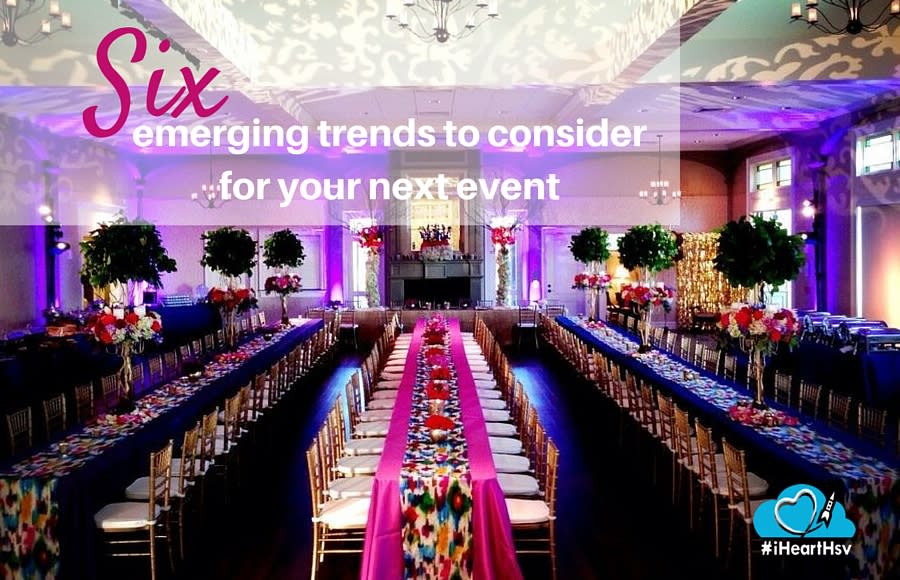 When my husband and I were married, way back and what seems like forever ago in 1994, weddings were generally planned utilizing a pretty basic equation. They might vary in only the slightest of ways - color of bridesmaid dresses (all of mine were able to be worn again, I swear), type of flowers, possibly the style of tuxedo or you could be a true rebel and go for a floral cake-topper as opposed to those adorable little figurines.
These days weddings, well, all events for that matter, can be as unique as the individuals who plan them.
I recently got together with Huntsville lighting and events guru, Steve Metz of Metropolitan Disc Jockey / Special Event Lighting to find out what's next for the event industry when it comes to event décor and what meeting planners, event coordinators, and, of course, brides, should be on the look out for. Having worked over a thousand clients with well over 100,000 guests, Metropolitan DJ is well known throughout the professional event community as a top-rated service for providing impressive and memorable events. So, here we go. Here are 6 emerging trends to consider for your next event, courtesy of Steve.
Steve and I met up at his client consultation showroom, a joint project of wedding and event vendors, called Belle Faire in Hampton Cove. (Side note: super cool concept, you should check it out some time) Just as I said at the beginning, I asked him a single question, "Where is it all going?"
1. Industrial Chic
This style has a throwback feel but with a more modern and edgy elegance. Think hanging Edison bulbs and chrome against hand-hewn wood floors and big, industrial factory windows. You can even pull this look off outdoors with the up-lighting of trees and the exterior architecture.
Photo credit: Aliexpress.com
 2. Farm Table or Family Style Seating
Modern American Families come in all shapes and sizes and rarely is it easy to divide up everyone you know into tidy little groups of 8 or 10. These days, it's all about the cluster seating and there are no rules. You can seat everyone you know at one giant table stretching to forever or divide them into smaller table communities that make your guests the most comfortable. Plus, it also looks cool and is an expression of your own individuality.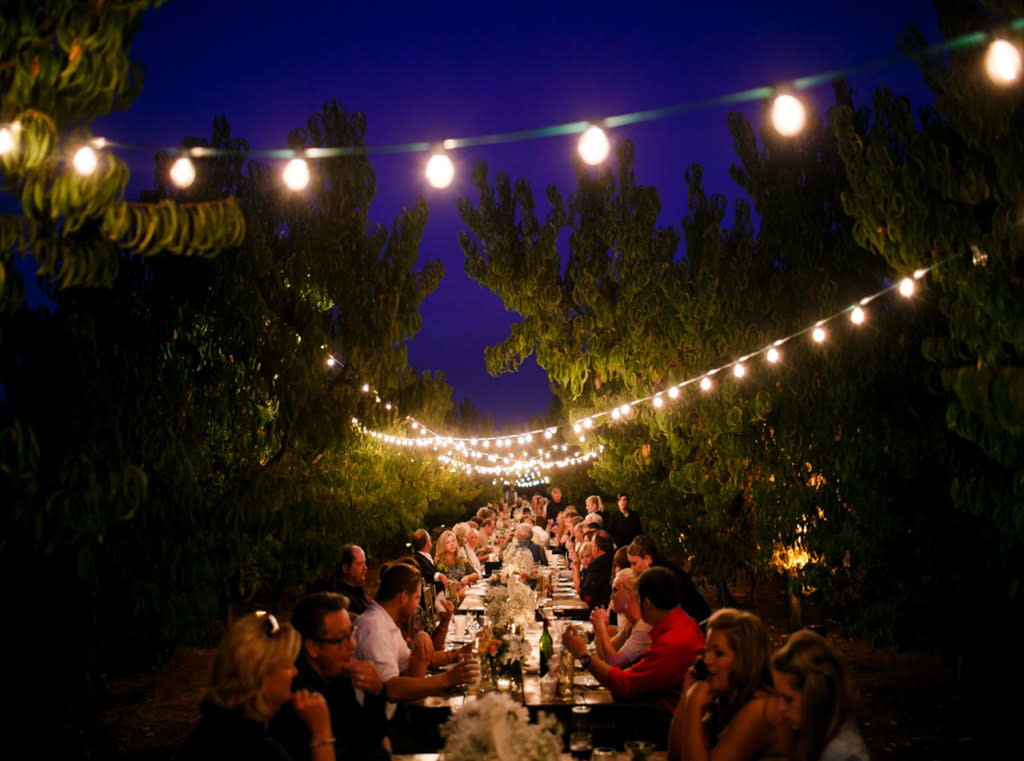 Photo courtesy of Metropolitan Disc Jockey / Special Event Lighting
3. Retro Romance – Think Pastels!
When Metropolitan first began providing special event lighting it was all about the bright colors; hot pinks, electric blues and grassy greens. Over the last year or so folks have taken a step back from the brightest-of-bright and opted for more neutral lighting; whites, yellows and ambers. Next up? Steve believes that events will take on an even softer feel by trending more toward the romantic appeal of pastels.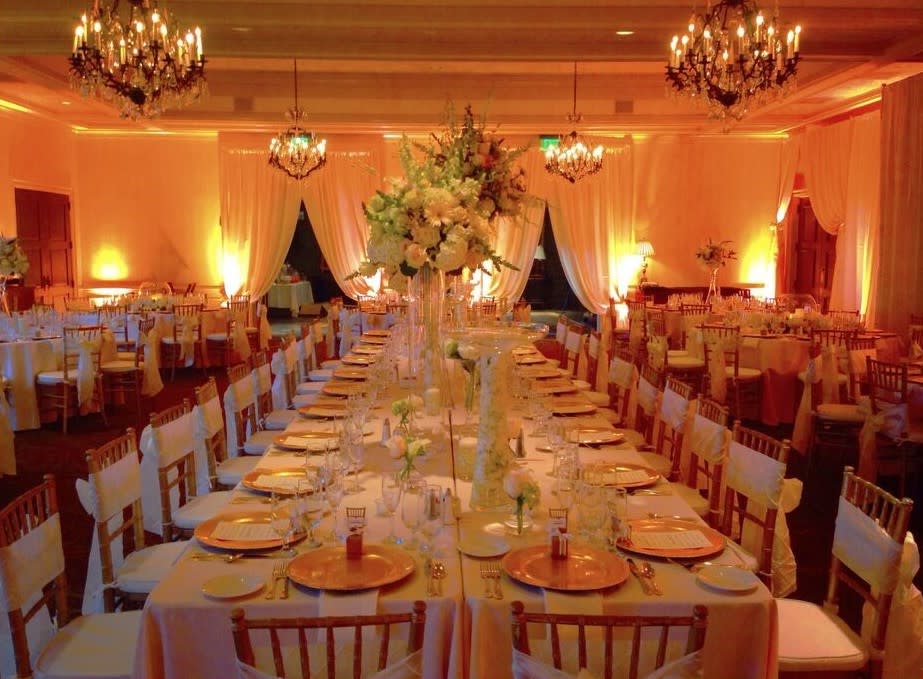 Photo courtesy of Metropolitan Disc Jockey / Special Event Lighting
4. #Technology
If you've attended a wedding or meeting over the last year or so, that event almost certainly had a website and more often than not, it had a hashtag too. You may have even seen a life-size Instagram frame or two. Truth is what was once a disposable camera at ever seat is now "crowd-sourcing visual content" for your event. Business meetings, conventions and even the occasional wedding will even throw those collected moments up onto a screen so that folks can see their handy work live and encourage others to follow along.
5. Experiential Moments
These days it's not enough to simply feed, water and provide a little music for your guests. You have to "WOW!" them. Your guests expect to see something they've never seen, do something they've never done before and maybe even learn a thing or two. Guests don't want to be spectators, they want to be included and Huntsville has a ton of amazing options in this area. Screen print your own t-shirts with Green Pea Press, serve up your favorite local teas from Piper & Leaf in your own branded take-home jars, Heck! your guests can even crowd around an artist who will paint your reception while it's happening.
 6. Think Outside Four Walls
Up-lighting. Check. Table linens. Check. Floral Centerpieces. Check. Now what? Well, you name it! Steve says that they are seeing every kind of "thinking outside the box" décor that you can imagine. Ceiling projections, exterior lighting, aqua lights that can light up an empty fountain to make it appear to have running water, fire lights that can transform a flat boring wall with flickering flames, they can even make it so your first dance is among the clouds creating a cool fog that clings to the floor.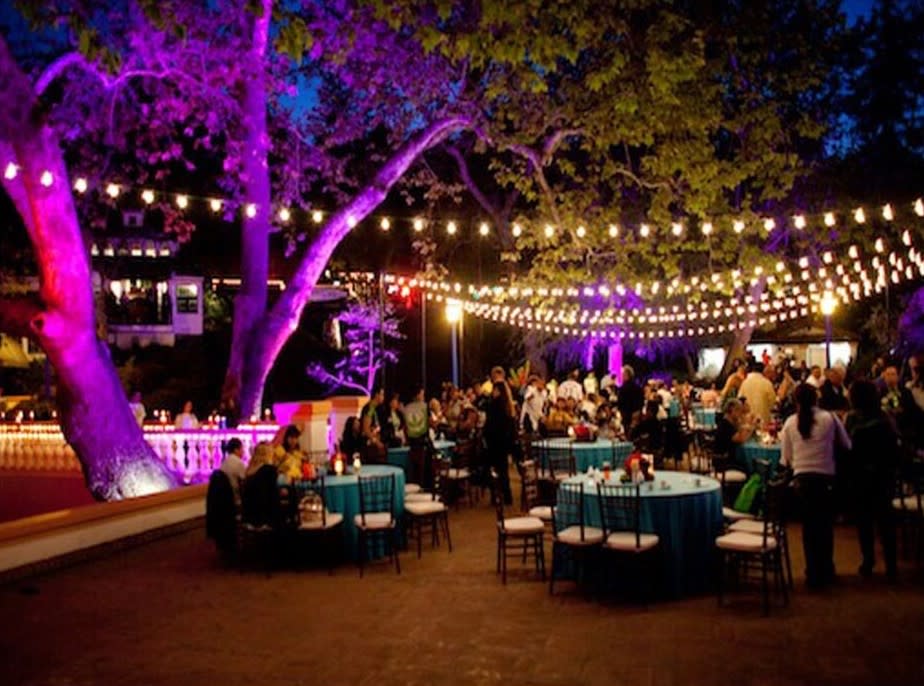 Photo courtesy of Metropolitan Disc Jockey / Special Event Lighting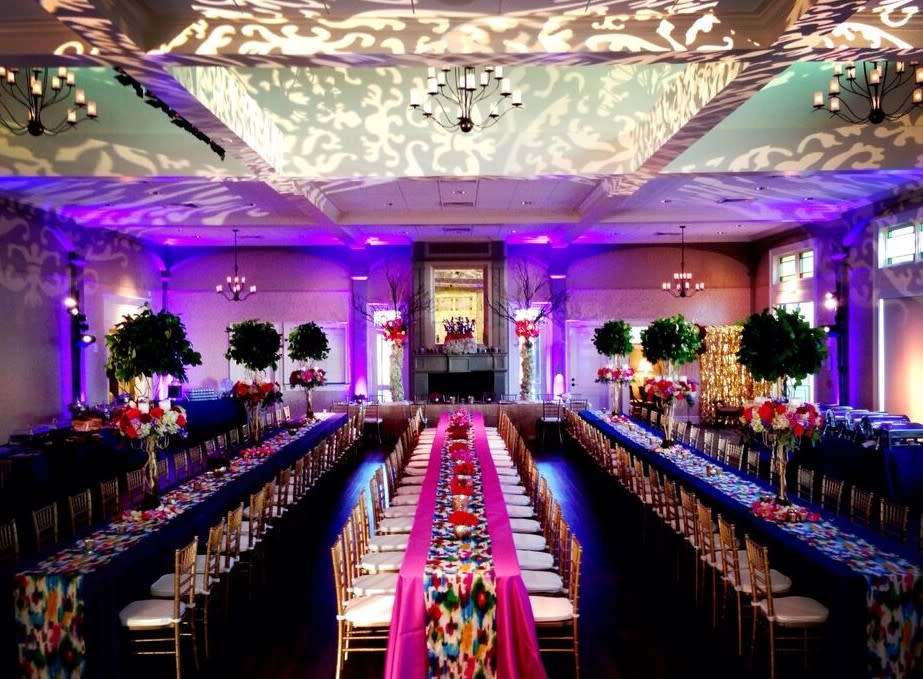 Photo courtesy of Metropolitan Disc Jockey / Special Event Lighting
Originally from Chicago, Steve started working as a Disc Jockey in his teens playing the school dance circuit. As his popularity and experience grew, and even after turning to grown-up "real jobs", he remained a popular weekend go-to guy for weddings, clubs and various other events. In 2003, he relocated to North Alabama to join his wife, one of those "rare Huntsville native" as any good Huntsvillians always says. Upon arriving in Huntsville and assessing the current DJ offerings in the Rocket City, Steve decided that there might just be a place for his "less is more", refined and serious style of event hosting. He booked his first Huntsville gig at "The Ledges" and the event proved what he had suspected – his phone lit up like Christmas!
He had indeed struck on a service that resonated with Huntsville.
Soon after, he began receiving request after request from brides who were looking for not only his DJ skills but event lighting and more particularly their "names" in lights (i.e. Custom Monogram Projection). Never one to rest on his laurels and leave things "well enough alone", Steve set out to learn more about this technology.  He reached out to professionals in larger markets, absorbing all he could.
Steve credits the popularity at the time of shows like: Platinum Weddings, My Sweet Sixteen and others to the rise of an industry that few really knew existed. And the rest, as they say, is history.
With so many options out there, it can be a little overwhelming. So I had to ask, "What would be one piece of advice that you would offer to any event planner?"
"Utilize the knowledge of your vendors."
Steve goes on to say that event vendors have seen amazing décor go incredibly right, and they have seen it go horribly wrong. Don't reinvent the wheel. Ask your vendors for suggestions based on your wants, needs and aesthetic. What's more, they probably know your chosen location better than just about anyone because they work so closely with area facilities.
Event professionals, like Steve, know a venue's hidden gems but also its challenges. That means, he knows if there's a way to actually get power way out to the middle of that field adjacent to the ballroom AND if the answer is "no", he's got a plan!
A big "thank you" to Steve Metz for his time as well as to the many event and meeting planning professionals here in Huntsville/Madison County who make hosting events here so amazing.