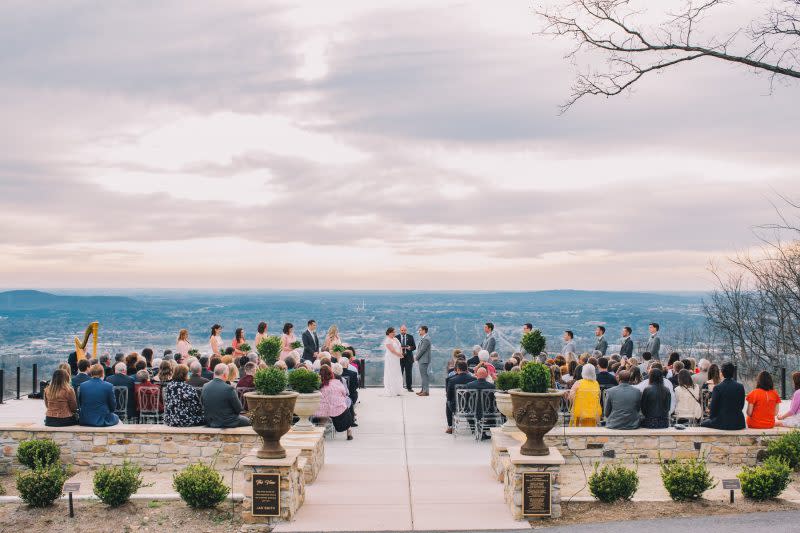 Courtesy of Burritt on the Mountain
Did you know the fall, according to area wedding planners, is the busiest season for weddings in Alabama?
Chalk it up to the perfect weather as summer turns to fall, foliage adorning the hillsides, and light amount of rain we tend to see this time of year. (I may also be biased, as my own wedding anniversary takes place in October.)
Now wedding season is in full swing, I'm rounding up 7 area wedding venues for you to jump-start planning for the busy wedding season next year.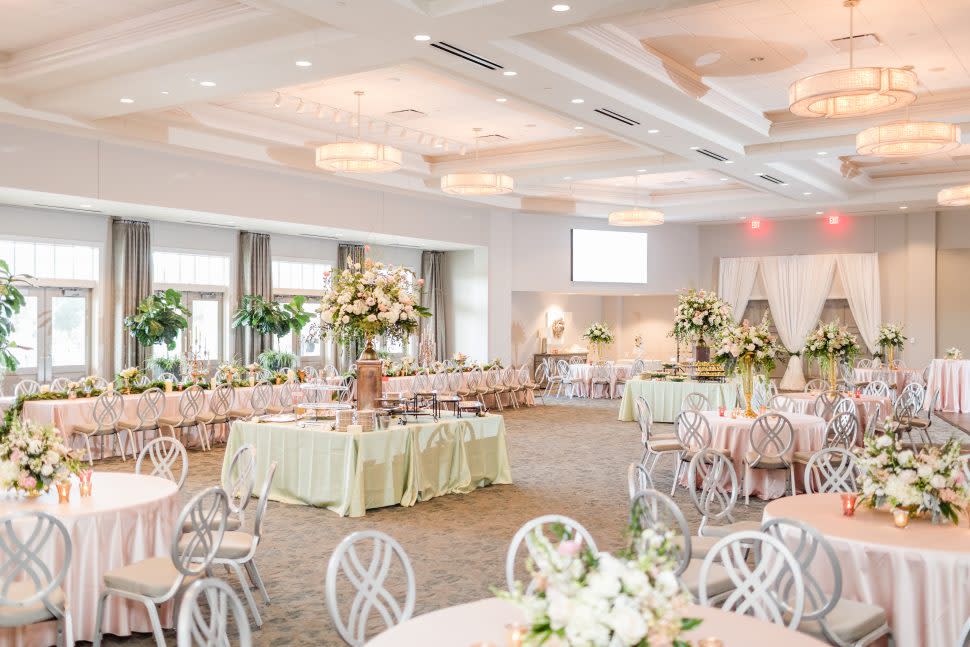 Courtesy of Huntsville Botanical Garden
Huntsville's very own outdoor wonderland, the Huntsville Botanical Garden, offers multiple opportunities for that fairy-tale wedding you've been dreaming of.
Choose to have your ceremony at various areas around the garden from the luxurious Grand Hall, to the delightful Carriage House, or an outdoor setting such as the Celebration Garden. The gardens can even support walk-in weddings for small parties.
With the lush greenery, perfectly-maintained grounds, and team of professionals that accompany booking the Huntsville Botanical Garden for your big day, it's easy to see why this is a Huntsville favorite.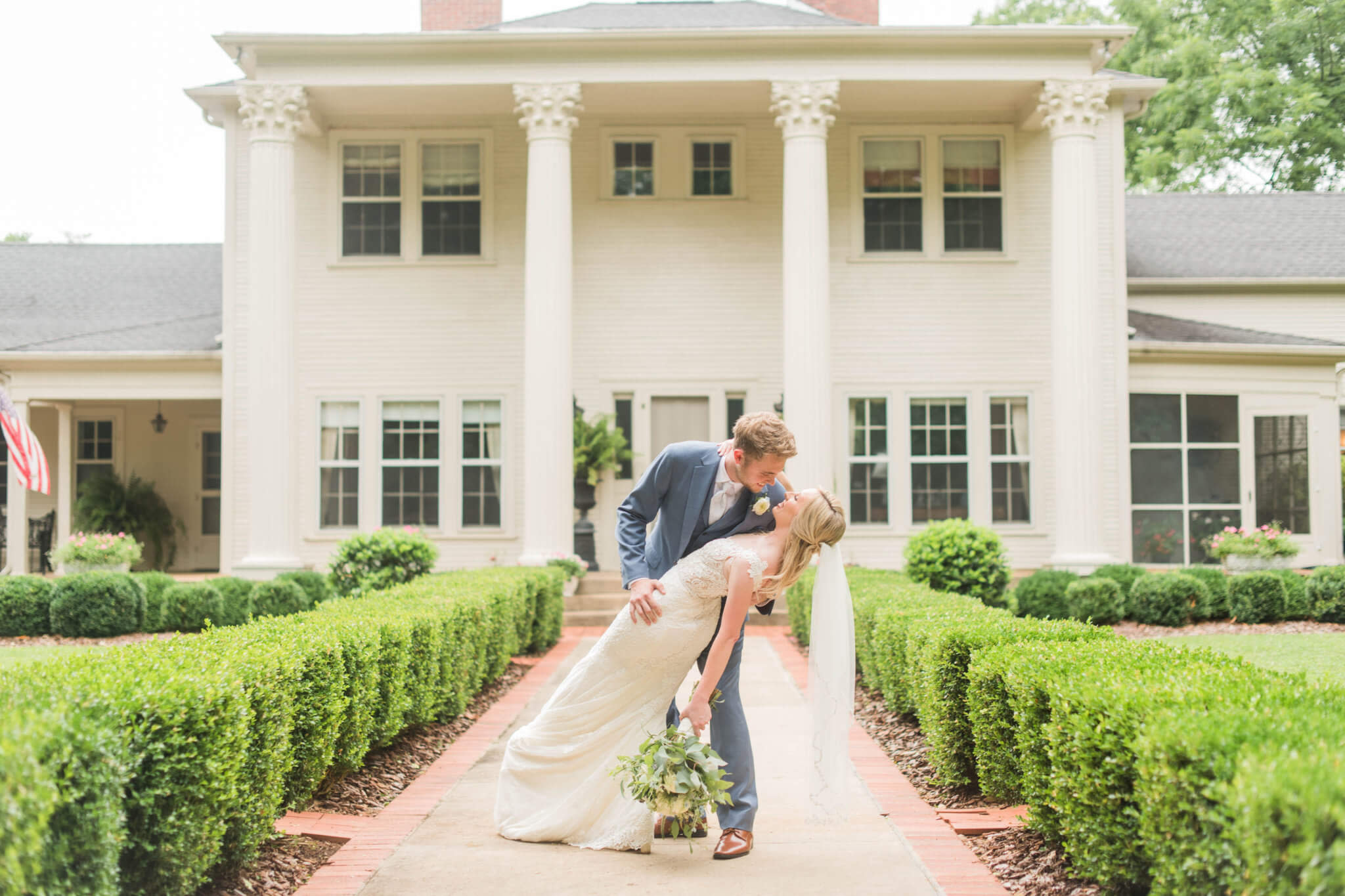 Courtesy of Creekside at Colllier's End
Just down the interstate from Huntsville, you'll find a property primed to provide your ultimate wedding from ceremony to reception.
Creekside is in Mooresville, tucked away in a cute town you'll feel is just for you on your special day. I've been to several weddings here and am continually impressed by what these grounds have to offer couples looking to say "I do."
The French Country themed décor, outdoor pavilion, and natural beauty of the home and surrounding area will bring your vision to life!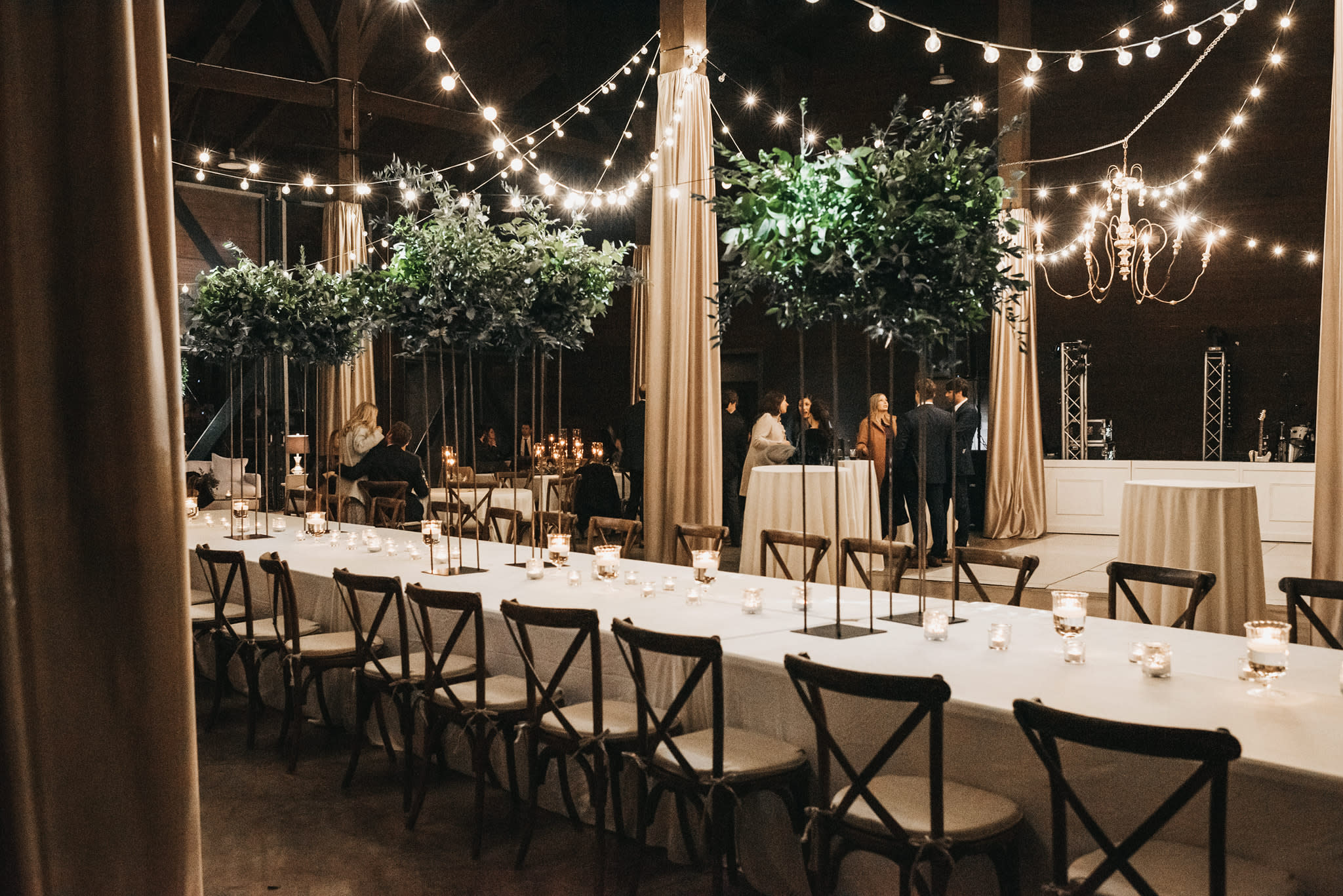 Courtesy of Huntsville Historic Depot
A Huntsville classic, the Historic Huntsville Depot Roundhouse is that dose of Huntsville your guests will keep talking about for years to come.
This venue is on the grounds of the restored train depot, maintained by the Earlyworks Family of Museums. Everywhere you look, natural light filters in from the windows along the rounded exposed brick walls for that rustic feel everyone loves.
Nestled on the outskirts of downtown and close to all the great afterparty locations, you'll find everything you need and more right here at the Roundhouse.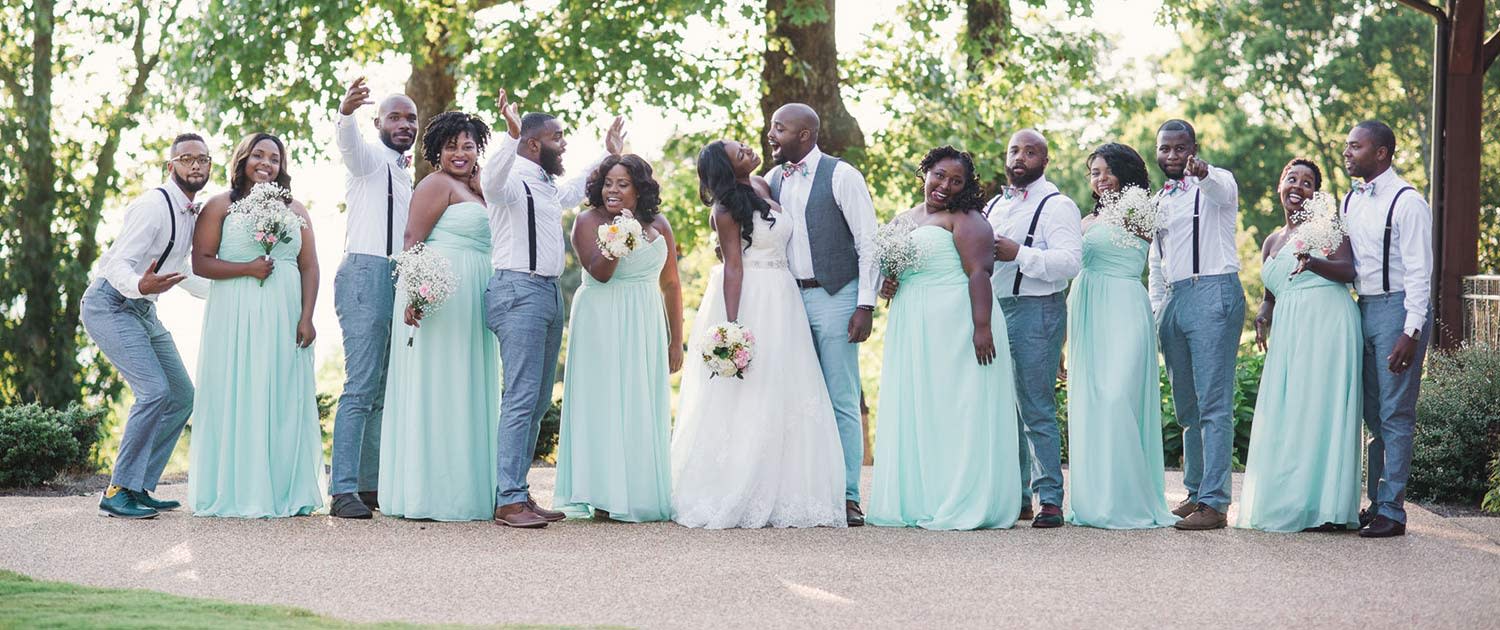 Courtesy of Burritt on the Mountain
Burritt on the Mountain is full of vignettes to choose from as you plan your wedding photography on your big day. The bluff, gazebo, View area, and more make the whole city your backdrop. These views are Stunning, with a capital S!
Burritt is a special place in Huntsville, and the weddings here are jaw-droppingly beautiful. Make the space your own and enjoy.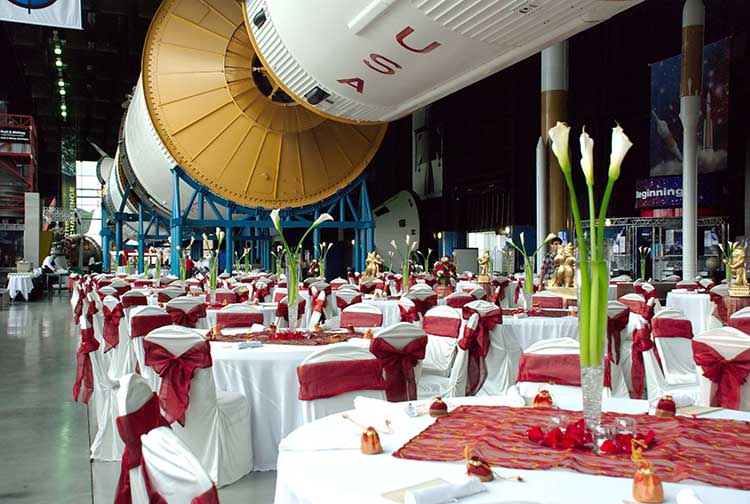 Courtesy of Space and Rocket Center
Are you a space enthusiast? NASA employee? Or looking to make an impact with your event among your guests? Look no further than Alabama's most famous tourist attraction, the U.S. Space and Rocket Center, to host your wedding in The Davidson Center underneath a suspended Saturn V rocket.
These folks know how to put on a great event—they've been doing it for decades. The staff are prepared to help you make all your dreams come true in a place that's out of this world.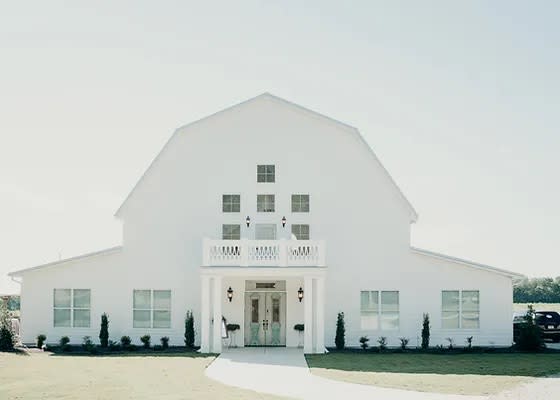 Courtesy of Harvest Hollow
If you're a sucker for gorgeous white barn weddings, you really can't go wrong at Harvest Hollow.
This place is blissful. Just north of Huntsville in Toney, Madison County, this barn-style venue can bring that dreamy ceremony you've been envisioning to life.
Located on 51 acres, the property offers plenty of space for your most magical moments. Featuring open farm land, a pavilion, a gorgeous barn with pretty lighting and chandeliers, you'll have gorgeous views no matter where you turn. This venue was definitely created with love, for love!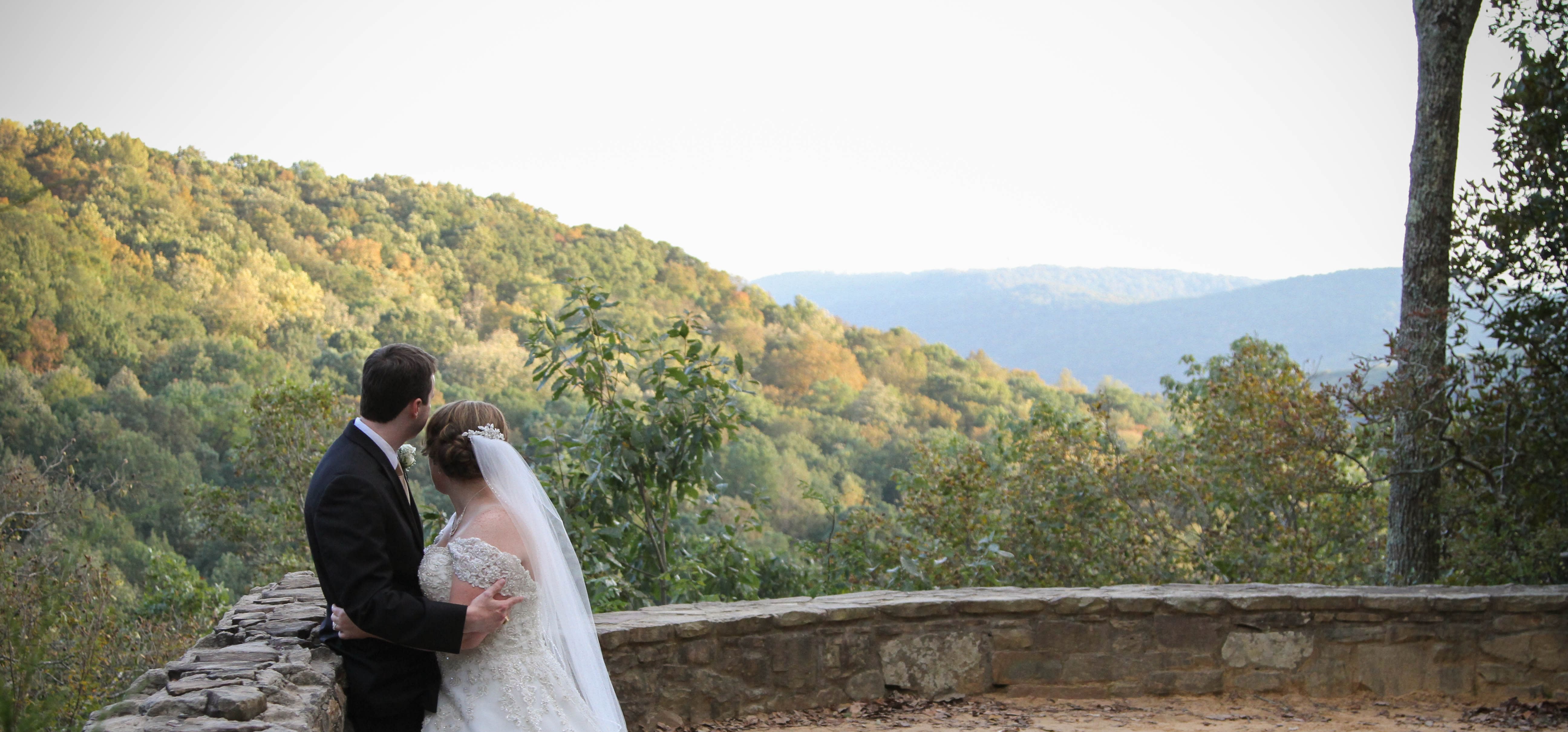 Courtesy of Monte Sano State Park Lodge
Ready to party? The Monte Sano State Park Event Lodge is just the spot for you. Have the state park to yourself with this serene space.
The exterior brings an historic vibe, and various outdoor spaces and indoor rooms can bring your vision to life. Head out onto the terrace for a bluff view, or head inside to your desired dance floor. At the Lodge, surrounded by the North Alabama nature, your wedding will be the main event!
Get Married in North Alabama
Huntsville is a great destination for out-of-town wedding guests and locals alike. The Rocket City and Madison County have no shortage of places to host your big event. (Tip: book fast! Venues really fill up for October across the area.)
Read more here to discover additional area venues for that wedding you've been dreaming of!