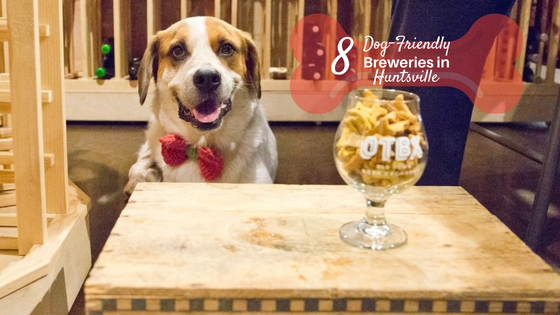 Let me start by saying that you should never let your dog drink beer. Ever. Sadly for Fido, hops are toxic to dogs and can make them deathly ill. Not to mention the alcohol, which can cause immediate kidney and health issues in canines. That doesn't mean your four-legged friend wouldn't enjoy a trip with you to your favorite watering hole.
Here are six dog friendly places to enjoy a pint with your pup at your side.  
OTBX prides itself on its dog-friendly atmosphere. A paw print on the front door and a water dish on the floor are your first indications that this is a canine-friendly location. When you order your beer, ask for some dog treats and they'll happily bring you biscuits, free of charge. I visited OTBX with dog blogger (dlogger) Amos and his human pack mate and fellow iHeartHsv blogger Rebecca Hitt. I can say without hesitation that Amos was a huge fan of the dog treats, canine company and ambience. Rebecca and I were huge fans of the human amenities. Pro-tip: Check out real time status of the beer on tap on their website.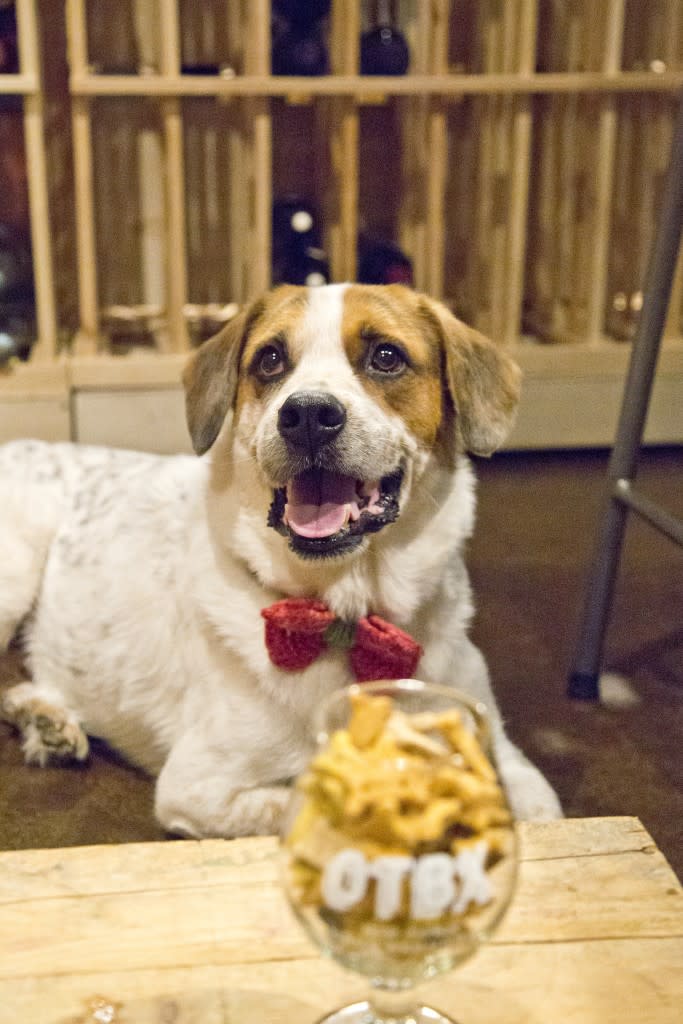 From March 10th until October 20th, the U.S. Space & Rocket Center hosts a biergarten inside the Davidson Center for Space Exploration every Thursday from 4:30 pm to 7:30 pm. Leashed dogs are more than welcome and will enjoy the polka dancing, amazing venue and German food as much as their owners. Stein and dine, rain or shine!
You and your pup will enjoy the new patio at Yellowhammer Brewing.  The covered seating area makes it a great place to enjoy a frothy pint and your dog's company rain or shine. The brewery is open Monday to Wednesday from 11 am to 9 pm, Thursday to Saturday from 11 am to 11 pm, and Sunday 11 am to 8pm.
Straight to Ale's biergarten is a perfect place to hangout with both your human and canine companions.  You'll enjoy the musical entertainment while your dog enjoys spending time with you.  Straight to Ale's taproom is open from 3:00 pm to 10:00 pm 7 days a week.
Pups are welcome at Liquor Express.  In fact they love dogs so much that they have 3 pub dogs to greet their patrons.  Liquor Express is open Monday to Thursday from 9 am to 12:00 pm, Friday to Saturday from 9:00 to 1:00 am and Sunday from 10:00 am to 10:00 pm.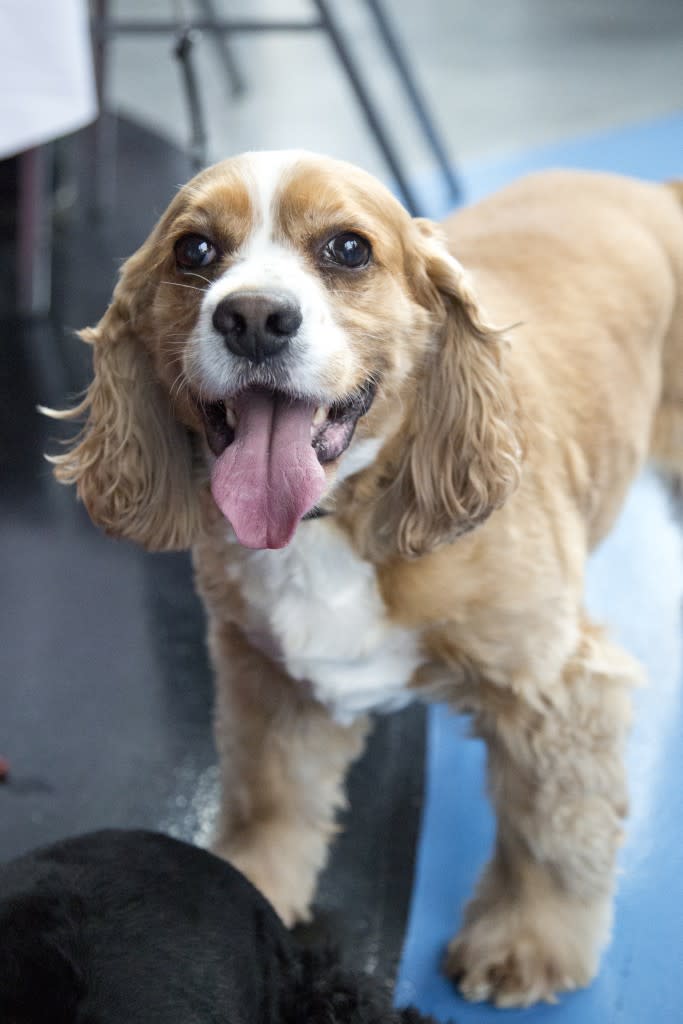 The Salty Nut Brewery is in a new location and has a fancy new dog friendly biergarten. There are plenty of great beers for the humans and great trees for the canines. The brewery is open Tuesday to Friday from 4:30 pm until 10:00 pm and Saturday from 2:00 pm until 10:00 pm.
There is always something going on at Mad Malts Brewing, from live music to painting parties. In addition to their great selection of beers, they have a great biergarten for you and your dog to enjoy.  The brewery is open Thursday from 5:00 pm to 9:00 pm, and Friday and Saturday 5:00 pm to 11:00 pm.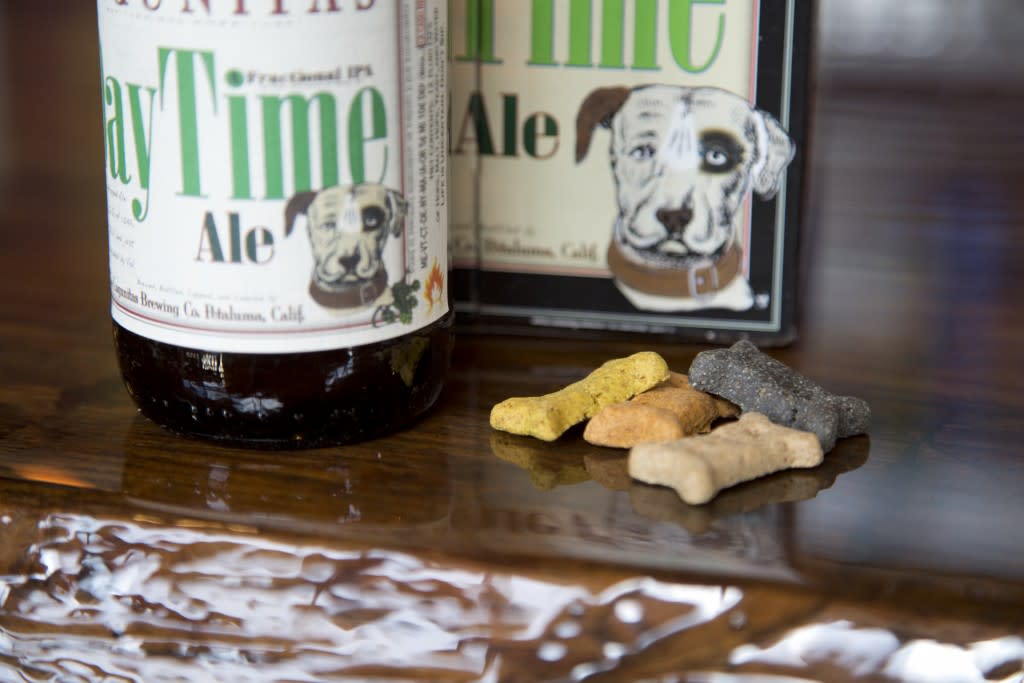 Come for the beer, stay for the biergarten at Blue Pants Brewery. Dogs are welcome to enjoy the amenities of the brewery's biergarten with their owners. In addition to plenty of picnic tables and seating, there is a stage for live bands, nice lighting and lawn games for hours of fun. The brewery is open Monday to Thursday from 3:00 pm to 10:00 pm, and Friday to Saturday from 3:00 pm to midnight.