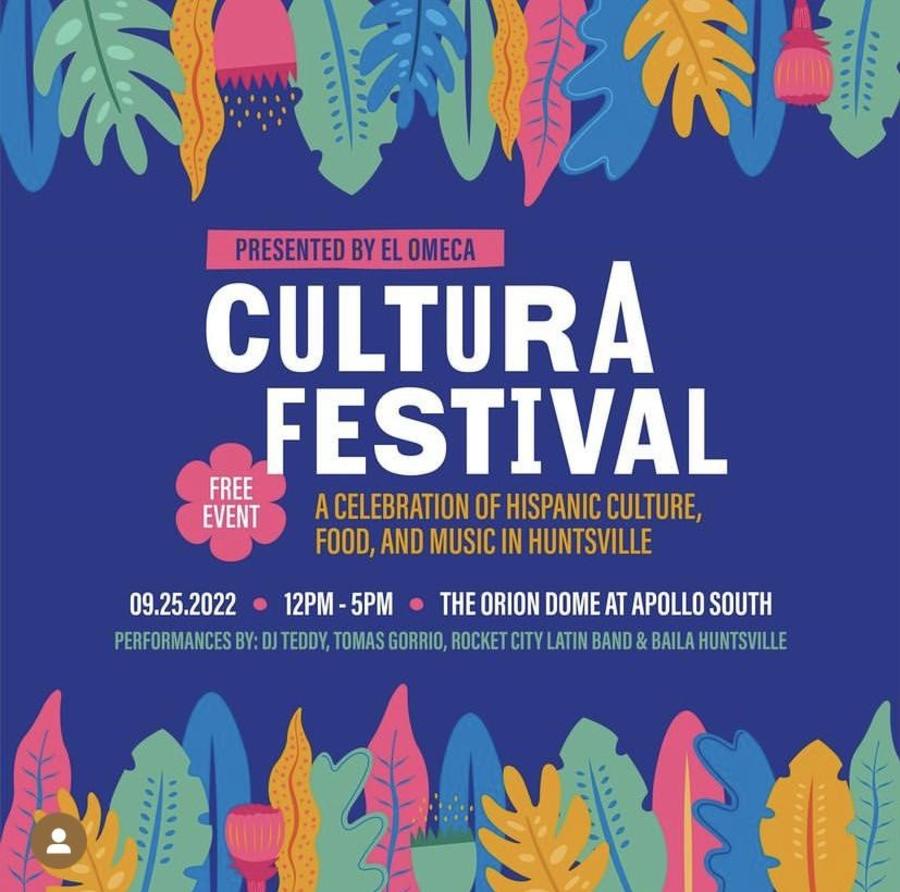 The month of September represents the start of Fall, pumpkin spice galore, and fall festivals. However, for the Latino culture, it is the beginning of Hispanic Heritage month! From September 15th until October 15th, cities from all over the nation take this time to honor the cultures and contributions of Hispanics to the history, achievements, and culture of the U.S.A.
Hispanic Heritage month is one of my favorite celebrations, aside from Day of the Dead. As a family, we always loved visiting numerous Hispanic festivals during the time we spent living in Georgia. These celebrations offer an opportunity for everyone to learn about exquisite cuisine, the vibrant colors in our clothing, diverse music, and much more. If you have never attended a cultural festival, I highly encourage you to come enjoy The Orion's Amphitheater's first-ever Latin festival.
Huntsville, get ready to commemorate Hispanic Heritage month! Presented by El Olmeca, Cultura Festival is an event that has been made possible by the partnership of The Orion Amphitheater and Revel Events. The Cultura Fest will be a FREE celebration of the food, music, and Hispanic culture in Huntsville. Bring your family, and come solo or with a friend to get a taste of the Hispanic culture we have in our own backyard.
The event will feature an incredible and diverse selection of food trucks representing the following countries: Mexico, Venezuela, Nicaragua, and Puerto Rico. Get ready to immerse your taste buds into the dishes from these food trucks. From spicy to sweet, there's something for everyone.  Once you are done devouring all the food you can handle, loosen up a little and get your hips ready for some dance moves. Don't be shy, it's all about having fun!
You can't have a Hispanic Heritage festival without great music. Musical performances will be provided by: DJ Teddy, Tomas Gorrio from Peruvian Coin, and Rocket City Latin Band, plus special guests Baila Huntsville.
Enjoy shopping? Stop by the Latino-owned vendors village. Come shop a little and take home with you a little piece of Latin America. Like the food and the music, the vendors will also give you a glimpse of the diversity in the Hispanic culture. Buy something for you or a loved one.
The festival will also include a panel discussion with Latin owned business owners and community leaders in Huntsville. Take some time to find out what these incredible business owners and leaders have to say. Come learn and connect with the panel and find out what is going on in our city.
Mark your calendar, plan ahead, and save the following details so you don't miss this incredible day to celebrate the diversity of the Hispanic community in Huntsville. Looking forward to seeing you there! Nos vemos!
Event details:
Sunday, September, 25t5 PM2-5PM
Orion Amphitheater -Apollo Dome
Free & Open to the public
Want to get social with the event partners?