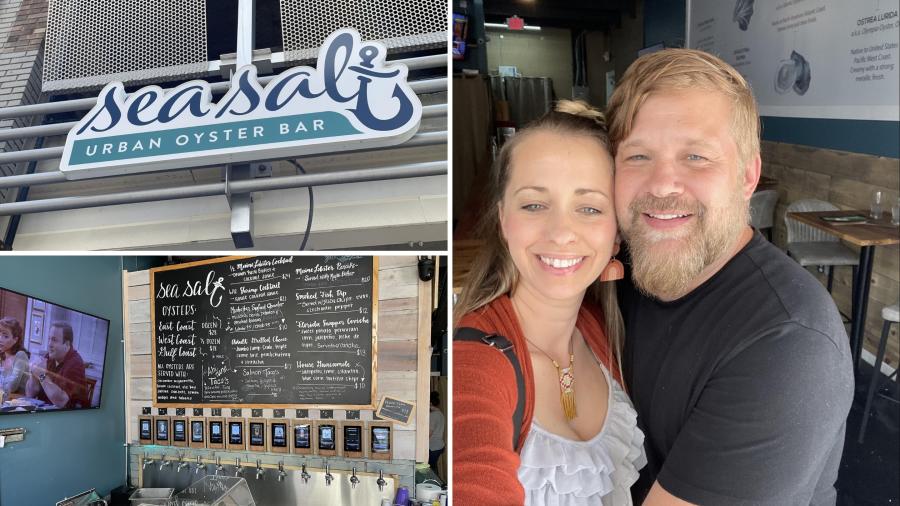 Eighteen years ago, my husband and my life together began over a dozen oysters. Four kids in, we're pretty sure oysters were a good start! When we first met, I asked him if he liked oysters, and to my horror, he'd never had them! So our first date was at an area seafood restaurant, and I set out to teach him everything I knew about ordering and eating oysters.
Moving to Huntsville from Coastal Georgia, one of the losses I felt most was the lack of fresh seafood, particularly oysters. Suspicion immediately sets in when I see a landlocked city offering "fresh" seafood. Call me a seafood snob, but my idea of fresh is, "We just brought these in from the dock."
Naturally, when I heard Huntsville was getting a raw bar, I was skeptical.  I prefer to eat oysters as a sport. Give me a backyard oyster roast with steaming hot oysters dumped on plywood and propped up with sawhorses, and it's game on! All I need is an oyster shucker, a glove, and a cloth. There is a reward awaiting you after you unhinge an east coast oyster shell. Inside, a juicy steamed oyster to be topped with horseradish butter or cocktail sauce, and laid on a cracker before landing in your mouth.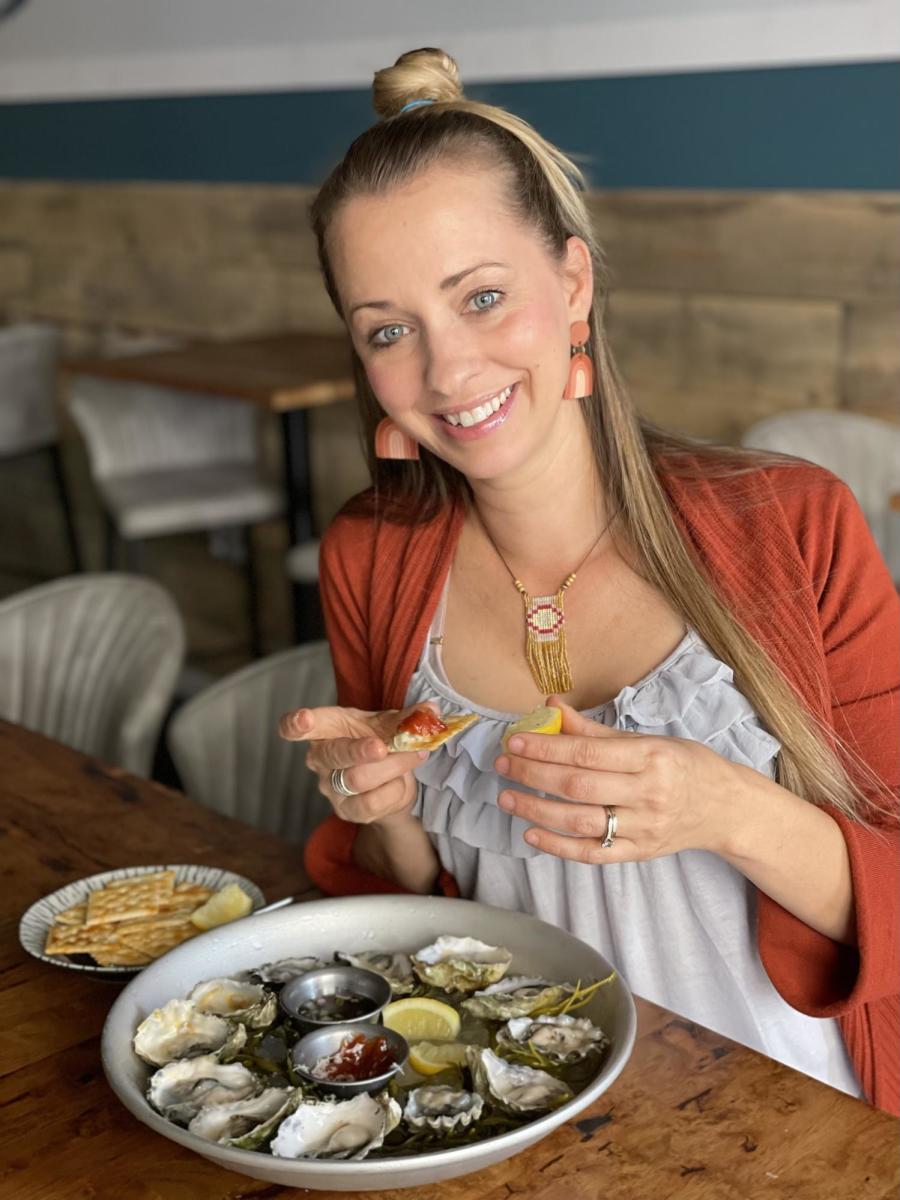 "You shuck 'em" oysters don't always fit restaurant aesthetic, so platters of raw or steamed oysters are what you usually see at raw bars. When we heard the buzz around Sea Salt Urban Raw Bar, we knew we needed to go, so a Sunday afternoon date it was! Sea Salt is a raw bar concept nestled within a sports bar atmosphere. Seeing oysters and lobster on ice in the display made me feel right at home.
What to Expect at Sea Salt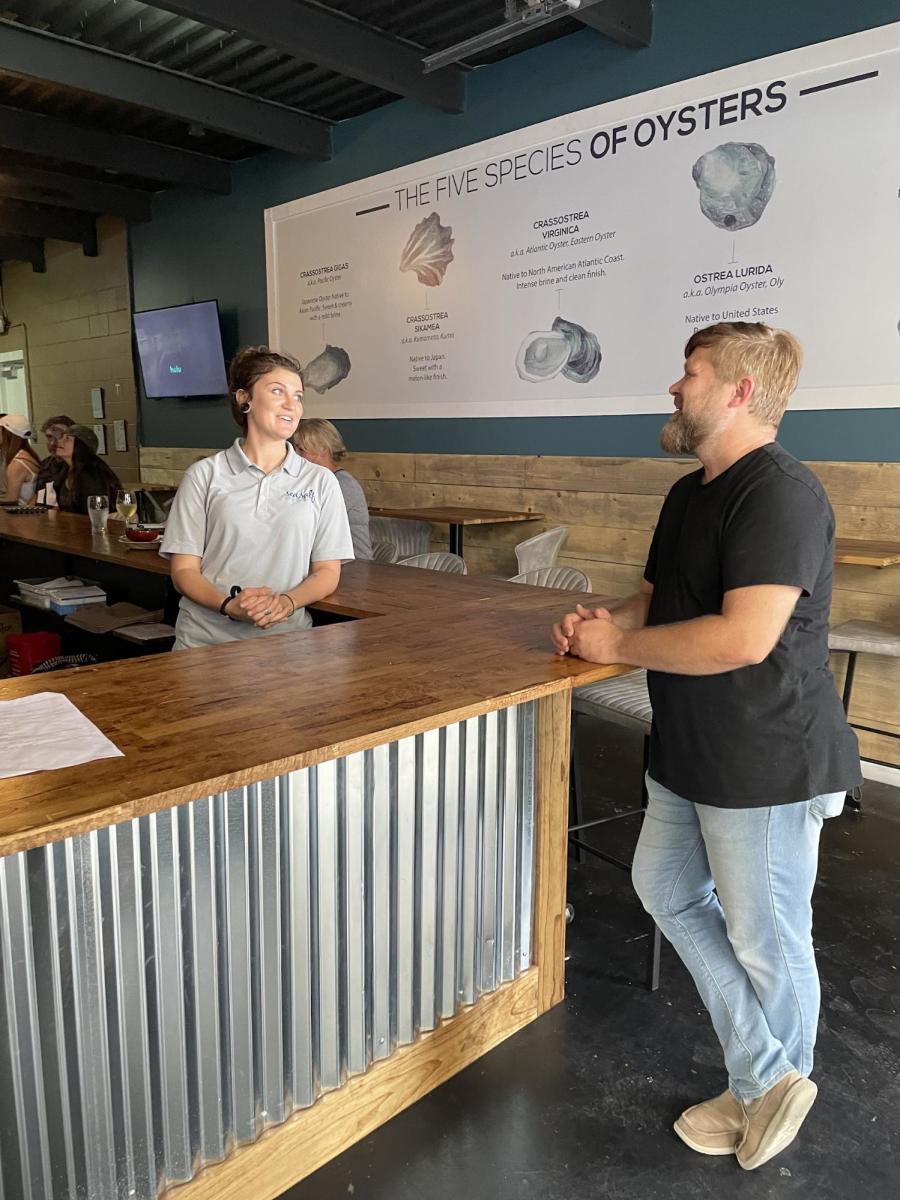 Sea Salt is an open garage door storefront in downtown Huntsville. Located on Clinton Avenue, on the opposite end of the block housing Honest Coffee, the menu includes raw or steamed seafood served chilled. Depending on the season (or even the day of the week - these are fresh), you will find East Coast, West Coast, and Gulf Coast oysters served raw by the dozen.
Lobster, shrimp cocktail, and oysters are the main attractions. Still, they also offer seafood bisque, a lobster roll, salmon tacos, fish dip, and chips. There are grilled cheese and guacamole with chips options for anyone who is not a seafood connoisseur.
Lastly, they have 24 different local, domestic, and import beers on tap and will soon be offering mixed drinks as well.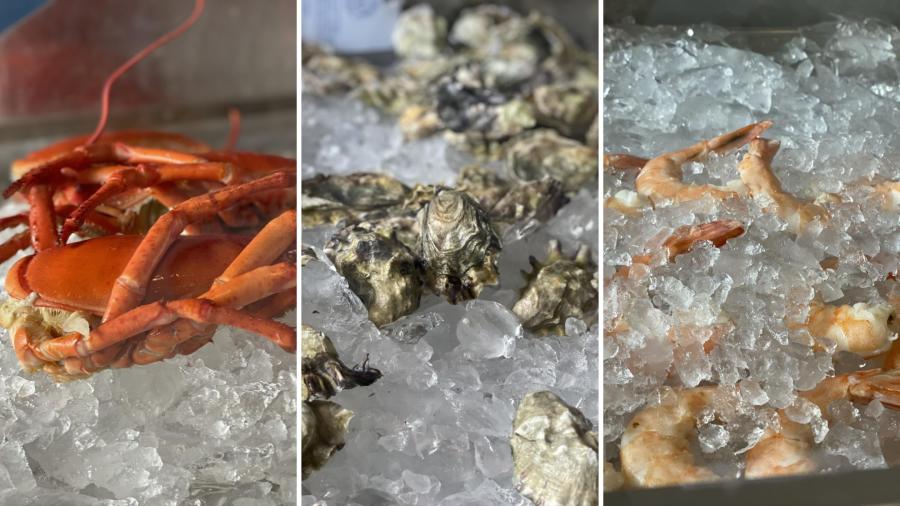 Things to note: raw bars aren't necessarily where you go if you are starving and need a full meal. Importing fresh seafood into Huntsville means the prices reflect luxury. That said, if you want a real treat for the seafood lover, Sea Salt offers the best in freshness, and their beverage offerings are on-point.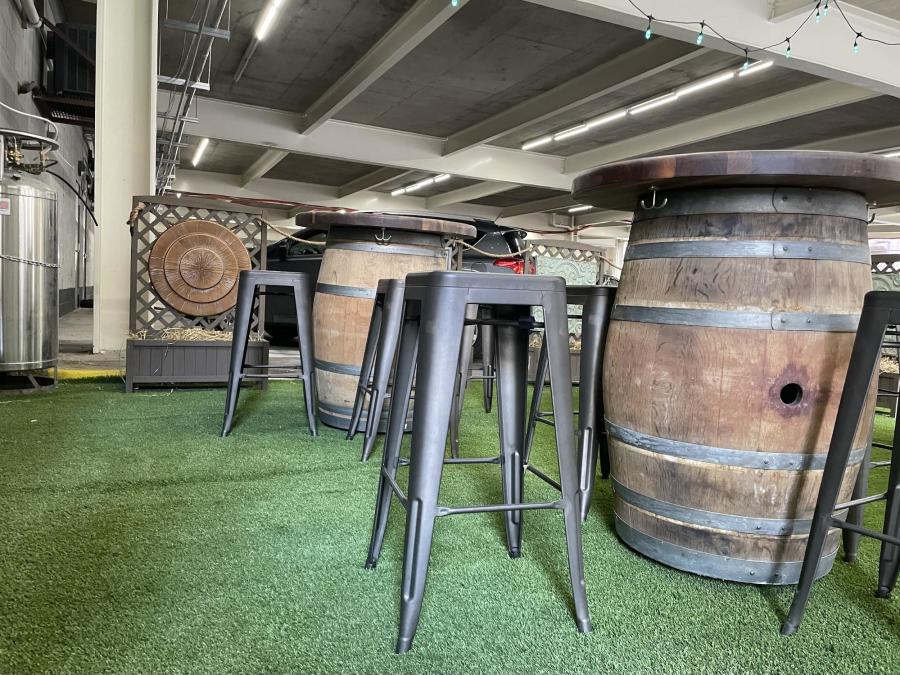 Seating: Sea Salt is the perfect spot for parties of two or three. They offer bar top seating, high-top two-seater tables, and a few dining options outside as well as an overflow garage seating area with barrel top tables. 
And the million-dollar question, how was the food?  I am so glad you asked! Raised on the Georgia coast, I consider myself highly qualified to answer such questions. I mean, my first boyfriend was a shrimper's son. I grew up on crab legs, fresh white Georgia shrimp, oysters, blue crabs, and fish that rolled in on the afternoon boat.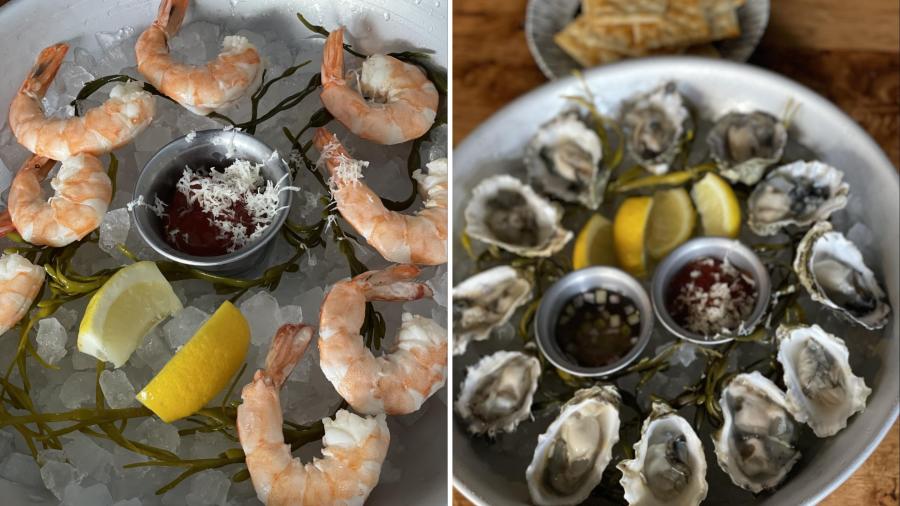 The verdict: the seafood is exceptional. If you're hunting a tray of chilled oysters that taste like they just came out of the ocean or craving lobster that melts in your mouth, Sea Salt is your best choice in Huntsville.
The detail worth noting: Sea Salt goes the extra mile in planning and preparing their dipping sauces and relishes. Each platter has a variety, and we enjoyed tasting and musing over the unique flavor combos for the seafood toppings. Where all too often condiments are an afterthought, they have put extra thought and effort into their garnishes and sauces.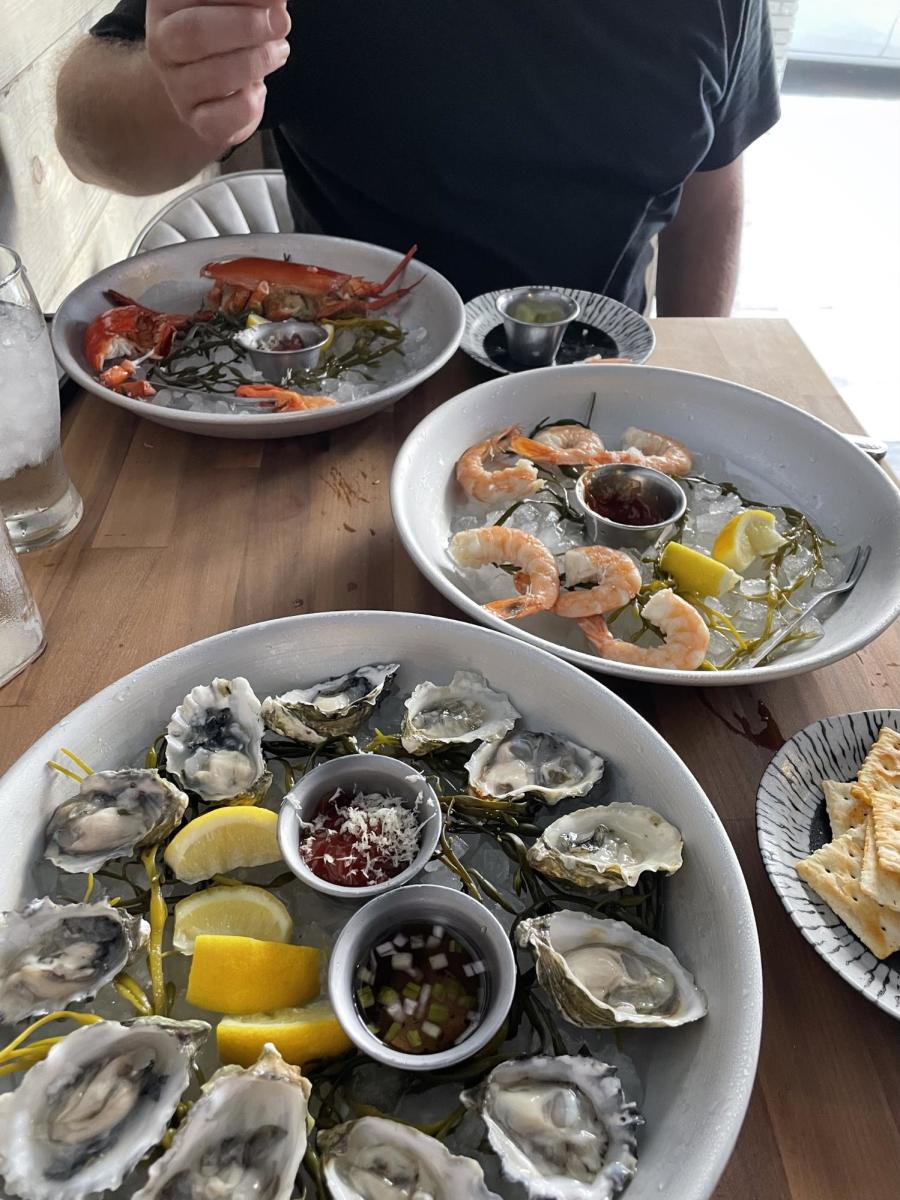 What we ordered: We ordered a dozen raw West Coast oysters served with cucumber mignonette, house cocktail, Old Bay seasoned saltines, tabasco, and lemon wedges. Even though these oysters originated in Washington State, they tasted exceptionally fresh. Of note on the oyster plate is the cucumber mignonette; it was a small tin dish of diced cumbers slices that taste slightly pickled tossed in a vinegar mixture. My husband thought it was incredible, though I still prefer a cocktail sauce with freshly grated horseradish on top.
Next, we ordered a half dozen shrimp cocktail. While these shrimp weren't as large as our Georgia white shrimp, they were rich in flavor, and the chef threw in two extra to make up for the size.  Lastly, we ordered a half Maine lobster, served with drawn yuzu butter and cocktail sauce. Yuzu is a fragrant sour and tart fruit best described as a hybrid of lemon, lime, and grapefruit. The drawn butter mixed with the yuzu juice was irresistible. I encourage you to order the lobster just for the butter experience.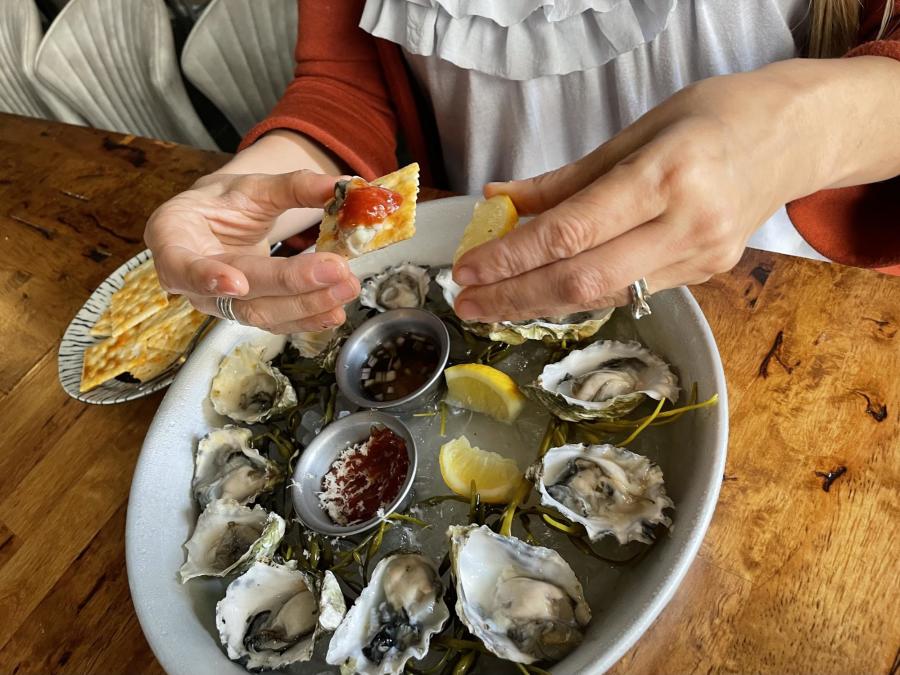 The rest of our story: Eighteen years ago, immediately before Thanksgiving, I was on a date eating oysters, as is our custom. To my surprise, I opened an oyster containing a red velvet cloth, wrapped inside the fabric was a diamond ring. The rest, as they say, is history.  We may have left coastal life, but it appears we don't have to leave behind fresh seafood. Thank you, Sea Salt, for providing a taste of home!