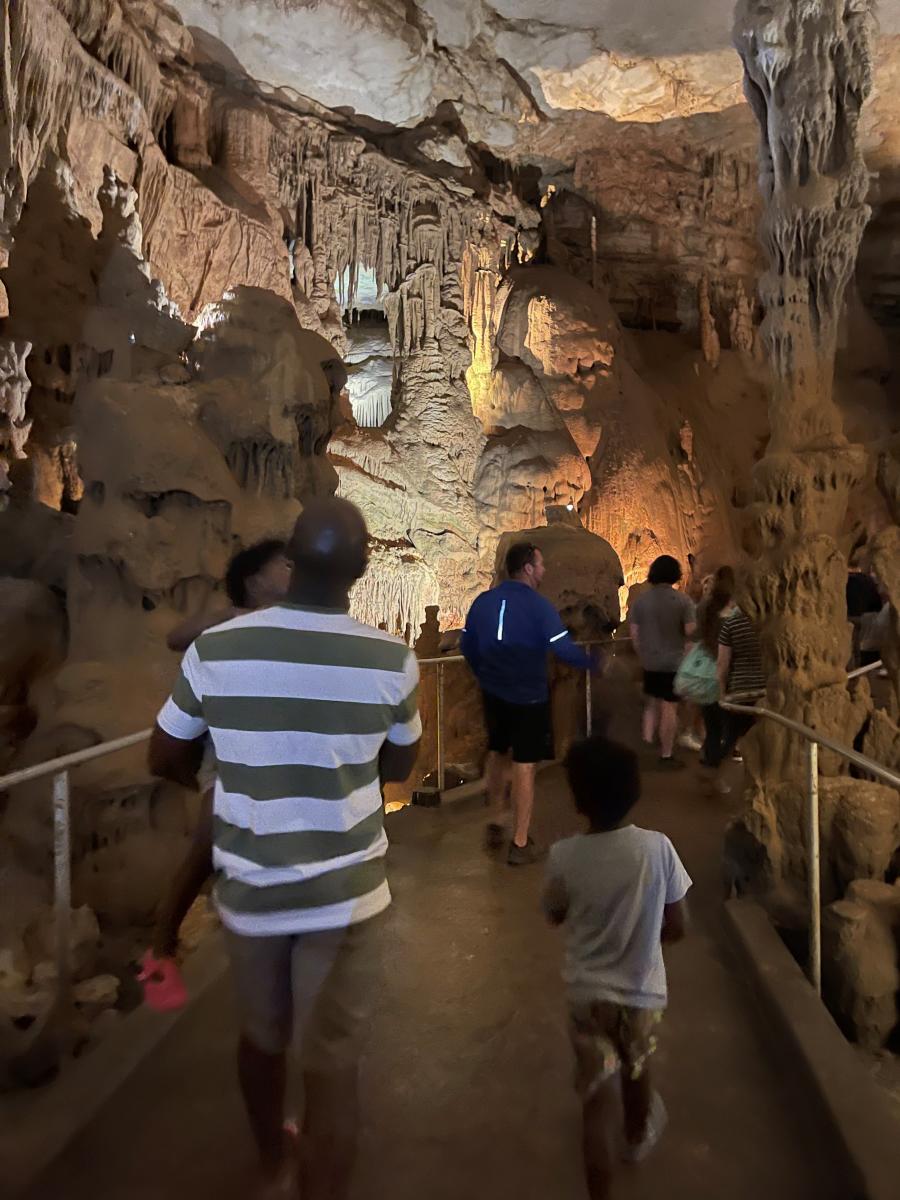 If you're a fan of caves, head just 40 minutes outside of Huntsville to Woodville, AL, and check out Cathedral Caverns State Park. 
Our tour started with us stopping to admire the huge entrance. To understand just how massive the entrance is, you would have to visit. But, measuring in at 126 feet wide and 25 feet high, it's said to be one of the most prominent commercial cave entrances on record! We aren't the only ones that showed great appreciation for the grand entrance; there were visitors from all over standing in awe of what was only the beginning of our tour! As a family that's recently delved into wild caving, it was a welcome change to enter a cave that we could all comfortably walk into and even spread out while doing so.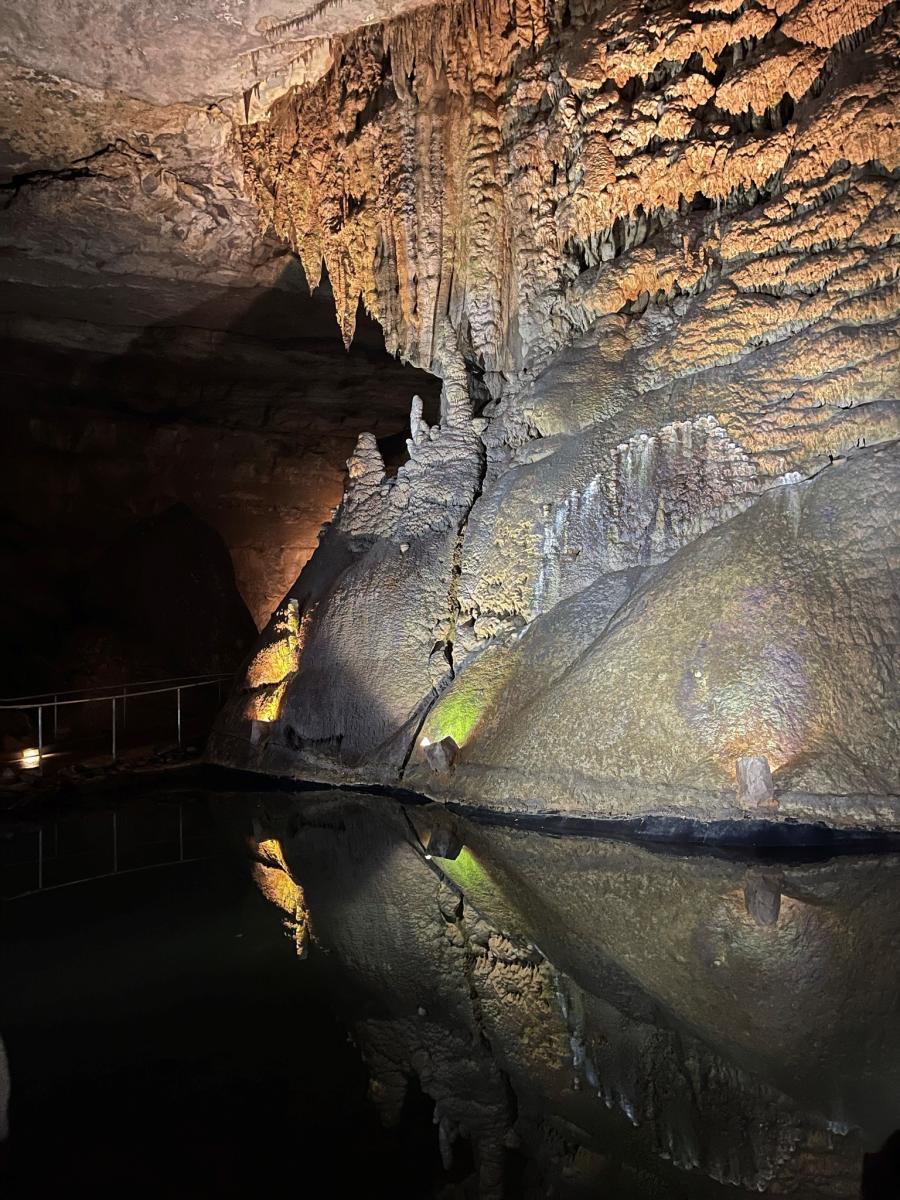 During our 1.5 hour tour, we learned a lot of history about the cave. We were told that the cave was once called the "Bat Cave" but underwent a name change to "Cathedral Caverns" due to the cathedral-like formations found within the cave. While the name is certainly fitting, I can't say that "Bat Cave" isn't. We saw several tiny bats while walking through! We also had the opportunity to see many different cave formations, which all have cool names. Some of the ones that stuck out most were "The Goliath," "Elephants Butts," "Stalagmite Forrest," or my favorite, "Flowstone Falls," which reminded me of a waterfall.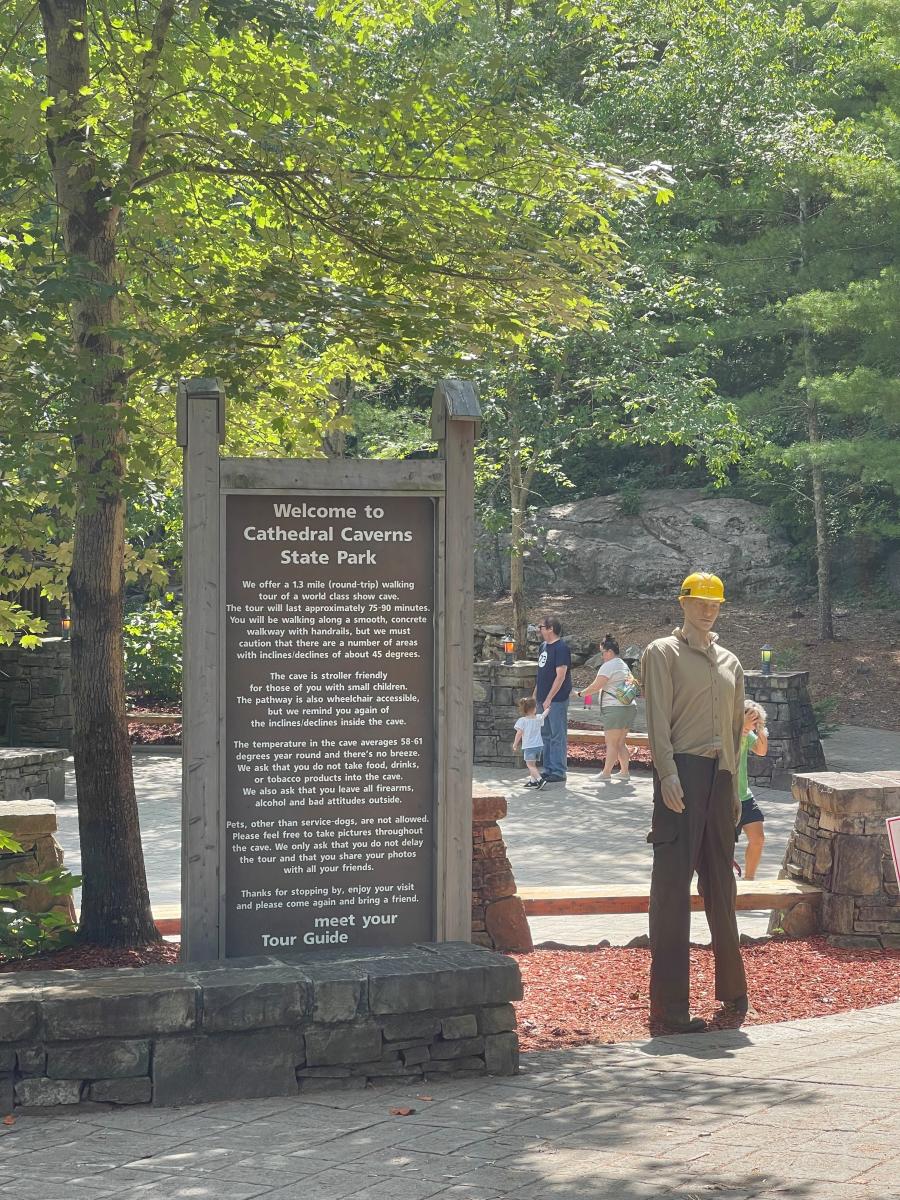 There are so many amazing things to see during the tour, and once you've made your way to the back, it all culminates with a cave tradition done in both show caves and wild caves. It takes place in the last room that visitors can safely access and involves standing in complete darkness and silence. It's an experience you can only have if you visit a cave: the lights-out ceremony! It can be a bit scary for some, but it's totally worth experiencing total darkness. 
Once the formal tour is over, take your time heading out and revisit all the formations you enjoyed going in. As great as guided tours are, sometimes we don't get to observe as long we'd like. Walking out at our own pace was an excellent opportunity to catch missed sites and stop for as many photo ops as we wanted. 
Caving isn't all you can do on your trip to Cathedral Caverns State Park. You can mine for gems, camp, hike the 5.5 miles of trails or combine them all for a caving weekend adventure!
637 Cave Road
Woodville, AL 35776
Tour times vary, reservations are recommended.