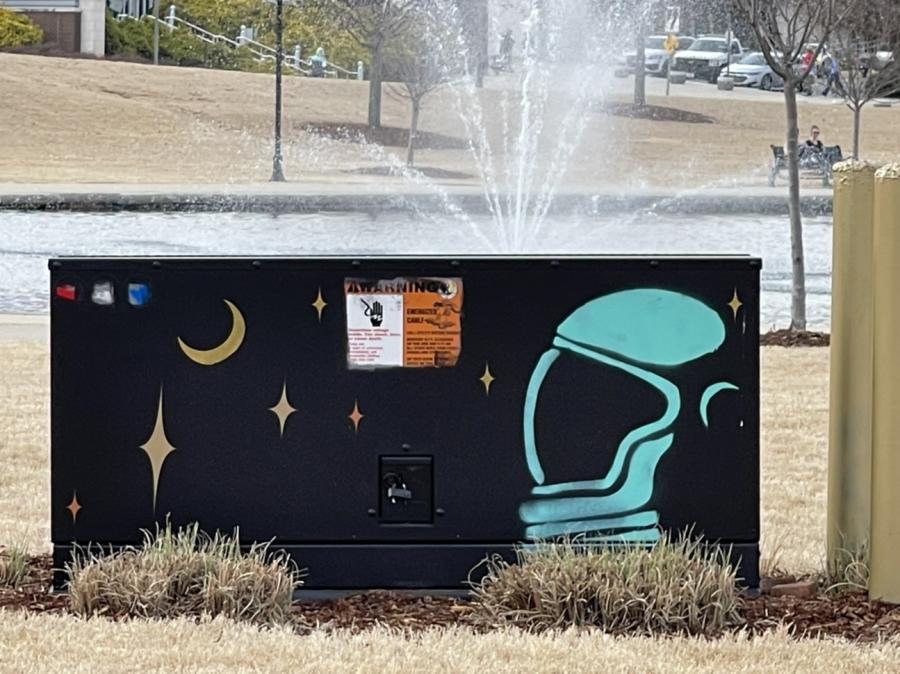 The Downtown Huntsville Secret Art Trail originally consisted of nineteen pieces, ranging from sweeping murals of swimming koi and trompe l'oeil fissures painted onto the sidewalk, to Atomic Age-inspired scrap metal installations, framed works hidden down mysterious alleyways, and a Pink Panther in a parking deck.

My wife and I explored the Mae Jemison Segment of the Downtown Huntsville Secret Art Trail on a recent Saturday that felt like the first semblance of spring for the year.

This new addition to the Secret Art Trail is an easy stroll around Big Spring Park, with a collection of seven brightly adorned utility boxes, painted by local artist Jessie Andrews (@honeyblood.art on Instagram). This branch of the Secret Art Trail is mostly hiding in plain sight. This link will provide a map for you to use as you work your way around the big koi pond at Big Spring Park.  

You may or may not know that astronaut Mae Jemison, (b. 1956) was born just across the Tennessee River in Decatur. She made history in 1992, becoming the first Black woman in orbit. Also the namesake of Huntsville's Jemison High School, she continues to inspire legions of us. She's flesh and blood proof that we CAN do all the things.

I love Big Spring Park, largely for the people watching, but I can't get enough of the shimmering koi, and the friendly ducks, and the locally-famous Japanese Friendship Bridge spanning the water. You see all walks of life at Big Spring, from straight-laced and buttoned-down executive types to edgy, artsy types with Technicolor hair. We just received our COVID vaccinations, and it felt strange and wonderfully familiar to be among so many people again. Dogs! I have barely seen a dog all year – it was so good to see those pups trotting along. 

The end of the park near the grotto was replete with yoga classes and a quite peppy drum circle. A saxophone-wielding busker played his songs over by a tunnel, which served as natural amplification. The sun was shining and the arguably glorious Bradford pears were in full bloom. (I'm not really a fan, but they sure do look pretty!)

This is an easy, low-impact, family and dog-friendly activity, a great way to stretch your legs and get out of the house for a while, and to see some local art.  You might even learn something new along the way!