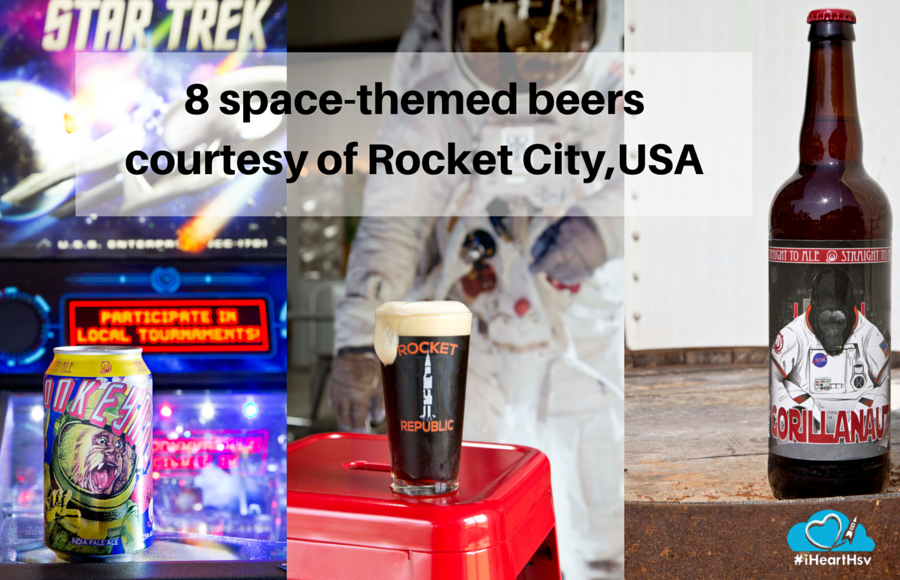 When you have a giant Saturn V Moon Rocket as part of your skyline, you can't help but love all things related to space, which includes Huntsville's fine craft beers. Here are some of our favorite space-themed beers to drink in the Rocket City.
Warning: This post is rife with sci-fi references and space-themed puns!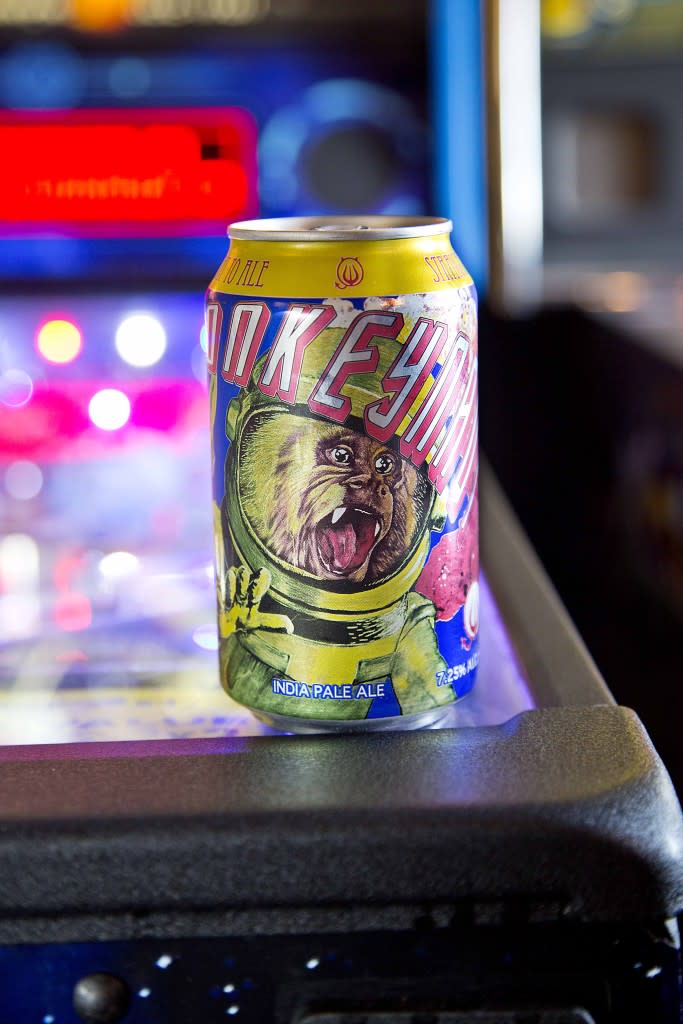 Monkeynaut -ABV 7.5%
Straight to Ale's Monkeynaut ABV 7.5%
"Khaaaaan!!! You drank my Monkeynaut!"
Monkeynaut is an American IPA that boldly goes where no beer has gone before. It has hints of citrus, a big floral nose and a sweet malt backbone.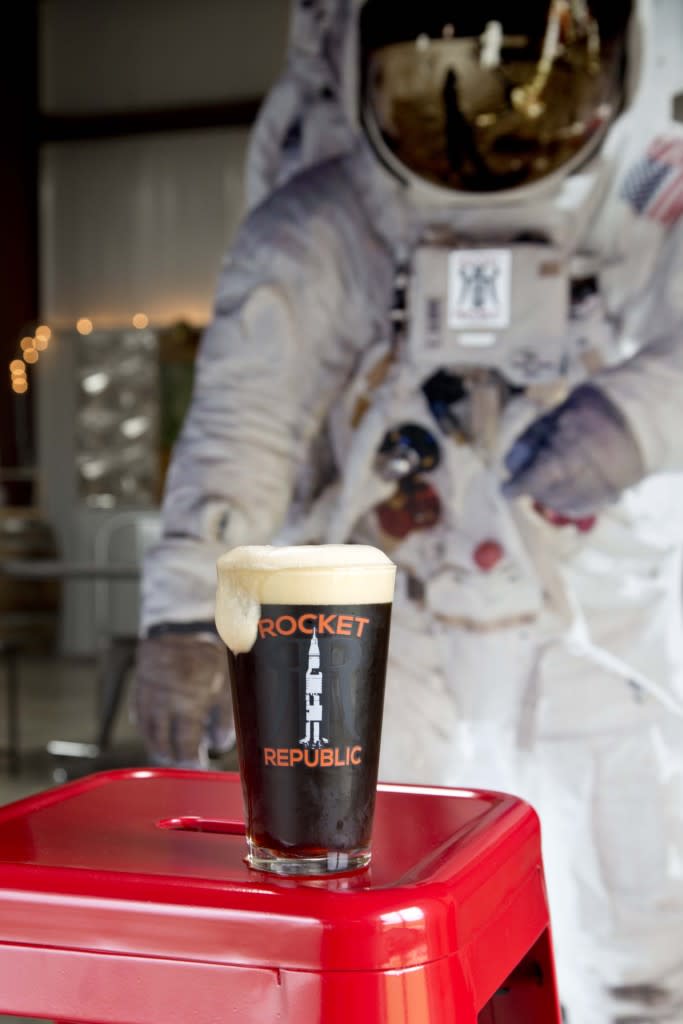 AstroNut - ABV 5.8%
Rocket Republic Brewing's AstroNut Brown Ale ABV 5.8%
"Houston, we have a problem.
We're out of AstroNut Brown Ale."
Go to the moon and back again with this English Style Ale. It has a subtle touch of malty richness with warm, nutty undertones.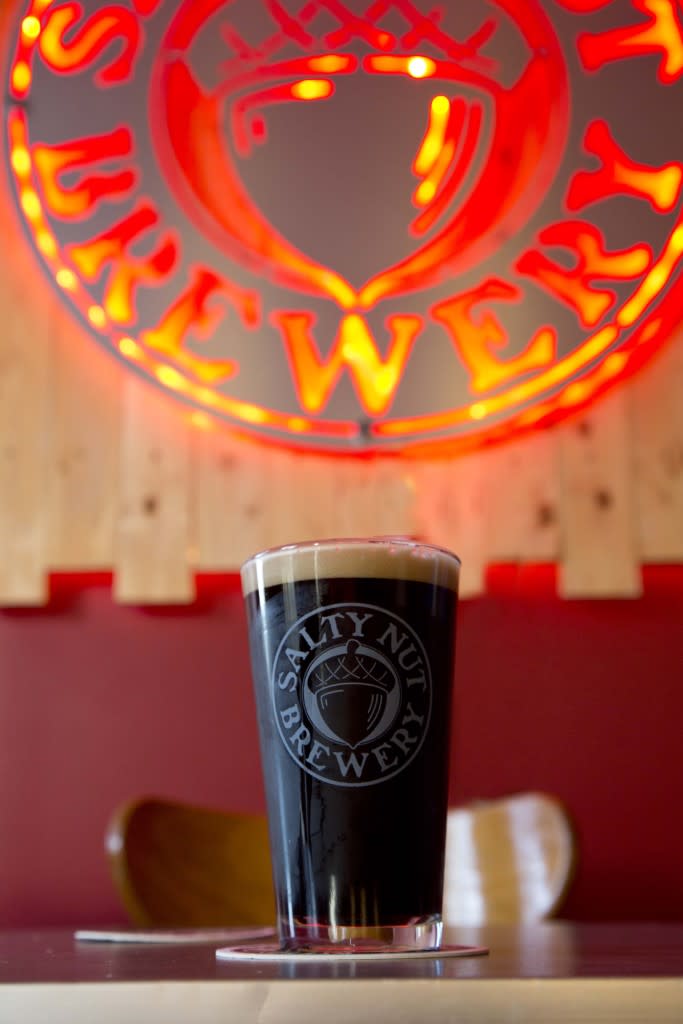 Dahkness Stout - ABV 6.3%
Salty Nut Brewery's Dahkness Stout ABV 6.3%
"Look Dave, I can see you're really upset about this. I honestly think you ought to sit down calmly, drink a Dahkness Ale, and think things over."
Don't be left in the dark! Try this strong, yet smooth stout, which is brewed with roasted malts. English hops are added to give this beer a slight bitterness on the finish.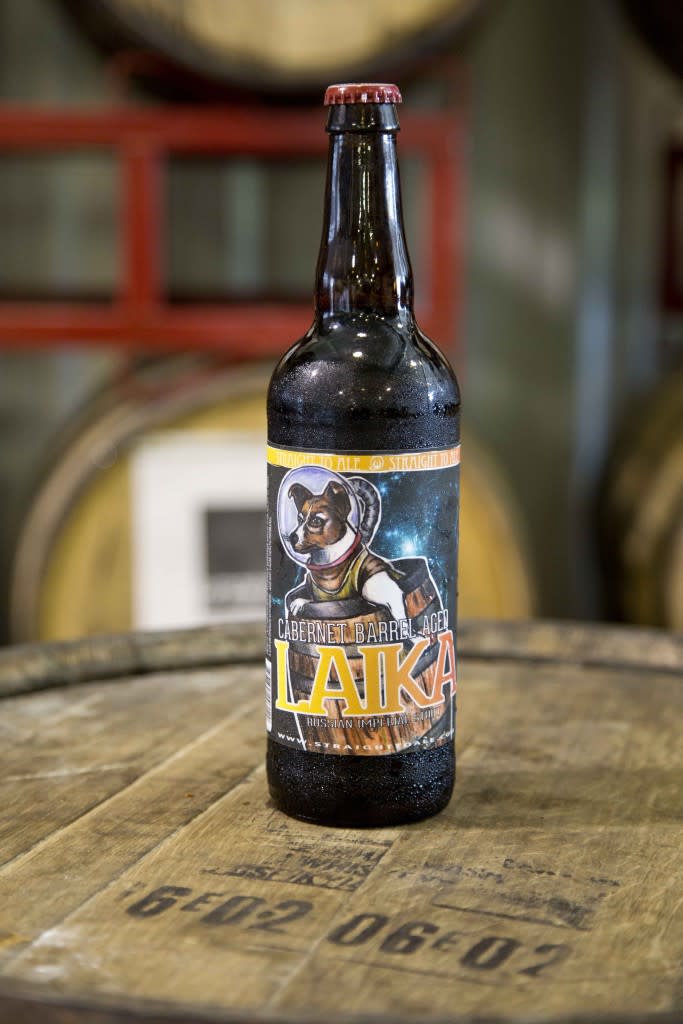 Cabernet Laika - ABV 11.7%
Straight to Ale's Cabernet Laika ABV 11.7%
"Drink. Or drink not. There is no try."
The force is strong with this cabernet barrel-aged Russian Imperial Stout. This is a high-gravity beer that has been aged for 6 months in Cabernet Sauvignon barrels.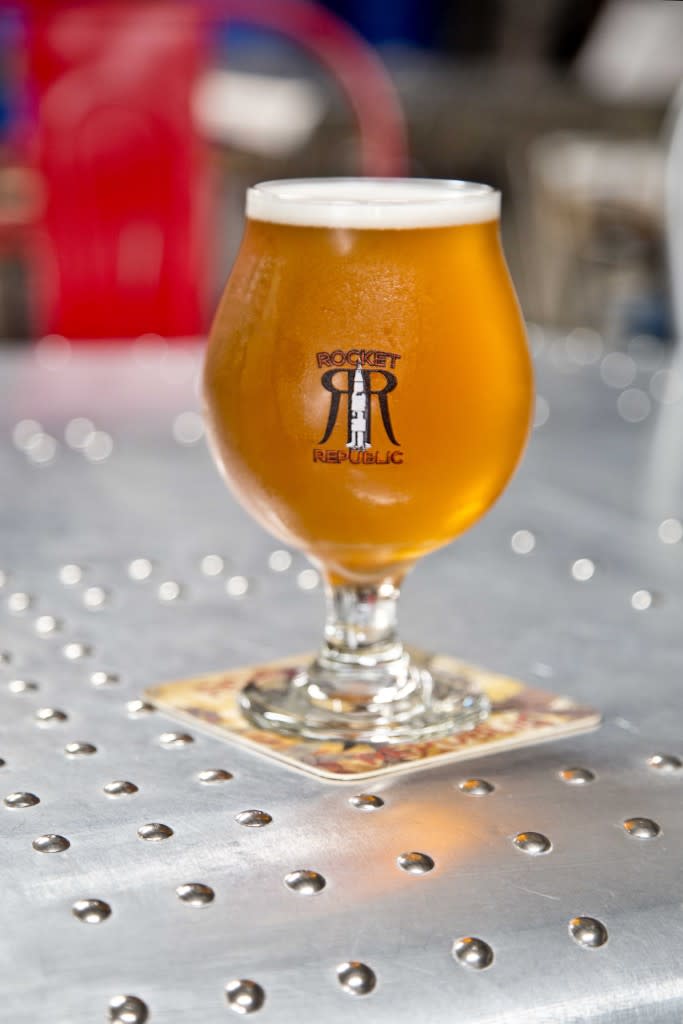 Terrestri-Ale Tripel - ABV 8.4%
Rocket Republic Brewing's Terrestri-Ale Tripel ABV 8.4%
"Don't Panic! There's plenty of Terrestri-Ale Tripel at Rocket Republic."
Take flight with this high-gravity Belgian-style tripel. It has a light, citrusy body but this effervescent beer can pack a punch.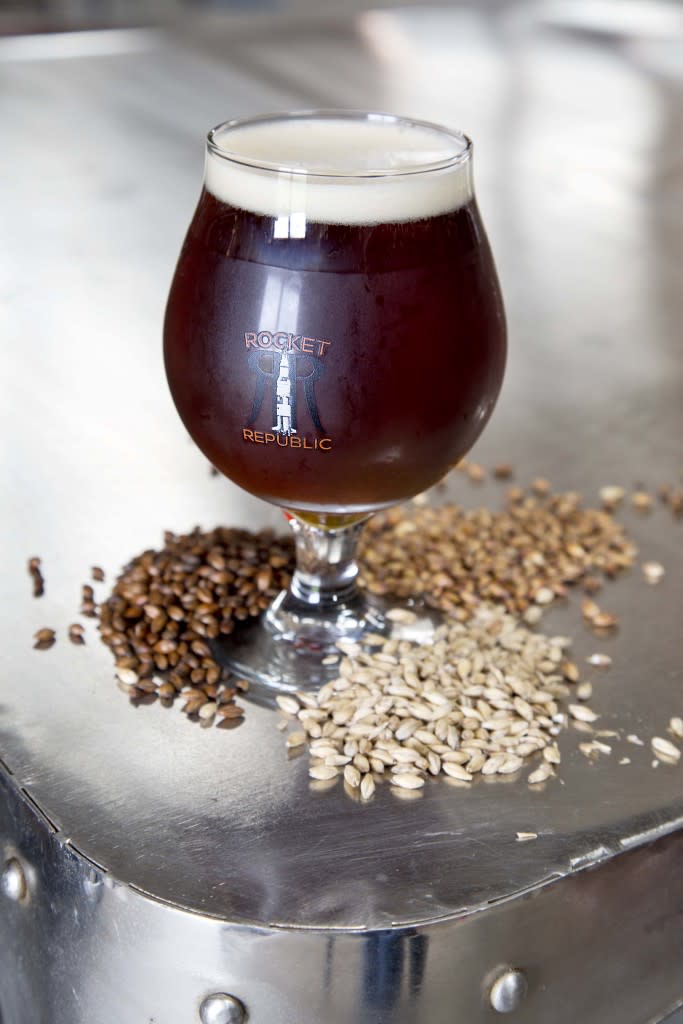 Dark Matter - ABV 9%
Rocket Republic Brewing's Dark Matter ABV 10 %
Princess Leia: "I love Dark Matter beer!"
Rocket Republic: "I know."
Nine out of 10 Sith Lords prefer Dark Matter to other leading ales.  This is a high gravity Belgian Strong Dark Ale with roasted biscuit malt and a candied sugar aroma.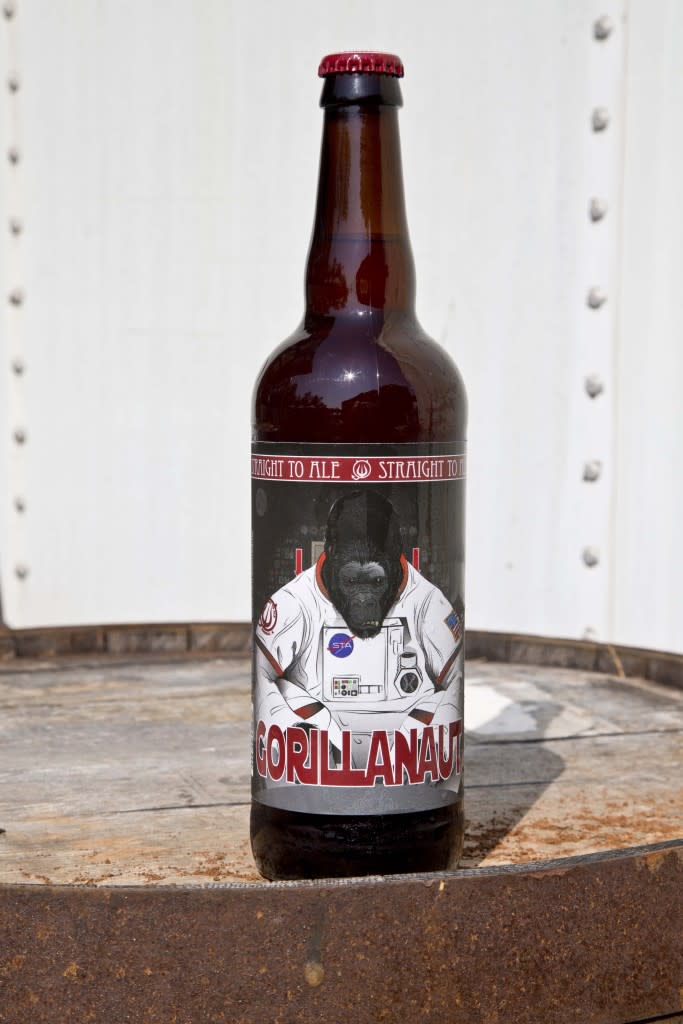 Gorillanaut
Straight to Ale's Gorillanaut ABV 9%
"Take your stinking paws off my Gorillanaut, you damned dirty ape!"
This Imperial IPA is the 800-lb gorilla in the room. It is a hoppy beer that is aggressive and strong with an off the charts IBUs (International Bittering Units).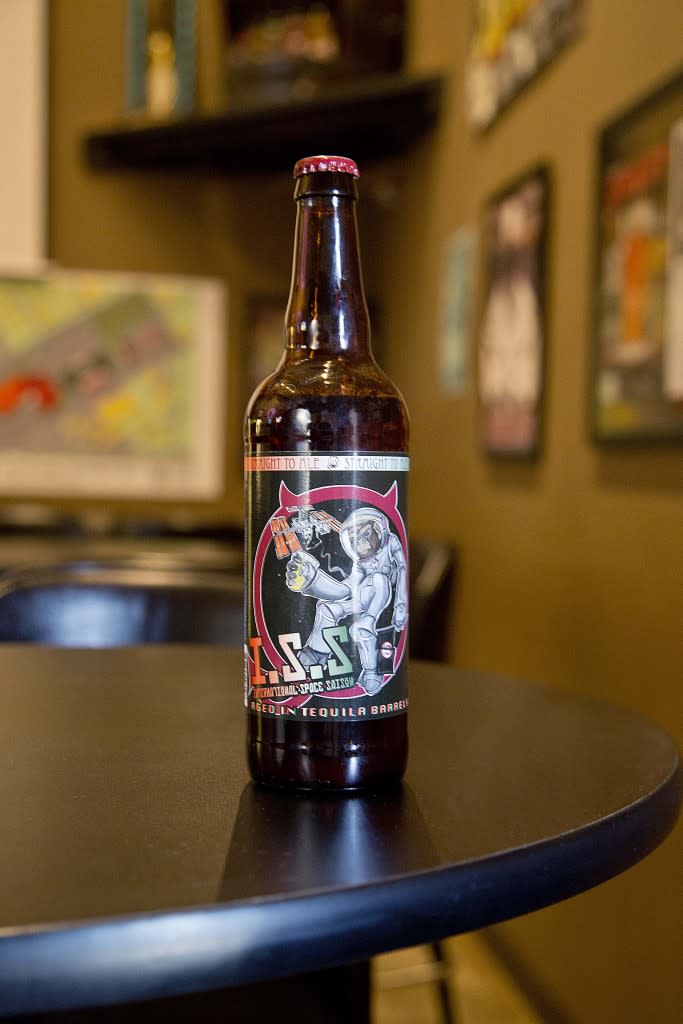 I.S.S. Tequila - ABV 8.25%
Straight to Ale's I.S.S. Tequila ABV 8.25%
"Cohaagen! Give these people beer!"
Try this out of this world barrel-aged Saison. I.S.S. Tequila is an International Space Saison that has been aged for at least 6 months in tequila barrels to give the beer a warm, spicy taste.