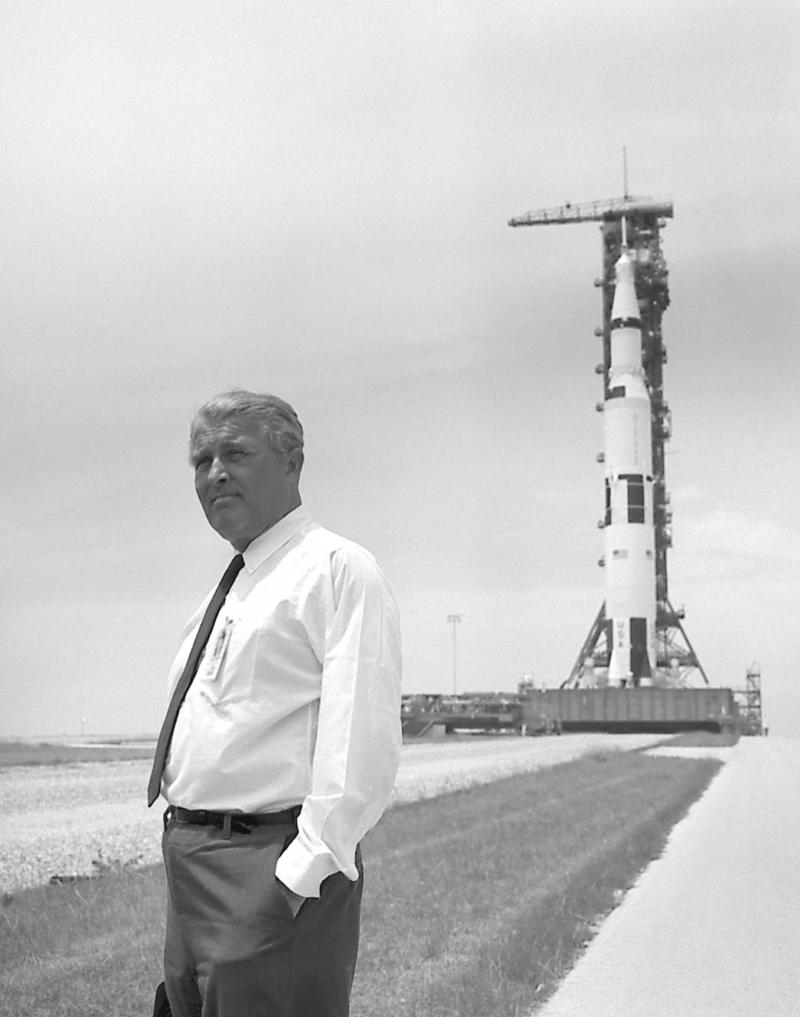 When a place is known as the Rocket City, you have to expect that things move pretty fast. During the Apollo program, Huntsville was home to Wernher von Braun, the former Marshall Space Flight Center director famed as the father of the Saturn V moon rocket. Today, however, Huntsville is roughly a dozen times larger than it was when von Braun's rocket team arrived, and a whole lot has changed since then. But the roots of that small town are still here, and von Braun's figurative footsteps can still be found by those who want to follow them.
Where to Walk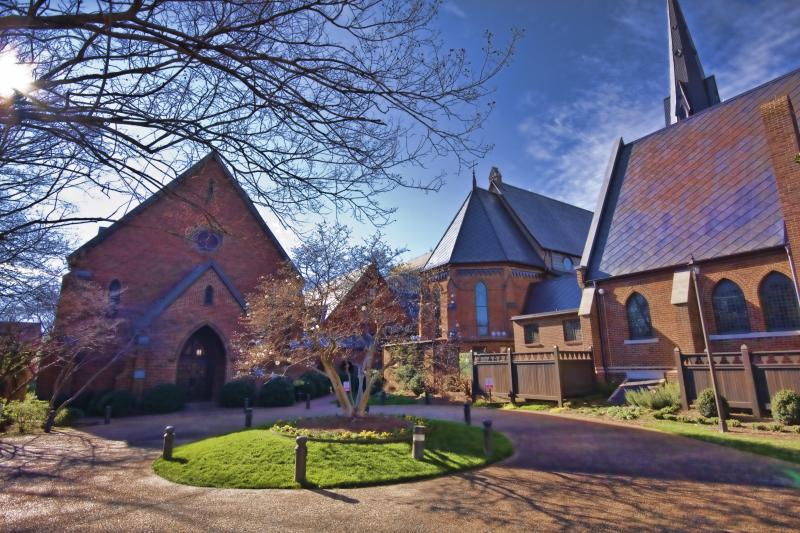 The von Brauns attended the Episcopal Church of the Nativity in downtown Huntsville. If you happen to be in town on a Sunday morning, you would, of course, be welcomed to attend the church where he worshiped, but if not, you can enjoy a beautiful stroll down the streets around the church. You can also wander through historic Maple Hill Cemetery. In their early days in Huntsville, the von Brauns and many other members of the German rocket team lived just a stone's throw from the cemetery, and on a recent visit to town, his daughter Margrit remembered time there fondly.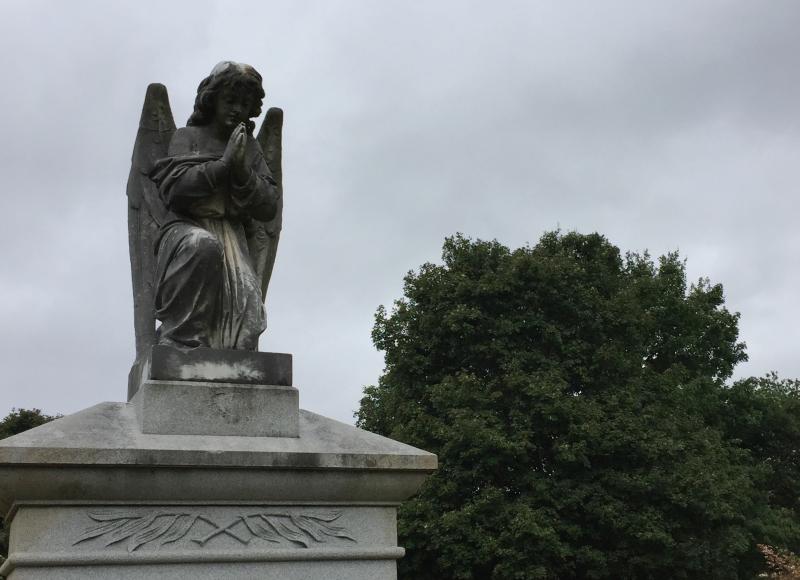 Where to Eat
The von Brauns had already been living in Huntsville for a few years the first time they checked out a brand new barbecue place, Gibson's Bar-B-Q, but it did have a promising pedigree – the founder was one of five children of Big Bob Gibson, who was already legendary for his Decatur barbecue joint. Sixty-three years later, Gibson's is still going strong. Another local restaurant touts "Von Braun ate here" on the menu, despite the fact it didn't open until almost four decades after he died. Even so, Toybox Bistro's claim is technically true – the spot where it's located has been one restaurant or another for decades on end, and von Braun did eat at that location, even if most of the Toybox staff hadn't been born yet when he did. As a bonus, if you're the sort of person who wants to eat at a place von Braun did, there's a good chance you're the sort of person that would enjoy Toybox's geeky atmosphere, and they serve one of the self-proclaimed best burgers in town.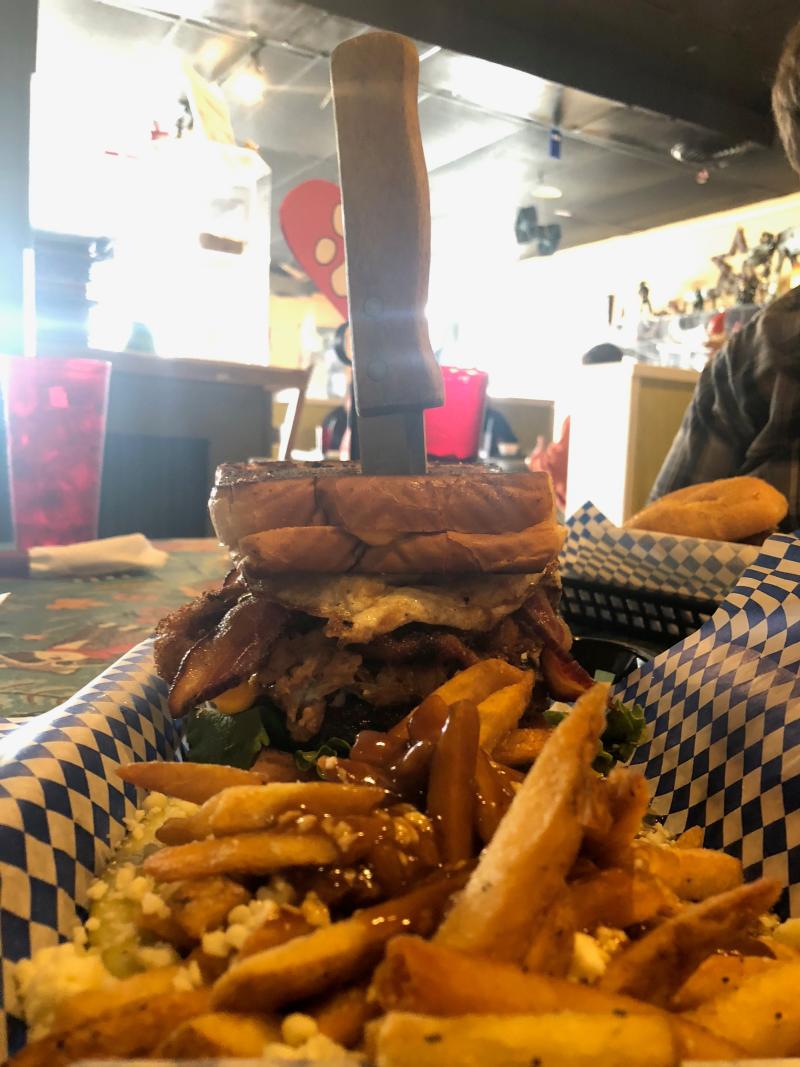 What to Listen To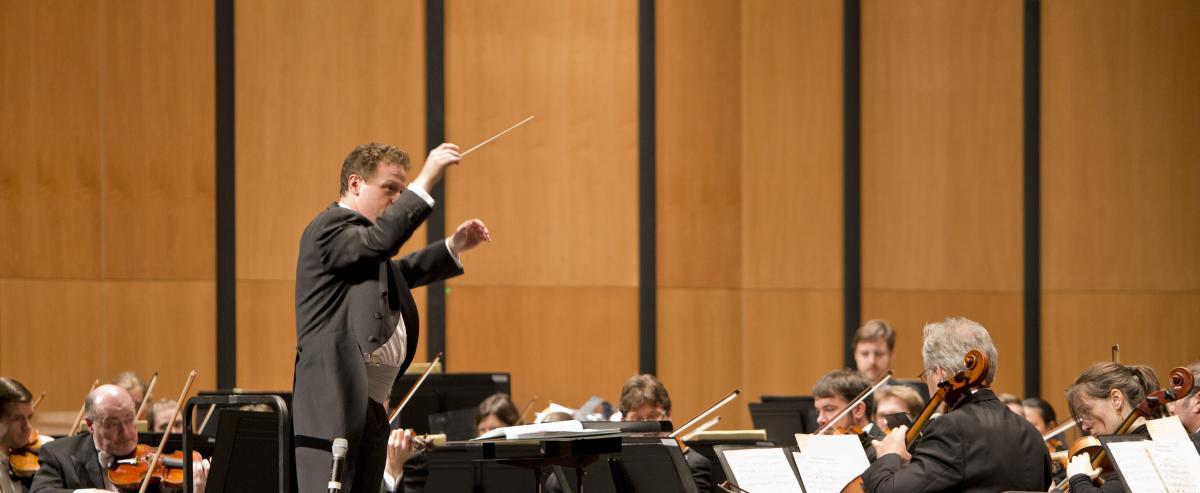 People forget sometimes that there's more to the Rocket City than rockets, and the same was true for von Braun. Even when you're busy putting people on the moon, sometimes you have to take a break for the arts. Von Braun helped found the Huntsville Symphony Orchestra, and it's still a key part of the local cultural scene. Where to Get Away – Even when you're in a place as amazing as Huntsville, sometimes you need to get away. There are several easy and fun day trips you can take from here, and for the von Brauns, if it was a summer Sunday, the odds were pretty good they were at Lake Guntersville. Half a century later, it's still a popular destination, and you can still be back for dinner.
Where to Get Your Rocket Scientist On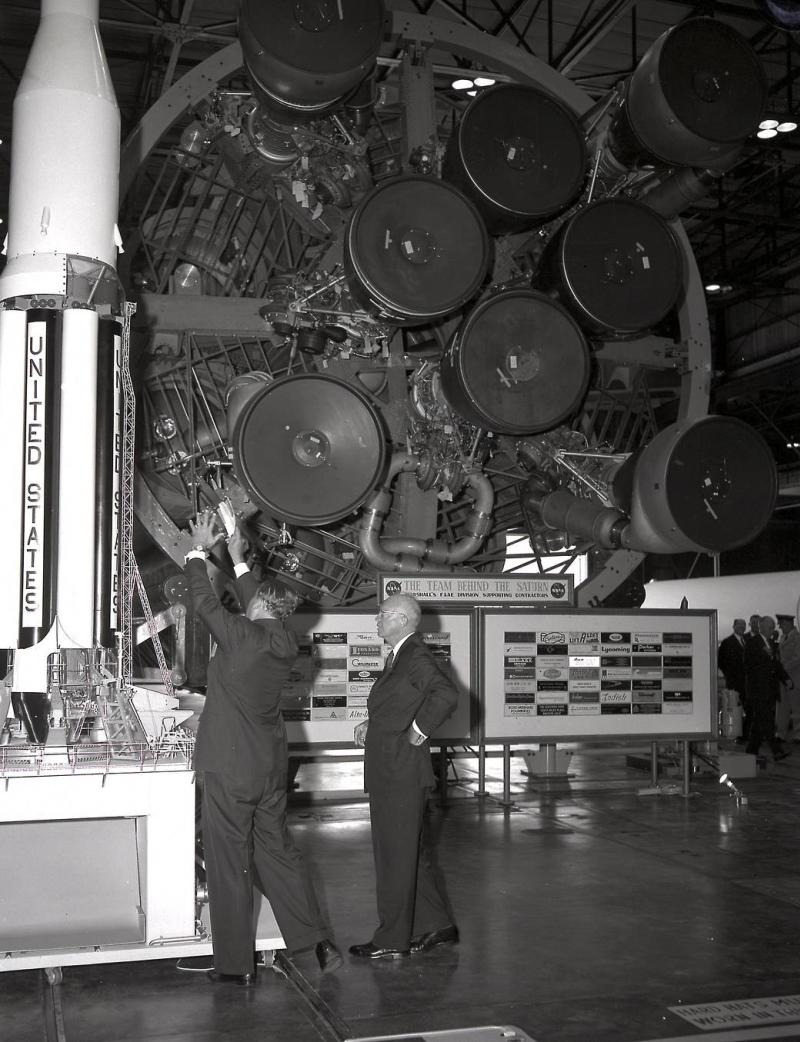 Yes, there's more to Huntsville and von Braun than just rockets, but that doesn't mean we don't do rockets like no one else, too. The obvious place to space-geek out is, of course, the U.S. Space & Rocket Center, which has von Braun's fingerprints all over it. He helped found the Rocket Center, got the ball rolling for Space Camp, and his old office furniture is on display there. Take the bus tour of Marshall Space Flight Center, where he was the first director, and the first building you come to was the one that housed his office. But don't miss von Braun's other, lesser-known space contribution to Huntsville, the Von Braun Astronomical Society. Von Braun not only helped found the VBAS, he literally physically helped build its planetarium atop Monte Sano Mountain, and its dome was repurposed Saturn rocket hardware. Check out their website for upcoming programs.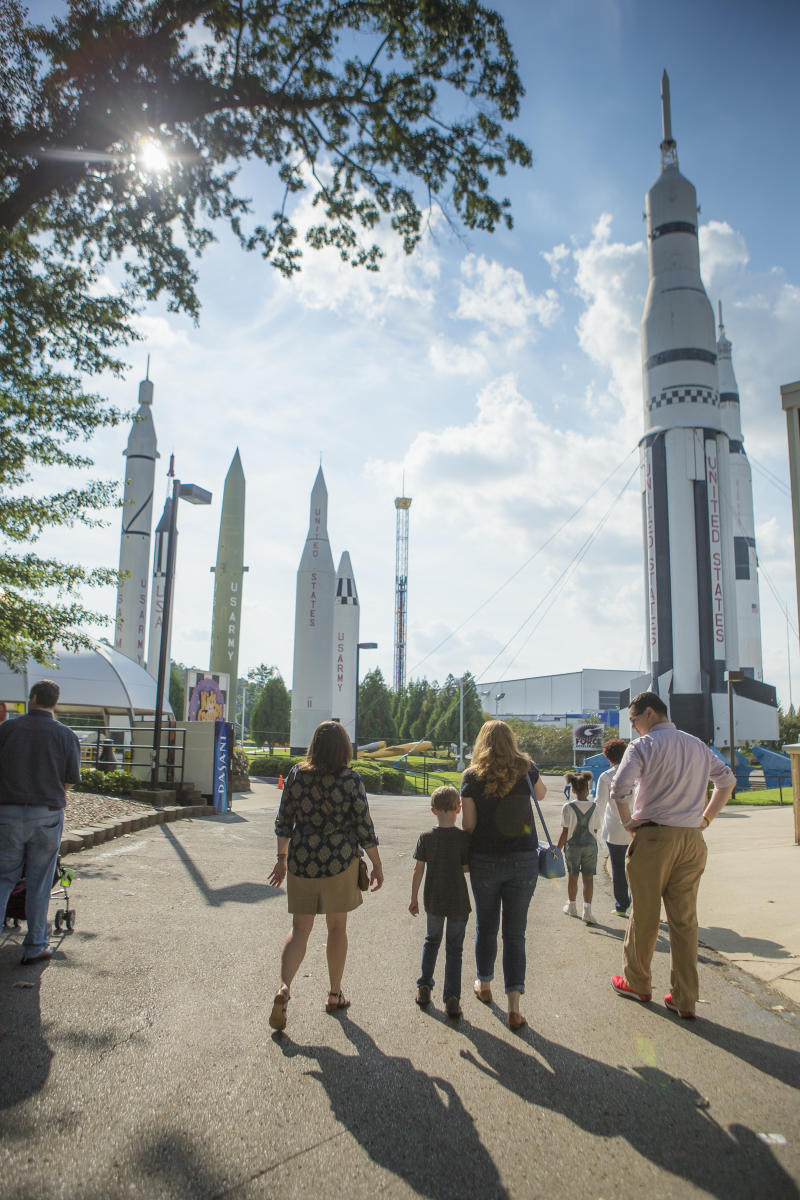 Where to Take THE Photo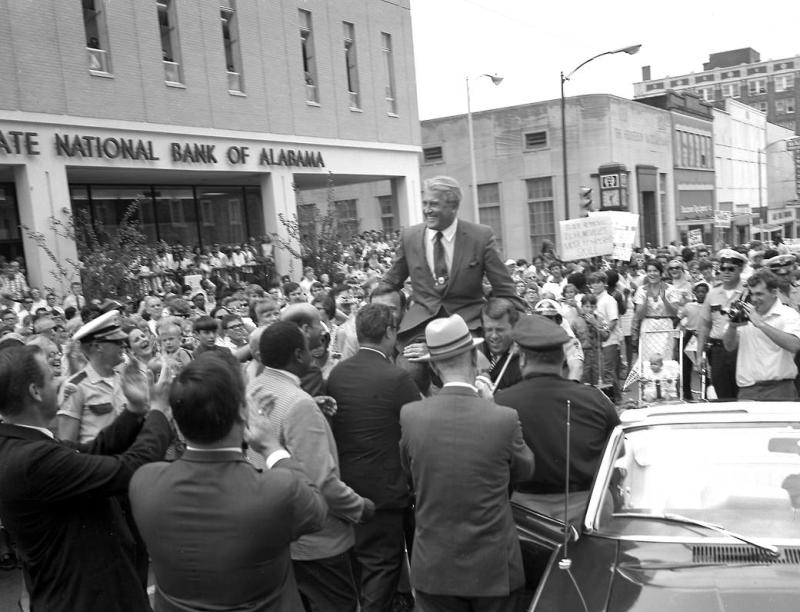 Grab a few friends, and head to the courthouse square. There are a few pictures out there of von Braun on the square, but one of the most iconic was taken after the Apollo 11 crew returned safely to Earth. The backdrop for the picture is still easily recognizable today, so hand the camera to one friend while you climb on the shoulders of a couple more for one of your most memorable travel shots ever.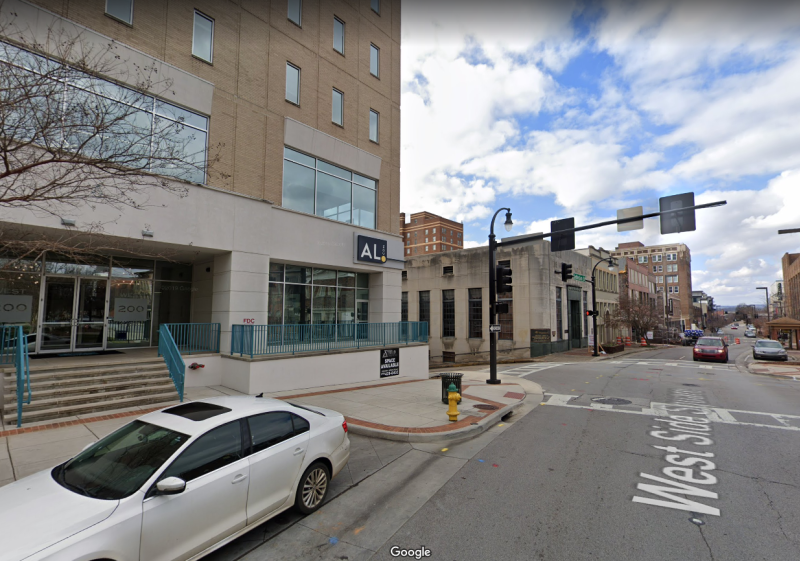 Black and White Photos: Credit NASA